Welcome to the Slingshot Help!
Slingshot is all about effective collaboration and delivering results on time. It helps you run productive teams across different platforms, while making sure your team is aligned and they back their decisions with real data.
Enabling your team to work and collaborate in one place is a tremendous boost to visibility, accountability and trust. All well-known pillars that can be found in high-performing teams.
Follow the link for a quick Slingshot product tour video. For details about the available platforms and how to install Slingshot, go here.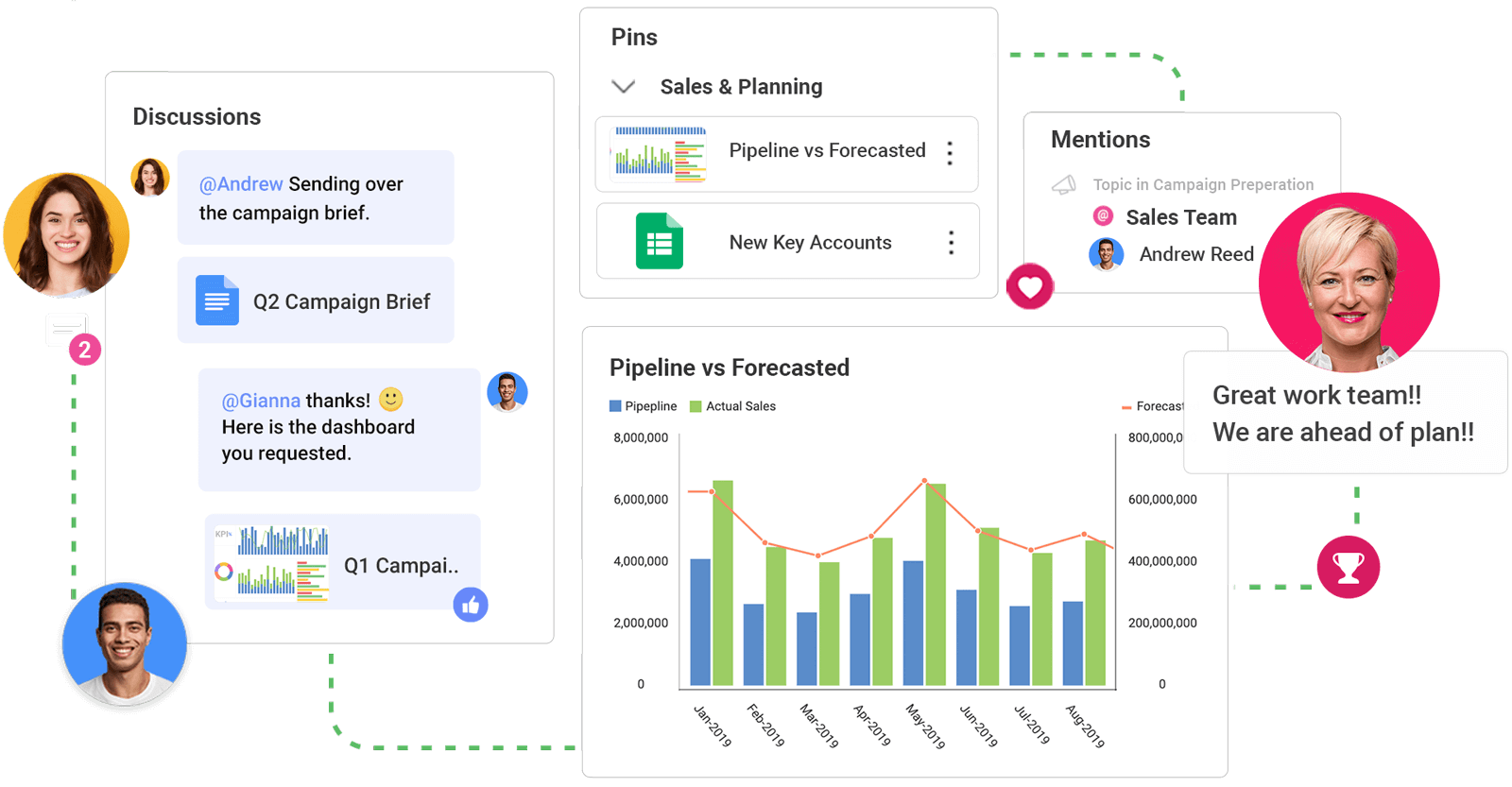 So, how can Slingshot do all that for you? Take a look below...
Slingshot highlights
Get a quick access to your current status and prioritize work across all workspaces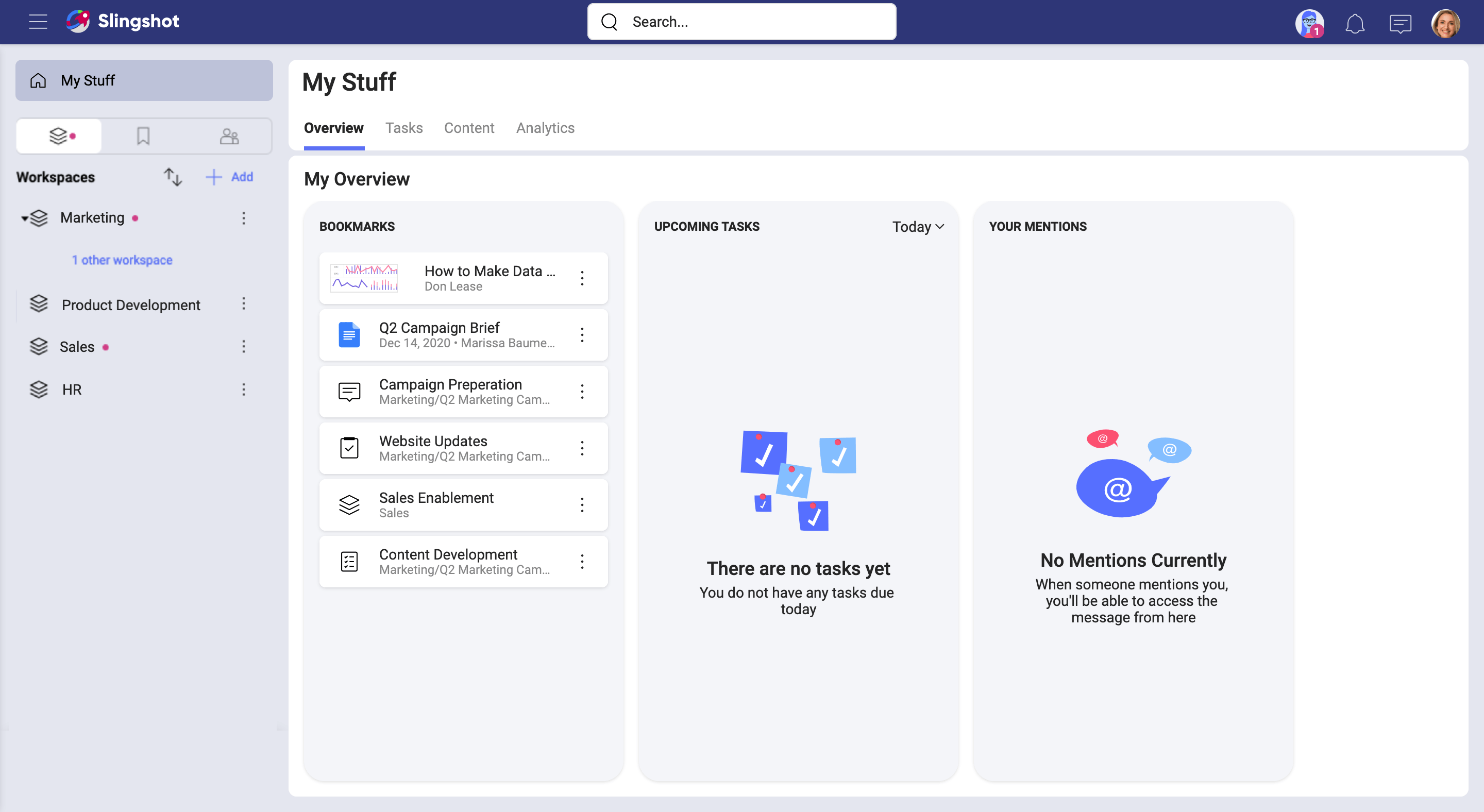 Above, you can see that one place where you can visualize your work and organize yourself.
All the tasks assigned to you can be found in My Stuff and also your bookmarks, which are very useful to keep at hand links relevant to you.
With bookmarks you can quickly navigate to your workspaces, discussions, dashboards, among others.
Keep everyone in the know and make working with others easier than before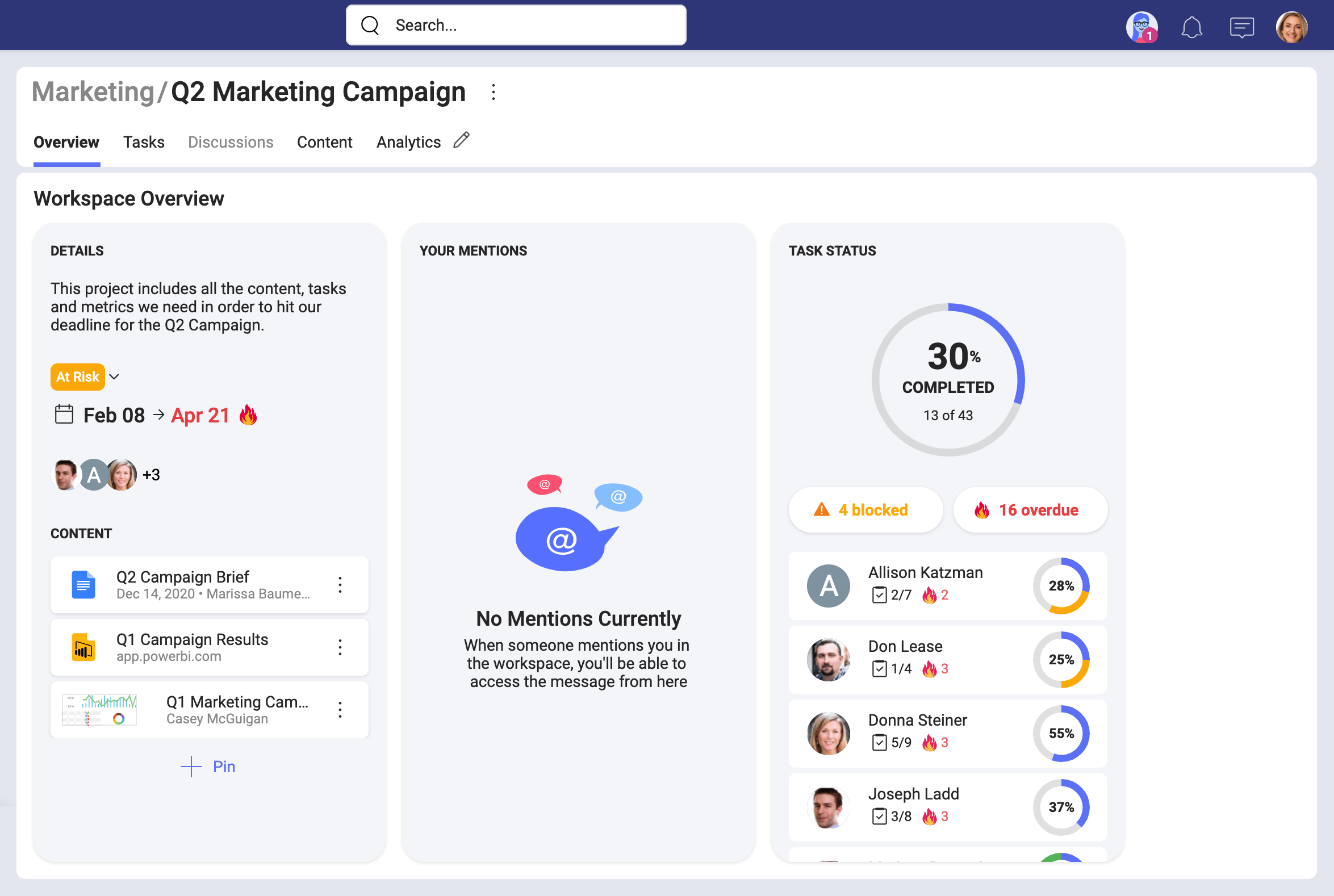 Encourage transparency and trust by making it easy for others to find valuable information. Working together, with strong collaboration and support for each other is possible, even with external clients.
Run high-performing teams and successful projects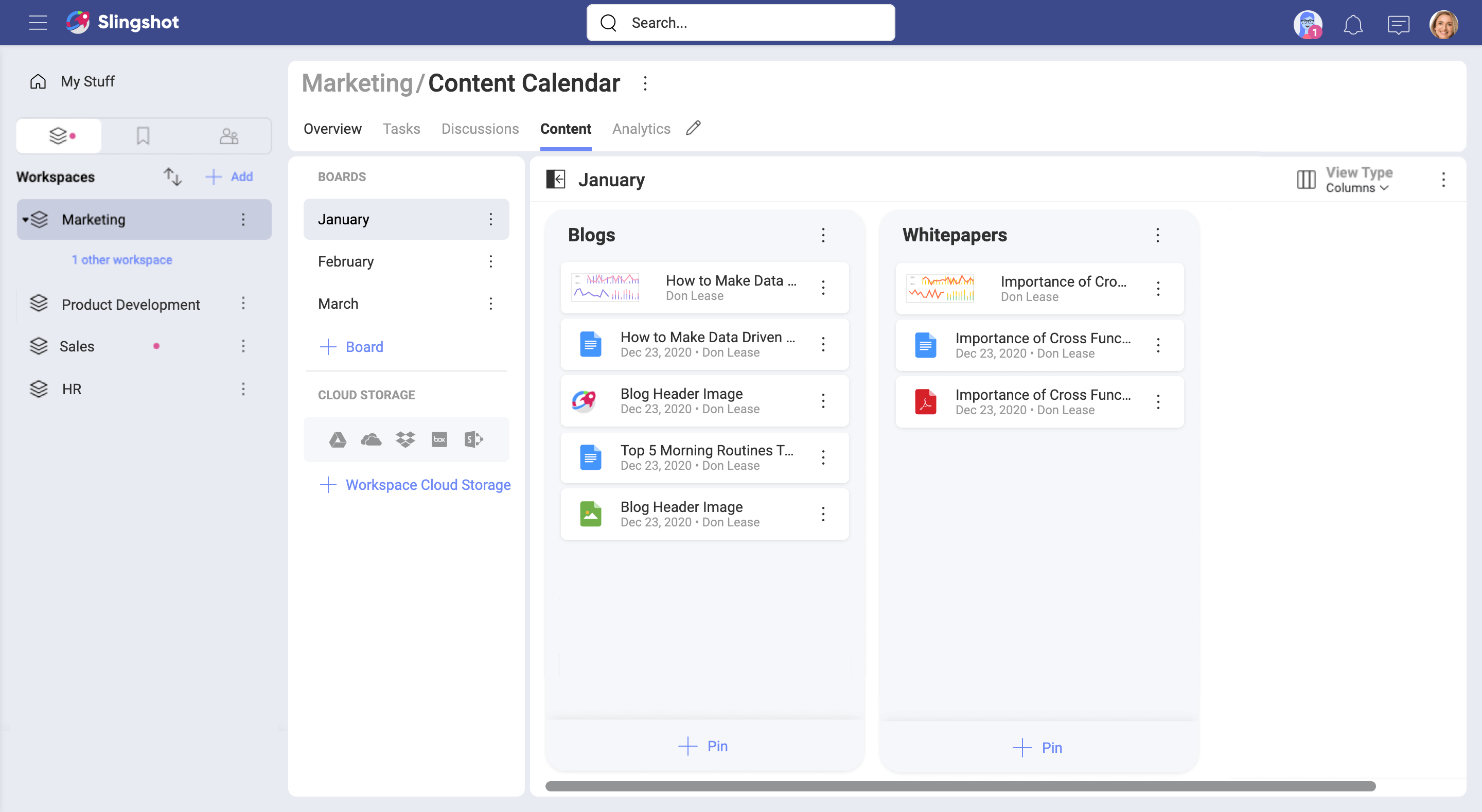 Slingshot empowers your teams to achieve greater success by keeping everyone aligned, engaged and focused on their work. Workspaces provide your teams with tools to communicate, support each other, and access the resources they need to do their work.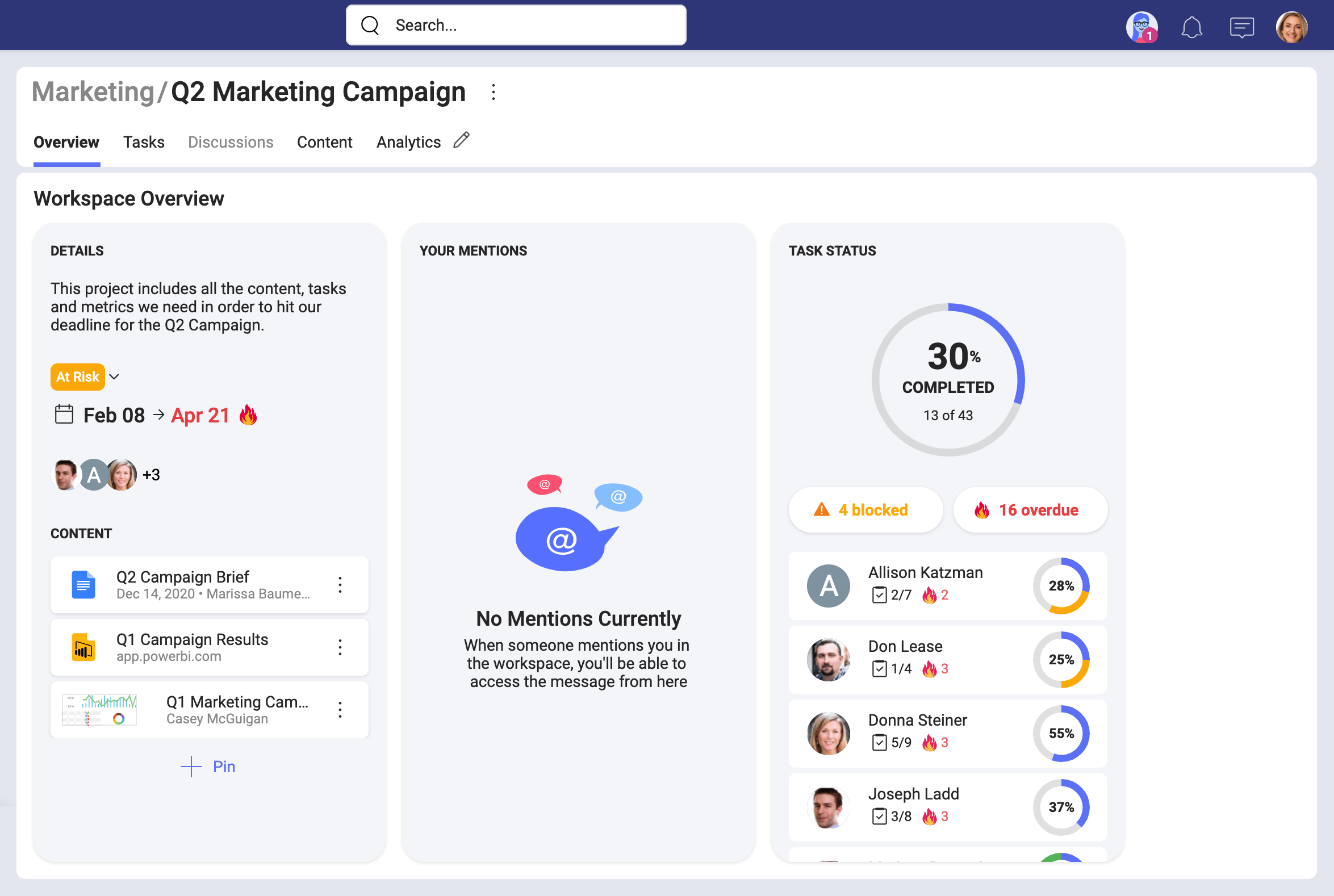 In Slingshot, people with expertise in many different areas, often from different teams and sometimes even from outside your organization, can work together towards a common objective. They can collaborate and communicate with each other with ease, and everyone gets good visibility over a project and all its resources.
Get more work done with tasks and leverage their functionality and flexibility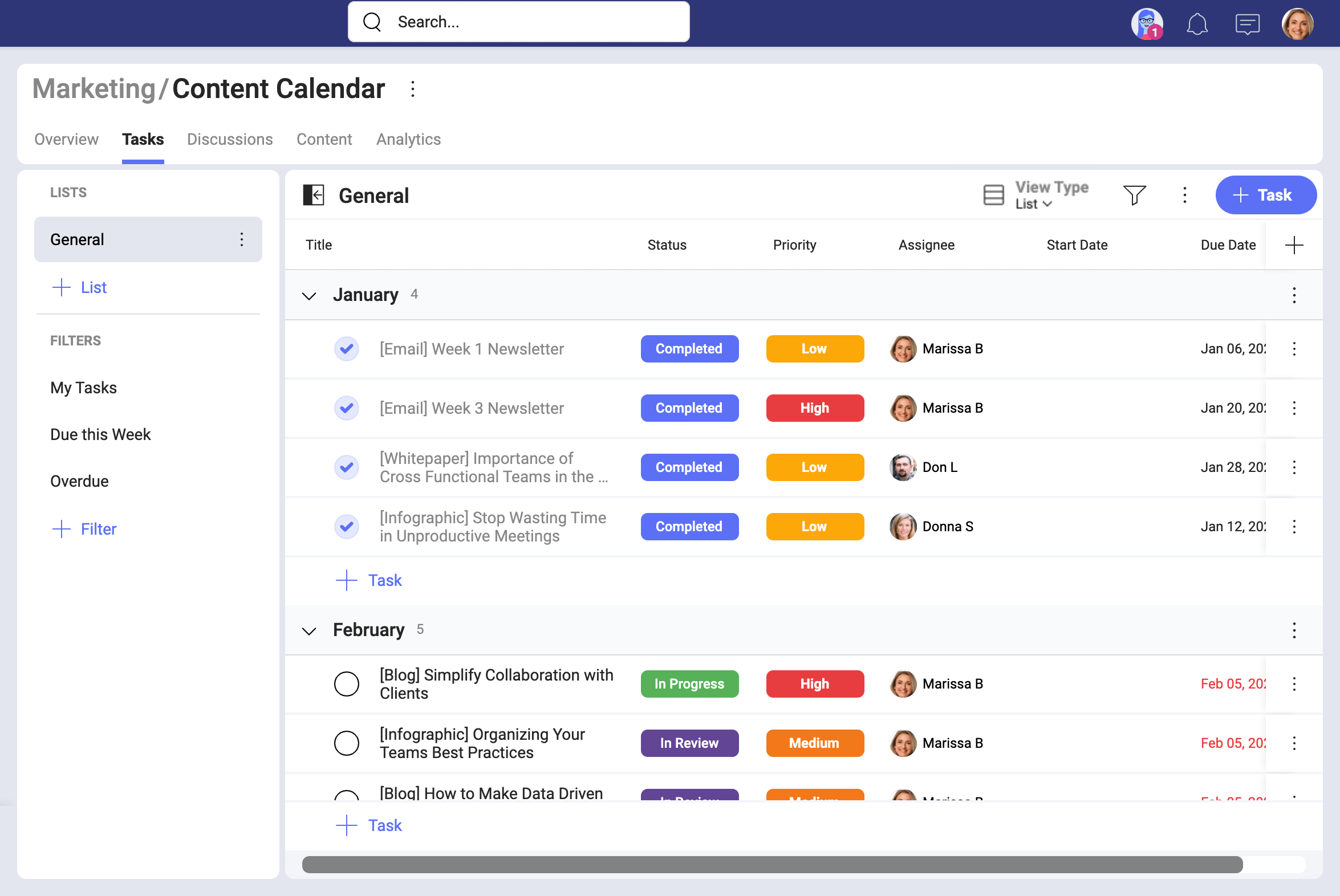 Use tasks to your advantage and create a healthy work environment that embraces transparency while driving individual accountability. Tasks capture all the relevant information you need around a piece of work, including one or multiple assignees, subtasks, priority, start and due dates, and attachments. Plus, you can change how you see tasks on the fly by choosing between Kanban, Grid view, and Timeline.
Keep yourself informed with notifications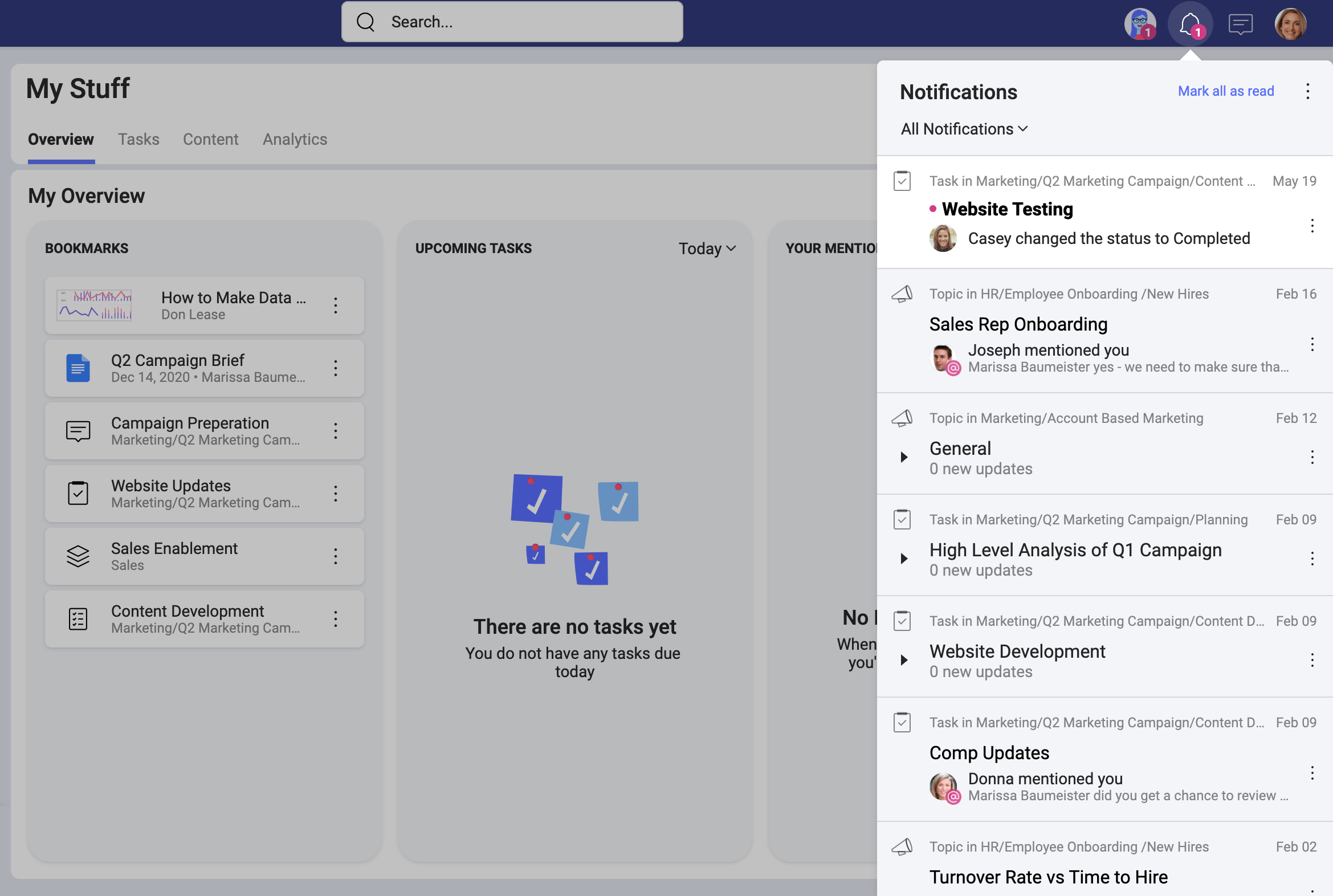 Get updates on any changes in workspaces, tasks, messages, and analytics. Learn when a task was assigned to you, that you were removed from a workspace, or that someone sent a message in a discussion thread you're following. You can be notified in different ways like pop up messages while using the app (in-app notifications), messages on mobile devices (push notifications), and also email notifications.
Access real-time data in context and make better decisions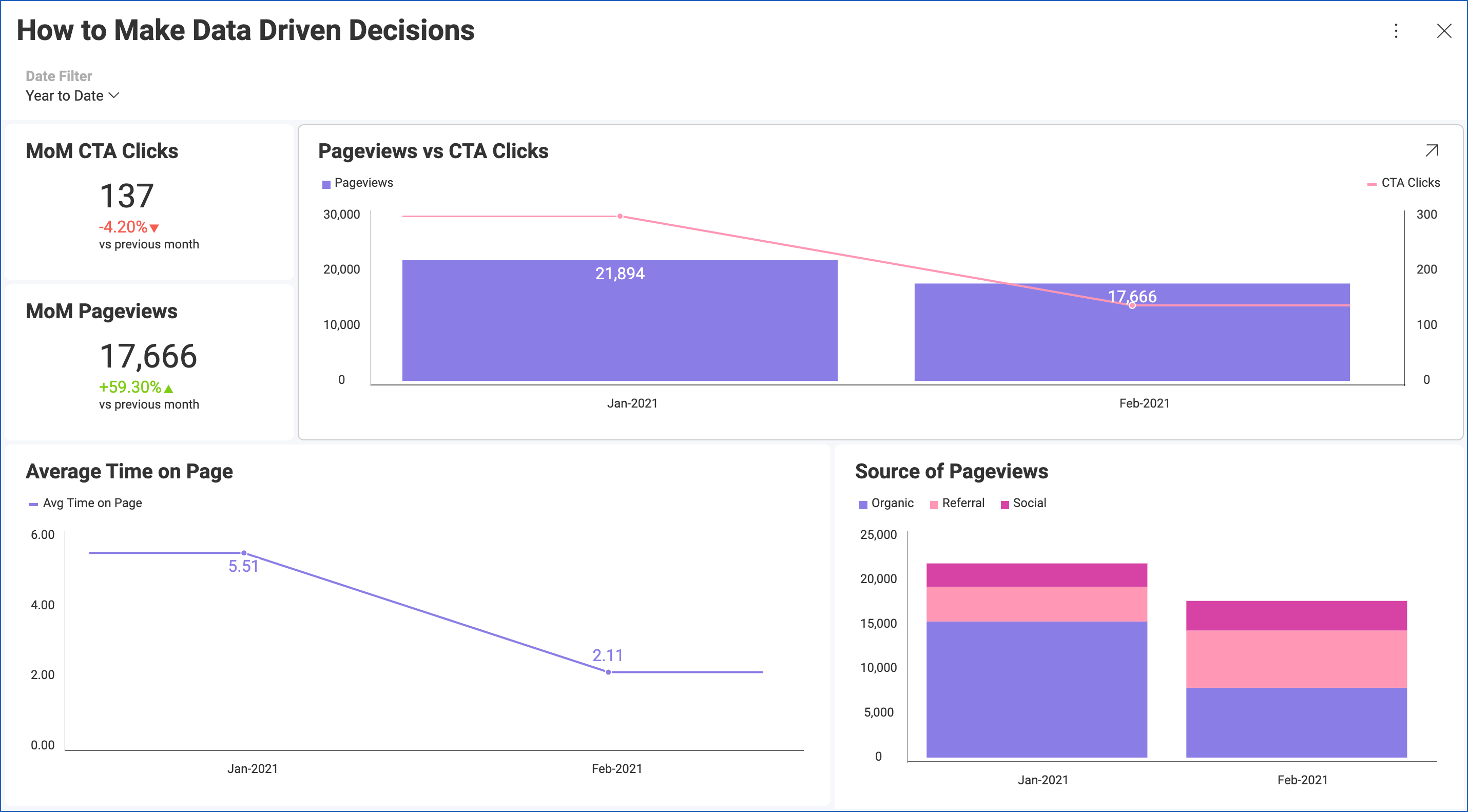 Turn your data into insights by creating and sharing data visualizations. Analytics makes it easy for collaborators to get actionable insights by looking at shared analytics dashboards in their workspaces.
You can connect to the most popular data sources such as SharePoint Online, Google Drive, OneDrive, Microsoft Analysis Services, Microsoft SQL Server, CRM, and many more.
The dashboards in Analytics are composed of one or more visualizations. And you can build your dashboards choosing between a huge array of visualizations, including grid, gauges (bullet graph, KPI, linear), charts (category, financial, scatter, bubble, treemap), and even maps (choropleth and scatter maps). Category charts include column, bar, area, pie, stacked column, and many more.
Real-time, organized communication with workspaces members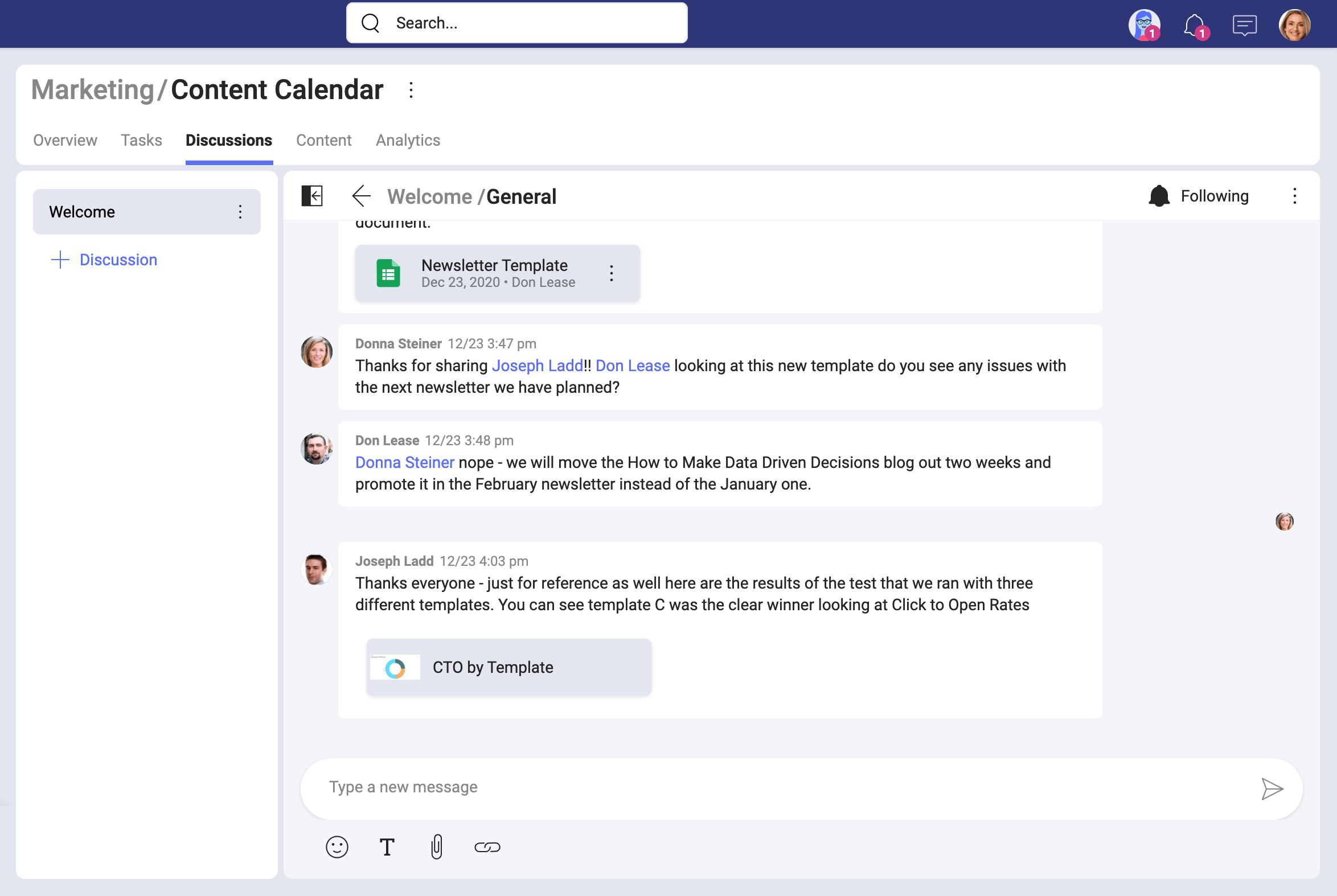 Discussions can be used by the members of an organization or a workspace. Organized in different threads, discussions ensure all your communication and collaboration tools are in one place, helping remote teams stay productive no matter where they are. With Slingshot's notifications, you can get informed when someone sends a message directed to you or in a discussion thread you're following.
Collaborate swiftly and socialize with your colleagues more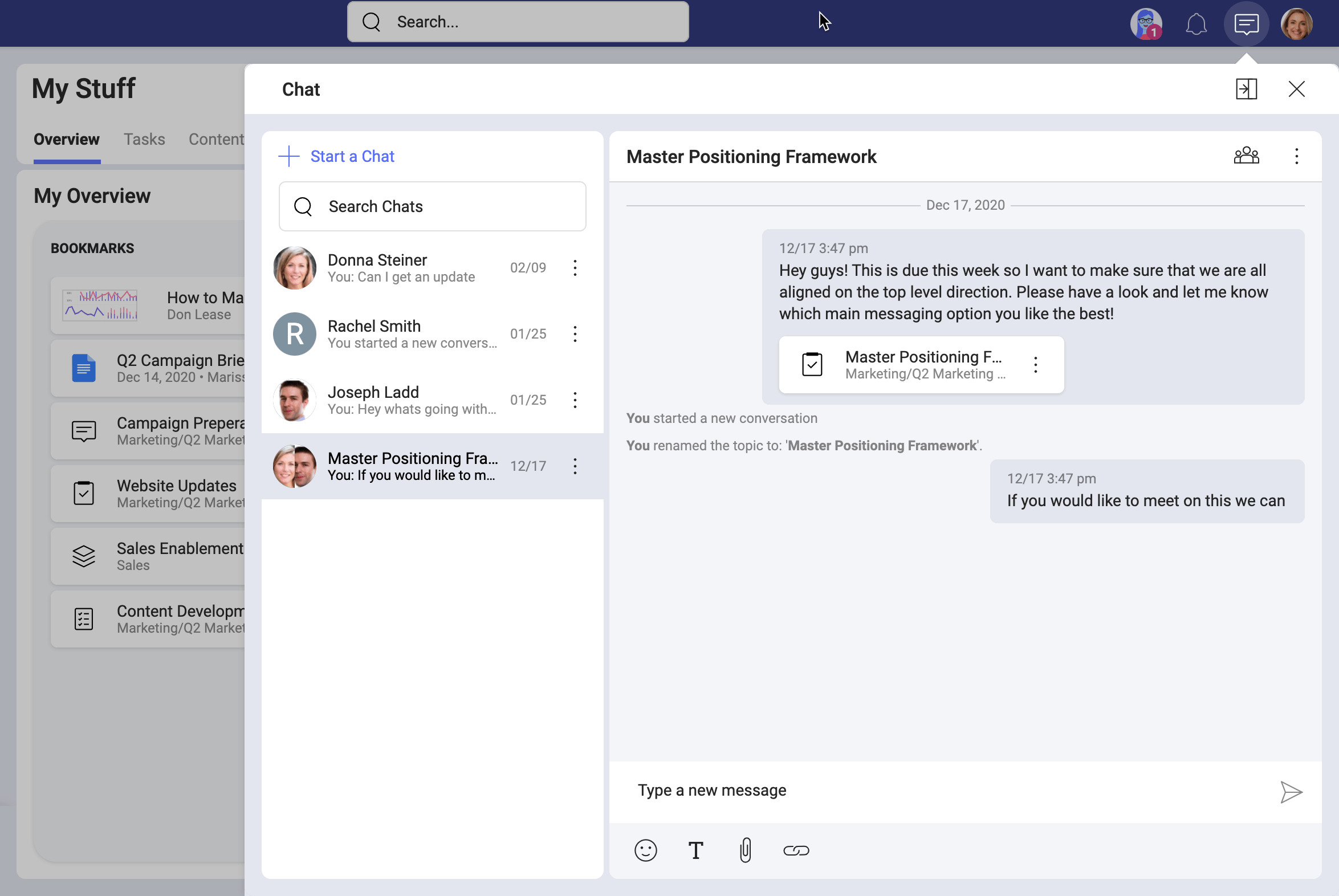 The importance of communication for the projects' success is indisputable. Socializing with your co-workers, however, is often underestimated and hard if you are working remotely. Slingshot's chat is here to help you socialize and make your collaboration stronger!
With Slingshot's chat, you'll be able to have multiple conversations going on at the same time while mixing in text formatting, attachments, emojis, and links. You can have private and group chats and even invite external collaborators. Get some work done swiftly, but don't miss those great water cooler conversations even on a remote team!
Connect to cloud storages and share content with colleagues or partners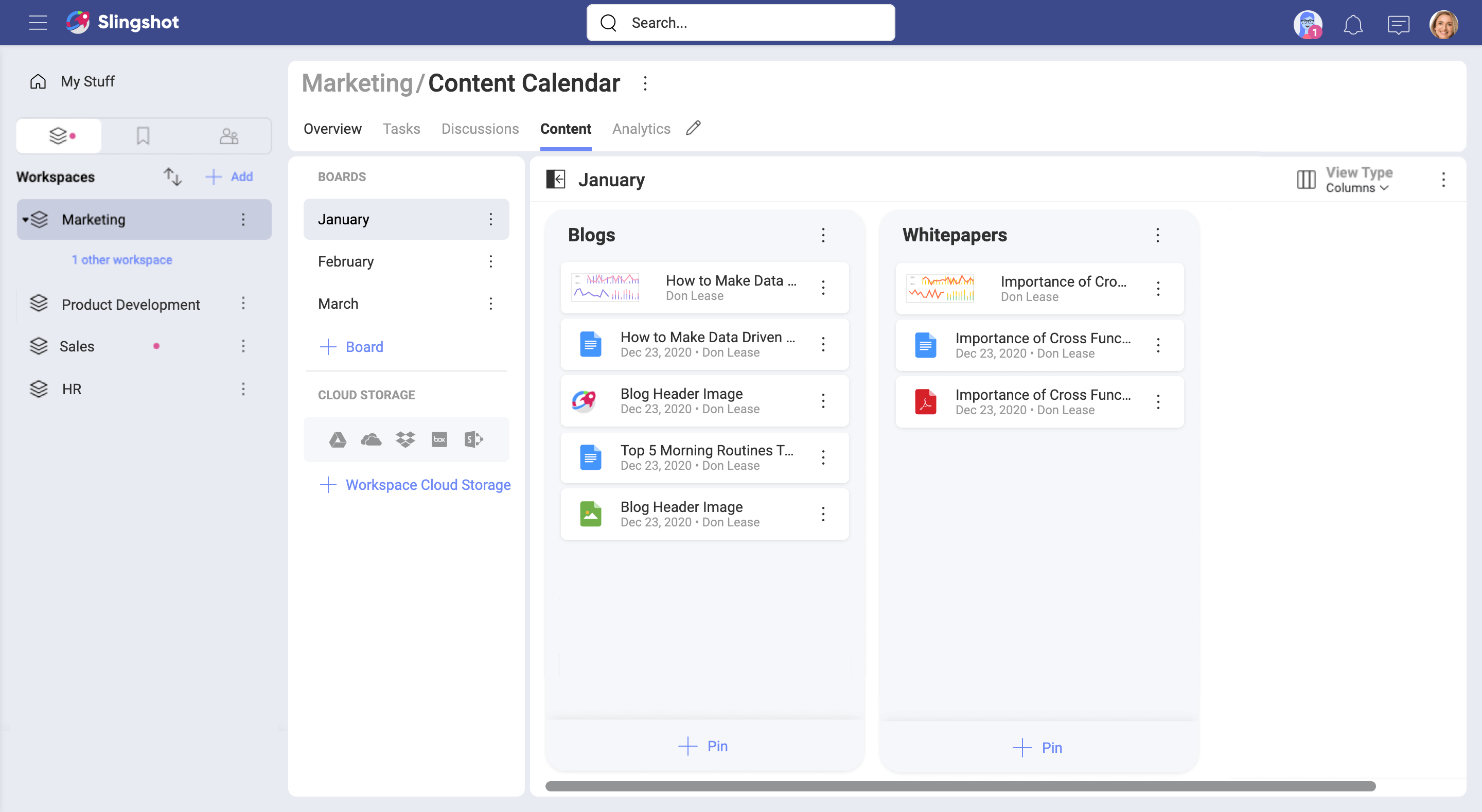 Slingshot helps you focus on collaboration instead of managing content. You can access content from many cloud providers, using boards to organize that content and securely share it with others.
Everyone'll always have the most up-to-date version of documents, eliminating the need to send documents back and forth.
Where can I get Slingshot?
Slingshot offers you a seamless, almost identical experience no matter what device you are on. You can use a web browser or get native applications on iOS, Android, and Desktop, making it easy for you to run productive teams across different devices and platforms.
Get Slingshot native apps (Android, iOS, desktop).
Below you can find the versions supported for each platform:
| PLATFORM | SUPPORT |
| --- | --- |
| Android | Android 6.0 (Marshmallow) or higher (except the Kindle Fire). |
| Desktop | Windows 10 or higher. |
| IOS | iOS 13 or higher. |
| Web | Chrome, Firefox, Microsoft Edge (excluding Microsoft Edge Legacy), Safari. Web browsers are not supported on mobile devices. |