Marketing – SEO Management
All-In-One SEO Management Tool – Everything You Need to Grow Your Search Traffic
A simple, intelligent way to manage all your SEO campaigns, visualize competitor and industry data, monitor your results, grow your search result rankings, website traffic and hit business goals.
Key Slingshot features to help with your SEO Management
Collaborate Faster
Share your SEO project with anyone you are working with inside your organization or even external SEO client services companies. Streamline your approval and publishing process by keeping everyone in the loop – copywriters, editors, designers, webmasters.
Collaborate with your product and engineering teams on technical improvements or assign team members with content tasks, website updates, and more.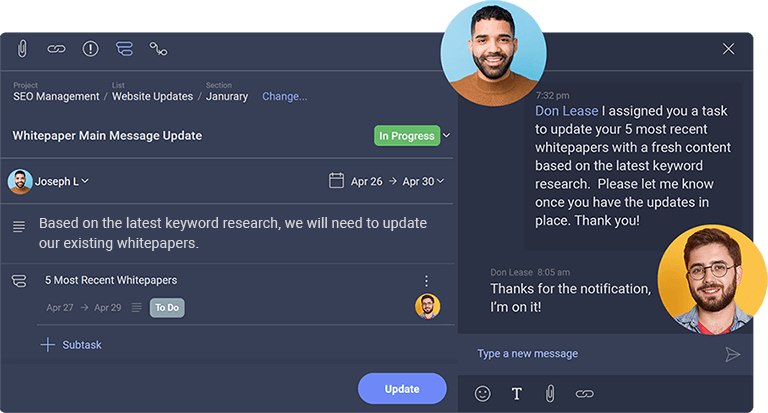 Easily Track Updates
Stay up to date with all technical projects, link building campaigns and the content that you are publishing and updating! Make it easier to identify initiatives that improve your organic performance and ones that haven't moved the needle.
When your tasks, metrics, and collaboration are all in one tool, you can work more strategically and faster together.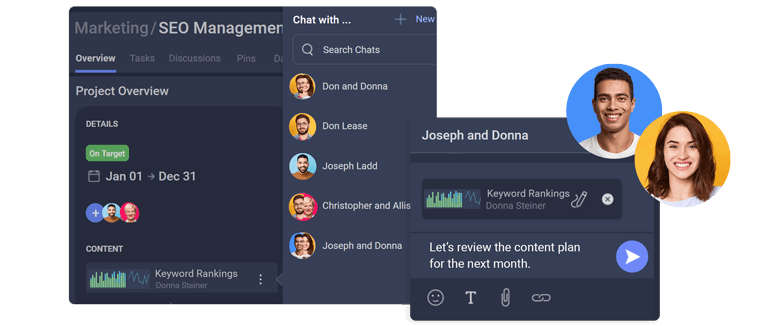 Track Your SEO Performance in Real Time
Create insightful dashboards with the data from any of your SEO tools. Seamlessly connect to Google Analytics, Google Search Console and other leading SEO tools like Ahrefs and Semrush to visualize your organic traffic, keyword rankings, as well as sales with one of the many Slingshot dashboard templates.
Share keyword data with your SEO team, content performance with the editorial team and provide them with the insights they need to produce effective content.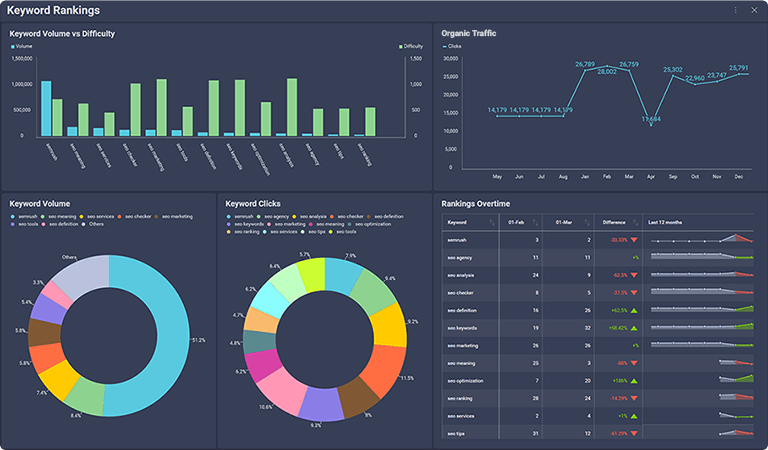 Follow Best Practices
Keep up with SEO best practices and share them easily with your team. Pin URLs to key articles and websites that align with your company SEO strategy and place them right on the same list as your content templates, so they are always on top of your mind.

Frequently Asked Questions
SEO management is a term that refers to the process of creation and monitoring of all aspects of a company's SEO strategy, including industry research, keyword research, website audit, content creation, link building, technical optimization, reporting, and more. As a part of SEO management, your team or agency aims to develop, lead, and adjust your company's SEO strategy to maximize your website visibility and rankings, and achieve your overall marketing, sales, and business goals.
Slingshot incorporates all the necessary tools and features you need from an SEO management platform – real-time reporting, data analysis and dashboard creation capabilities to visualize your performance insights, 1:1 chats and group discussions to easily communicate and collaborate with copywriters, editors, designers, project managers and product owners, and robust project, task, and content management features.
Slingshot can help in-house SEO specialists, freelance consultants, SEO teams, and agencies to plan, launch, and measure different SEO campaigns – content, technical, link building, PR, etc. You get all of your performance data in one location where you can visualize it to make more informed, data-driven decisions about your future SEO campaigns.
Easily! You can connect directly to your Google Search Console ranking data or upload the data from your own rank tracker in Excel or CSV and then build a keyword visualization or a
dashboard
to keep track of movements.
Yes, with Slingshot, you can effortlessly share your SEO project with anyone within your organization and external SEO agencies.
Absolutely! In Slingshot, you are in control of who can view files, folders, dashboards, workspaces, and of course, reports. That is done by the permissions feature that lets you share with anyone within your organization, anyone in the same workspace, or only chosen people. You can change the access level for users at any time, and you can unshare reports or dashboards, etc. at any time too.
Get Started With Slingshot Today
Inspire success with the most powerful team-enhancing software.