IT Management
One App for All Your IT Processes
Slingshot is an all-in-one digital workplace that improves efficiency and streamlines productivity for your IT team. Manage, audit, and optimize your IT management, with real-time visibility, projects, files, and tasks to empower outstanding IT productivity.
Employees who switched between apps frequently reported an average PRODUCTIVITY LOSS OF 40%
Source: University of Irvine
Stop SWITCHING! Start COLLABORATING!
All-in-One Digital Workplace for IT Teams
Slingshot streamlines your IT team's processes to implement projects faster. Bring team collaboration, project management, files, key documents, and insights from your data sources in one, single app. Improve cross-department collaboration with the integration of all needed software. Slingshot also offers a high level of security for all sensitive information. Pin or drop files and data in your workplace with confidence, knowing that it is protected from unauthorized access.

Visualized Data – Improved Outcomes
Use the power of data visualization to get better IT data insights. By quickly creating insightful and easy-to-use data dashboards, you can better monitor, manage and maintain your business needs. Slingshot connects to all your data sources, so you can visualize, check your data and make better decisions. And with our data catalog, all dashboards are in a library, with data certification for datasets, metrics/KPIs, and reports.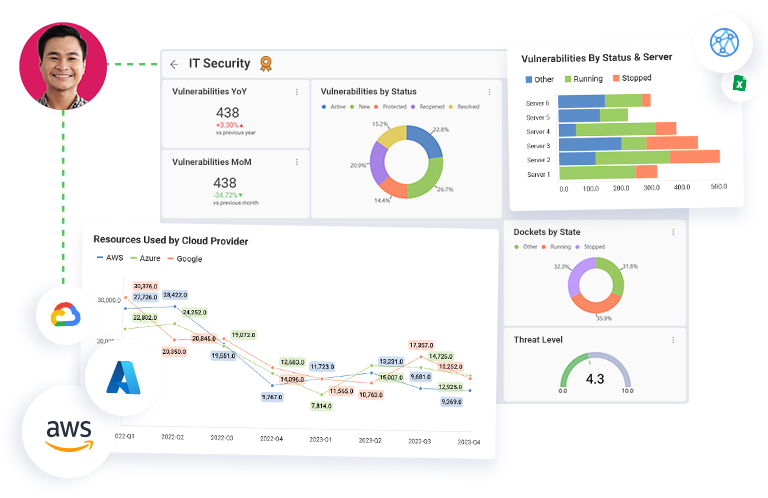 Enhance Your Performance
In Slingshot, data supports all the work your IT team does together. This digital workplace streamlines workflow because data can be directly linked to creating a task or starting a chat or discussion. With just a few clicks, you share insights with everyone connected to your daily workflow to deliver faster projects.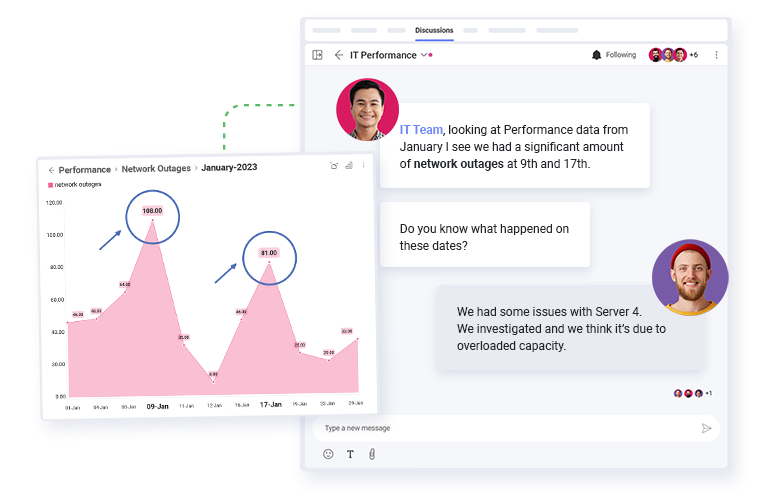 Empower Agile IT Teams
Business success relies on focus, organization, and visibility – especially for IT teams that work in a hybrid or remote environment. Slingshot allows greater transparency on the progress of tasks so that you know where you are and when the project will be complete. You can set dependencies, see ownership immediately, and spot blockers so that work doesn't just get done… it gets done on time.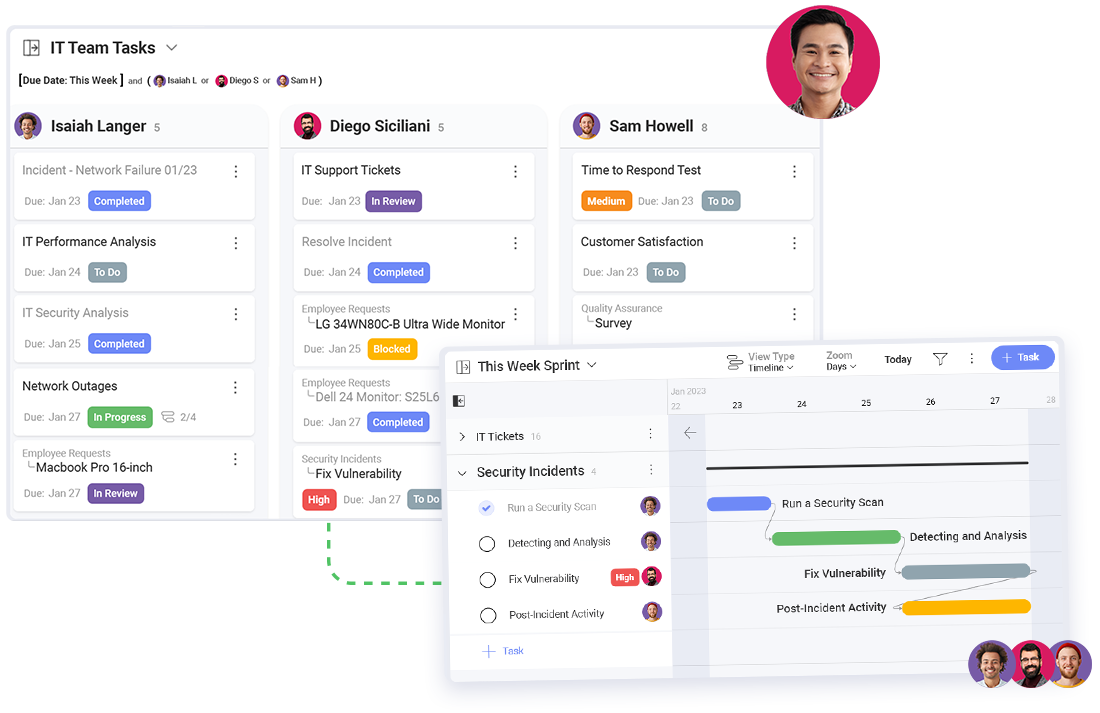 Frequently Asked Questions
IT operations, also known as information technology operations, manage, maintain, and deploy the infrastructure, systems, and processes that support an organization's information technology services. These services may include email, file storage and sharing, database management, website hosting, and more. IT operations teams are responsible for ensuring that these systems and services are up and running smoothly and that any issues or problems are promptly addressed. They may also be responsible for planning and implementing new systems or updates to existing systems, as well as for training users and providing technical support. IT operations play a critical role in helping organizations use technology effectively and efficiently to meet their business objectives.
IT management software is a type of software that is used to manage and oversee the various systems, processes, and people involved in an organization's information technology (IT) operations. These tools can help IT professionals monitor the performance and availability of IT systems, plan and coordinate IT projects, collaborate with their teams, track and resolve technical issues, and manage IT assets and resources.
IT management software provides improved efficiency. IT management software can help organizations to streamline and automate various IT processes, such as asset management, project planning, and technical support. Improved efficiency and productivity results in reduced costs and errors.
IT management software empowers better decision-making. IT management software provides real-time data and insights about an organization's IT systems and operations. This can help IT professionals to make informed decisions about how to optimize and improve their systems and address potential issues before they become major problems.
IT management software helps organizations scale their IT operations as their business grows and changes. 
Overall, IT management software is a crucial tool for helping businesses to manage their IT operations effectively and efficiently by aligning their technology with their business goals.
There are many different types of IT management software available, and the specific tools and technologies that an organization uses will depend on its specific needs and objectives. Some common types of IT management software include:
Asset management tools: helping IT professionals track and manage the IT assets that an organization uses.
Project management tools: serving to plan and coordinate IT projects, including tasks, deadlines, and resources.
Cloud management platforms: used to manage and monitor cloud-based IT systems and services.
Security management software: helping organizations protect their systems and data from cyber threats and other vulnerabilities.
All-in-one Digital Workplaces: teams benefit from these tools that combine chat, tasks with deadlines, project management and data insights in dashboards, with cloud integration so switching between apps is minimized and productivity raised
IT analytics, also known as information technology analytics, is the process of collecting, analyzing, and interpreting data about an organization's information technology (IT) systems and operations. The goal of IT analytics is to help IT professionals better understand and optimize their systems, processes, and people, to improve efficiency.
IT analytics requires a variety of tools and resources such as data visualization, machine learning, and statistical analysis. They can help IT professionals identify patterns and trends in data and develop action plans and recommendations for improving IT operations.
Some common applications of IT analytics include:
Performance monitoring and optimization: IT analytics can help organizations identify and address performance issues in their systems, as well as identify opportunities for improvement.
Capacity planning: IT analytics can help organizations to forecast their future IT needs, and to plan for the resources and infrastructure required to support those needs.
Problem identification and resolution: IT analytics can help organizations locate and solve technical issues more quickly by analyzing data about system performance and usage.
Security and risk management: IT analytics can help organizations identify and mitigate potential security and risk issues by analyzing data about system vulnerabilities and threats.
Overall, IT analytics is a critical tool for helping organizations optimize and improve their IT operations and better align their technology use with their business goals.
Two words: Uninterrupted Workflow.
Slingshot is an all-in-one digital workplace with strong data features and optimized workflows to ensure the fast and quality execution of IT projects and team collaboration. It aligns everyone on the team, streamlining efficiency by providing collaboration, chat, data insights, and all files in one place. In Slingshot, you can optimize projects, spot bottlenecks and issues, troubleshoot them with your team, and progressively make better decisions by relying on shareable data dashboards. Slingshot is perfect for hybrid and remote IT teams since it combines project management, file and information management, chat , task management for your team, all while connecting to all your data sources and cloud providers, so you do all your work in-app and fast.
Get Started With Slingshot Today
Inspire success with the most powerful team-enhancing software.