When teams thrive, anything is possible
Teams who work together reach their full potential faster and produce extraordinary results. Slingshot's easy-to-use features work together seamlessly to power more efficient team organization, more effective decision making and results that exceed expectations every time.
Try it Now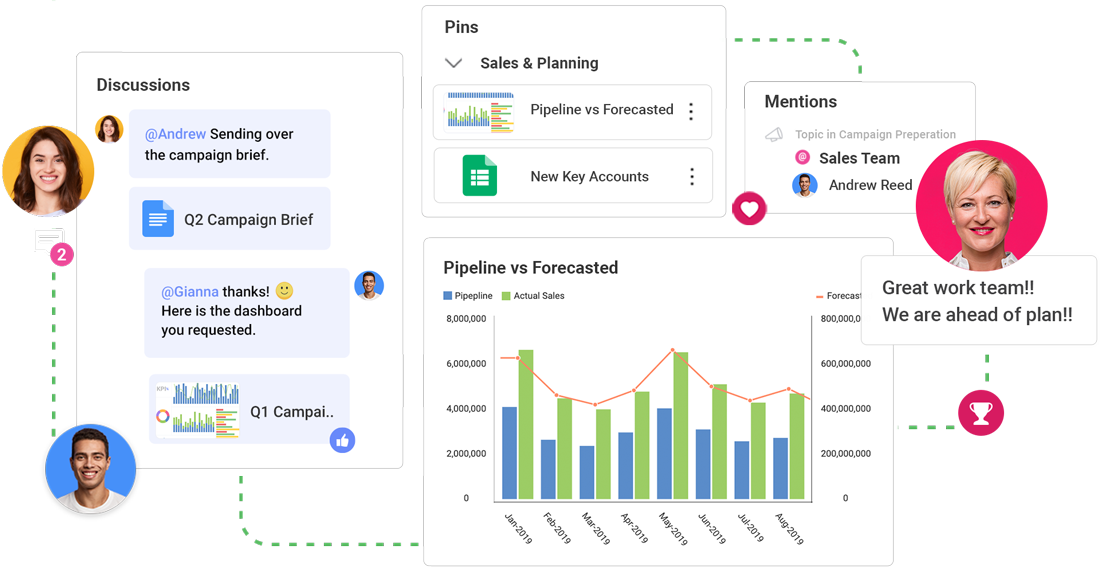 Empower higher performing teams with Slingshot
Only Slingshot truly aggregates data analytics, project and information management, chat, and goals-based strategy benchmarking – all in one, intuitive app.
Create calm and efficiency across teams, departments, and external clients by making it easier to find and access information.
Leverage actionable insight by making it easier for your team to utilize data to improve productivity.
Achieve better results when everyone is focused and engaged on the same objectives and strategies.
Design a culture of ownership and responsibility with better workflow transparency.
Watch Slingshot in action
Seamlessly transform ideas into action in seconds. Experience how Slingshot can increase your team's productivity.
Request a Guided Demo

What our customers are saying about us
Slingshot helps us improve accountability on our team. It allows us to make clear agreements on what and when tasks need to get done. And I love how we can have chat within a task. Slingshot empowers my client teams and keeps us informed and focused.
Using Slingshot on my phone gives me instant access to our sales metrics and allows me to use that data in chat with my team. There's simply no better way to motivate your team than with good data.
I really like how Slingshot works with Microsoft Office 365. I get the best of Microsoft and the easy-to-use data analytics, information management and team organization of Slingshot.
Integrate with your existing tools in just a few clicks
Connect your essential business tools to Slingshot and make it your project control center. Google, Microsoft, PowerBI, Slack, and many more.
First-class security
Trust Slingshot to keep your work secure. With single sign-on, two-factor authentication, and strict adherence to compliance regulations, nothing protects your privacy like Slingshot.
Get started with Slingshot today
Inspire success with the most powerful team-enhancing software.
Try it Now