Marketing – Campaign Launch
Plan, Launch and Manage Successful Marketing Campaigns Under the Same Roof
Keep all elements of your marketing campaigns on track, hit deadlines and deliver ROI with Slingshot's professional features built for success.
Key Slingshot features to help with your Campaign Launch
Go From Campaign Brief to Timeline in Seconds
Go from kickoff meetings, brainstorming sessions, and campaign briefs to a full campaign schedule with tasks, dependencies, start and due dates, and keep all important information in one location.
Slingshot helps you to set and launch integrated marketing campaigns regardless of size, scope, and goals. Run traditional or digital marketing campaigns and visualize campaign targets, performance and KPIs with our fully integrated data visualization features.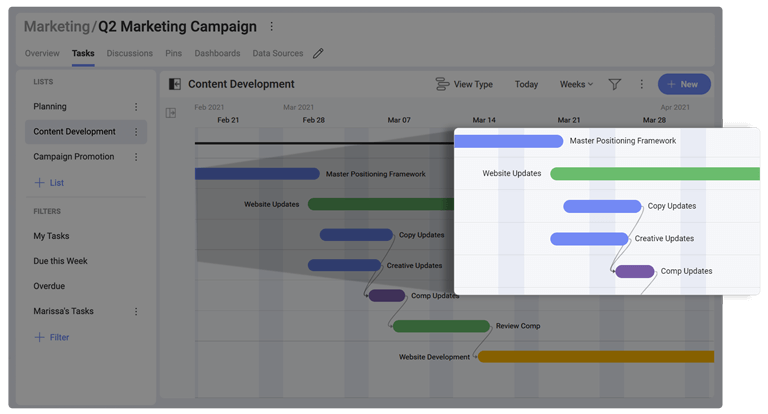 Maintain a Central Place of Truth
Eliminate the need of switching between different apps to hunt for the content and information you need by establishing a central place of truth with Slingshot. Keep all of your documents, content briefs, designs, and more under the same roof for easy access, and uninterrupted, real-time collaboration.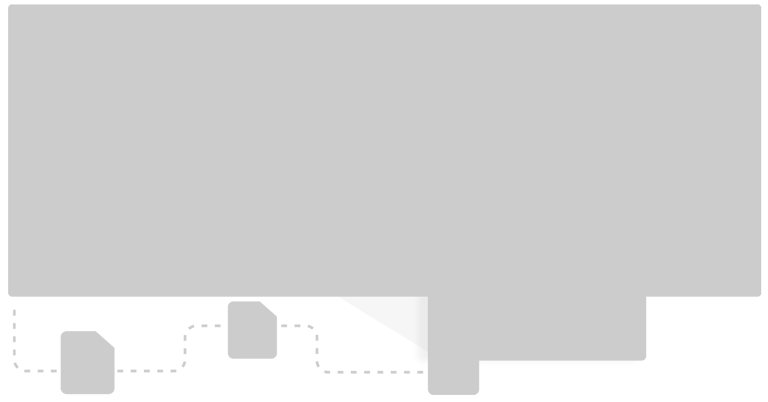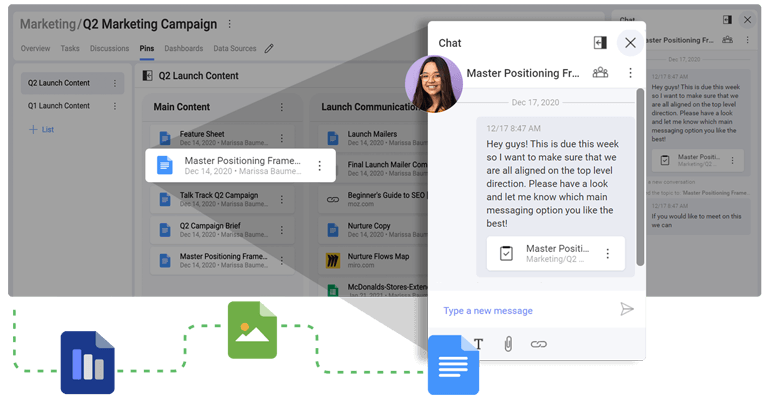 Make Data Driven Decisions
Connect right to Marketo, Hubspot, Google Analytics and other analytics tools to review previous campaign wins and improve KPIs with each campaign. Visualize in your historical data to analyze what worked well in the past and what didn't to make more intelligent business decisions for your future marketing campaigns.
Take action on your insights in seconds by creating real-time visualizations with progress vs target, and with the ability to create discussions and tasks right from annotated dashboards.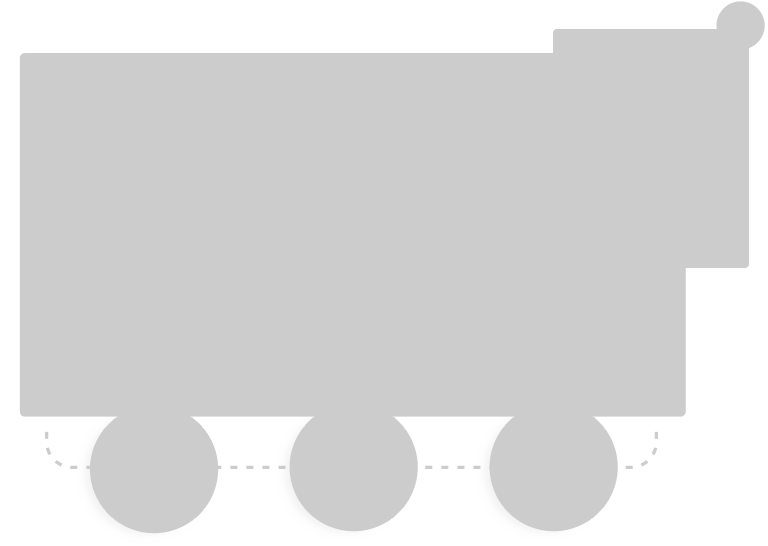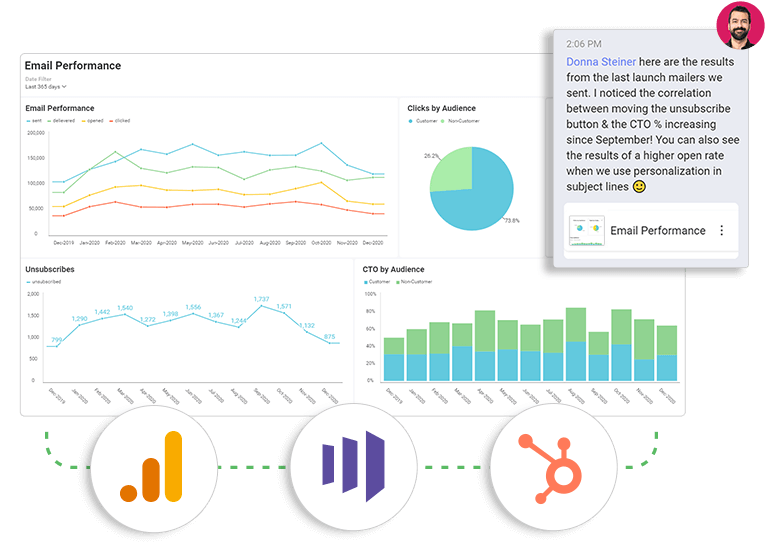 Insights Without Micromanaging
With team and product overview you can gain quick insights into campaign timing, spot key blockers and clear paths to success without the need to dig through the details. Make sure key documents like goal metrics, project briefs and positioning docs are at the forefront.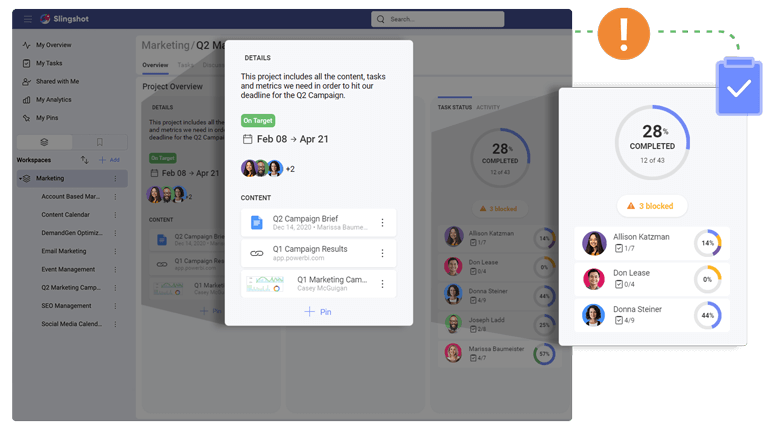 Frequently Asked Questions
A marketing campaign is a series of advertisement messages that share the same business goal or objective. A marketing campaign could be used to promote a product, a service, or the brand as a whole and it does that through different types of media (online platforms, print, radio, etc.).
A successful marketing campaign is a campaign that delivered the right message at the right time to the right audience in order to reach its goal whether that is generating high-quality leads, increasing website traffic, or increasing sales and revenue. To make sure your campaign will be effective and is going to reach its goal, check out our blog on
how to create and launch a successful marketing campaign
.
We make it easy for you to keep all of your content, briefs, designs, and info in one place for easy access. Slingshot is the only productivity tool that streamlines all the moving parts of your marketing machine and brings together all the insights and tools (Marketo, Hubspot, Google Analytics and more) that your team needs. With robust data analytics features, you can turn analysis into action in seconds by creating discussions and tasks right from the annotated dashboard.
When planning a marketing campaign, make sure you have set clear goals, a strategy in place, enough details, and a way to track progress. Slingshot makes that super easy for you to do by integrating project, task, and content management with data analytics. With team and product overview you can gain quick insights into campaign timing, spot key blockers and clear paths to success without the need to dig through the details.
We integrate directly with Marketo, Hubspot, Google Analytics, and other leading analytics tools to assess past wins and grow KPIs with each campaign. You can seamlessly connect to your data source to build a data visualization with all your campaign insights and then you can easily create a report and share it with your stakeholders to measure performance against goals.
You sure can! In Slingshot, you can plan, launch, measure different marketing campaigns and help you hit multiple business goals – product launches, website launches, website migration, rebrands, seasonal campaigns etc. No matter the size and scope.
Get Started With Slingshot Today
Inspire success with the most powerful team-enhancing software.