How Stephen Gould Scaled Its Capacity by 30% Without Making a Single Hire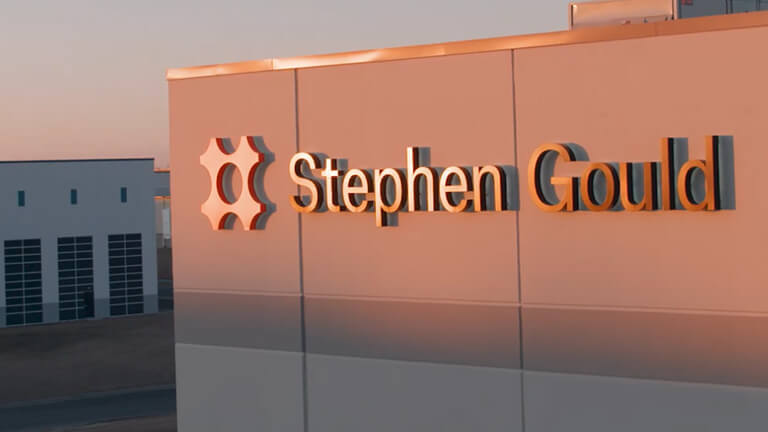 Meet Stephen Gould
When you see a sleek 6-foot-high store display of Xbox 360s or the ubiquitous yellow packaging of Rosetta Stone software, you are most likely looking at a Stephen Gould creation.
Industry

Packaging design and fulfillment

Departments

Sales and Project Management

Top Challenges

Time inefficiency working with paper-based processes.
Difficult to coordinate scheduling, tasks, communications and content across teams.
Unable to integrate data quickly into decision-making.

Why Slingshot

Built to manage complex projects with multiple moving parts, pieces and players on tight deadlines.
Offers a digital meeting spot where teams connect and get work done, no matter where they are.
Boosts team results.
For more than 60 years, Stephen Gould Corporation has provided full-service packaging design, engineering, manufacturing, and fulfillment to clients such as Rite Aid, Rosetta Stone, Tiffany's and many others. They are the largest independent product and packaging solution company in the US.
The company has been a pioneer in improving sales performance through packaging innovations.
"We connect the massive network of vendors, designers and engineers required to bring projects to life," says Aaron Salko, Regional Sales Manager at Stephen Gould. "Our capabilities turn our customers' vision into tangible results."
To keep these processes running smoothly, account managers, project coordinators and sales leaders juggle thousands of moving parts while coordinating closely to deliver products on schedule. Which is why when Stephen Gould tried Slingshot, they discovered a new type of team management and collaboration solution that went beyond their expectations.
The Challenge
From All-paper to All-digital
Stephen Gould has been singularly focused on using its industrial, graphic and engineering design teams to transform its customers' product vision into tangible, real-world experiences. But like many companies, it had yet to bring that level of innovation to its own internal processes through digital transformation.
"We've been paper based for many years, printing out pdfs and invoices and even emails," says Account Coordinator Ginny Pennachio. "I was spending hours each day printing and we had cabinets full of paper going back years."
Once COVID-19 hit and employees were all forced to work from home, the need to fully embrace digital became clear.
"We needed to transform our own processes in order to collaborate, communicate and connect digitally and we needed to do it fast," adds Ginny.
The company's initial solution was to have all account coordinators upload their files — such as spreadsheets or invoices — to their One Drives in the cloud.
"But this didn't work because I was bouncing from spreadsheet to spreadsheet to find my data. I needed a one-stop shop, somewhere I could go, look at my order, drop the file in and call it a day."
"I started using Trello but it's not a secure platform, so if we had a cyberattack, all of our files would be at risk. I tried Planner but they had a maximum of 10 pdf files. I needed a solution that was unlimited."
Other professionals at Stephen Gould were also looking for ways to save time coordinating content, conversations and commitments from other team members to keep projects on track.
The Solution
Digital Transformation Fosters Efficiency, Innovation and Growth
With Slingshot, Stephen Gould not only moved quickly to a paperless office, they also began using technology to transform how individuals and teams worked and to influence processes organization-wide.
Employees could move all their files into a single digital workplace, connect with each other in one place, and organize projects, content, chats and data that were relevant at the moment they were needed.
"We no longer had to keep digging to find content, no more app switching, no more searching for emails – it was all accessible in Slingshot," adds Ginny. "We started to find we could work smarter, waste less time and exceed goals.
"The software connects everyone we work with to everything they need–content, projects, analytics and chats. I can't live without Slingshot; it's been a godsend."
Ginny also felt secure with the single sign-on, two-factor authentication built into Slingshot, and strict adherence to compliance regulations.
Fast Interactions and Collaboration
As a Stephen Gould sales manager, Kelly Johnson manages a team of sales agents across Pennsylvania and New Jersey and she continually engages with sales agents and project managers to serve clients.
"Before Slingshot, I was spending hours every day tracking down files and conversations scattered across multiple apps. Now, I organize everything in one place and have a quick checklist that all of us can access from the desktop or the mobile app to make sure all our deliverables are completed on time.
"I'm also noticing people are dropping the ball less. We're still dealing with a high number of projects and everything is 'still a priority', but now we're prioritizing better, we have visibility into workflows so we know what's expected, and there's a greater sense of calm."
Regional Sales Manager Aaron Salko sums up the key benefits:
"I live in the project and task world and I love the Kanban view in Slingshot," says Kelly. "We have cards that represent tasks for each account and they move across the different columns along with the approval process. This gives me instant visibility into the status of all my accounts."
Slingshot's file management feature provides access to all files and content whether in Excel, Word, Dropbox, Sharepoint or other locations – all content, comments, tasks are accessible from one place in Slingshot.
See Data Faster and in Context
Project managers at Stephen Gould negotiate pricing, manage artwork creation, obtain client approvals, and oversee production. They're also responsible for keeping an eye on the numbers to review costs or overruns and be sure projects are profitable.
Project Manager Jimmy French typically only sees analytics when they are provided by the analytics group every few weeks. He needs to run a separate app, it's complicated, and the data is hard to analyze. So, he was surprised and delighted when he saw the data analytics capability built into Slingshot. 
"I knew this capability existed out in the world, but I just didn't know how to integrate it into what I was doing," says Jimmy. "Slingshot brings the analytics into my workflow so I can see attractive dashboards that let me visualize at a glance data that is directly relevant to what I'm doing at the moment."
"Once fully deployed, I envision Slingshot being implemented with our manufacturing plants and potentially our clients," says Aaron, "so that everyone has visibility into which stage of production items are at and allowing for better forecasting. It would also allow our teams to be more nimble and react to delays in real time."
Post-Paper
Not long ago, Stephen Gould relied on paper, emails, spreadsheets, phone, various cloud content services and more to organize teams. Now, with Slingshot, Stephen Gould is scaling capacity by 30% without requiring new hires as teams and leaders have visibility into all the factors that affect project success.
"I've tried other platforms like Trello and Planner and Smartsheet and I quit all of them," says Kelly, "but Slingshot has a lot of features that keep you coming back because the organizational piece is so important to what we do day-to-day. To find something that unleashes the power of the team and fits the speed of business has been amazing."