Marketing – Social Media
Social Media Management Done Right
Visualize and analyze your social media campaigns performance with a single tool. Slingshot allows you to plan, create, execute, track and manage all elements of your social media campaigns so you can get more done in less time.
Key Slingshot features to help with your Social Media
Content & Assets Management
Keep your all creative assets, copy briefs, organic and paid social media plans neatly organized in one place. Slingshot empowers you to create, manage and analyze your social media calendar in one place. Collaborate with your team in a single platform and optimize your campaigns with a data-driven strategy.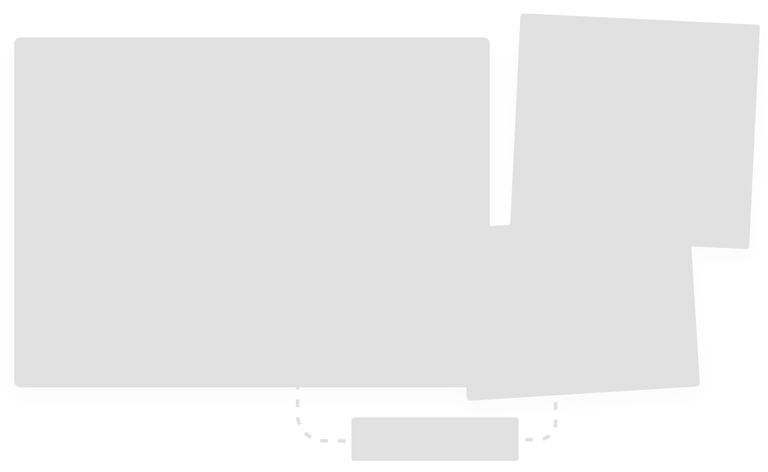 Data-Driven Decisions
Make the most of your Facebook, LinkedIn, Twitter, and Instagram insights by visualizing key performance metrics. Quickly identify what's working for you and what isn't and adjust and prioritize to get better ROI for your campaigns. Track spend, ad performance, website activity, and conversions all in one view.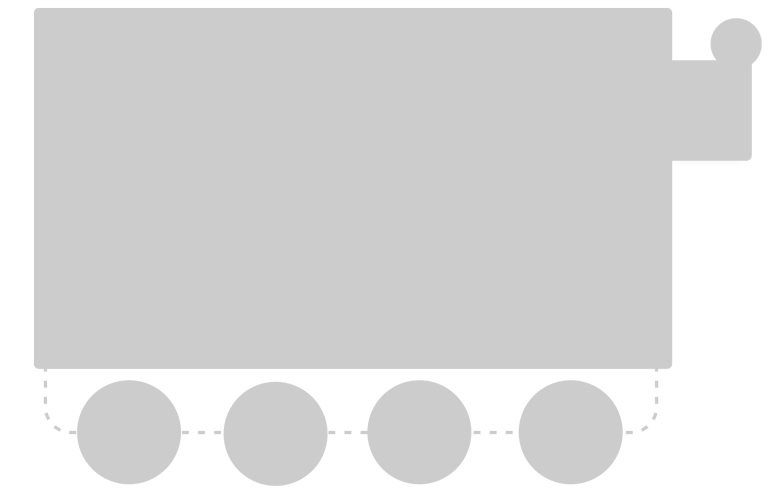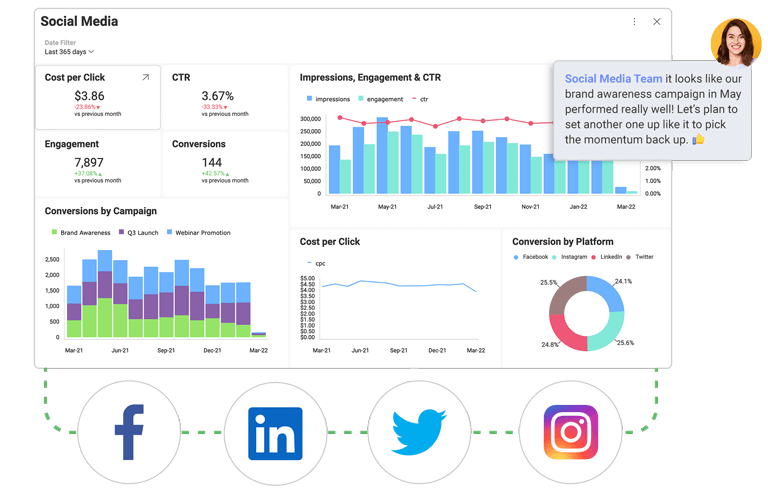 Creative Collaboration in Context
Align your team by mapping out all needed aspects to kick off your campaigns: social images, website content, tailored messaging, and ads.
Keep an eye on the progress of it all by viewing your projects in Timeline, List, Calendar, or Kanban view – having your discussions and chat in context, giving feedback, brainstorming new ideas and actionable items, and reviewing everything necessary, while always having the most updated files at hand.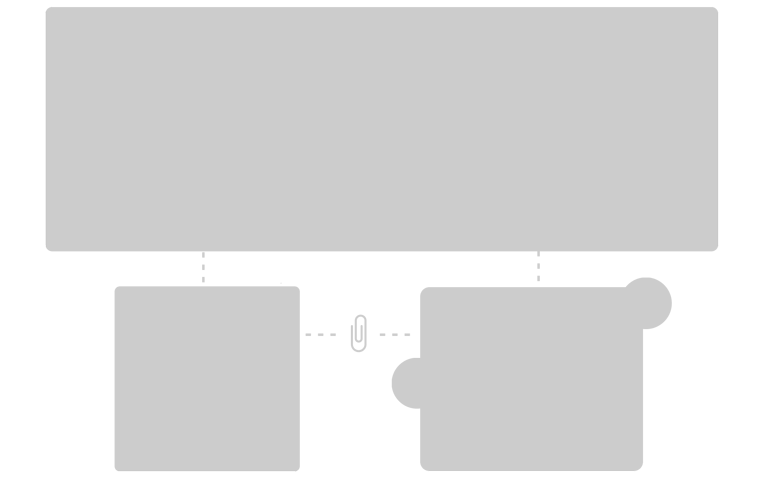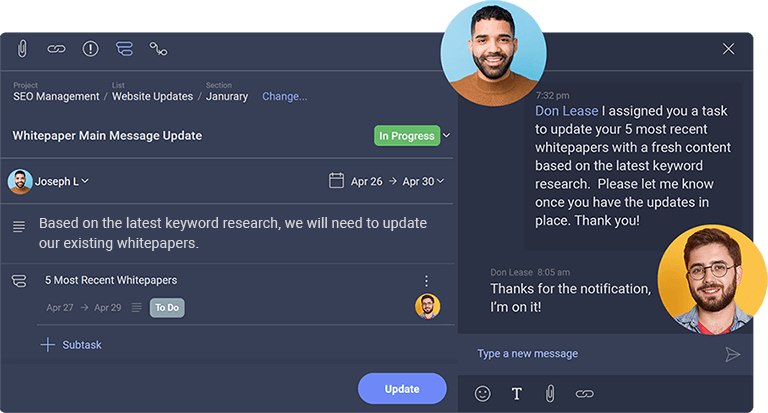 Boost Productivity
Equip your team with an uninterrupted flow to always keep work extra productive and bring successful results to your social media projects. With Slingshot, everything is in context and synchronized between teammates, no matter where they are in the app or in the world.
You can pull your most important metrics into dashboards, go into discussion with your team directly there and create tasks from an actionable message with just a few clicks.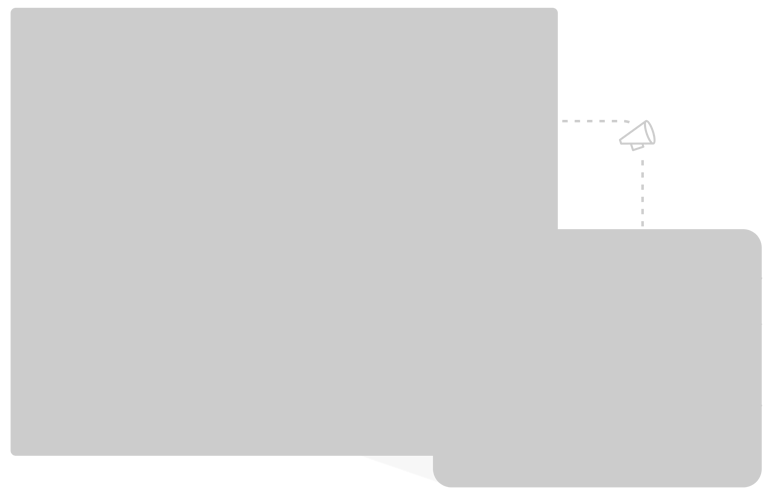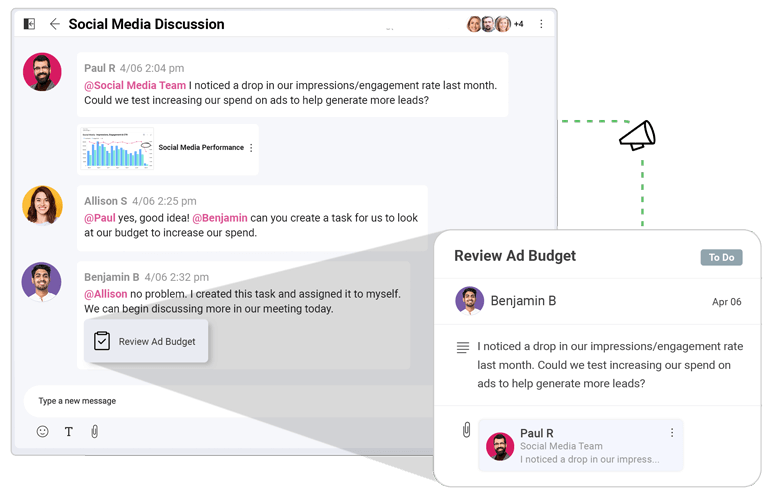 Frequently Asked Questions
Social media management is the planning, creation, and execution of a strategy that distributes content across different social media channels. The strategy is usually tailored through analysis and consists of monitoring channels, interacting with online followers, collaboration with partners and influencers, community management, and social media advertising across channels.
For companies who want to expand their reach, grow and develop their brand and customers, social media management creates many opportunities. Through social media channels, brands can popularize their products, engage with customers, get ahead of competitors and find models and patterns that turn to actionable insights, to create leads and raise revenue.
Social media management tools are the ones that assist in the creative content planning and execution, the publishing, outreach, and management of the business' accounts on social media. Other social media management tools include analytics and reporting capabilities, as well as scheduling.
Slingshot brings together all elements of your social media flow, from planning and managing your content and collaborating with your team to visualizing data and using data-driven insights to increase leads and brand positioning. Having key campaign performance insights at your fingertips allows you to make informed decisions, improve your social media campaigns, and improve launch effectiveness going forward.
Slingshot is the perfect tool for companies who want to seamlessly manage their social media in an all-in-one digital workplace, combining all aspects of the successful execution of a winning strategy. The powerful features of Slingshot will greatly benefit businesses of all sizes including social media management companies servicing small and medium businesses (SMB), marketing agencies, and big organizations.
Slingshot is not a scheduling tool, but it can help you manage everything else.
In Slingshot, you are in full control. Share files, folders, dashboards, workspaces, and of course, reports. You can also export key data insights into PDF and PPT to easily share them externally. Our permission feature lets you share with people within your organization, anyone in the workspace, or only people you choose. You can change the access level, or unshare information for users at any time.
Slingshot is an all-in-one digital workplace that creates calm and efficiency in team collaboration, by bringing together project management, task tracking, content management, chat, and discussions. It's the central place for keeping all your important data, with strong analytics features helping you create beautiful dashboard visualizations in moments and share and use them easily.
Get Started With Slingshot Today
Inspire success with the most powerful team-enhancing software.