Data Analytics at the Point of Impact
Go from insights to action in seconds. Bring Slingshot's fully integrated business intelligence platform into your daily workflow and make it easier for your team to make the smartest business decisions and improve productivity anytime, anywhere, and on any device. Advanced Data Analytics and Reporting Features
Deliver real-time, contextual business insights by integrating robust dashboards and interactive data visualizations. Unlock your organization's data full potential by bringing self-service capabilities and advanced analytics, including machine learning directly into your software application.
Machine Learning
Get a view of trends in customer behavior and business operational patterns by utilizing machine learning models from Azure ML and Google BigQuery.
Data Blending
Find insights easier by bringing multiple data sources together into one visualization for a deeper, side by side view.
Calculated Fields
Create additional fields of your data source to utilize out of the box for your data visualizations.
Global Filtering
Add interactive filters to any of your visualizations and further slice and dice your data to gain a deeper understanding of your insights. Slingshot allows you to filter by date or any fields within your data to answer your business questions at the right moment.
Dashboard Linking
Dig deeper into insights by providing drill downs that take your data to new levels. Link any dashboard or visualization to another dashboard or URL. Go from high level metrics into more detailed views in one click.
Annotation
Start data-driven discussions about your data and easily collaborate with your team. Whether you need to ask questions, highlight insights or draw conclusions from your data, you can go from viewing and annotation to sharing in a matter of clicks. All while staying organized and on-topic.
Fast and Reliable Data Integration
Gain a 360° view of your business data! Slingshot allows you to get a full view of your key business insights and create real-time data visualizations by bringing all of your data sources together.
Amazon Athena
Connect to all your serverless queries
Amazon Redshift
Connect to your cloud data warehouse
Google BigQuery
Connect to your serverless data warehouse
Microsoft Azure Snapse Analytics
Connect to your serverless data warehouse
Don't See the Data Source You Need?
We work every day to deliver the best for our customers. Send us a request and keep an eye on your inbox as you'll be among the first ones to know when it's available.
Send a Request
Taking Data Analytics to the Next Level
Create Dashboards Faster
You can go from an existing pinned Excel file right into the Slingshot visualization editor to create beautiful dashboard with just a single click!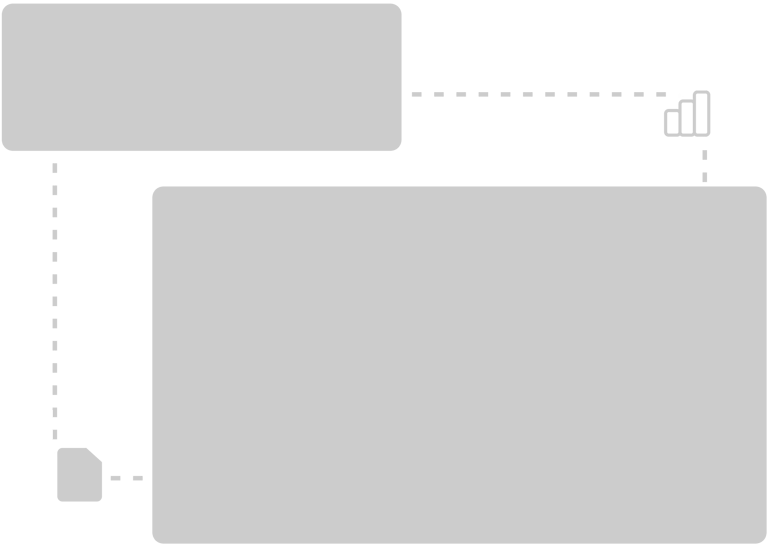 Data Catalog
Bring your company data all in one place, making it easier for business users to search, use, share, and discuss key business insights. Slingshot's Data Catalog cultivates data-driven decision-making and establishes confidence and engagement across your organization.
Learn More

Boost Team Results with Ready-to-Use Dashboard Templates
Experience seamless data and analytics integration, leveraging our expertly crafted dashboard templates. Slingshot provides pre-built, user-friendly templates for visualizing and analyzing data from various datasets in just a few clicks.
Frequently Asked Questions
Data analytics (DA) is the process of examining data sets in order to find trends and patterns, and draw conclusions about the insights they possess. The process of analyzing data is done with the assistance of specialized systems and software. These data analytics technologies and techniques are widely used in a variety of different industries to enable organizations and teams to make more-informed business decisions.
The data analytics process refers to collecting, processing, cleaning, and analyzing large data sets. It is a complex process that involves a lot of highly technical know-how and/or data analytics tools that provide the technical platform and expertise, and functional and intuitive visualizations presenting the insights.
Data analytics is important for businesses as it helps understand data in a meaningful way which comes with plenty of benefits. It can predict customer trends and behavior, enables faster and better decision-making, increases business productivity, as well as solve problems and prevent the occurrence of such. Data analytics can also help in optimizing and improving the customer experience, streamline operations and support the delivery of more relevant and better products.
Data analytics tools and technologies help businesses process and analyze current and historical data to find opportunities, predict trends, spot anomalies, answer questions and solve problems. They support businesses in understanding their customers better, evaluate their marketing campaigns, personalize content and analyze their competitors. Furthermore, data analytics helps in setting realistic goals, reducing costs, and increasing revenue, strengthens your competitive advantage, and increases workflow productivity.
Data analytics tools is a term used to describe software and applications that are used in order to develop and perform analytical processes. There is a wide range of tools and technologies used in these data analytics applications, but some of the most common ones include charts, diagrams, histograms, maps, gauges, grids, etc. Surveys are also considered as data analytics tools as they help collect data about people's opinions, behavior, or knowledge from targeted groups.
Slingshot brings the power of an integrated BI machine into your daily workflow allowing everyone within your organization to analyze data and create dashboards independently. That improves your team's decision-making process and provides the opportunity to go from insights into action in a matter of seconds. You can work smarter and better by being able to access key business data wherever you are and at any time.
You can easily use your trained models' data from Azure Machine Learning Studio or Big Query Models in Slingshot dashboards. The only thing that you need to do is to choose your data source, build a visualization, and use the integration to connect to a trained machine learning model.
Data blending is the process of combining multiple data sources into a single data or functioning data set. In Slingshot, you can easily merge multiple data sources together into one comprehensive visualization for a side-by-side view of your insights. Data blending allows businesses to cope with the expansion of data that they need to make key business decisions based on reliable business intelligence.
In Slingshot's dashboards, you can bring in fields from other data sources when creating visualizations – all they need is a common field. The process of blending your data in Slingshot is very easy and you can see the step-by-step guide in our combining data sources in
one visualization article
.
Slingshot is more than a data analytics tool. Slingshot is an all-in-one digital workplace that seamlessly incorporates project and task management, content management, data analytics, and collaboration features to unleash the full potential of your team. It also eliminates the need to switch between different apps and increases overall team and work productivity.
You sure can! In Slingshot, you are in control of who can view files, folders, dashboards, workspaces, and of course, reports. That is done by the permissions feature that lets you share with anyone within your organization, anyone in the same workspace, or only chosen people. You can change the access level for users at any time, and you can unshare reports or dashboards, etc. at any time too.
Absolutely! You are in complete control over who's going to have access to view your data, so you can be sure that sensitive data never gets in front of the eyes of those who are not supposed to be seeing it.
Not necessarily. Organization owners (data analysts or not) can manage the Data Catalog, adding or approving new content, and also organizing the content shared with the rest of the organization. Organization users that are not owners cannot delete or add content to the Data Catalog. They can browse lists and sections but not create or edit them.
Get Started With Slingshot Today
Inspire success with the most powerful team-enhancing software.