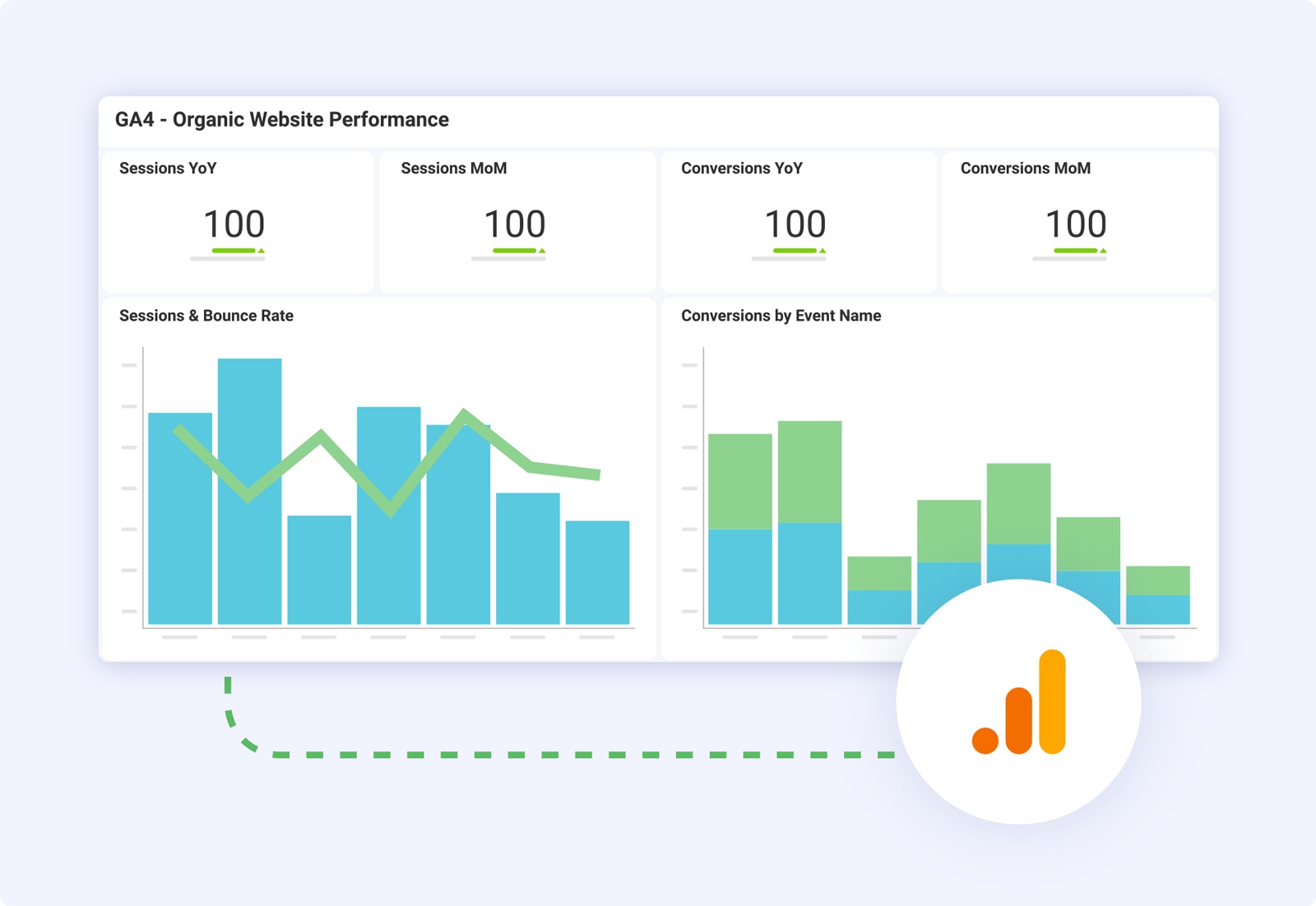 What Is Included in Slingshot's GA 4 Organic Website Performance Template?
Welcome to the world of data-driven insights with our GA 4 Organic Website Performance Dashboard. Powered by the most essential organic metrics at your fingertips, we've designed this dashboard to elevate your SEO reporting and help you make smarter decisions for superior results.
Our dashboard presents a comprehensive view of your organic sessions and conversions – both in the context of Year-over-Year (YoY) and Month-over-Month (MoM) comparisons. Furthermore, it encompasses all GA4 conversion events (previously goals in Universal Analytics), granting you the flexibility to narrow down outcomes to a specific goal of your campaign or overall organic performance. Here's everything we have included:
Sessions YoY: Gain insights into your website's YoY session trends, track growth, and identify opportunities.

Sessions MoM: Dive into MoM session data to spot short-term patterns and make timely adjustments.

Conversions YoY: Measure the growth of your conversions YoY, helping you quantify your success.

Conversions MoM: Track MoM conversion data to understand and capitalize on fluctuating trends. All these sessions and conversions KPIs give you the opportunity to identify seasonal trends, performance during busy business periods (Christmas, Black Friday), or the impact of a specific SEO campaign.

Sessions & bounce rate: Discover the relationship between sessions and bounce rates, uncovering potential user experience improvements.

Conversions by event name: Understand which events drive conversions, allowing you to fine-tune your strategies.

Sessions by landing page: Pinpoint the most visited landing pages and optimize their performance for maximum impact.

Conversions by landing page: Identify high-converting landing pages and replicate their success across your site.

Sessions by country: Get a global perspective on your traffic sources, enabling targeted expansion efforts.

Sessions by source: Determine the sources of your sessions and tailor your marketing efforts accordingly.

Sessions by device: Recognize which devices drive the most traffic and tailor your user experience for optimal engagement.

Sessions by user type: Differentiate between new and returning users, crafting experiences that cater to both.
Why Use the GA 4 Organic Website Performance Template by Slingshot?
Why settle for average when you can experience the Slingshot advantage – where insights meet innovation, and data ignites growth. Crafted to perfection, Slingshot's GA 4 Website Performance Dashboard reveals the full spectrum of your website's organic performance data, offering a panoramic view of sessions, conversions, landing pages, and more. And all this is available in a few clicks. With us, you can forget the time-consuming manual data crunching and transform raw data into actionable insights with automatic data visualization.
Benefits of Using the GA 4 Organic Website Performance Template
Slingshot's GA 4 Organic Website Performance Dashboard offers several advantages for SEO specialists looking to optimize their SEO campaigns and website performance. Leverage our free, fully editable, and ready-to-use template to benefit from the following:
Single source of information: Consolidate all your key SEO metrics and KPIs in one place. Our dashboard serves as a central hub for your data, ensuring a comprehensive view of your website's organic performance. You can also add and visualize Google Search Console data as part of this dashboard or as a dashboard on its own.
Customization: You can tailor our SEO reporting template to fit your specific needs. Leverage the flexibility we offer to edit, filter, and focus data to match your SEO strategy – whether targeting specific product categories or catering to clients as an agency.
Efficient SEO reporting: Compiling data for an SEO report can take hours. Slingshot's GA 4 Organic Website Performance Dashboard pulls data together into one comprehensive view for efficient SEO reporting, faster insights, and informed decision-making. You can share links to the dashboard with your team, management, or your clients. You can also download it as a PPT, PDF, or image, making adding elements of your dashboards in existing reporting templates easy.
Easily digestible data visualizations: Transform complex SEO data into clear, actionable insights. Our SEO reporting dashboard template employs intuitive visualizations that make it easy to understand trends, patterns, and areas for improvement at a glance.
Boost Team Results with Ready-to-Use Templates
Track organic traffic, landing page performance, and behavior metrics in real-time, visualized in a few clicks.