Work Smarter, Not Harder: Custom Templates and Calendar View
Created to suit your unique needs, making each project a breeze to manage, two incredible additions to Slingshot will boost your productivity journey and redefine your work experience. It's time to make every second count, starting right here.
Casey Ciniello
3 min read
In today's fast-paced business world, where time is money and efficiency is key, we're excited to introduce two groundbreaking features that will revolutionize the way you work: Custom Templates and Calendar View.
See the details below!
Custom Templates for Projects and Workspaces
Create, save, reuse! Custom Templates empower you to save any project or workspace you've created, complete with tasks, processes, dashboards, assignees, and files. No more starting from scratch – create your next project with a click, saving precious time in your daily workflow.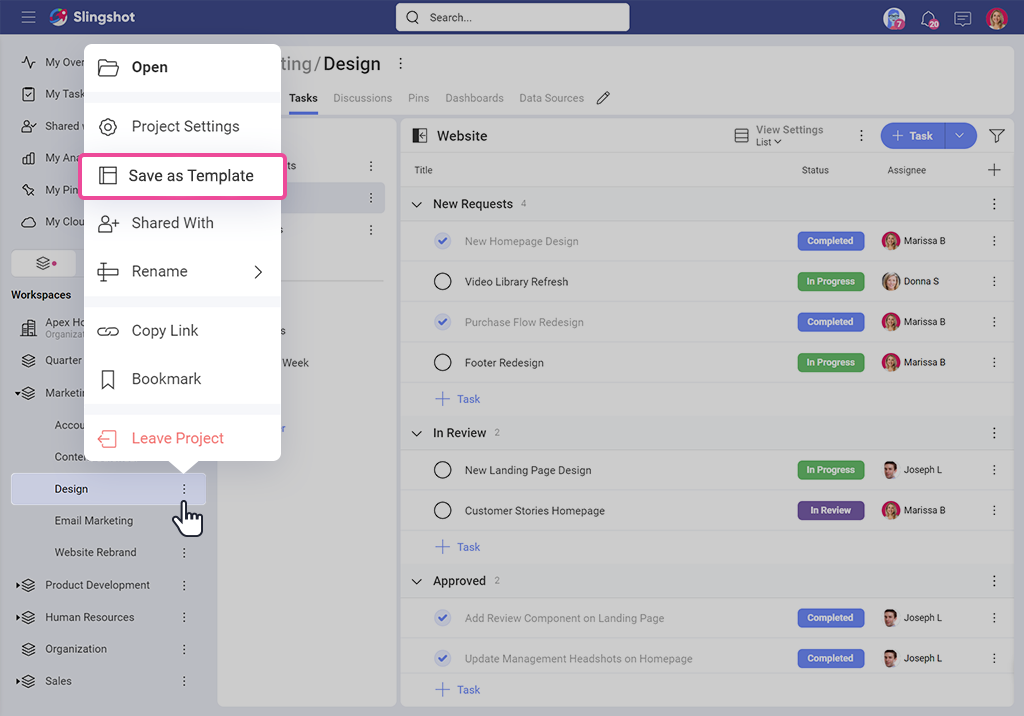 Whether it's your monthly, annual, or even weekly go-to projects, your custom templates can hold all the essential elements for their success and swift implementation. From recurring campaigns to product launches, content creation, and beyond, your templates are at your fingertips, ready to kickstart your projects effortlessly.
Calendar View
The long-awaited Calendar View is here and ready to take your task management and team alignment to another level! In this new and improved view of tasks, you can zoom in on the month, week, or day, giving you a quick overview of upcoming high-level projects and better organization of your tasks.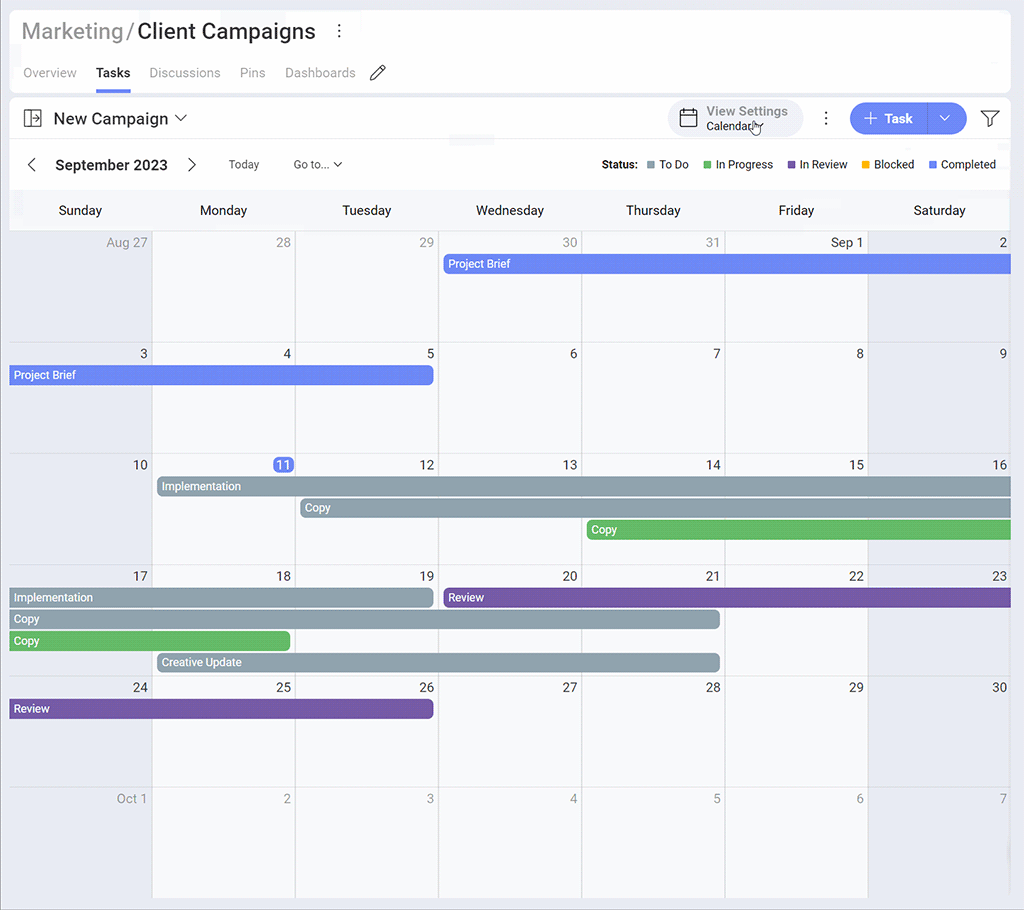 Tasks are color-coded by status and priority, and you can focus on either the start date and due date to visualize task duration or simply the due date on the calendar, ensuring nothing falls through the cracks. To enhance cross-functional and company-wide collaboration, you can share a link to the Calendar View within a specific workspace, ensuring both members and non-members stay informed and aligned on deadlines and progress.
Calendar View also simplifies organizing unscheduled items with the "Show Unscheduled Items" option, providing a one-click view of these tasks. Easily plan your resources and schedule by dragging and dropping items onto the desired date.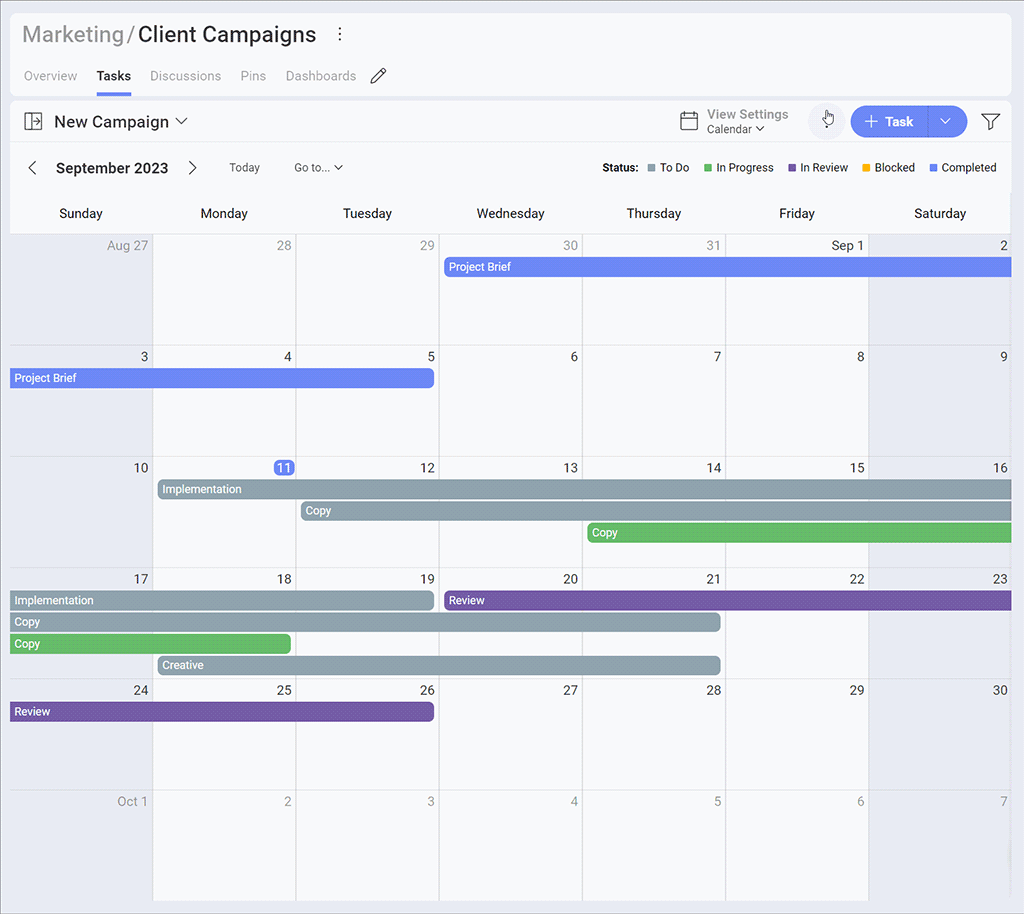 Navigating your tasks has never been more efficient. This brand-new feature enhances performance with increased visibility, faster planning, and quicker goal achievement.
Now, it's your turn to experience these exciting new features and witness how they can transform your work. Dive in today, explore the possibilities, and share your thoughts, ideas, and suggestions with us below. Thank you for being a part of this exciting journey!