Introducing Templates for Dashboards, Projects, and Workspaces 
We know your time is important, so we aim to continuously enhance your experience with Slingshot by providing the tools you need to transform how you work and save you time. 
Casey McGuigan
4 min read
The latest Slingshot release gives you a head-start on success with a collection of out-of-the-box templates tailored to various use cases and industries. From Workspace and Projects to Dashboards Templates, you too can witness the power of Slingshot in just a few clicks. 
So, without further ado, let's look at the new features more closely. 

Workspace & Project Templates 
Get started with Workspaces and Projects faster with our pre-built templates. With over 40+ templates, you get everything you need to kick-start your projects and processes, such as:   
Tasks: We provide you with tasks, dates, and structure in a view that we know is best for you to visualize the status of your projects  
Pins:  Use the sections we created for you as guidance on how to organize your pins. You can pin anything from your cloud providers, URLs or even pin existing Slingshot links!
Discussions: Each template has pre-built discussions to help guide you where you can post conversations for everyone on your Workspace or Projects to contribute and be in the know
Dashboards: Get to your insights faster than before. We have added dashboard templates for the use cases and data sources that work with our data sources such as Google Ads, Google Analytics, Salesforce, Hubspot, Google Search Console, QuickBooks, Dynamics CRM. If your Workspace or Project Template contains a Dashboard Template, you can connect to your data source and see the power of Slingshot's data analytics in seconds.
When you add a new Workspace or Project, you will see a few options: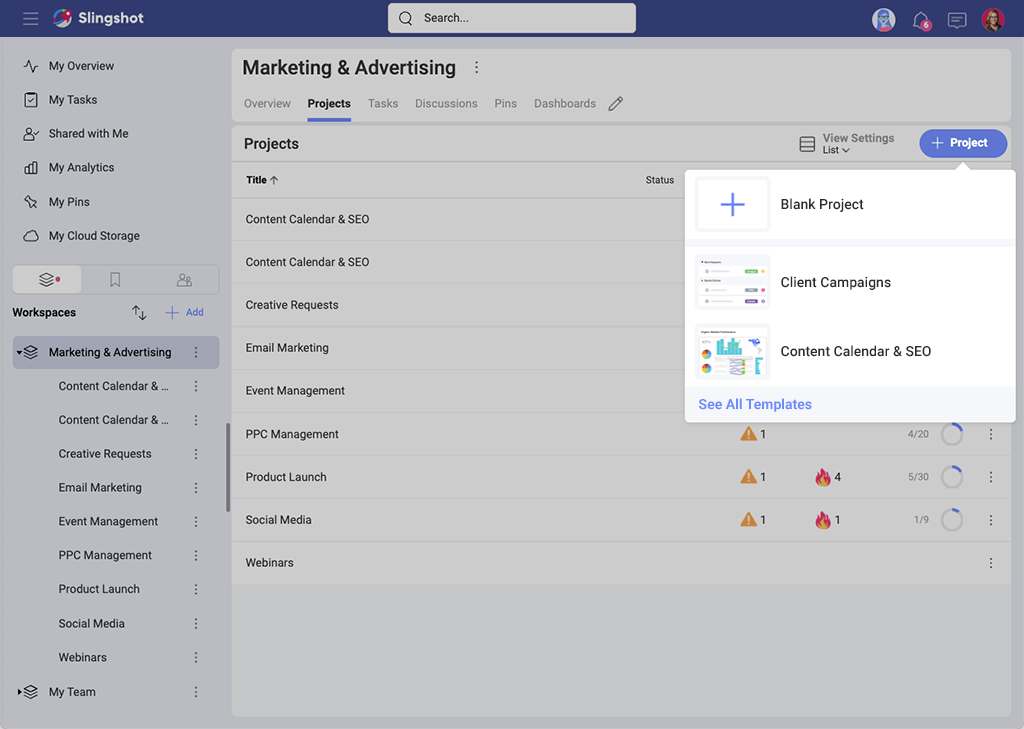 Blank Workspace/Project to build from scratch
Use any recommended templates that appear below that will match your selected department 
See All Template to enter the template center to explore all different use case templates!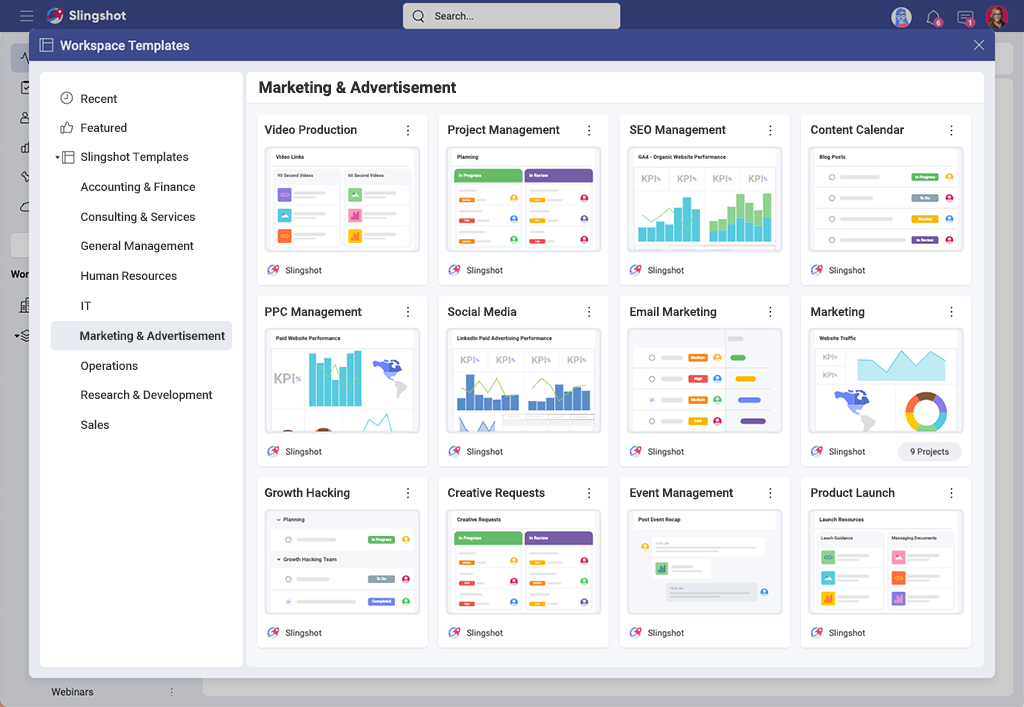 We built each template to present the optimal (and fastest!) way to create your workflow for each use case in Slingshot. 
Dashboard Templates 
Data is your lifeline for making smarter decisions, improving results, and aligning your team with the right insights and strategy. Unlocking these insights should be simple enough for anyone to accomplish. 
So here come Dashboard templates! While you will have some Dashboard Templates within the Workspace and Project template you use – there's more where that came from! 
When you go to add a dashboard anywhere in Slingshot, you will now see the following options: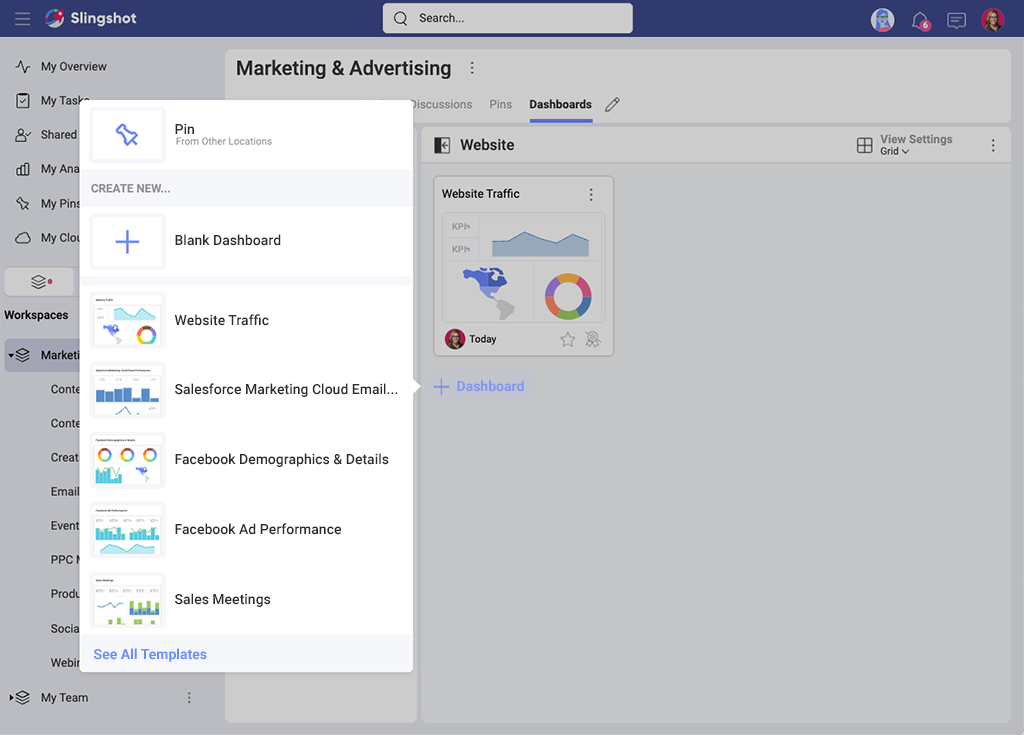 Pin From Other Location will allow you to pin Dashboards from other Workspace, Projects, or even your organization's Data Catalog for reference where you need.
Blank Dashboard to create a dashboard from scratch. 
A list of templates you have either recently used or relate to your department and use case. 
See All Templates to enter the template center to explore all our dashboard templates.
And creating that dashboard off our template is easy! 
Choose Your Template 
Connect to Your Data 
Visualize Your Insights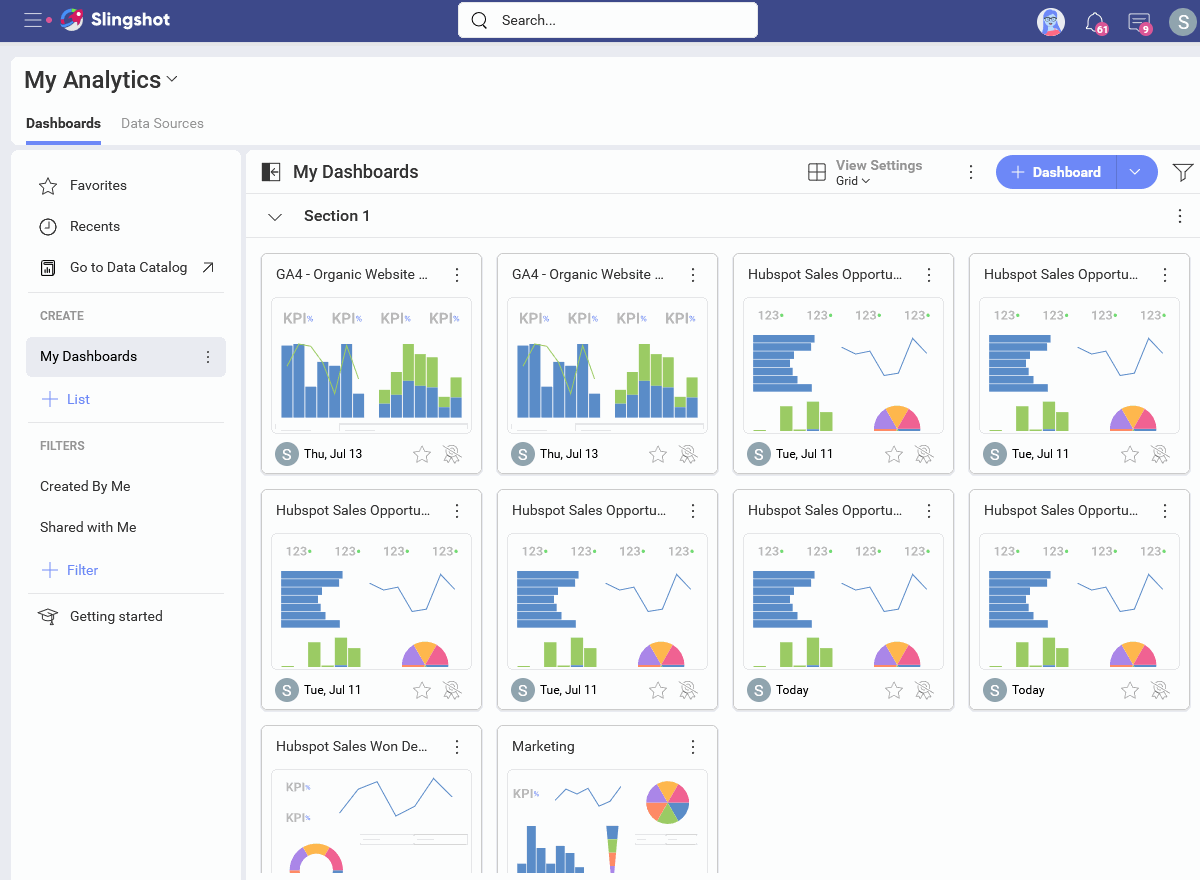 But it doesn't end there. 
These dashboards have the essential KPIs you need for each use case. Still, if you want more, you can customize them further with additional visualizations or edit the ones there. 
Interactives and powerful features such as drill-down, exporting to Excel, PowerPoint and more are built right in. 
Want to share these insights with someone? You can use the share button or really impress someone by creating conversations and tasks for people from your dashboard. 
Empower yourself with data visualizations, enabling you to make informed decisions and drive your projects forward.  
So, what are you waiting for? Say goodbye to starting from scratch and enjoy the efficiency of ready-to-use templates.  
Hop on and try out all of these in your workflow. And don't forget to let us know what you think – we are grateful for your feedback and would love to hear your thoughts on the new features.