Reveal Upgrades to Slingshot
We are excited to invite you to upgrade your Reveal app to Slingshot. Keep all the data-driven features you have today in Reveal while boosting your experience with so much more. Because only with Slingshot you get data analytics, project and information management, chat, and goals-based strategy benchmarking – all in one, intuitive app.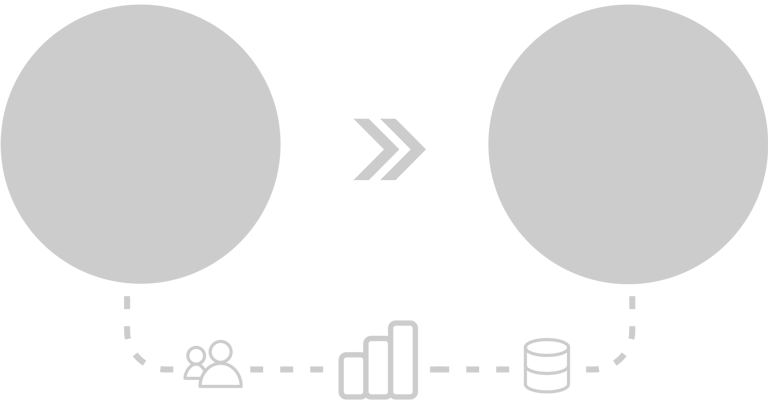 Steps to Move from Reveal to Slingshot
Use the same email that you log in with Reveal to log into Slingshot.
All your personal dashboards will be in My Stuff within the Analytics tab. All of the workspaces that you have inside of Reveal will also appear on the left-hand side and will also contain an analytics tab with your dashboards.
Now you can start enjoying all the other features of Slingshot! Check out our product tour video to make your transition to the upgrade even easier.
Frequently Asked Questions
Slingshot is a digital workplace that connects everyone you work with to data – organizes projects, content, and chat – to boost team results. Using data to make better, faster decisions has always been a core strategy of ours. That is why all the functionalities that you have in Reveal are now embedded in Slingshot.
In addition to the dashboards you have today in Reveal, you can now get access to project management, team and cross-department collaboration, and much more.
Reveal will remain our product and brand for embedded analytics. As a business intelligence SDK, Reveal will continue to enable software companies to transform data into embedded dashboards, visual analytics, and business intelligence into their applications. Everything Reveal can do is now embedded in Slingshot, with added functionalities and benefits.
Upgrading your Reveal account to Slingshot is as simple as logging in!
Just be sure to use the same email as always to sign in with Reveal. You will see all of your workspaces and dashboards when you sign in. See below for a step by step guide.
Yes – and then some!
Slingshot comes packed with all the same features that you have today in Reveal – you aren't losing anything. You are, however, gaining a lot more value. You will now have project management, content organization, and team collaboration all within the same application that helps you gain insights from your analytics.
To get a product tour of Slingshot check out our video.
Slingshot is the manifestation of our vision to revolutionize the digital workplace. By integrating data, tasks, content, chat, and goals and strategies all in one intuitive application you and run high-performing teams.
You are not required to use all the amazing features Slingshot has to offer if you don't need to and can continue to use only data and dashboards inside the product.
The next release of Slingshot is coming with even more analytics functionalities – such as a full data catalog inside!
The final day you will be able to use the Reveal app instance will be March 9th, 2022. But, there is nothing stopping you from upgrading right now. Go log in to Slingshot today!
Our Product Owner, Casey McGuigan, is hosting a special webinar for just this purpose. All Reveal users can see a demo of Slingshot, ask questions and make the upgrade as seamless as possible. You can also reach out to her directly at CaseyM@revealbi.io with any questions you might have.
Get Started with Slingshot Today
Inspire success with the most powerful team-enhancing software.