Marketing – Paid Campaign Management
Get Better Marketing Results with Data-Driven Paid Search Management.
The number of platforms marketing teams can utilize to advertise their products and services on keeps growing – and so does the content you create for campaigns you launch every month. Use Slingshot to optimize current campaigns better and launch new campaigns faster.
Key Slingshot features to help with your Paid Marketing Campaigns
Organize All Assets in One Place
Upload, pin and keep all assets you need to execute your paid marketing campaigns in your all-in-one digital workplace. Find and access in seconds your creative files, briefs, copy docs, reviews, data in dashboards, collaboration, along with task assignments and dependencies. Eliminate the need to hunt down team members' deliverables through email – save time with tasks and assets all in the same place.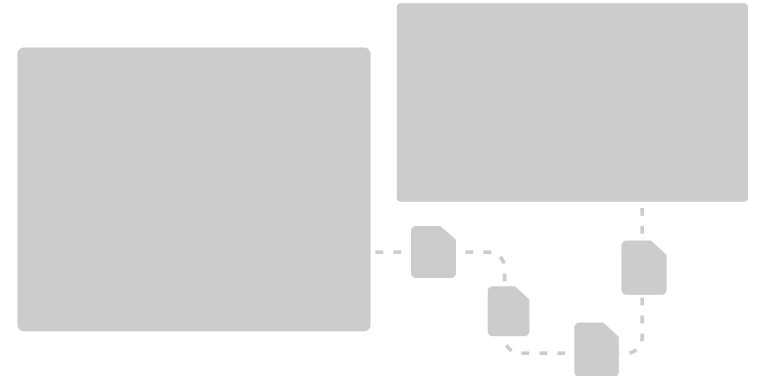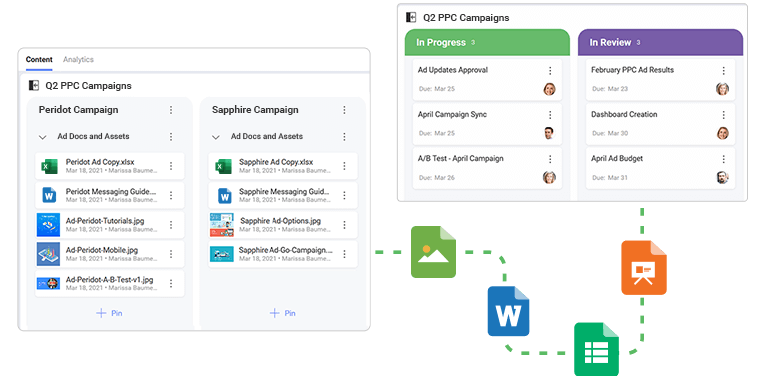 Actionable Insights
Effortlessly pull data from all your advertising platforms and show the full story of your campaigns in beautiful dashboards in seconds. Slingshot offers easy integration with the major advertising platforms such as Google Ads, Google Analytics, Facebook, Twitter, LinkedIn, and Instagram.
See real-time data from all platforms in one glance and build data visualizations to easily spot best-performing and underperforming campaigns and ads, make data-driven decisions, and reach amazing outcomes.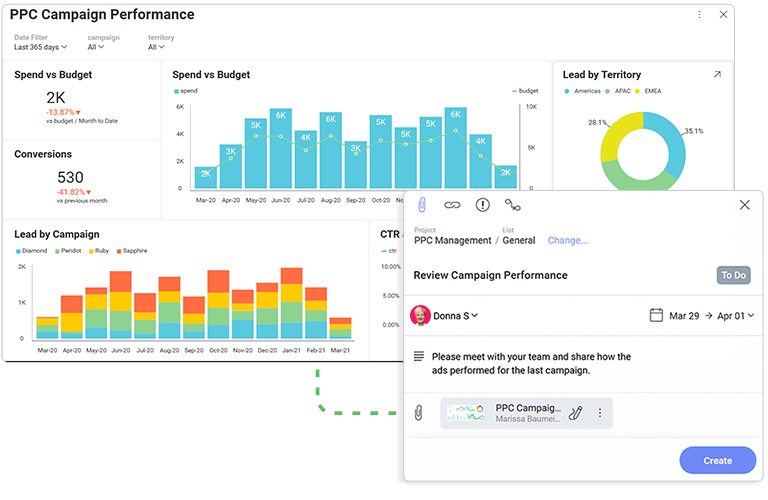 Launch Paid Campaigns Faster
Easily go from brainstorming sessions and idea initiation to content and asset management to effective campaign launches. Achieve uninterrupted workflow and bring everyone in your team together to collaborate with greater visibility to launch marketing campaigns faster.
Assign tasks, track progress, and potential blockers, collaborate with the relevant people and visualize your campaign schedule to execute them to perfection in one single tool.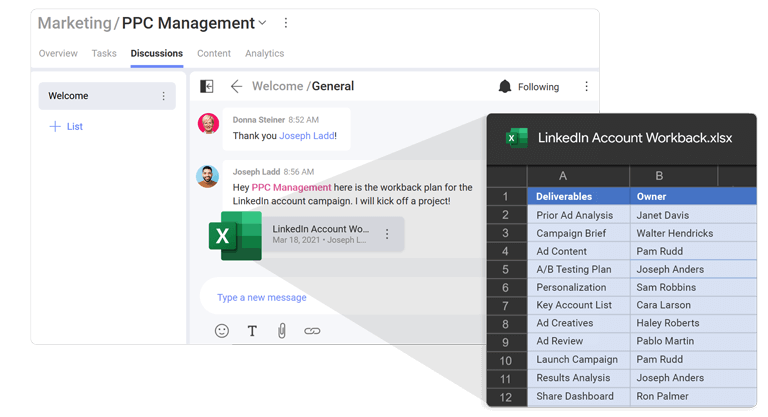 Effortless Collaboration
Running paid marketing campaigns is never a one-person job, and the workflow is likely to go beyond the marketing team. Often you need to have cross-department collaboration, work with freelancers, or partner with external agencies.
Slingshot lets you discuss and collaborate in context, discuss dashboards and actionable insights and execute marketing activities from start to finish, always keeping everyone updated and synced with Workplaces, Discussions, Groups, and more. Use the all-in-one digital workplace to truly level up your paid campaign management with seamless team collaboration.
Boost Team Results with Ready-to-Use Templates
Explore our collection of ready-to-use templates, carefully crafted to cater to the needs of multiple use cases and departments. Save time and effort by trying out the template that suits your workflow best. It only takes a few clicks to get started.
See All Templates
Frequently Asked Questions
A paid search campaign is part of search engine marketing that enables businesses to expose their products/services to the right segment of customers within the sponsored listings of a search engine by paying each time their ad is clicked. It is one of the most popular forms of online advertising in which brands pay to have their ads displayed on the top or bottom of the search engine result pages (SERPs)or a partner website for a specific keyword.
Slingshot is an all-in-one digital workplace with strong data-driven features that lets you optimize and manage your paid campaigns from beginning to end, with no app-switching. It combines team collaboration (internal teams as well as external contributors with predefined access level, for extra security), dashboards, chat, project organization, and task tracking, allowing for seamless workflow and data-driven decision-making, for optimal results.
Yes – Slingshot lets you manage different paid campaigns, bringing all the data you need in the same place. Connect directly to tools such as Google Ads, Facebook, LinkedIn, Google Analytics, and more, and easily track the progress of each campaign to analyze what's working and what isn't. You can create dashboards from different data sources, store your ad copy on boards, and collaborate with team members. Seamlessly integrate directly to Google Ads to track the performance of your paid search campaigns, connect to Facebook, LinkedIn, Twitter, and Instagram in a Slingshot dashboard, track traffic and leads into Google Analytics, and bring your campaigns to better results.
You can gather raw data from the platforms, but analyzing, comparing, and taking action based on it is not easy, especially when you are running multiple campaigns simultaneously. Slingshot makes this process easy with its data-driven features, and dashboard building allowing you to view all insights in seconds. Having all the data in a single view and using data visualizations allows you to spot underperforming ads and make changes faster- stop campaigns, allocate more budgets, switching on/off campaigns quickly.
Yes – all your data can be linked and viewed in Slingshot. Choose from multiple visualization types and create dashboards in minutes. Slingshot connects to Facebook, LinkedIn, Twitter, and Instagram, so you can view, discuss and share the data from your paid campaigns with your team in one place, to analyze and make the best decision going forward. If the tool you use is not integrated with Slingshot, you can pull the data in excel/CSV file, upload it and build beautiful data visualizations.
Yes – Slingshot is the all-in-one tool letting you visualize and compare your results side by side in just a few clicks. Pull insights from your multiple campaigns and trust Slingshot to build the full story of your results and data in seconds – then make informed decisions based on facts and not on gut alone.
You sure can! Seamlessly connect to Facebook, LinkedIn, Twitter, and Instagram in a Slingshot dashboard, track traffic and leads into Google Analytics, and maintain your ad creatives, and copy all from a single workspace.
Get Started With Slingshot Today
Inspire success with the most powerful team-enhancing software.