Product Development – Bug Tracking
Bug & Issue Tracking Made Simple
Easily track, report, prioritize, collaborate, and visualize your product development bugs in real time with Slingshot's powerful features.
Key Slingshot features to help with your Bug Tracking
Keep Your Bug Statuses on Track
Easily add, update, and assign bugs for a clearer overview of bug statuses. Slingshot provides Kanban, List, Calendar, and Timeline views, so you can effortlessly track all of your product development bugs and issues in real time and take action to resolve them faster.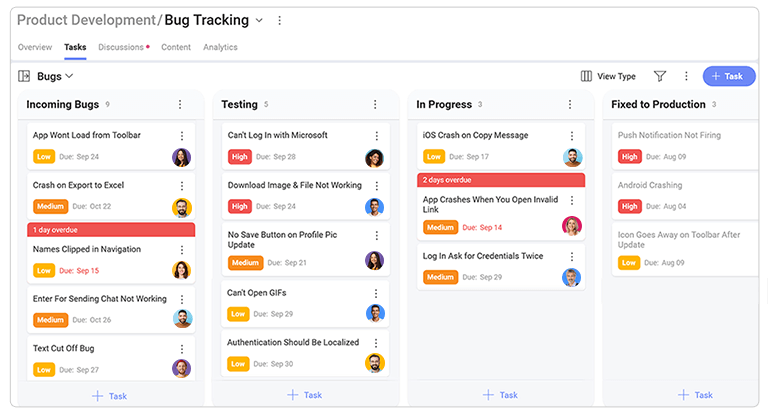 Set up Clear Priorities
Keep your team on the same page by setting up clear priorities on what should be prioritized so it doesn't have a negative impact in the long run. With Slingshot, you can create a collaborative discussion with a single click and make sure that your product development team has all the info and data they need to resolve every bug on time.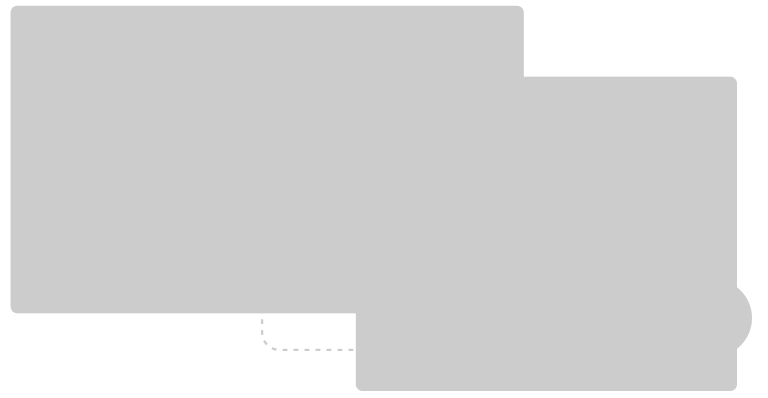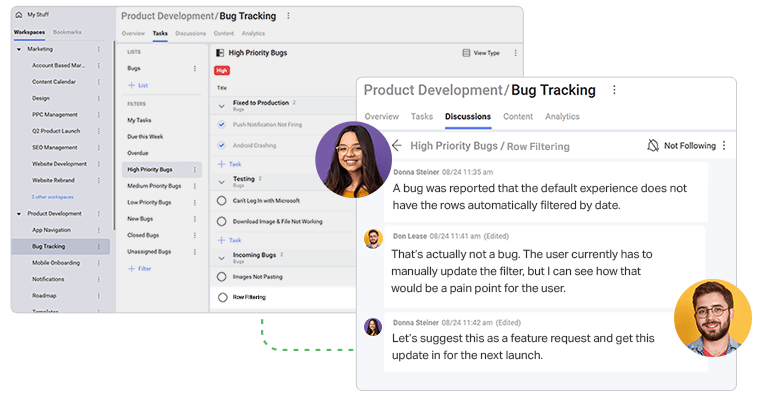 Assign Clear Ownership of Bugs
Identify the right person who is going to be working on resolving each bug that gets in the way. Give clear-cut deadlines so everyone is on track of bug statuses and easily filter each team member's workload to see the progress of the big picture. Don't forget to create a filter for unassigned bugs to ensure no product development roadblocks slip through the cracks.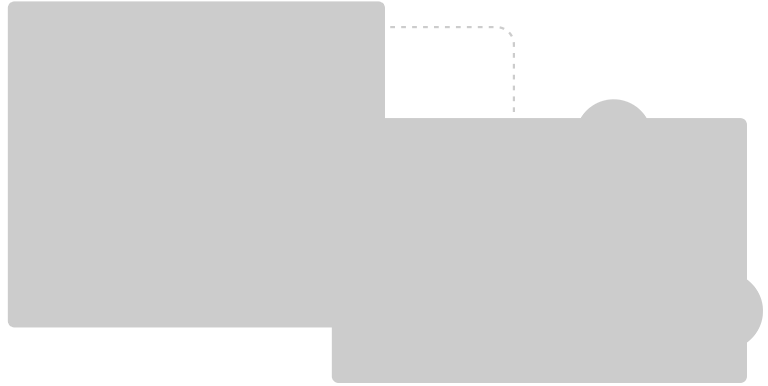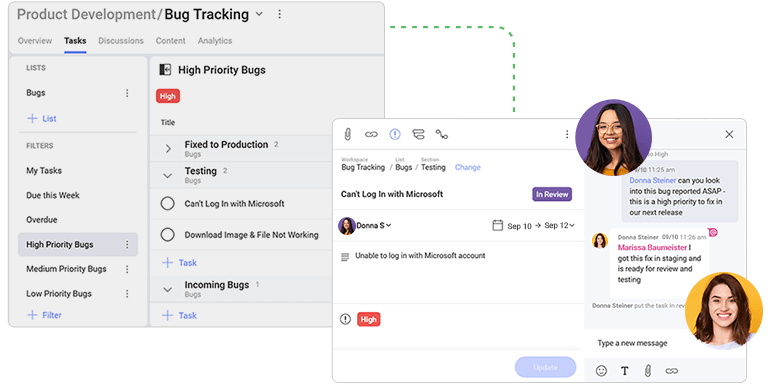 Real Time Bug Tracking Made Easy
Connect directly to popular data sources such as Microsoft Analysis Service, SQL Server, Excel, and many more including RESTAPI to create high-impact dashboards to visualize your bug performance in real-time. Start tasks, discussions, and chat directly from insights gleaned from your dashboards and link bug fixes with business impact. Create reports in seconds and share them with your stakeholders with a single click.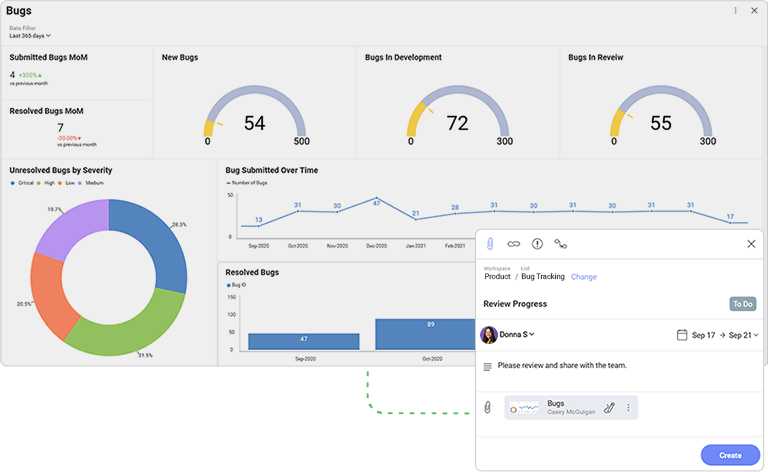 Frequently Asked Questions
Bug tracking is the process of detecting, logging, monitoring, and tracking bugs and issues that occur during software testing/development. It is also referred to as ''issue tracking''.
A bug tracking tool or a bug tracking software/system is a software application that helps product development and product testing teams to keep track of reported bugs and monitor their resolve process.
When you detect a new bug, you can use a bug tracking tool to document the bug, prioritize its fixing, create a task and assign it to the right person, track the progress status, comments, and updates, and resolve it.
At a bare minimum, a bug tracking software should provide its users with the ability to assign tasks and subtasks to developers, prioritize bug fixing tasks, attach files and documents for reference and further help, notifications, and chat and discussion capabilities. A great bug tracking software will also include analytics and reporting features. Capturing data from bugs and issues tracking will help you identify trends, analyze crucial metrics, and generate custom reports with actionable insights.
Slingshot has all the necessary tools and features to help you ship error-free software products – access control, tasks and subtasks, task prioritization, custom fields, file attachment, in-app notifications, search, private chats and group discussions, dashboard creation, reporting, variety of data visualization tools and a native mobile app.
Slingshot goes beyond bug tracking by incorporating project, task, and content management capabilities with robust data analytics and chat, all in the same application. That improves team collaboration and productivity since team members don't have to switch between multiple apps to find the information they need, but instead have all their work resources neatly organized in a single location.
Get Started With Slingshot Today
Inspire success with the most powerful team-enhancing software.