Product Development – Product Roadmap
Create and Maintain Data-Driven Product Roadmaps
Centralize your product roadmap assets, project management, and workspace communication with Slingshot and deliver successfully new products and features on time, every time.
Key Slingshot features to help with your Product Roadmap
Flexible Organization
Give stakeholders a high-level overview of how your product roadmap is progressing and easily keep track and visualize milestones, deliverables, dependencies, and due dates in List, Calendar, Timeline, or Kanban view.
Create tasks between workspaces, lists, and sections to align with everyone involved in the process – developers, product owners, designers, and more.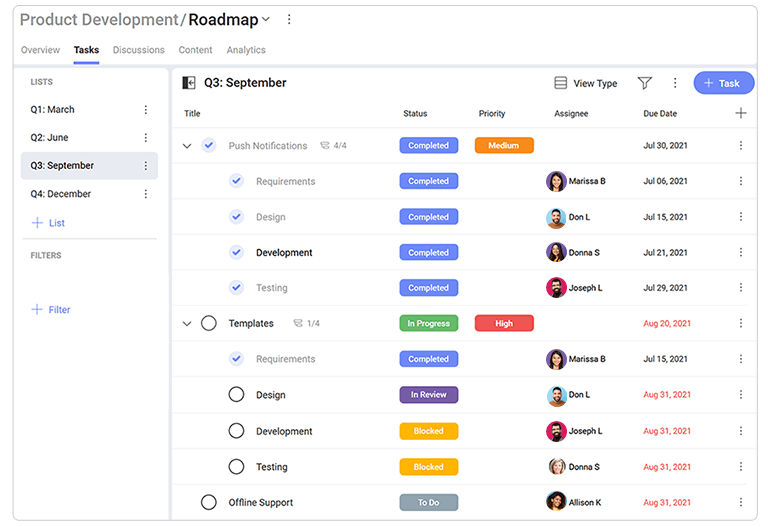 One-Stop Shop
A distraction-free space where you can collaborate directly in the context of any project with a designated area for real-time focused communication. And where documents, designs, user tests, and conversations are organized and easy to find.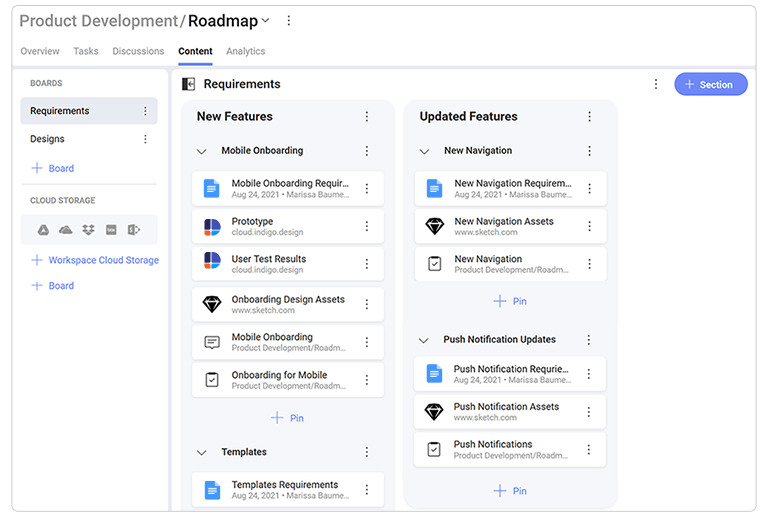 Increase Visibility Across Teams & Stakeholders
Create a transparent work environment where everything is visible to everyone, including who is working on what task in each project.
Slingshot utilizes List, Calendar, Timeline, and Kanban views allowing users to instantly see roadblocks and know what exactly is causing delay and identify blockers in your product roadmap projects to act on before they become a real problem.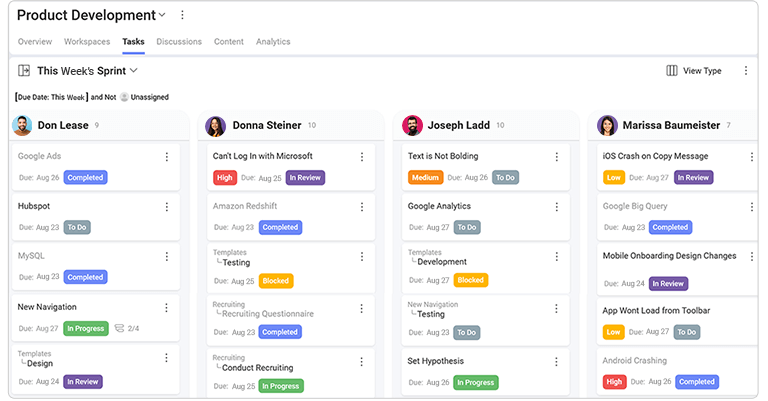 Build the Right Product Features
Deliver features that your users will love by keeping your key performance metrics on top of mind and make adjustments to the roadmap based on hard facts rather than gut feelings.
Build dashboards and visualizations to display the impact of the roadmap items on the overall business goals, and easily share reports with project managers, stakeholders, and external vendors.

Frequently Asked Questions
A product roadmap is an actionable plan of how a product, or a SaaS solution will evolve over time. It maps out the vision and direction of new feature functionalities and when they will be released.
An agile product roadmap is built to reflect the product strategy and to also respond to changes when needed. The agile roadmaps are characterized by short time frames and frequent adjustments to allow continuous software testing. When used in agile development, a product roadmap provides context for the teams' everyday work – multiple teams may share the same product roadmap.
Building an agile product roadmap starts with a strategy. No tool will be of help if you don't know where to start and what you want to achieve. Then, you need to define your audience, and establish the product goals and initiatives that your efforts will support during the process. Once those are defined, the next step will be to decide which releases and features are best aligned with your strategy and then visualize it all on a timeline. And this is where roadmap visualization tools can help.
A product roadmap should include a product vision, strategy, product plan, requirements (features requests, what customers are looking/asking for), milestones, deliverables, time frames (dates or time periods for a certain goal or feature to be finished), status markers to track the progress, and metrics to assist the measurement of data-driven goals.
A good agile product roadmap tool should enable teams to track milestones, features, and product strategy in order to make more informed, and most importantly data-driven decisions to prioritize their tasks. Other key features that you should be looking for include but are not limited to file attachments, chat and discussion, reporting, dashboard creation, and resource allocation.
You need Slingshot as a product roadmap tool as Slingshot incorporates product roadmap, project, task, and content management, and data analytics capabilities, all in one app to increase the productivity and results of your team.
Get Started With Slingshot Today
Inspire success with the most powerful team-enhancing software.