Product Development – Sprint Planning
Sprint Planning in Slingshot for Effective Project Management
Kick-start your scrum development cycle and get better alignment and faster processes in your project management with advanced sprint planning features in Slingshot.
Key Slingshot features to help with your Spring Planning
Multiple Sprints in One Place
Forget about delays and desynchronization in your team – when it comes to managing sprints, keeping all your resources in one place makes it possible to efficiently organize your teams tasks and backlog. Keep it all structured in Slingshot, where everyone can access the latest sprint and stay updated on weekly progress with transparency in ownership, due dates, and status.
Create better organization in seconds, maintaining visibility and spotting issues in time, to avoid delays and react in time to underperforming areas. Manage and provide clarity, review, and refine the plan prior to the sprint planning.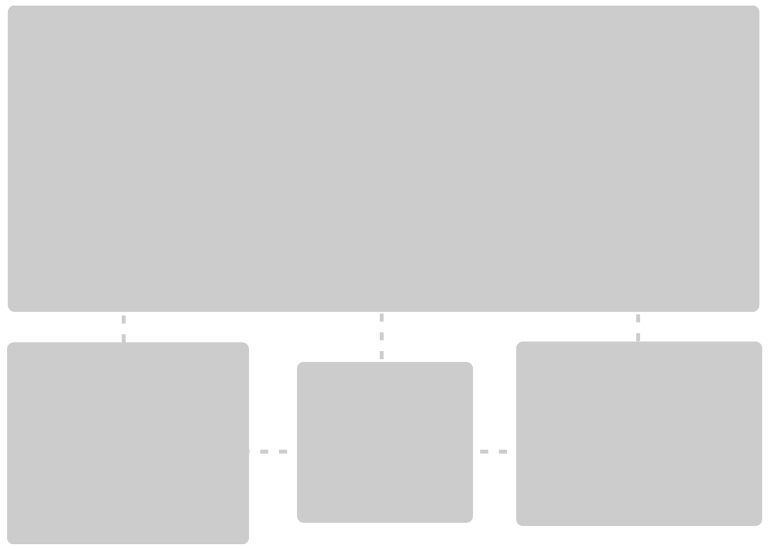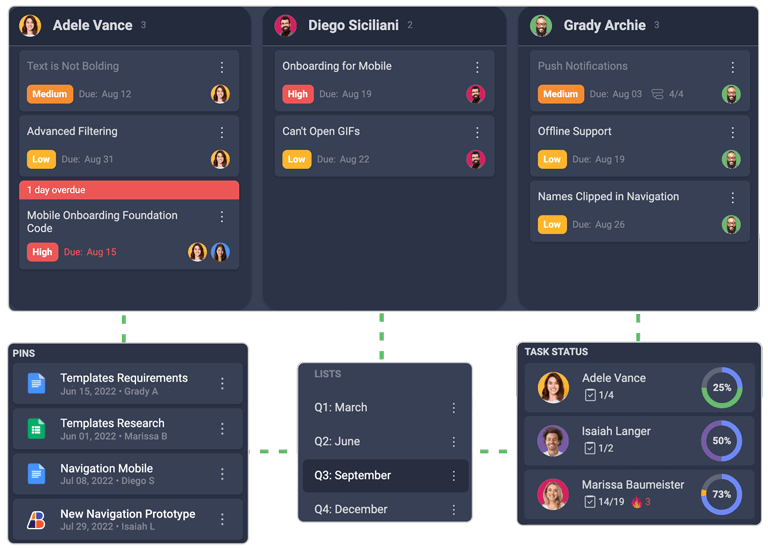 Boost In-Person and Remote Collaboration
Your sprint planning needs perfect team collaboration – communicating in the context of specific scrum tasks, managing ownership, tracking progress and dependencies, and always staying in touch. With Slingshot sprint communication happens in real-time and in context, in 1-1 or in a group conversation, on a task level, or in discussion in Workspaces. Improve and build on your sprint planning with quick and easy discussions with no app-switching and plan your workload efficiently to prevent burnout.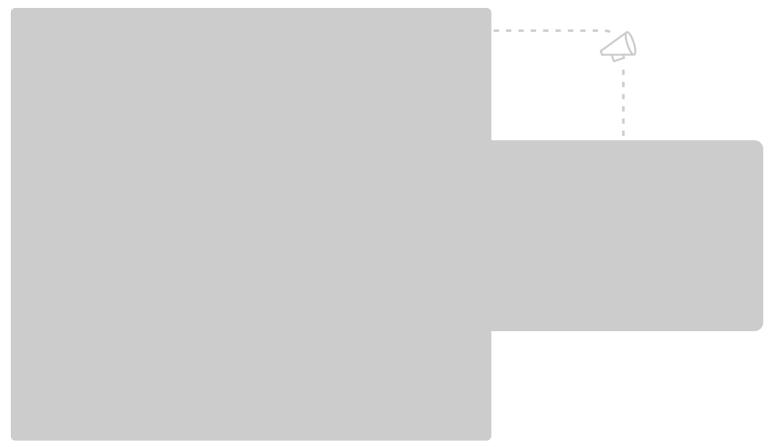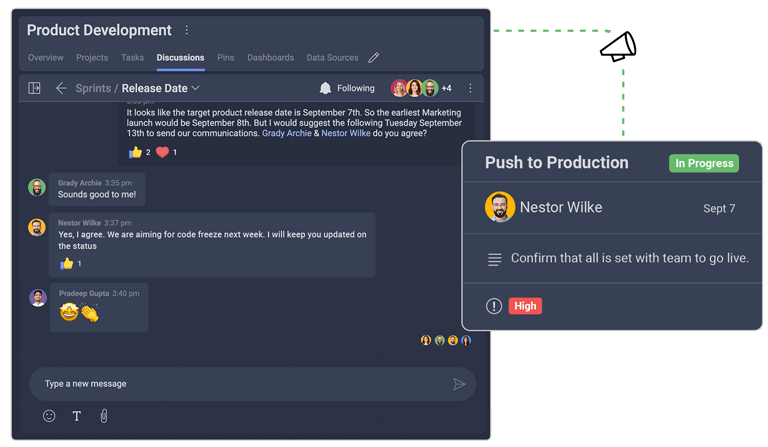 Keep All Important Priorities Aligned
Your sprint planning management is built around priorities in Slingshot. Кeep your tasks prioritized according to the timeline and the resources, to make sure your primary prerogatives get done and nothing falls through the cracks. Link tasks with subtasks, and create priority labels and dependencies, to make sure your team knows where your sprint planning is at all times.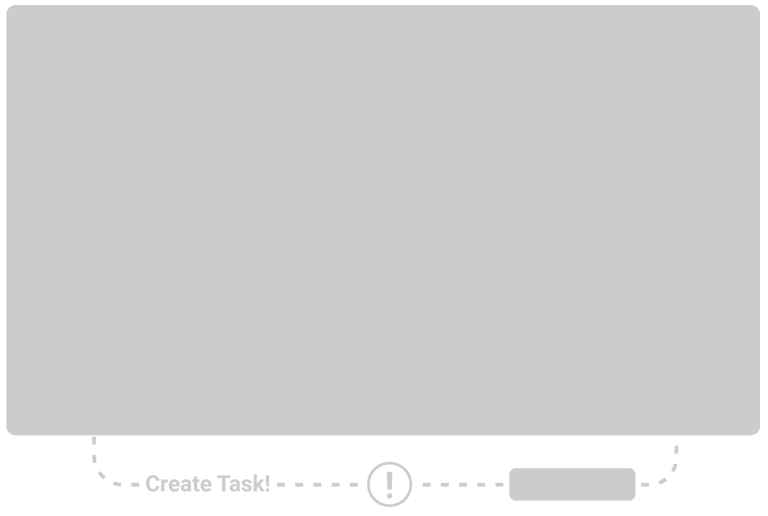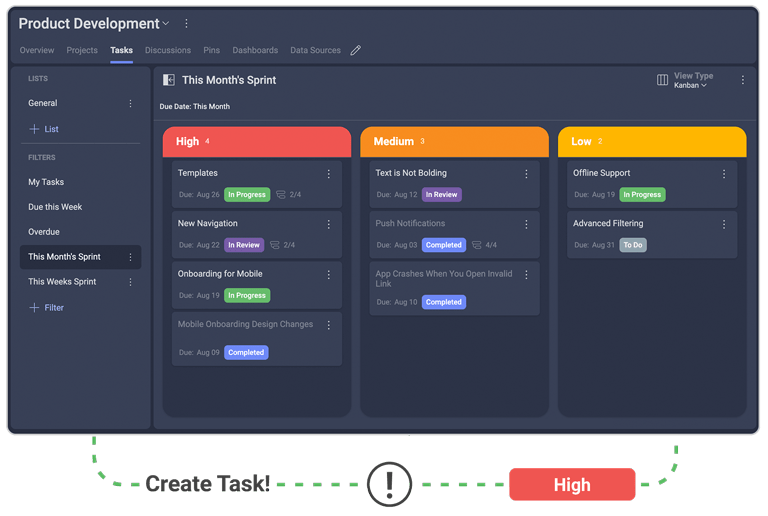 Put Data at the Front
All important business metrics that your team should consider in regards to the next steps in your sprint planning are easily accessed in data visualizations in Slingshot. Build data dashboards, pulling all important business metrics from multiple sources and platforms and sharing them quickly and easily with your team. Create dashboards around the past activities insights, to overview what needs improving and what worked and can be done again the same way. Put data at the center of your sprint and scrum planning and manage it in the same place collaboration happens.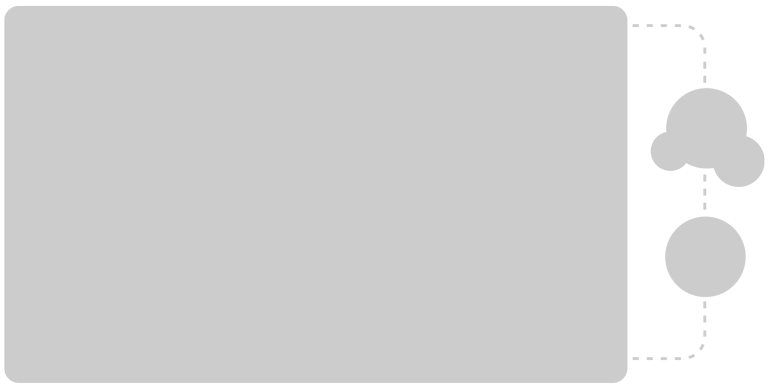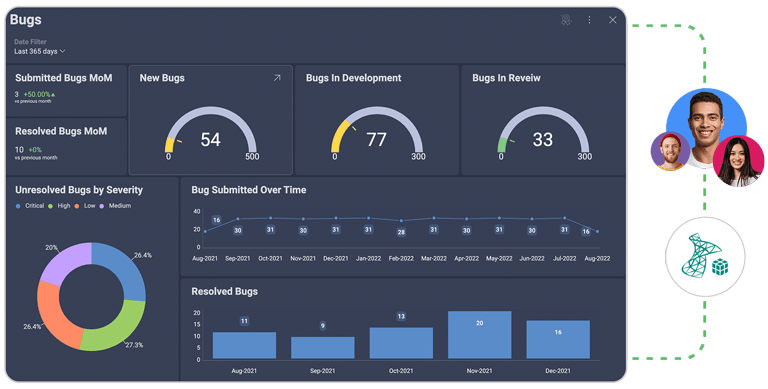 Frequently Asked Questions
А sprint is а short period of time set for specific tasks for a team to complete in a larger project. Sprints are at the core of Scrum methodology and companies usually use them for software development, to be able to release high-quality software products faster.
Sprint planning is an event that kicks off the sprint and defines what can be delivered in the set period of time, what tasks need to be completed, and who will take them on. The whole scrum team collaborates on sprint planning, to deliver a ready product efficiently through a set of meetings, tools, and roles. 
To achieve a successful sprint, sprint planning is required – it guides the team roles, and tasks, keeps everyone in sync, and is aligned with the same priorities and timeline. Without sprint planning, there is a good chance for mistakes, unrealistic expectations, delays, issues with delivery, and team misalignment. Sprint planning helps teams work together to achieve improvement in their work and deliver timely results while staying organized and constantly in communication.
Slingshot is a digital workplace that easily implements the scrum methodology and can be invaluable in your sprint planning. In it, you can keep all files and key documents in one spot, allowing for each team member to access the most recently updated file uploaded or pinned from a source. In Slingshot, teams can organize tasks and have the whole project organized from start to finish, making discussions on a task level, with clear dependencies, able to spot potential blockers in time, building tasks and subtasks, and always having transparency. Besides the project management and collaboration features, Slingshot allows for data visualization of all important insights for your sprint planning in dashboards and having data analysis on every step. It also offers aggregated task view with filters, bringing up tasks from all relevant sub-workspaces so you can run not just individual projects but an entire team.
Besides being the only digital hub for team chat, tasks, projects, and data insights in dashboards you need, Slingshot allows for outside team members to contribute to specific projects. You can assign permissions in Slingshot workspaces, to keep sensitive data hidden and have external team members (like designers, copywriters, copy editors, marketing and project managers, etc.) have visibility on the development tasks, provide feedback and chat with the team in context, review, attach files, check out due dates, look at dashboards and contribute to the timely delivery of the product.
Get Started With Slingshot Today
Inspire success with the most powerful team-enhancing software.