Remote Work Software
Remote Work Built on Productivity and Trust
Work from anywhere and keep your team connected with a flexible digital workplace. Manage your remote team with better visibility of tasks, due dates, and alignment on goals and project milestones. Integrated with data insights and chat remove the need to switch between multiple apps to get your work done.
"By 2028, 73% of all departments will have REMOTE WORKERS."

Source: Upwork
The DIGITAL WORKSPACE can help your remote team produce results and thrive in collaboration.
Better Alignment for Remote Teams
In a world of remote work, you can no longer pop over to someone's desk to follow up. With Slingshot, your remote work communication steps up a level. Monitor your team's work in real-time with task tracking, ownership, and due dates. Collaboration is made easy for remote and hybrid teams with discussions, chats, in-task chats, and status updates for greater visibility of project progress. All remote communications run smoothly and contribute to the overall trust in the team, while never letting anything fall through the cracks.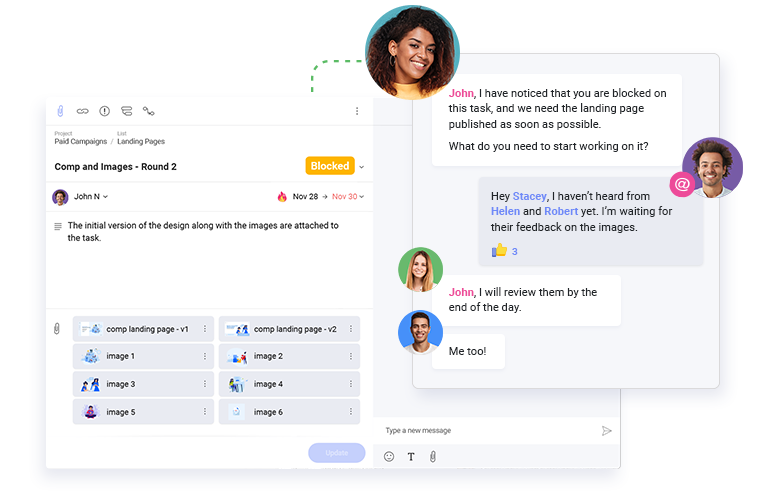 Improved Workload Management
Forget about team overload and people not being able to complete all their tasks on time. Slingshot creates a safe space for the allocation of work where everybody can quickly see what stage a project is in and who's doing what, what blockers and delays you have and real-time notifications. Build a stronger company culture for your remote team with faster coordination on tasks, quick response to requests, and in-context discussions. Your remote team needs a blameless problem-solving attitude – and Slingshot is here to provide it.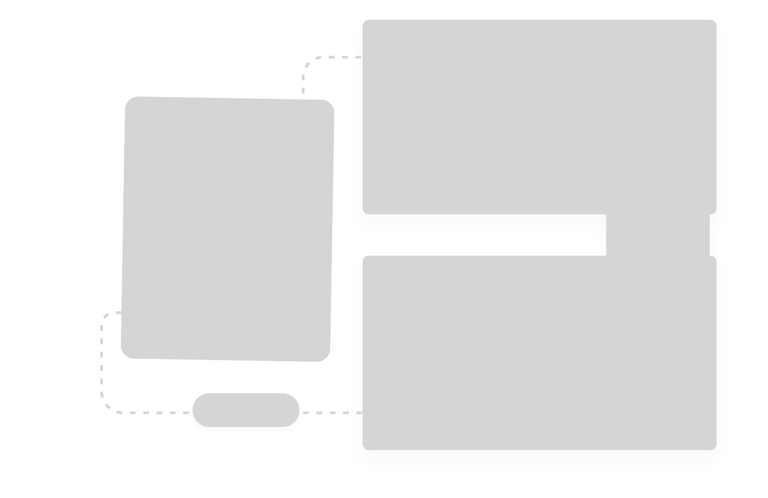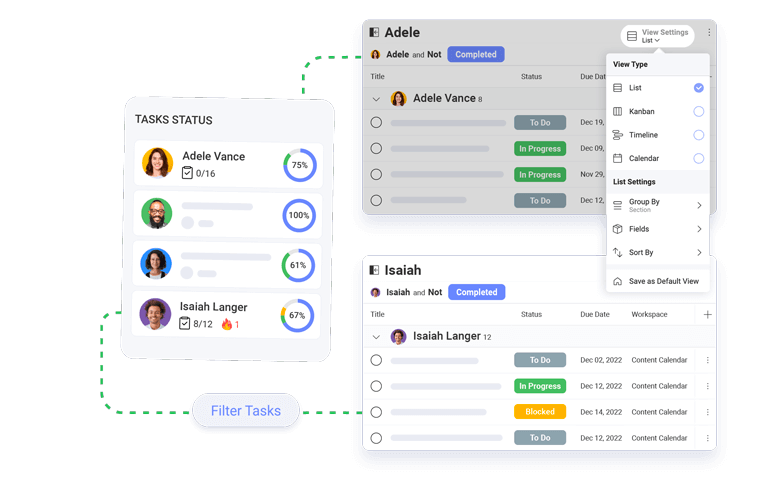 All Your Data and Files Are Here
Slingshot offers remote working teams a unique advantage by keeping all their files and their data in the same place work gets done – no app-switching needed. We integrate all your favorite data sources so you can pull your Marketing, CRM, and Sales data – or upload raw data reports – and create beautiful data visualizations in-app. Those can then be easily analyzed, shared, and discussed.
Slingshot is home to all your team's files and documents, integrating any cloud provider so you can pin any file in a task or workspace, or upload it directly, to always have the most updated key documents at hand.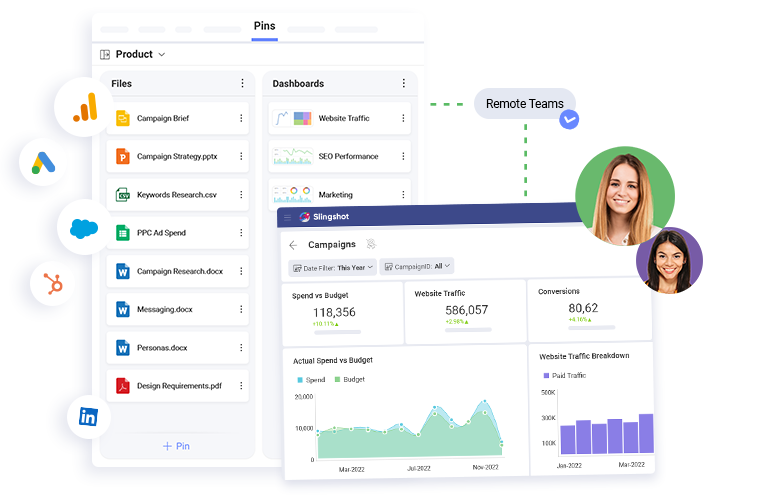 Productivity with No Interruptions
Slingshot is integrated with all the tools your remote team needs to enhance their workflow. Unite data with everything else, to achieve impeccable results. In perfect flow, go from dashboards to a chat, from chat to task, and share and mention people in the context of projects, workspaces, tasks, and data, so work is always uninterrupted.
Use your project management, data insights, dashboards, chat, and discussions, and manage your tasks, all of this without switching apps.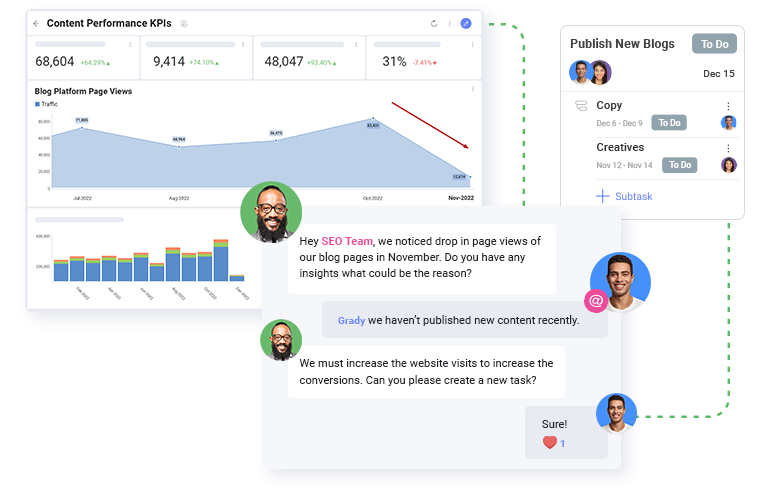 Frequently Asked Questions
Remote work software is what remote or hybrid teams use for collaboration online, to replace in-person communication and workflow. Such tools most often have features that facilitate online collaboration, cloud-based content storage, project, and task management, data insights, and chat, to make it possible for a remote team to achieve seamless collaboration, be productive and hit goals fast.
The best remote work software incorporates multiple features that make it the perfect digital workplace. It becomes a project management central for teams that cannot collaborate in person, bringing visibility to project progress, chat in context, discussions, keeping key content at hand with the most updated files, collaborate on ROI and access all resources and data, sales and budget plans, and more.
Remote teams benefit largely from remote working tools since they allow them to stay in constant collaboration, have transparency on tasks and ownership, build data-driven culture through data insights accessible to everyone, and provide easy management of all workflows and assets. With remote working tools, teams can build a better culture of visibility and trust and have access to all ideas, feedback, and actionable items in context. Remote working tools with data-driven features bring even more advantages for remote and hybrid teams since they allow them to use data as a compass for every decision and ultimately improve their operations, grow more and get more customers.
Slingshot is a digital workplace that allows cross-team collaboration for remote, hybrid, and distributed teams. It is the perfect remote work tool to provide all-in-one features like project management, task tracking with deadlines, workspaces for different departments and project organization, in-app chat for discussions in context, and data insights visualized in data dashboards in seconds. In Slingshot, issues or blocks remote teams deal with are resolved on the spot or even before they happen. It allows teams to keep all their resources in one place through integration with all cloud providers, or drag-and-drop files. With Slingshot, remote teams track everything and have all insights at their fingertips, to grow their team collaboration faster and more productively.
Yes, Slingshot has all the features that a hybrid working team might need. Hybrid work is a flexible working model that is a blend of in-office and remote work, so not everyone on the team is always in the same physical space. Slingshot aligns everyone on the team, providing collaboration, chat, data insights, and all files in one spot, in an uninterrupted workflow.
Get Started With Slingshot Today
Inspire success with the most powerful team-enhancing software.