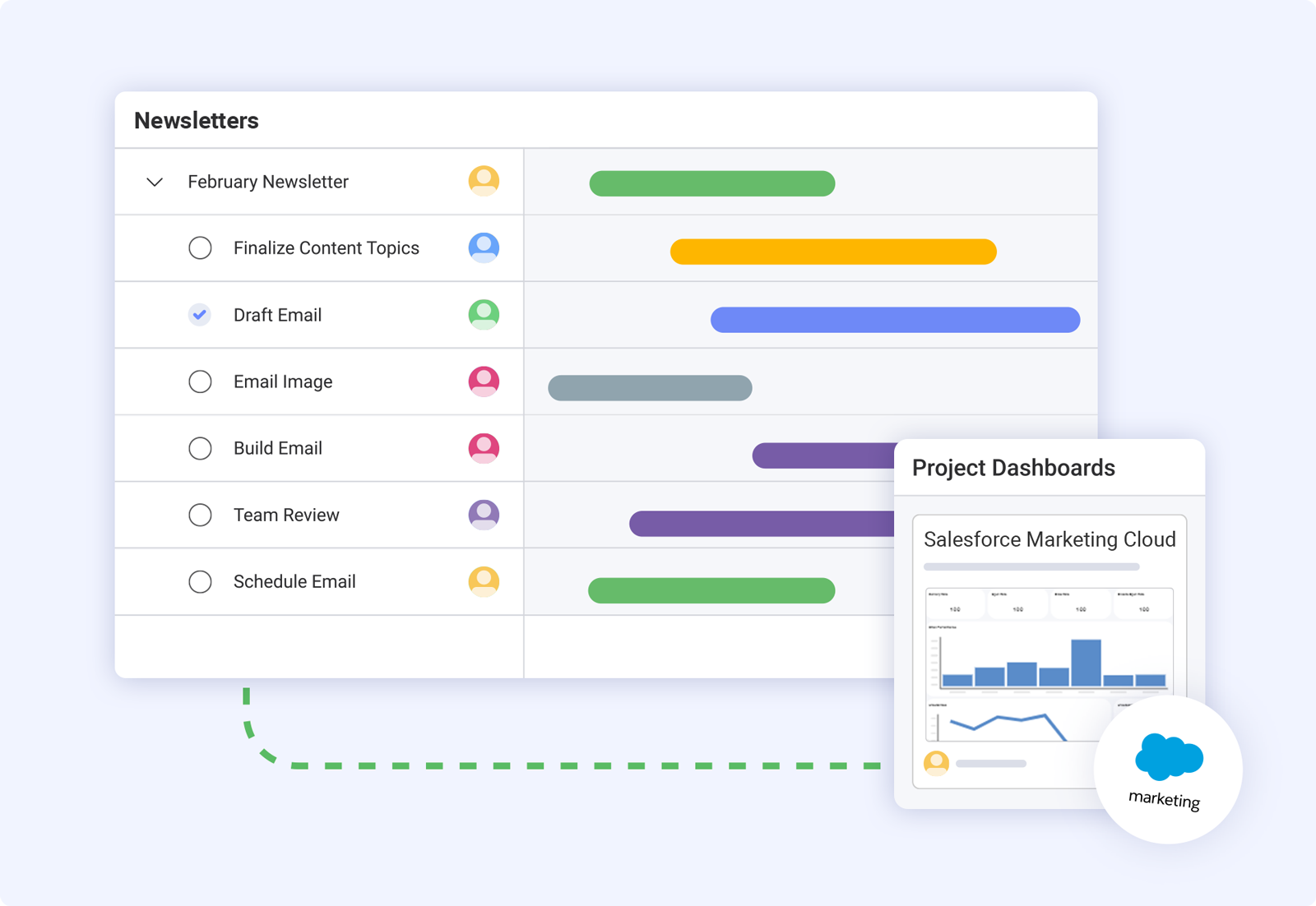 What's Included in the Email Marketing Template?
Slingshot's email marketing template ensures a consistent planning process for your email marketing campaigns, product releases, newsletters, and nurtures. You can align strategy, topics, deliverables, and data and have a clear outline of the content and timing of every campaign.
Slingshot's email marketing template has all the necessary pre-built elements a team needs to proactively schedule email campaigns and align multiple teams in the process. This template offers:
Tasks
Plan and execute everything around your mailing campaigns with pre-built tasks around your newsletter copy and images, your subject line A/B testing, your nurture performance, email building, promotions, and more. To achieve excellent results, everything is organized in one place with due dates, priority, progress status, pinned content, and dependencies.
Discussions
Let communication flow around your list building and growth, email deliverability and compliance, audience segmentation, planning, and strategy. Find your team's thoughts, share ideas, and discuss results, keeping everyone informed and aligned.
Pins
Keep every item within easy reach for your email marketing team—email copy docs, images, email templates, essential links, and research. Pins help your team find key documents and resources and pin their own with a click.
Dashboard
Use this dashboard to measure campaign effectiveness and track key metrics such as open rates, click-through rates, conversion rates, and unsubscribe rates. Email marketers can use these insights to assess the effectiveness of their strategies and make necessary adjustments. You can see the results from A/B tests (split tests) on various elements of their emails, such as subject lines, sender names, email content, and CTAs, optimize send time, and identify engagement trends—all in one view. Time to use actionable insights to optimize email campaigns, increase engagement, and drive better results.
Why Should You Use the Email Marketing Template?
Using Slingshot's email marketing template streamlines the email creation process, enhances email quality, promotes brand consistency, and ultimately contributes to more effective and efficient email marketing campaigns. It's a valuable tool for marketers looking to save time, reduce errors, and optimize their email marketing efforts.
With this template, you get:
Quality Control: With quality control checks, including approval processes and content review steps, you can ensure that email content is accurate and aligns with the brand's messaging and guidelines.
Analytics Integration: With access to valuable data like open rates, click-through rates, and others on all your email campaigns, you can measure the success of campaigns and make data-driven decisions for the next one.
Resource Management: Effectively manage and allocate resources for your email campaigns, ensuring that content, images, templates, and research materials are readily available and organized for your team, reducing delays and errors.
Collaboration: Facilitate structured communication and better collaboration on email campaigns with tasks, chat, and pinned content like your email images or HTML templates.
Real-time Updates: Stay up to date on email campaign progress with pre-built project tasks, Salesforce Marketing Cloud dashboard for email KPIs, and discussions for deliverability and compliance.
Slingshot's template streamlines the email creation process, enhances email quality, promotes brand consistency, and ultimately contributes to more efficient email marketing campaigns.
Benefits of Using the Template
Email marketing templates can benefit a wide range of individuals and businesses, including:
Marketing Teams
Content Creators
Event Organizers
E-commerce Businesses
Sales Professionals
Using an email marketing template offers several benefits for businesses and marketers:
Simplified Process: This template provides a ready-to-use structure that simplifies the email creation and scheduling process, so you kick off each campaign faster.
Consistency: Ensure a consistent look and feel for all your emails by pinning your HTML templates, helping maintain brand identity and professionalism.
Quick Campaign Deployment: You can rapidly create and send email campaigns, ideal for time-sensitive promotions or announcements.
Data-Driven Decision: Keep an eye on your insights, track email performance, and make data-driven improvements.
Using Slingshot's email marketing template ensures improved email quality, saves time, and makes for optimized email campaigns with improved objectives and results.
Boost Team Results with Ready-to-Use Templates
Track organic traffic, landing page performance, and behavior metrics in real-time, visualized in a few clicks.
Build Better Performing Email Campaigns.
From strategy to scheduling and measuring the effectiveness of your email marketing campaigns, Slingshot got you covered.