Overcoming Organizational Chaos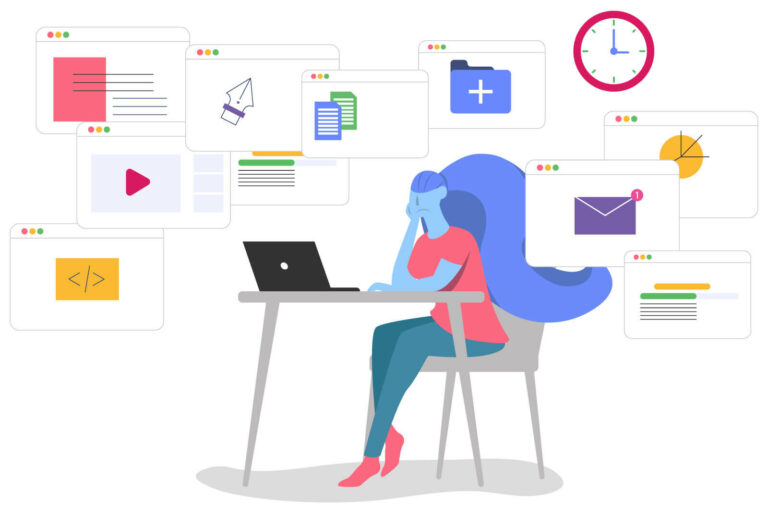 Why Is Organizational Chaos So Rampant?
As businesses react to fast-moving changes— market upheavals, multiple channels serving customers, and rapid technology adoption—teams struggle to keep up with demands. People are required to interact with technology more than ever before in their daily work. And the sheer amount of information available has more than quadrupled in the last 10 years. This continual drumbeat of technology change — and how companies strive to respond quickly to it — is the main contributor to what is now called "organizational chaos."
This whitepaper will help you identify the signs and symptoms of organizational chaos. It will also describe the impact it can have on your team's productivity, employee morale, and your team's ability to consistently meet company and team goals.
Included are techniques and tips to help you create high-performing teams that can push back against the tide of chaos.
Continue reading
Fill out the form to continue reading
What Is Organizational Chaos?
Karen Martin, author of The Outstanding Organization, defines chaos in her Fast Company article as "shifting priorities, unclear direction, unstable processes, unhappy customers, disengaged employees."
Signs of chaos vary but often include an increase of the amount of time workers spend looking for information, a lack of clarity around roles and responsibilities, unclear goals, and a feeling that teams are "always playing catch up."
How pervasive is it? A recent survey of more than 200 senior-level executives in various industries by advisory firm Cohn Reznick found that 91.9% of respondents identified chaos within their organization. Nearly half reported that chaos is pervasive. Yet only 27% reported that they had plans in place to fix it.
People tend to become numb to chaos because they think that it's 'just the way the world is' and they start believing that nothing can be done about it. And while it's true that you can't fully eliminate chaos from occuring, you can manage it by creating standard processes and mechanisms. The goal is to achieve effective team collaboration by keeping all team members intheknow, instantly updating schedules, and allowing members to become more proactive as they are included in rapidly changing priorities.
In the next few pages we'll present some of the key steps to help you cut through organizational chaos. These include:
Dealing with the content dilemma—making it easy to find files and share them with team members
Building transparent teams where team members are always "in the know"
Embedding goals and objectives into workflows
Taming technology overload
The Content Dilemma
With the explosion of content everywhere — in separate tools, systems, applications, databases, corporate portals, and more — knowledge workers spend more and more time searching for the right information. The Economic Times finds that employees spend more than 25% of their time searching for the data they need to do their jobs. The problem is compounded because knowledge workers often need only a portion of the information they retrieve to solve the actual problem at hand.
Accenture finds that 59% of middle managers miss valuable information every day because they can't find it or never see it.
The chaos created by too much content is intensified by the fact that it's difficult to share information, often not only within a company, but also with partners and customers. Too often the content is separated from the tools and apps that people use regularly. Teams need tools and mechanisms that allow them to attach relevant content to tasks or the projects at hand and be able to always find it all in the same place.
Platform features that help streamline the content dilemma:
Incorporates various elements of project, process and file management
Provides teams with one place to work with content boards that contain files and documents related to the task at hand, but content can be in other apps like Teams, Sharepoint or Google Docs.
Lets users easily create shared and secured workspaces that can be segmented by department, partner, or external clients.
Transparency in Teamwork
Teams fail to accomplish their goals more than 60% of the time, according to Dr. Eunice Parisi-Carew, a Founding Associate at The Ken Blanchard Companies. Lack of communication and team collaboration are the most cited reasons, with upper management and team members placing the blame on the doorstep of team leads.
A key reason projects fail is that they are not completed on time. This frequently occurs because problems often aren't flagged quickly enough, and team leads are not made aware of issues until it is too late to fix them.
This is known as a lack of team transparency.
How To Achieve Transparency in Teamwork?
A transparent team, on the other hand, is armed with processes and project management tools so the team can function in a chaotic, rapidly changing environment. As projects deadlines change – new product-release dates are moved up, marketing campaigns change, or market forces affect buying behaviors—the team lead has visibility into their team's workloads and up-to-date schedules. This allows the lead to quickly assess remaining resources, shuffle priorities, and effectively communicate these updates to their team.  
How is this done today? Many continue to work with spreadsheets and emails, impromptu meetings, desk walk bys, or one-on-one meetings. But this is time-consuming and, ultimately proves to be ineffective. And causes micromanaging, which damages team morale.
With transparency, everyone has visibility into their own schedules and into their teammates' schedules as well. So responsibilities also become transparent as do dependencies. Each team member knows what's required of them and how their work affects others downstream. Overdue and blocked items are clearly marked, which holds people accountable.
Visualizations such as Gantt charts or timeline views facilitate team transparency.
With a Gantt or timeline view, for example, a team lead — or even a team member — can add or reschedule projects in a couple of clicks. Dragging and dropping projects or tasks on the timeline changes due dates and shifts the corresponding deadlines of any dependent tasks or subtasks. Assignees are instantly notified of these updates.
Important principles to create a transparent team:
Make team information easily accessible by everyone
Keep everyone in the know, connected and accountable about task status, key decisions made, goals set, and outcomes achieved
Enable team members to make decisions based on data that is available within the workspace
Simplify the collaboration process
Embedding Goals and Objectives Into Workflows
Setting goals and objectives at an organizational, departmental and team level helps manage rapid change. If one part of an organization is not getting the information it needs from another part, inefficiency results and, with time, the issue grows larger. Goals and tactics help identify what workers need on a tactical level to do their work. They also help communicate priorities as well as a common understanding of success. This also includes the ability for teams to link their activities to the shared objectives and goals.
What Is Goal Alignment?
To ensure that the tasks of each employee align with the company's goals, make sure you communicate the company's mandate to all staff, and reiterate it during goal-setting season to ensure that it's top of mind. Encourage all employees to link their goals back to the strategic mandate, and to work with their colleagues to align common goals across departments and teams.
Important steps to integrate goals and objectives within workflows:
Select a web-based program that uses team and project boards to create a transparent working environment that keeps everyone in the know
Be sure the program waterfalls goals and objectives from top down so they can be operationalized within a common workspace
Centralize project management, content, metrics, calendars and meetings
Make it easy to work seamlessly across every device, online and offline
Centralize project management, content, metrics, calendars and meetings
Integrate with Microsoft Office (O365) and Google Suite to ensure team members are kept up-to-date even when they are outside of the app
Taming Technology Overload
Worker productivity is one of the first causalities when an enterprise adopts new technologies, according to a Deloitte article, Digital Adoption Platforms: A people-centered solution to successful technology adoption. The article notes that in a survey asking about the effects of digital transformation, 90 percent of survey respondents said that becoming digital is more destructive than constructive.
Collaboration tools are a prime example. Employees are encouraged to use so many tools that they are often overwhelmed with messages from multiple communication channels. And often these communications are extraneous and not tied directly to the work at hand.
Slack is an example of a collaboration tool that, by working too well, has negatively impacted productivity. Counterintuitively, Slack makes it too easy to communicate. Indeed, it would be physically impossible for an employee at a big company to read their Slack messages and channels in their entirety, according to data from the productivity analytics company Time Is Ltd.
Software programmer Alicia Liu put it best in a Medium post last year: "By lowering the barrier to initiate communication, the hidden side effect is that Slack has the quiet capacity to exponentially increase communication overhead. Resulting in much more voluminous, lower quality communication."
The mix of the two can be bad for productivity.
The deluge of new apps is not going away anytime soon; history shows us that during times of innovation, new technologies only increase. The way to deal with this is through standards, such as jpg or png files, or Microsoft word files or Google docs, or whether files are located in Box, Sharepoint or other content repositories.
Ideally, you want solutions or platforms that provide a single workspace where all tasks, files, comments and discussion are viewable, but that the content can be located anywhere and because it is standards-based is accessible from the shared workspace.
Important steps to maintain effective teams amid technology overload:
Invest in tools that organize content so that it is easily accessible by all team members
Automate management of projects and initiatives
Make work status visible to all
Use Analytics to get insight and focus priorities, projects and workloads
Make everything accessible through desktop, web and mobile devices
Slingshot Helps Teams Cut Through Organizational Chaos
Slingshot helps teams be more productive and agile so they can deliver extraordinary results. Slingshot unleashes the power of teams by connecting everyone to each other and to data, content, projects and chats within a single digital workplace.

Slingshot's key features include:
Simple, smart, and intuitive file management to improve team organization
In-context and real-time chat to improve team communication
Accurate and insightful data visualizations to improve decision-making
Transparent ownership in project management to improve team alignment and trust
Slingshot aggregates data analytics, project and information management, chat, and goals-based strategy benchmarking – all in one, intuitive app.
Use Slingshot to run successful teams that minimize chaos with these capabilities:
Creating calm and efficiency across teams, departments and external collaborators by making it easier to find and access information.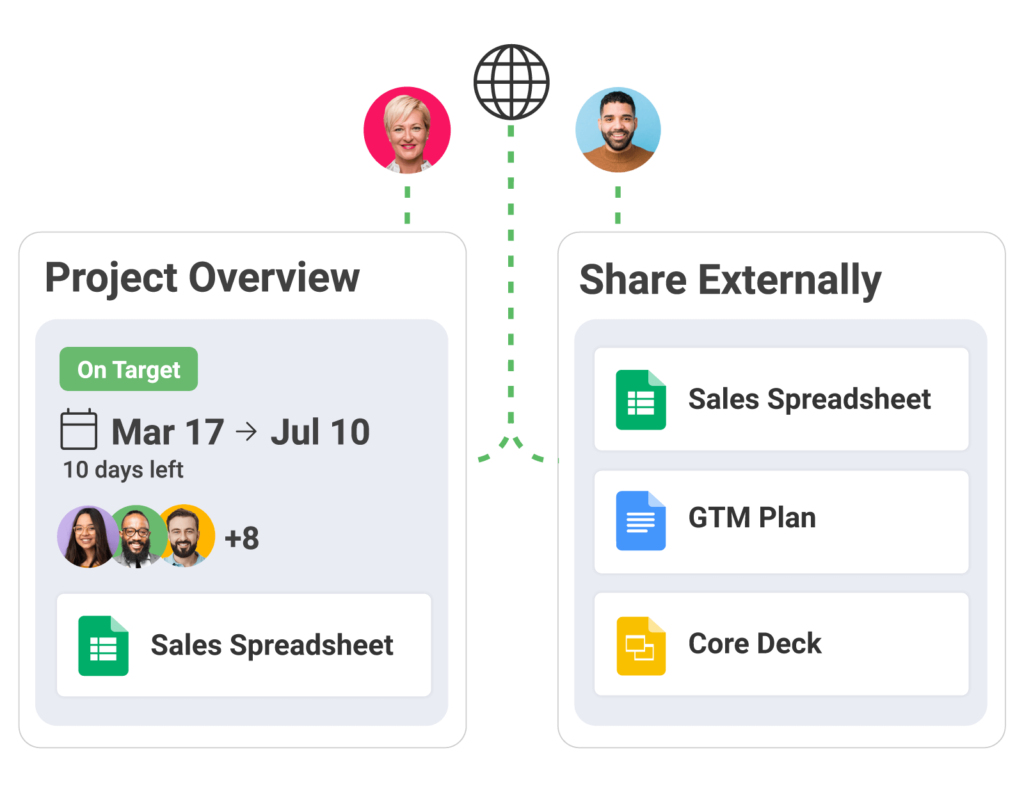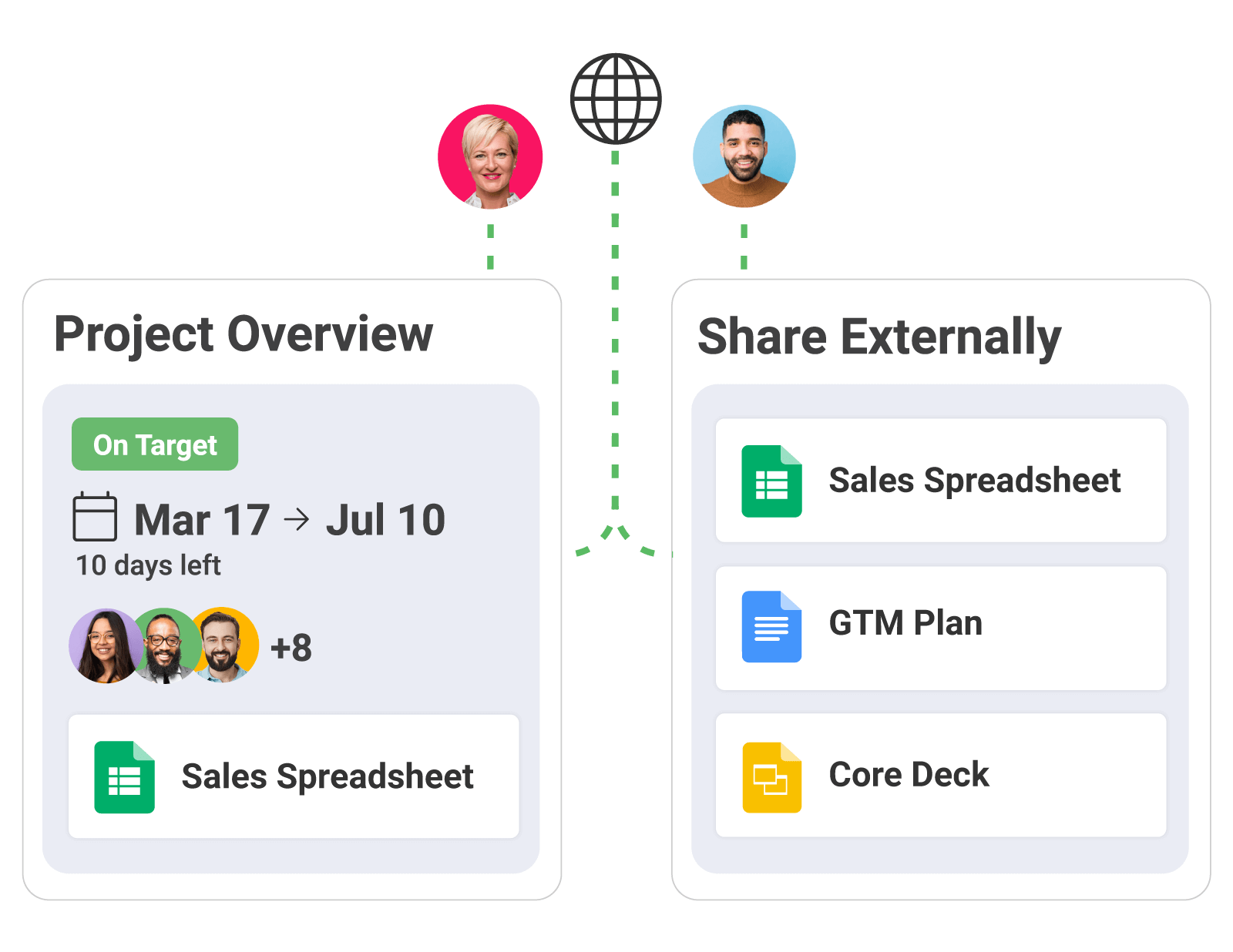 Slingshot helps create calm and efficiency by being the single location where team members can easily find what they need when they need it. Get rid of clumsy and chaotic file sharing across various departments, or with clients and partners. Work together on content in real-time wherever its stored and discuss any issues or ideas in real-time discussions, on task level or in 1-1 chat. With Slingshot you can share only what you want with who you want by easily segmenting and setting permissions by owner, member, or guest to maintain data integrity.  
Leveraging actionable insight by making it easier for your team to use data to improve productivity.
Slingshot's data analytic functionality lets your teams create and share data visualizations and dashboards to drive common goals, make better decisions and achieve better results. Only Slingshot makes it easier for teams to act on data insights by organizing business teams to take action. Teams can create and share data visualizations and dashboards within a common space where work happens and all within one app – one place where teams can create a process or project to manage execution of actions, keep everyone on the same page and moving with chat and then measure results.     
Achieving better results when everyone is focused and engaged on the same goals and strategies.
Drive team alignment by using Slingshot to set OKRs that map daily and project work to organizational goals and strategies.  Now managers can spend less time holding team status meetings and checking on the status of individual work and spend more time as mentors and proactively thinking about the business.   
Designing a culture of ownership and responsibility with better workflow transparency.     
Facilitate team and individual accountability by creating a transparent working environment where everything is visible to everyone, including the status of who is assigned to which task, key deliverable dates and team goals and metrics. Team members can also use personal overview windows to get a clear picture of their own personal work status across all of their projects and responsibilities to anticipate issues and reprioritize their own work. 
Slingshot's many integrated features and wide range of data-driven abilities keep organizational chaos at bay and help companies stay successful and productive at every level. Transparency, organized information, and the ability to keep it all in one place – chat discussions, content, task management, and data analytics – make it possible to trust your team and keep it productive at all times, with minimal or no disruptions.