How To Build Successful Teams That Produce Extraordinary Results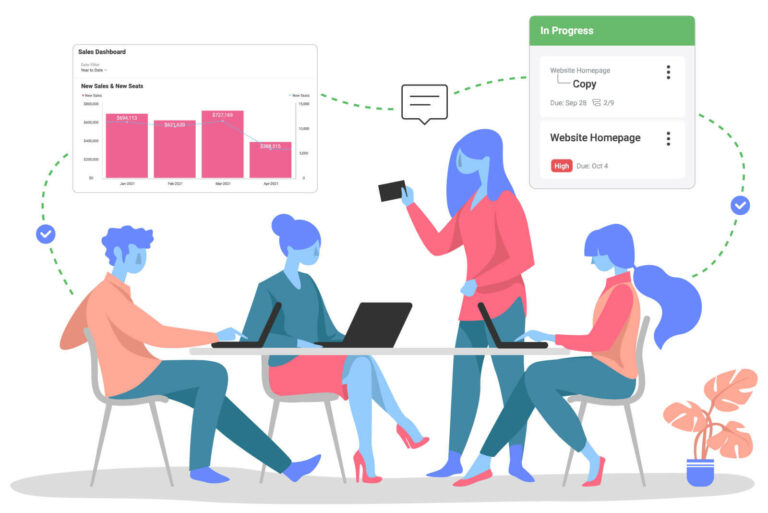 Agile Teams Replace Micromanaging With Efficiency
Building successful teams is a key challenge for many organizations, despite the ever-increasing access to information and technology. The Harvard Business Review estimates that "75% of cross-functional teams are dysfunctional," noting the inability to meet a series of key "success" criteria consistently, such as meeting a planned budget, staying on schedule or aligning with company goals, among others.
What causes this dysfunction and how can it be improved?
This paper looks at the causes of team failure, identifies where these breakdowns occur, and shows how a software tool focused exclusively on team performance —one that goes beyond individual tools such as project management or collaboration — enables team agility that results in the exceptional performance organizations need.
The paper also looks at the team leader's role and how a breakdown in process and workflow leads to a state of chaos, with many leaders trying to compensate by micromanaging, adding team stress and lowering morale. And with 60% of new managers failing within the first 24 months of their new position, according to Fast Company magazine, it's a pressing issue that companies must resolve.
Continue reading
Fill out the form to continue reading
Challenges Team Leaders Face
Despite a team's best intentions, they often fail to accomplish their goals. According to the Harvard Business Review, 75% of cross-functional teams fail on at least three of the following five criteria:   
Meeting a planned budget
Staying on schedule
Adhering to project specifications
Meeting customer expectations 
Maintaining alignment with the company's corporate goals  
Lack of communication, limited visibility into current work progress, and inability to set clear goals are frequently cited reasons. And as the team misses deadlines or goes over budget, the leader often shoulders the blame.
In order to compensate for poorly performing teams, leaders often resort to micromanagement — more one-on-one meetings, emails, status meetings — in an attempt to stay on top of projects and exert more control over business outcomes.  
Pressure from management and demands of company leadership puts leaders in what can amount to a no-win situation, with a devastating impact on team performance and morale.
Unsurprisingly, many leaders feel they are set up for failure right from the get-go. According to research cited by Fast Company magazine, 60% of new managers fail within the first 24 months of their new position. An underperforming team can be the death knell of a new manager's career, which is why starting a manager role with the right tools to manage a team effectively are paramount.
Building Agile and Successful Teams
Team leaders can empower team success by doing the opposite of micromanaging – by creating team transparency, driving individual accountability across the team, and making it easier for teams to do work.  Team leaders should consider the following pillars to create productive teams:     
Creating calm and efficiency across teams, departments, and external clients by making it easier to find and access information. 
Leveraging actionable insight by making it easier for your team to use data to improve productivity.
Achieving better results when everyone is focused and engaged on the same goals and strategies.
Designing a culture of ownership and responsibility with better workflow transparency.
Once teams embrace the above pillars, they will have created a business agile team that can readily adapt to changing work environments.  This puts them in a better position to complete impactful deliverables that are on time and on budget.  And team morale will increase along the way.
Create Calm and Efficiency Across Teams
When a project is well underway, it can be easy to lose track of materials and deadlines. Team members can't find the content they need to do their jobs, with many spending a lot (more than 30%) of their time looking for content. Documents, actions and notes get lost between emails, internal tools and tools that external clients use.
If organization of project materials and communications breaks down, anxiety can spike among team members, which in turn slows the progress of projects.
When information is easy to locate in one place and accessible to all, team member and leaders can cut down on emails and messages asking such questions as: "where is this spreadsheet? How come I can't find the changes I sent you? What was the last communication we had with this client?" In many cases, communications can become buried in email and easily forgotten. But if all necessary information — status updates, tasks, files, discussions — is available in one location where anyone on the team can access it, satisfaction and productivity skyrocket.
Best Practices
Create one location to access all content and enable real-time chat
Segment access to content and use permissions for data integrity
Leverage Actionable Data Insights
Many organizational leaders believe they have a data-driven culture because they generate lots of reports or have dashboards throughout their organization.  Unfortunately, it's not that simple; data is only effective if it is integrated with a workflow process so that it drives business action.
Teams often must use data analytics that are essentially trapped in separate, isolated intelligence applications and disconnected from where they are currently working. But many fail to take the time to open a separate application, losing the value of analytics. Or if they do, it's time consuming. 
This tracks with research conducted by Forrester  which found that "while 74% of firms say they want to be "data-driven," only 29% say they are good at connecting analytics to action."  It's a situation where much effort is made to create data insights and then it's not acted upon.  For action to take place, team leaders need to make insights available to the right people at the right time within the right setting.   
The other essential element that helps create a data-driven culture is how the data is presented. Data visualizations display data in clear, easy-to-view charts, graphs or dashboards. They allow users to understand the big picture and see the details at the same time, simplifying data by allowing users to interact only with relevant data. Using visualizations also makes it easier for teams to collaborate.
Best Practices
Become data driven by making it easy for teams to act on data insights
Provide data analytics in a common workspace to make data actionable
Use visualizations to make it easy for teams to absorb data
Achieve Better Results With Goals and Strategies
Team alignment and engagement doesn't just happen; team leaders must strive to create a culture that embraces OKRs (Objectives and Key Results). Aligning to OKRs keeps everyone accountable and allows for opportunities to openly discuss any challenges team members are facing, thus promoting alignment around business goals. According to Harvard Business Review, aligned employees are twice as likely to be top performers.
As teams transition from planning to execution, managers and individual contributors need to link the day-to-day work to the organization's vision and higher-level goals and strategies. This is accomplished by setting OKRs at every level of the organization and creating alignment that establishes commitment. Creating this alignment is not always easy, but the benefits are worth it. OKRs combined with transparency are the one-two punch that promotes accountability and transparency within an organization.
Best Practices
Create team alignment by creating a culture focused on goals and strategies
Set OKRs (Objectives and Key Results) that map daily work to organizational goals
Create a Culture of Ownership and Responsibility
When team members feel that they have "ownership" of their part in a team's workflow — recognized for their contributions, their teamwork and commitment to deadlines —they often feel empowered to take responsibility. And when this happens, it acts as a "force multiplier" as the team functions at a much higher level. It's like having many team leaders all acting in concert continuously to assess situations and suggest actions.
But this requires that they have visibility into the team's work. In the age of COVID-19 and beyond, when teams are working remotely, creating transparency can be difficult. But it's the essential, critical capability that ensures better workflow transparency and team success.
Best Practices
Create a process that provides team members a sense of "ownership" and "responsibility"
Allow team transparency so team members can see their role in the work flow
Provide each team member a window into their own work status and upcoming projects
Create Successful Teams With Slingshot
Slingshot empowers high performing teams to produce extraordinary results that drive business growth. Slingshot is a productivity and collaboration app designed to:

(1) improve workflow efficiency with a rich and robust set of integrated features
(2) inform smart, data-driven decision-making with accurate analytics, and
(3) align teams around opportunities to reach their full potential.

Slingshot's key features include:
– simple, smart, and intuitive file management to improve organization
– in-context and real-time chat to improve communication
– accurate and insightful data visualizations to improve decision-making
– transparent project management to improve team alignment and trust
Slingshot aggregates data analytics, project and information management, chat, and goals-based strategy benchmarking – all in one, intuitive app.
Use Slingshot to run successful teams that achieve extraordinary results with these capabilities:
Creating calm and efficiency across teams, departments and external clients by making it easier to find and access information.
Slingshot helps create calm and efficiency by providing a single location where it's easy for team members to find what they need when the need it. Get rid of clumsy file sharing across departments, with clients and partners. Work together on content in real-time wherever it's stored and discuss in real-time chat. With Slingshot you can share only what you want with who you want by easily segmenting and setting permissions by owner, member, or guest to maintain data integrity.  
Leveraging actionable insight by making it easier for your team to use data to improve productivity.
Slingshot's data analytic functionality lets your teams create and share data visualizations and dashboards to drive common goals, make better decisions and achieve better results. Only Slingshot makes it easier for teams to act on data insights by organizing business teams to take action. Teams can create and share data visualizations and dashboards within a common space where work happens and all within one app – one place where teams can create a process or project to manage execution of actions, keep everyone on the same page and moving with chat and then measure results.     
Achieving better results when everyone is focused and engaged on the same goals and strategies.
Drive team alignment by using Slingshot to set OKRs that map daily and project work to organizational goals and strategies.  Now you can spend less time holding team status meetings and checking on the status of individual work and spend more time as a mentor and proactively thinking about the business.   
Designing a culture of ownership and responsibility with better workflow transparency.     
Facilitate team and individual accountability by creating a transparent working environment where everything is visible to everyone, including the status of who is assigned to which task, key deliverable dates and team goals and metrics. Team members can also use personal overview windows to get a clear picture of their own personal work status across all of their projects and responsibilities to anticipate issues and re-prioritize their own work.