Marketing – Marketing Agency
Execute Your Clients' Marketing Campaigns with an All-In-One Tool
Hit marketing and campaign goals faster and help your team achieve efficient workflows by keeping all collaboration, content, and data in one place. Manage all projects and tasks in context and go from insight to action in seconds.
Try it NowTry it Now Try it Now
Key Slingshot features to help with your SEO Management
Drive Multiple Projects
Unite all your projects, clients, and campaigns in the same place where collaboration happens. Manage tasks and keep everything visible with project management and task status, while staying in context by using Workspaces and keeping all chats, files, data analytics, clients' proposals, audits reports, and briefs accessible by the responsible team.
Working with freelancers or external partners? In Slingshot, you can also provide partial access to external collaborators so they can edit, leave feedback and keep track of the progress of everything.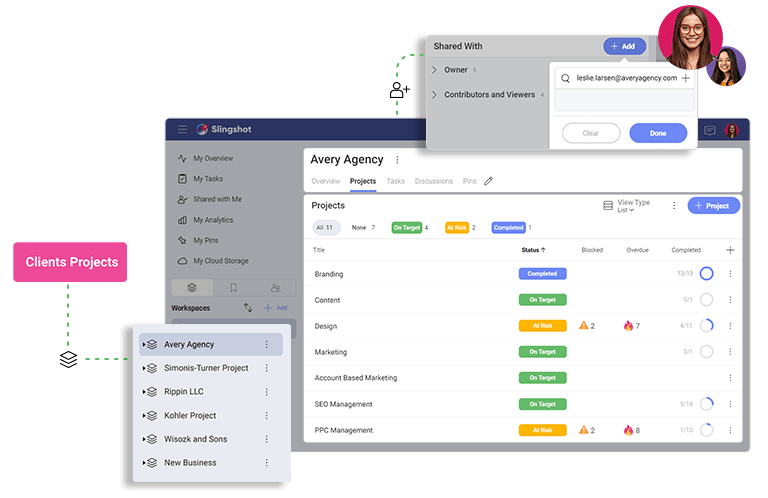 Upgrade Your Marketing Flow
Whether you are providing services for marketing channels like SEM, SEO, Social, Brand management, traditional or digital PR, or all the above – your team, and work process need to be in perfect harmony. Easily go from a campaign brief into a full campaign timetable with dependencies, task timeline, content, and metrics.
Keep your copywriters, designers, project managers, and specialists on track effortlessly. Collaborate around and manage and access their files by pinning them from a preferred cloud source for your team and clients to access. All of this – with no app-switching.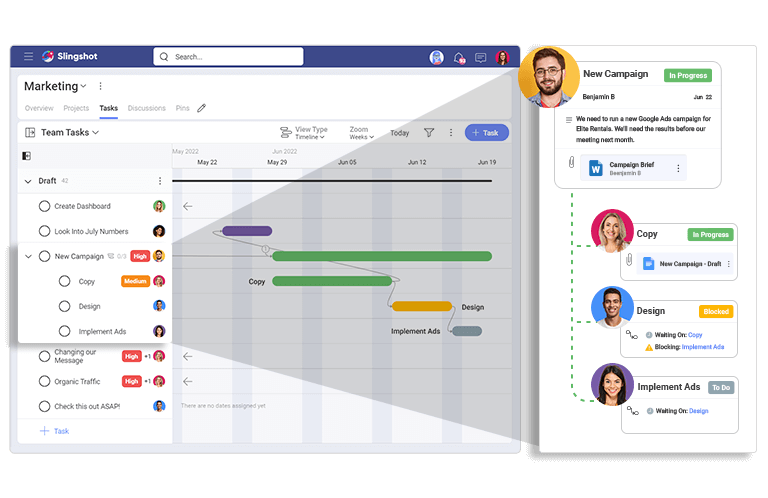 Boost Results with Data Dashboards
Тhis is not like the project management tools you're used to. In Slingshot, you can use data like never before and boost campaign results by creating a data-driven culture in your organization. Data analytics and reports no longer need to be analyzed and compared in different apps, nor do you need to spend days and resources every month to prepare clients reports.
Now, you can connect to our data sources like Google Analytics, Google Ads, Google Search Console, Facebook, LinkedIn, Twitter, Hubspot, and more – and build custom visualizations in seconds. Keep all most essential metrics in one view, so you can in real time show your clients ROI on their marketing investments. Invite your clients to access dashboards, share links to them via mail or chat or in pdf format. To save time, you can reuse the same dashboards for multiple clients and projects.