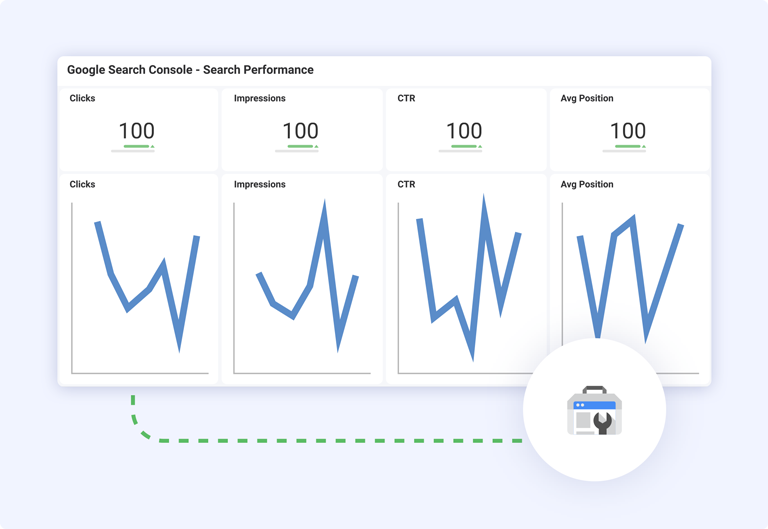 What Is Included in Slingshot's Google Search Console Dashboard Template?
Elevate your SEO game with Slingshot's comprehensive and customizable Search Console Dashboard Template. Quickly connect to your data and get instant insights into your website's performance through visualizations of key KPIs such as:
Clicks: Track the number of clicks landing on your website from Google search results for a specific timeframe.
CTR: Gauge the effectiveness of your website's presence in Google search results by measuring the click counts divided by the impressions count.
Impressions: Measure the visibility of your web pages in search results.
Average position: Discover where your pages rank on search engine result pages.
Get a strategic view of each of the above over 12 months to detect performance swings and pinpoint issues related to competitors, algorithm updates, or technical issues. Track page and query performance in easy-to-sort and filter table view, with up to 100K rows of data. As a default view, you also get clicks by country, clicks by device, and more. You have the freedom to customize any view by resizing, grouping, and rearranging visualizations to create unique, detailed GSC reports.
Why Use the Google Search Console Dashboard Template by Slingshot?
Beyond being just a typical dashboard, Slingshot is a versatile, data-driven work management platform. It combines data analytics, project management, and collaborative tasks, all in a user-friendly app. You can create tasks based on your Search Console insights or initiate strategic discussions with just a click. We also offer a GA4 SEO dashboard to analyze your Google Analytics data and an end-to-end SEO management template that could help you easily manage your entire campaigns.
Benefits of Using the Google Search Console Dashboard Template
Slingshot's Google Search Console Dashboard Template offers several advantages for optimizing efforts and improving performance. Leverage our free, ready-made , and fully customizable template and benefit from the following:
Time efficiency: Spend less time on data gathering and more time implementing effective SEO strategies. Slingshot's GSC dashboard automates the tedious task of data collection, saving you hours of valuable time while reducing the risk of errors in manual data gathering and reporting.
Data-driven decisions: Ensure your SEO strategy is always on the right track by making informed decisions based on real-time GSC data. With clear, actionable insights, tailoring your SEO efforts for maximum ROI is much easier and more effective.
Enhanced visibility: With a comprehensive view of your website's search performance, you can easily identify key traffic drivers like pages, queries and ranking fluctuations and quickly spot growth opportunities by pinpointing underperforming pages or keywords that could benefit from optimization .
Boost Team Results with Ready-to-Use Templates
Track organic traffic, landing page performance, and behavior metrics in real-time, visualized in a few clicks.
Get Key Search Performance Insights in Minutes
Get a free template for your Google Search Console data – ready-to-use, easy-to-share, and fully customizable.