Establishing a Data-Driven Culture: Where to Start
For any organization wanting to stay relevant in the ever-changing and rapidly growing data world, creating a data-driven culture for your organization is a must. Relying on data today is a necessary strategy - but according to a study by NewVantage Partners, the data-driven culture itself proves to be a harder mission for most companies.
In this whitepaper, we will take you through the steps you need to take to become a company with a data-driven culture, how to make sure you implement it successfully and why it's essential to use data in the right way.
What Is Data-Driven Culture
A data-driven culture is a model of organizational behavior that always puts data at the center of the decision-making process. That model of behavior goes for every department in the company. For data-driven companies, using data as the main insight to drive decisions forward brings great advantages and good outcomes, as well as money saved.
Companies that strive to create a data-driven culture are often those who have realized that they are not taking full use of all the data they gather. Reasons for this may vary - organizations still find it hard to process the data without the right tools or struggle to find the permanent solution for processing it. То say they have achieved a data-driven culture, they must, among other things:
Continue reading
Fill out the form to continue reading
Gather data and interpret models and patterns
Extract valuables and analyze them
Determine based on this analysis what next steps to take
Base all strategies on facts and data as a central authority
A data-driven culture is used across companies from top to bottom, to always stay on the same page in organizational decisions and strategies.
The advantage of this approach lies in the feeling of certainty: data helps improve the safety of the outcome and brings forward more success.
Why Is It Important to Build a Data-Driven Culture
Тhe volume of available data is expected to grow to an estimated 175 zettabytes by 2025, according to a recent study. Using that data the right way could be the start of true business excellence for many organizations.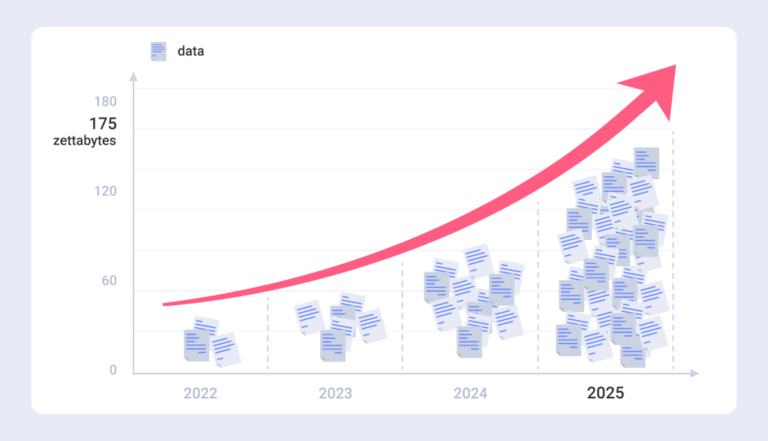 The importance of building a data-driven culture is connected directly to that excellence, pushed forward by choosing opportunities based on data. In short: data cannot be replaced when it comes to having the right insights for future investments.
Other important reasons for establishing a data-driven culture in your organization include:
Analytics grows increasingly important providing insights into how to achieve the best client satisfaction
Data can enhance core competencies and raise efficiency, as well as reveal bottlenecks, waste and even show the potential fixes for pinpointed problems
Data analysis reduces costs and improves overall function in all departments
Data is the guiding light for finding new opportunities to grow a company's revenue, by showing clearly both internal resources and external prospects
Data can find the marketing trends an organization needs to see to confidently adjust the strategies it uses
Overall, companies that use a data-driven approach are best prepared to respond to the rapidly changing marketing and customer demands. Pivoting and navigating them with the help of data is sure to bring a new kind of maturity and effectiveness to the overall business strategy.
Benefits of a Data-Driven Culture
In the business environment today, data is the main force behind increased business agility, fast response, and focus. According to a study by Statista, 62% of business leaders say that a fast decision-making process is the number one advantage of becoming data-driven.
So, it's important to look at and understand the benefits of establishing a data-driven culture in your organization. The best way to explore them is by looking at where they are most useful per the company's needs, as follows:
Launching New Products and/or Services
Through data, every department quickly focuses on the right way to go,
because data shows what customers want, like, and expect, builds a history, and improves based on that history
Monitoring the Competition
With data, organizations stand their ground in the ever-changing marketing world with confidence – because through data, you can monitor and analyze the competitors' actions and gain insight into what customers want
Improvement of Collaboration
Data provides every team across all departments with real-time information about needed changes and new opportunities, as well as a good overview of what is happening and illuminates paths for what to do next.
Optimization of Costs
By following the sales and expenses data, companies find patterns that help with informed decisions and cost optimization.
Targeting the Right Audience
Using customer data brings the best strategy with targeting – it simply narrows down the options to the right decision.
Insight to Action
Every person across the company has the advantage to quickly be able to link insight to action, save time and add much-needed structure to decisions. 
Through data, companies learn how to stop leaping in the dark or focus only on intuition, but rather transform the risk into knowledge. Rooting decisions in data is the shift that makes all the difference and stops the hazards of guessing.
Added benefits of establishing a data-driven culture:
Optimizing business performance
Ability to experiment and be flexible based on analysis
Easy and simplified cross-team collaboration
Advantage with competitors
How Data Culture Adds Business Value
Data-driven culture across an organization has the potential to bring the traditional management model into an up-to-date and ever-evolving approach towards efficiency and success. Data can be a goldmine for businesses and here is why.
More Access Than Ever Before
Data accumulation and data analytics bring unprecedented visibility and access to all business units. Optimizing data in such a way that it's not only a few individuals who can see the full picture, but everyone on every team is key to bringing uniform decisions and staying up-to-date in strategy
Manageable Business Goals
Data-driven culture brings the value of the controlled small steps head. It essentially breaks down any big project into manageable and smaller pieces of action to take. Data helps with each step of this process, bringing forward what tasks to complete and in what way, then analyzing the progress to see if any adjustments are needed.
Better Company Growth
Companies that adopt a data-driven culture can see better the overall market trends and bring their A-game to the table easier. Trends, as well as a Forrester report, show that data-driven companies are now growing at an average of more than 30% annually.
No More Unnecessary Risks
Data helps companies remain informed in a way that minimizes unnecessary risks and provides good management of all assets. With data, risks are controlled to stay on a level that will not bring an excess of losses down the road.
Data unlocks the potential of any project in a way that lets companies stay calm about the outcomes – they are already assessed along with potential threats. This leads to an exclusive way of smart operating across the organization and can increase the business value for any company.
Steps To Build a Data-Driven Culture in Your Organization With Slingshot
Building a data-driven culture that will seamlessly serve your company in its goals can happen easier than you think. Thanks to the digital revolution that seems to be never-ending, technology brings many options for agile data usage and analytics, seamlessly combining all needed components to achieve it.
Slingshot is an all-in-one digital workspace with a strong focus on data, providing any team with the ability to coordinate and collaborate with no disruptions, and effective strategy-making on the spot, through smart functionalities. To achieve the effective data-driven culture you're striving for, it's good to understand the main pillars that frame it. They are as follows: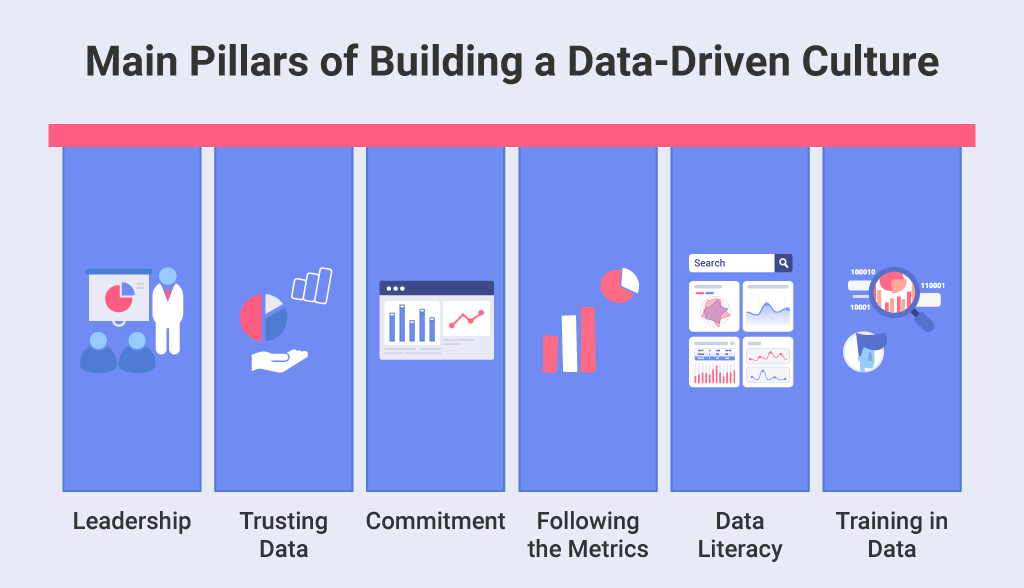 Leadership
The build of the data-driven mindset should start at the top of any organization, with managers deliberately leading their teams towards actively embracing data as the most important starting point for any decision. This includes using data daily and displaying it digitally with access for whomever it concerns, keeping KPIs visible through different channels, and always making a point for looking at the metrics before making a decision.
Trusting Data
Put data at the center as the single source of truth for your company to eliminate hearsay or guessing. Human intuition has its place in life, but it's always better to rely on facts and expand data insights across all departments, to lead with trust and transparency.
Commitment
If you want your organization to be data-driven, you need to be consistent with your decision of using data. Use data at the forefront of employee coaching, tie your business goals to data analytics and invest in technology, to make data accessible and always present.
Following the Metrics
It's vital to follow the right metrics in every business effort you make. Set goals by looking at historical data, measure success by analyzing data and ensure the right data gets to the right people, able to gather the direction of the next steps for the organization via them.
Data Literacy
Strategize around having your traditional business users understand data and adjust to using it daily through the adoption of a data catalog, using dashboards for centralized discussion around decisions, etc.
Training in Data
As we said just now, having data literacy and understanding is crucial, but having the ability to turn data into actionable insight is the real goal here. Make sure you offer the people in your team enough options to learn more about data, use data-driven tools daily and depend on them for always leading with a data mindset.
Slingshot incorporates all the features that establish a data-driven culture in a simple, but efficient way. Integration with Office 365, Google Suite, and AI features helps users go from insights to action in a matter of seconds. You have all your projects with their goals, stages, and analytics at each stage in one place.
Problems Slingshot solves with integrating data-driven culture in an organization:
No more jumping back and forth and getting lost between multiple apps
Forget about desynchronization between team members due to missing transparency and project optimization
Puts an end to losing sight of priorities, projects, tasks and getting overwhelmed in organizing in different places
Keeps all digital assets quickly and efficiently trackable