Fueling Growth: How HubSpot for Startups is Aiding Early-Stage Businesses 
Build brand awareness. Acquire and retain customers. Increase revenue. Stay sane in the process. These are just some of the challenges early-stage startups deal with. To fuel growth, they jump through hoops and fight the competition with fresh ideas and innovative marketing. But what else can help these entrepreneurs? Well. There is, of course, technology.
Tsvetomira Petrova
6 min read
Using powerful tools and platforms can streamline processes and fuel growth. One of the most popular options is HubSpot for Startups. In this article, we'll explore what HubSpot for Startups is, how it works, and how it can help unlock your full potential.
What is HubSpot for Startups: The Gist
HubSpot for Startups is a program that provides early-stage startups access to HubSpot's suite of marketing, sales, and customer service software at a significantly discounted price.   
In addition to discounted access to HubSpot's software, startups participating in the program also gain access to resources and support from the HubSpot community. This includes access to HubSpot's extensive library of educational content, including webinars, ebooks, and courses on topics such as inbound marketing, sales, and customer service.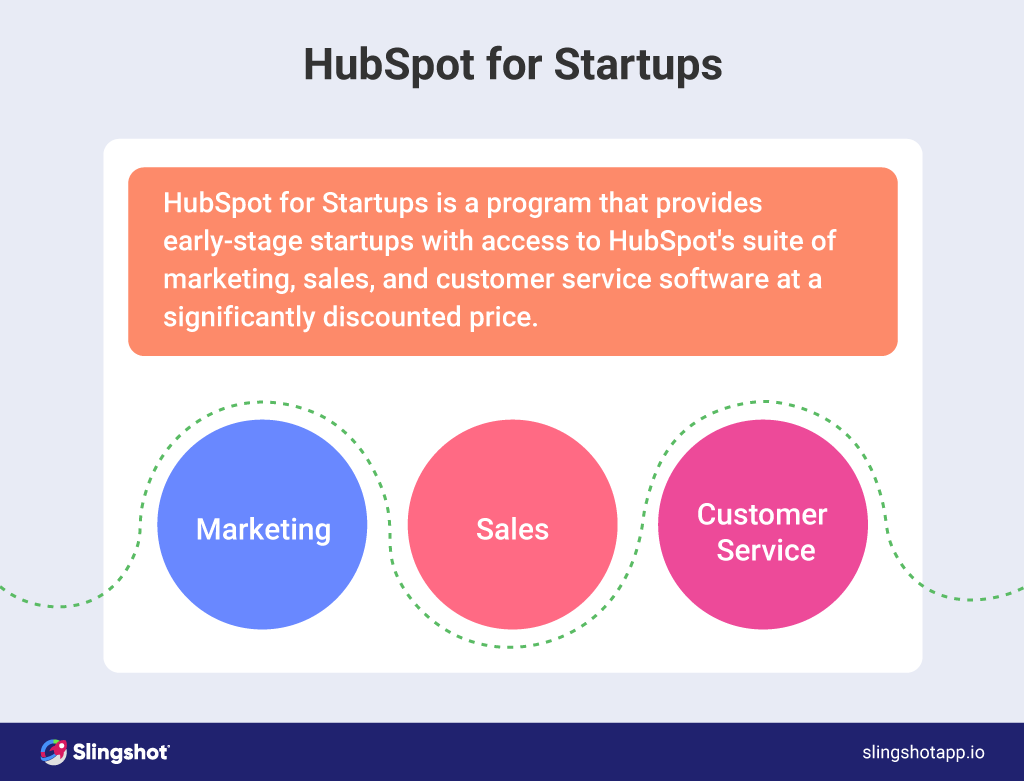 With HubSpot for Startups, early-stage companies can build a strong foundation for long-term success by using the resources they need to acquire and retain customers, build brand awareness, and increase revenue.  
Benefits of Using HubSpot for Startups
So why use HubSpot for Startups? Plain and simple, your startup will have huge advantages if you do. But we're going to go into detail, of course. So here are the benefits of using HubSpot for Startups.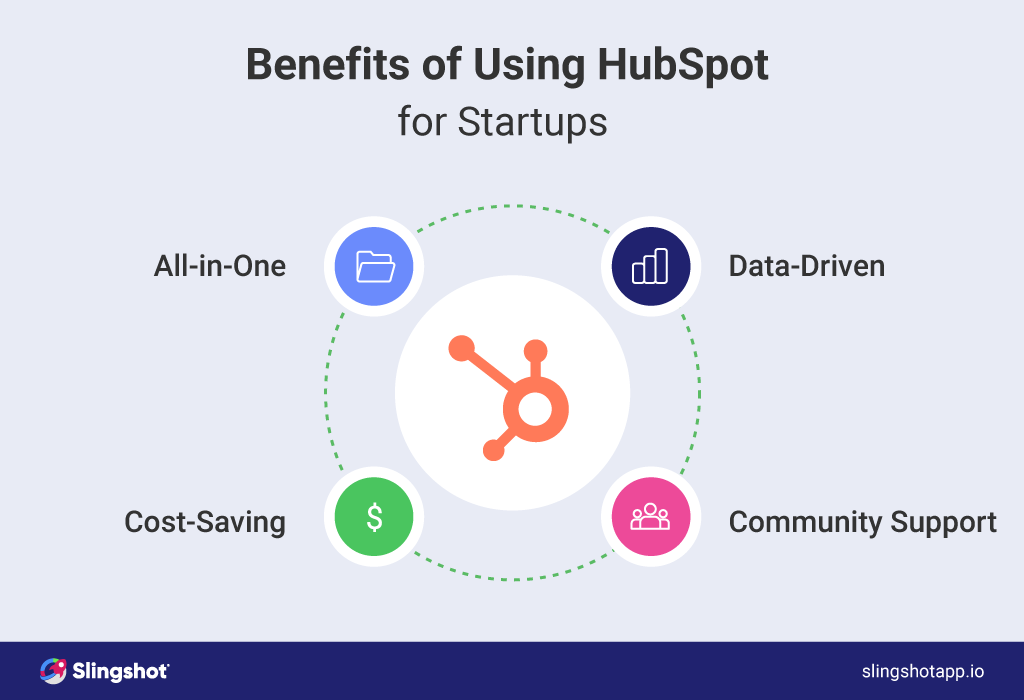 All-in-One Platform
HubSpot provides a suite of marketing, sales and customer service tools that work together seamlessly. That way you can manage your entire customer lifecycle in one tool and improve efficiency with a streamlined workflow. 
Cost Saving
HubSpot for Startups offers significant discounts on HubSpot software. So, it's more affordable for a now-starting business to access the powerful features, plus free training and support resources – saving money. 
Data-Driven Insights
Being data-driven is no longer a nice-to-have, it is a must-have. This happens when you make decisions through data and not intuition. HubSpot provides valuable insights into any startup's marketing, sales and customer service efforts – so every campaign performance can be understood and analyzed fast. Then you are free to make data-driven decisions to optimize your strategy. 
Community Support
In HubSpot, startups get guidance and support from users and experts. In this community, advice can be invaluable for early-stage companies that are still learning the ropes of marketing, sales, and customer satisfaction. 
Growth is not easy – so HubSpot for Startups can really help scale businesses. By leveraging HubSpot's platform, startups can streamline their workflows, make data-driven decisions, and ultimately drive revenue growth. 
Who Can Join the Platform HubSpot for Startups
To be eligible for HubSpot for Startups, a company must meet certain criteria. The specific requirements may vary depending on the region or country in which the company is based, but in general, the following criteria apply: 
The company must be a registered business entity and incorporated less than three years ago.

 
The company must have less than $2 million in funding raised and less than $2 million in lifetime revenue.

 

It must be an active member of a qualifying startup accelerator, incubator, or VC firm.

 

Alternatively, the company can be referred by one of HubSpot's partners or customers.

 

The company must be a new customer to HubSpot, meaning it has yet to purchase any paid HubSpot products or services.

 
Overall, HubSpot for Startups is designed to help early-stage companies still in the early stages of growth. By providing access to HubSpot's suite of tools and resources at a discounted price, the program can help these companies build a strong foundation for success and accelerate their growth trajectory.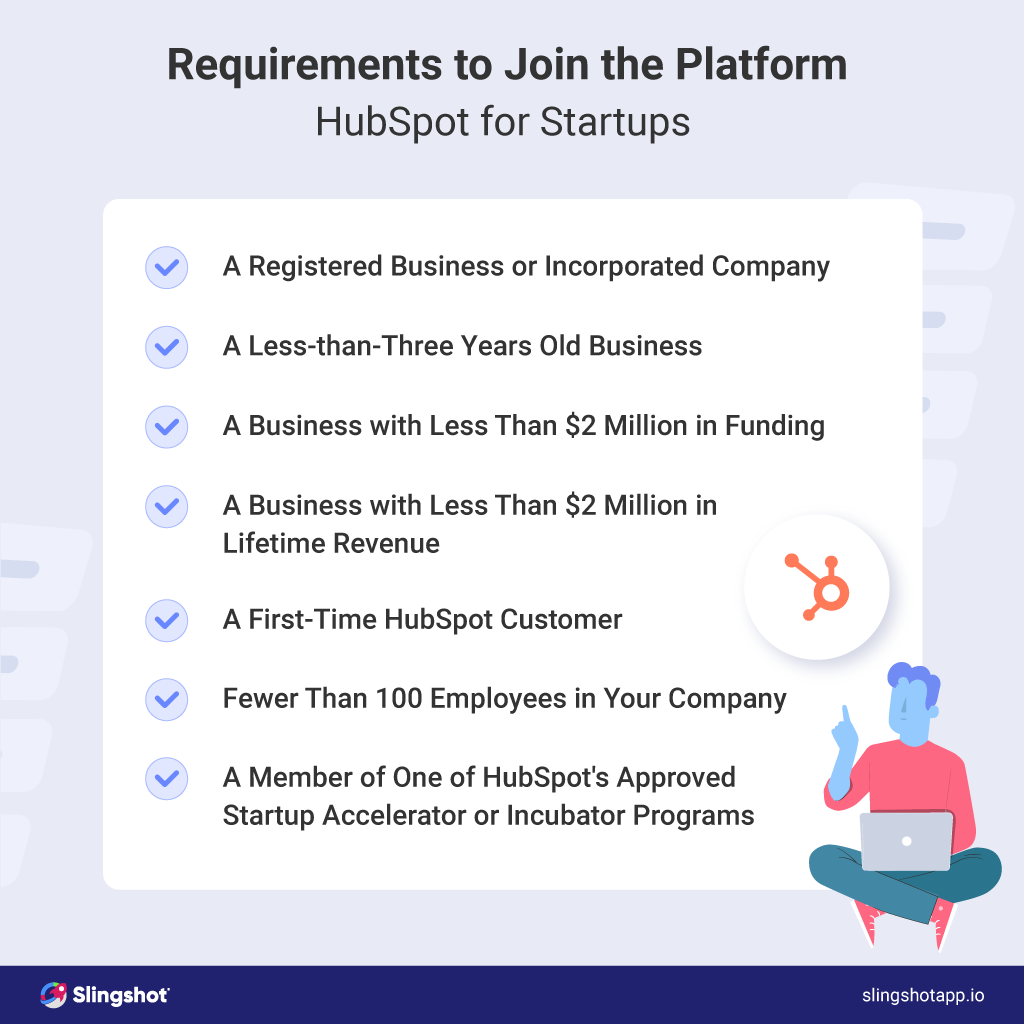 How to get HubSpot for Startups Discount
To get the HubSpot for Startups Discount, your company must meet several criteria, to be deemed eligible. So if you check all of the above mentioned list of requirements, you will get a dicsount.
Still, HubSpot reserves the right to determine eligibility and acceptance into the program and eligibility requirements can vary by country and region, so it's important to check them specifically before applying.
To get the HubSpot for Startups discount, you need to apply for the HubSpot for Startups program by going to the HubSpot for Startups website (https://www.hubspot.com/startups) and click on the "Apply Now" button, then wait for approval and choose a plan. There are three different plans for startups: Marketing Hub Starter, Sales Hub Starter, and Service Hub Starter. After you verify your eligibility, you can start using HubSpot and manage your marketing, sales and customer service activities there.
Using HubSpot for Startups with Slingshot
Slingshot is an all-in-one digital workplace with robust data analytics capabilities and multiple features that are great for project management, team collaboration and task tracking for startups. But what about using HubSpot for Startups with Slingshot? Well, you absolutely can. Here's how you do that.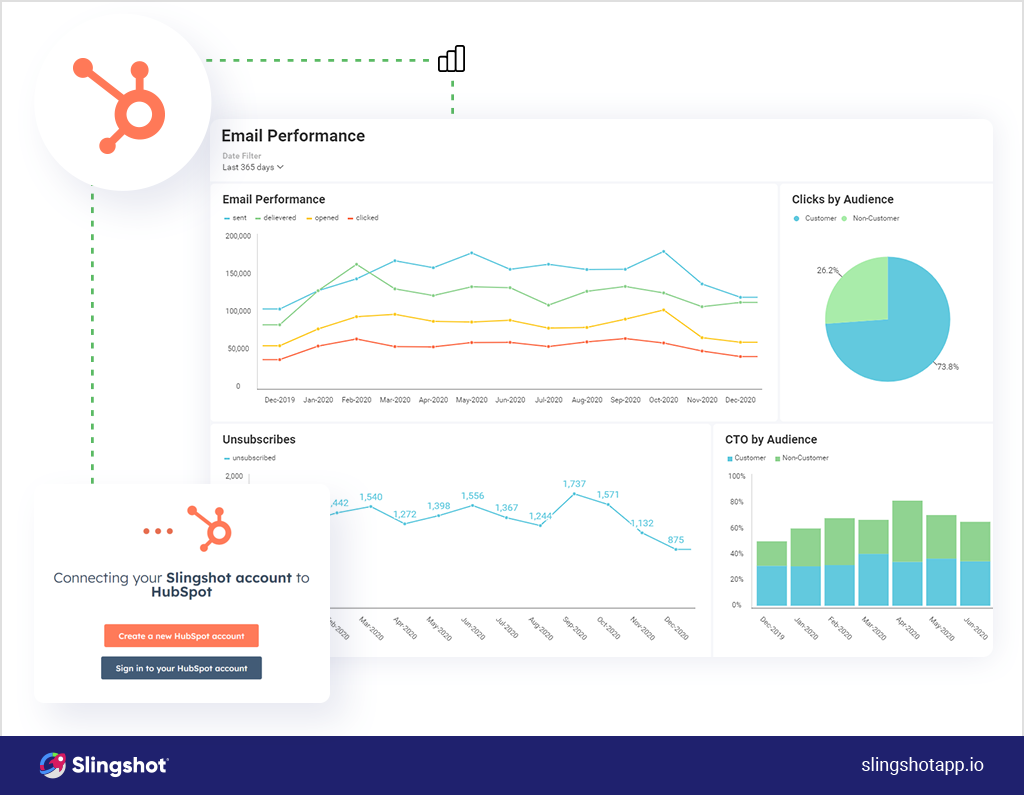 First, Slingshot has an entire business intelligence machine built right in, and HubSpot integration is in the mix. It's easy to connect directly to your HubSpot accounts. Best part? You can bring your data into Slingshot from HubSpot fast. From there, you can visualize it in dashboards, so you can grasp all your insights in a glance, and share it with your team in the same app, no switching of tools. You can also add additional insights from other data sources to view alongside of your HubSpot metrics, such as Google Ads, Google Analytics, and much more.  
Beyond real-time data analytics from HubSpot, you can have all your startup initiatives, projects, chats, creatives, and important files in one place – it's all under the same roof in Slingshot. You can go from looking at your data to starting a conversation with your team with a click, sharing a dashboard, creating a task from a conversation – all in one flow.  
So with Slingshot, you can stay on top of your startup projects, and improve team productivity, resulting in a data-driven culture. Now you are free to turn data into action, be cost-saving in your efforts (you are using one tool for everything, after all), create visualizations, collaborate, manage your projects and have every file at hand, pinned from any cloud provider. All in one intuitive app.