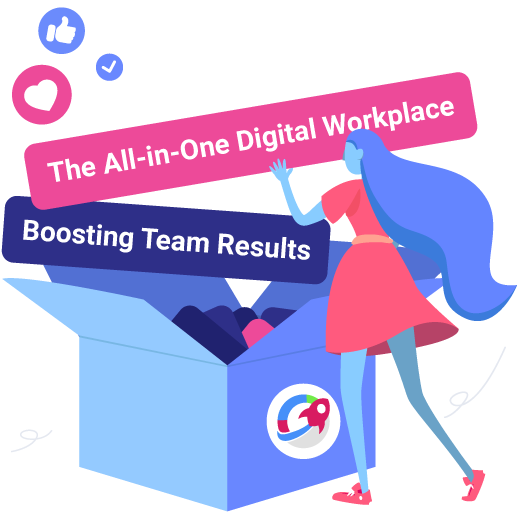 The Best Chat Apps: How to Pick the Right One for Your Team
The best chat app for your team is out there - but how can you possibly choose? We've selected the best for you in this article, showing both pros and cons so you can easily make a decision.
Tsvetomira Petrova
10 min read
Combining instant messaging, group discussions, video and audio calls, file sharing, and syncing with your team in the daily tasks is what lies in the chat app's essence. The need for a single digital platform to communicate and focus all the collaboration with your colleagues is vital not only with in-office teams, but also with remote, distributed, and hybrid teams.
So, how do you choose? With overwhelming options to pick from out there, it can be tough to select the best team chat app.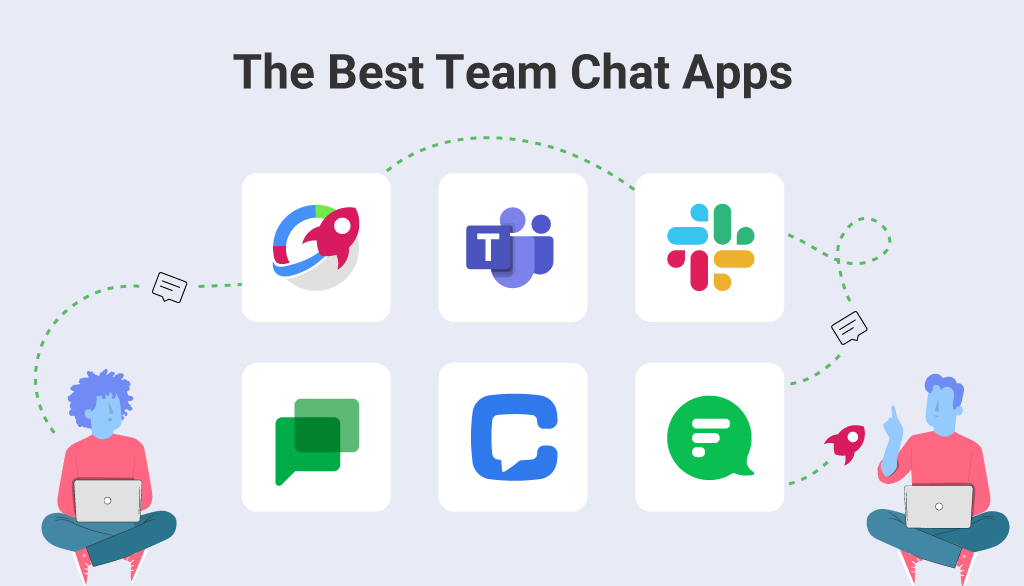 Team Chat Apps: The Benefits
All collaboration tools have the same goal: make sure the team stays connected, never miss a deadline, achieve results and share ideas and brainstorm together regularly. However, the best team chat apps have significant and specific benefits that can give you an idea of their importance for any team's success.
Streamlined Workflow
The whole organization gets a streamlined workflow in one place and without switching, helping with virtual team meetings, scheduling, sharing of content and overview of tasks, planning, discussions, and feedback done efficiently.
Seamless Communication
Even when remote, teams need to constantly be in the know on where projects and deadlines stand. Conversations in chat apps allow you to have transparent discussions, sharing of content and deadlines all within one space – even when remote.
Time-saving
With all the due dates that inevitably accompany any project you might be working on, a good chat app will help you coordinate in a way that saves time and make sure collaboration is effective and quick.
Improved Project Management
At the core of any successful project management lies good coordination between the team members driving the process forward. Tracking different tasks and making sure all experts stay on point with their specific responsibilities makes for a seamless achievement of the best results possible. Even better is to have a chat functionality built into the task feature – that way all discussions stay at a task level and updates can be seen in seconds.
Having a team chat app as a central piece for your team workflow helps you get a true hold of productivity and forget about any roadblocks in collaboration.
What Should a Great Team Chat App Have
When choosing a team chat app, your team's specific needs should always be on top of your mind. Every team and department is different in its requirements and yet, there are several must-have components that such an app should have to be called great. Let's take a look at the elements that cannot be missing from the app you choose for your team.
Organization by Topic/group
Team chat apps that bring the most productivity have the ability to organize for your different topics, groups and projects. Having the ability to create groups per function or project is invaluable in saving time, keeping assets organized, and having everybody on the team in tune with the updates, by switching easily between groups and projects.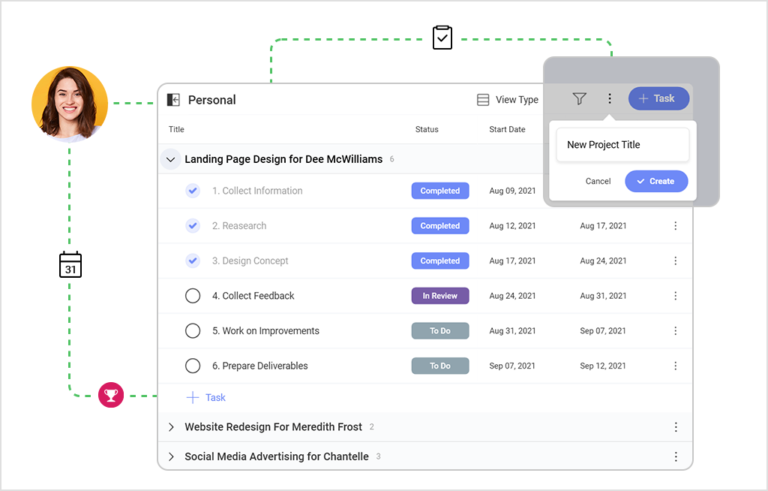 Task tracking & Priority options
The best team chat apps provide a clear outline and division of tasks, the ability to assign people, set priority, and track progress with due dates. This way, teammates can collaborate easily, have an overview of the status of a task (e.g. "in progress", "in review", etc.), and can see fast if anything could fall through the cracks, so that they can act accordingly and clear blockages in time.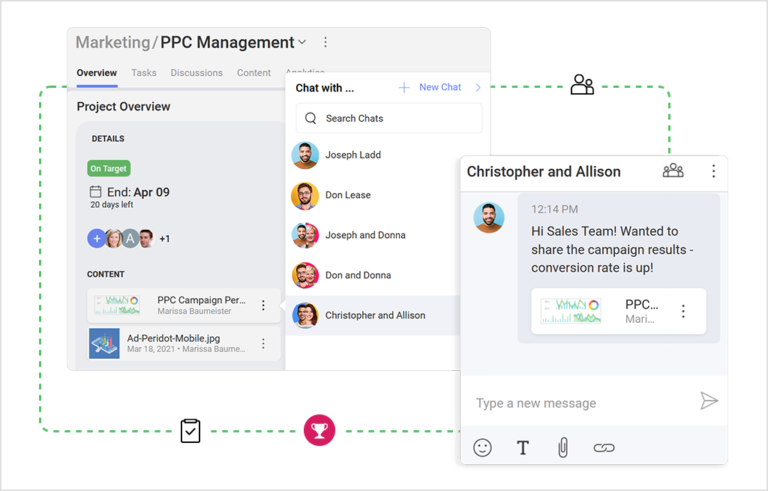 Discussions and Tagging
Beyond the ability to chat and send direct and group messages, a chat app should have a tag option for users who should receive notifications and be able to track priority easily within transparent discussions for your teams to see.
Mobile Option
The best chat apps need to be highly accessible and a go-to communication tool wherever they are at any given moment. Availability on a mobile app, as well as in mobile web version, having identical functionalities and convenience helps teams communicate on-the-go without disruptions and limitations.
Easy Sharing
Assets of any type are inevitably flying among team members daily, so to be able to keep everything in one place without switching between multiple apps, and share and edit the same doc efficiently is invaluable. A big bonus is the app supporting different file formats.
Search Functionality
Every team should be able to immediately find certain information so a search bar in the chat app should always be present. That way messages, containing a specific keyword or correspondence will be easy to find.
Top 6 Team Chat Apps to Look Up
So how can you make a choice that's relevant to your team's specific needs and incorporates all of the above, and even more, when it comes to boosting productivity and success? We've given you a hand with a selection of six of the best team chat apps available at the moment.
Slack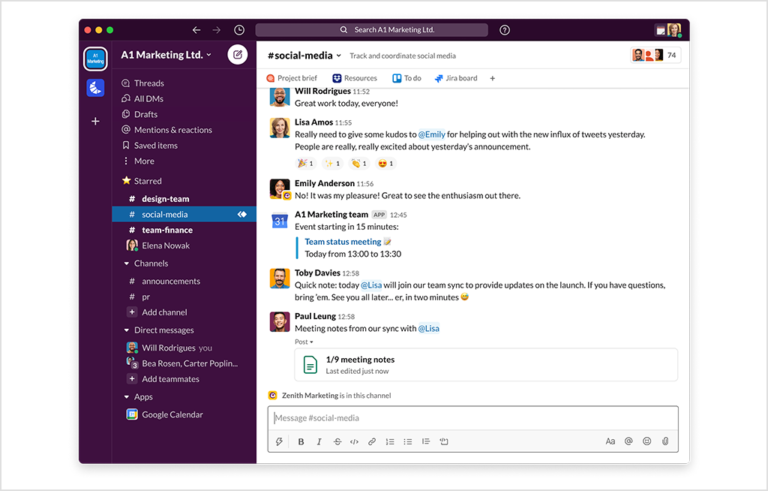 One of the most popular team chat apps is Slack – a communication tool that is used for boosting team connection and productivity. Slack is organized into Channels divided by topics, so different teams, and subjects can be separated into discussions. Besides channels usage, Slack lets you send direct messages to individual team members and create Threads to keep track of conversations. Slack lets you tag people and also notify the whole channel at oncе. Other than messages, it offers voice and video calls, as well as a screen sharing option. One of the biggest Slack advantages is the clean layout and easy way of use. There is also a built-in Slackbot to help with FAQS and send you reminders.
Price: Slack is free with a limited message history and number of app integrations and has several paid plans starting at $6.67/month per user, including unlimited message history and integrations.
Platforms: Android, iOS, Mac, Windows, Linux (beta), Web
Why choose it: It's simple to use and very effective in channeling team collaboration in a fast and efficient way.
Microsoft Teams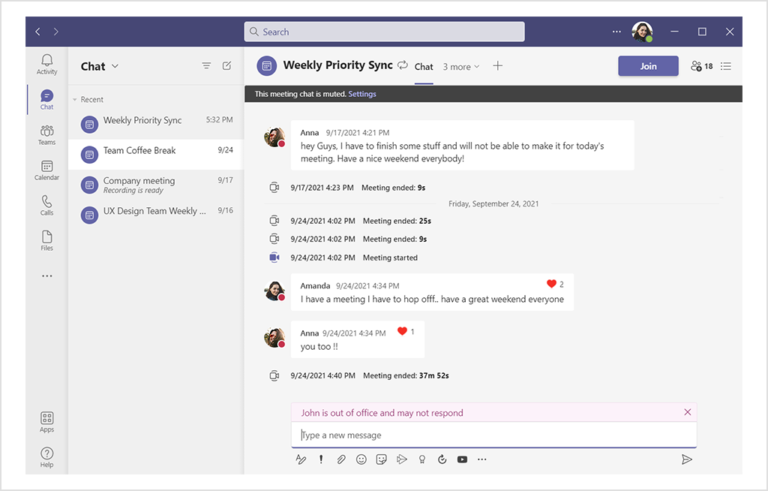 A multifunctional chat team app that brings you options for one-on-one and group meetings, Microsoft Teams is often chosen as one of the best tools in the pool. Its video conferencing feature lets remote teams conduct meetings directly into the app, and it allows for screen sharing, localization, file sharing, and chat. Microsoft Teams also provides a feature for using groups to divide projects, departments, topics, etc. Тhe app of course has deep integration with other Microsoft Office tools, making it easy to edit docs directly within it and collaborate in real-time with other team members.
Price: You can sign up for free with limited file storage and increase it, with additional features, for $5 per user per month.
Platforms: Android, iOS, Mac, Windows, Linux, Web
Why choose it: It's packed with great features and allows for seamless team collaboration.
Google Chat

Аs a business and team collaboration tool, Google Chat has its rightful place in this selection because of its powerful features and unlimited chat history even for its unpaid version. In Google Chat, you can create Rooms where you can discuss and center your team's talk around a specific topic. Even though it's not very customizable, you can do a lot in Google Chat – share files, photos, and links seamlessly thanks to its flawless integration with Gmail, Google Drive, and Google Meet – all just a click away. You can share files from GD, Docs, Sheets, and Slides and quickly search for items in the team conversations, both 1:1 and group. Inside the app, you can schedule meetings and pull information about your calendar from other apps like Salesforce.
Price: Starts at $6/month per user.
Platforms: Android, iOS, Mac, Windows, Linux, Web
Why choose it: Your team's communication and organizational needs will be fully covered and you will never worry about how to share files again.
Slingshot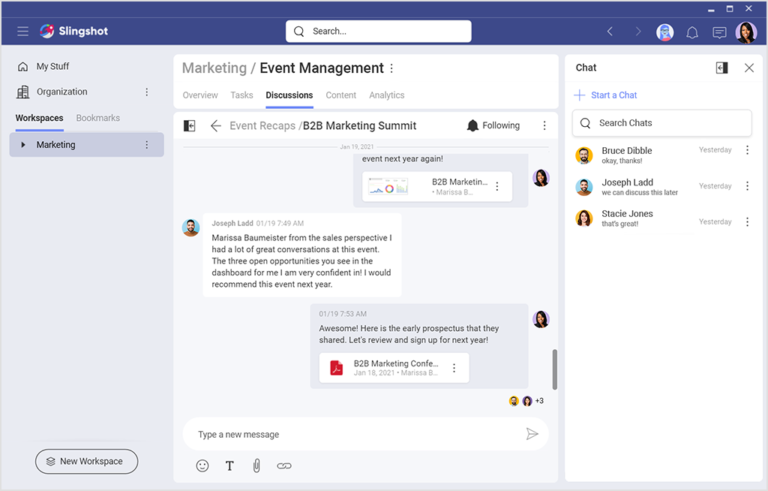 Slingshot is an all-in-one team chat app that allows teams to organize projects, content, and chats, as well as data-driven integrated features. As project management goes, Slingshot helps your team organize all their tasks in lists and sections, choosing between different types of views and assign tasks and subtasks to different users, setting priorities, due dates, and blockers. In the app, you can separate your teams, topics, and even departments in workspaces. It's also the only hub your team needs for bringing all their needed content together – from any cloud storage like Google Drive, OneDrive, Sharepoint, Box, DropBox (check out the whole list HERE), it allows for a drag and drop, upload and pinning links. Besides that, the app has a full business intelligence engine where you can direct your data sources and create beautiful dashboards, which then teammates can use for analysis and data-driven decision making. The data analytics features within the app help with creating the right insights needed to change a course of action or simply learn the facts behind a campaign's success or a failure. Chat functionalities are also there, both 1:1 and group and teams have a conversation in the context of the team or project they have entered.
Price: Slingshot is free for smaller teams and starts at $8 per user in its paid version, bringing more features and unlimited options.
Platforms: Android, iOS, Mac, Windows, Linux, Web
Why choose it: Besides chat and workspaces, Slingshot provides great data-driven features that truly boost insights for your business.
Flock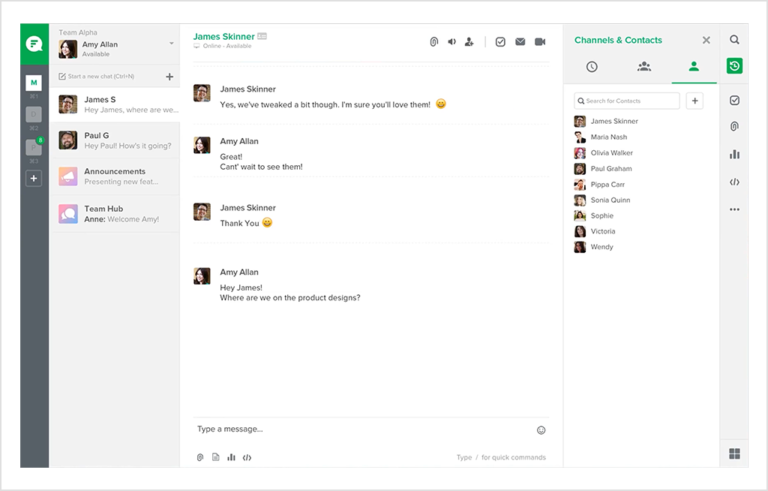 This chat app creates great communication and is also, a fun hub for your team. Messaging is divided into channels and can also be 1:1, which is standard, but Flock has many unordinary features going beyond that. For example, the app allows for creating polls within Channels which can be really helpful in team decision-making, and is currently the only app that includes a built-in note-taking feature called Notes that lets users write, edit and format short documents on the go. These can be easily shared between teammates and help with the organization and distribution of longer messages.
Price: Free with limited options for message history, file storage, and limited channels and starting at $4.50 per user for unlimited features and 24/7 support.
Platforms: Android, iOS, Mac, Windows, Linux, Web
Why choose it: Flock is interesting, easy to use, and has a comfortable user interface and features.
Chanty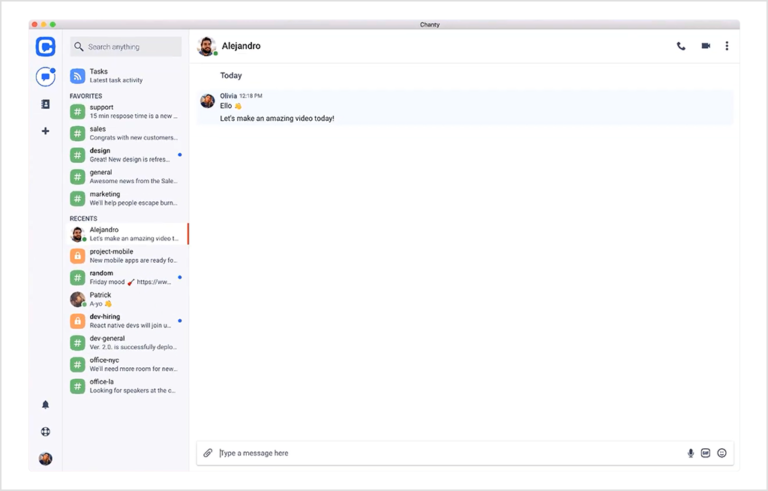 As a team chat app, Chanty resembles Slack with its easy-to-use task management features and affordability. Arguably, however, it's more intuitive and has a more user-friendly interface. In Chanty, your team can create Conversations – public and private – and lets you turn every message into a task, assigning a person to it. The task feature is currently simple but stands to be expanded soon. The app is great for organizing and planning daily work and connecting teams that are currently working remotely.
Price: Free for up to 10 users and starting its business plans at 1.50 per user for unlimited features and full support.
Platforms: Android, iOS, Mac, Windows, Linux
Why choose it: Chanty is easy to use and great for tracking your team workflow and task management.