Top Data-Driven Companies You Can Learn From
To succeed in the ever-so-competitive business environment, your company model needs to make smart, quick decisions and keep up with all the latest trends in business modeling. Today, that means going data-driven.
Tsvetomira Petrova
8 min read
According to recent studies, data-driven companies are 23 times more likely to top their competitors and 19 times more likely to stay profitable. Establishing a culture where data stays at the center in every department or team and is used for decision-making seems to be the best strategic approach to drive more revenue and surpass goals.
And it's not just a matter of opinion. All over the world companies choose data as a strategy to unlock opportunities, align their team and harness the power of analytics to revolutionize their brand.
So, let's talk more about the data-driven model and the top data-driven companies every organization can learn from.
What Is a Data-Driven Business Model
The data-driven business model is a term that describes the constant utilization of data to inform processes and decision-making in a company. This model entails systematically using data insights in every company department and is driven "from the top down", meaning it starts at C-level and aligns every team in the organization around the same objectives, processes, approaches, and tools, all of which are centered around data.
Relying on the data-driven model offers several benefits, such as:
It eliminates intuition as a primary informant for decisions, thus seriously limiting potential errors
Finding a competitive advantage over other companies in your field
Using data as a resource to run educated experiments and drive better business outcomes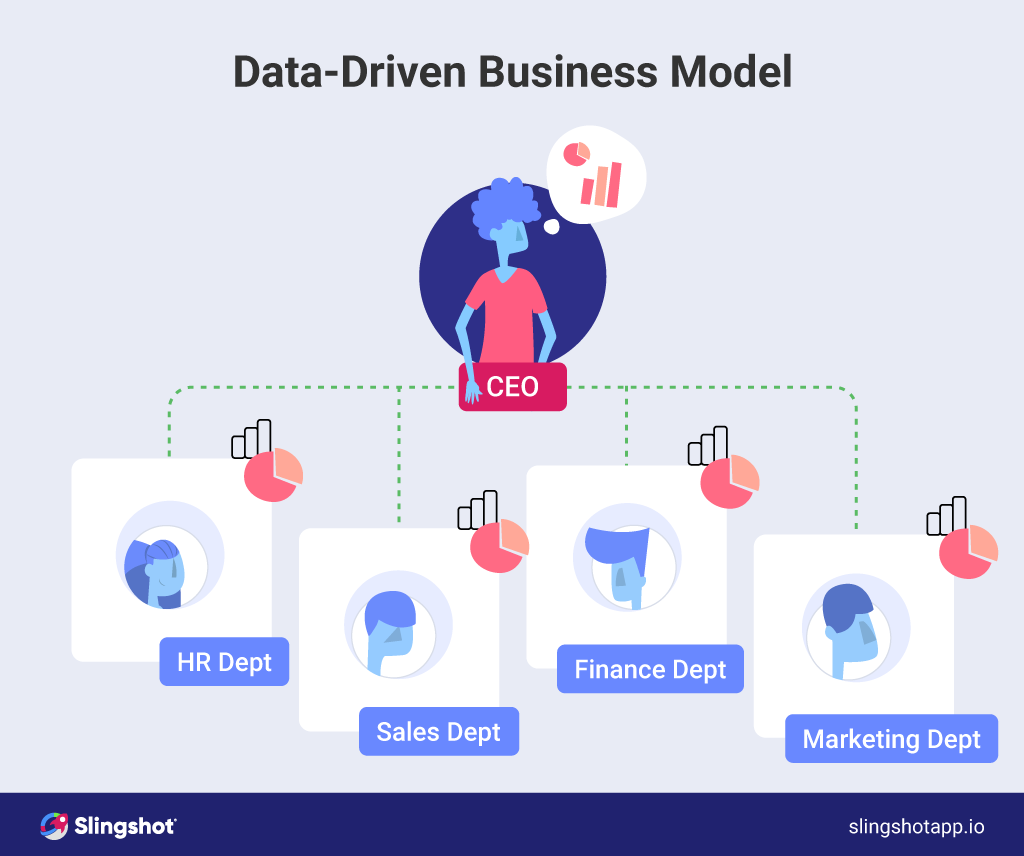 The data-driven business model can be noticed across many departments and teams and used in various ways, making processes fast and easy, reducing costs, and saving time. Implementing the data-driven model means being smart in you decisions from the top down, growing rapidly, and unleashing the power of your team smartly.
What Is a Data-Driven Organization
A data-driven organization follows a data-driven model of work – meaning, it puts data at the center of every decision. Such an organization makes it a priority to drive the business forward primarily through data, using the tools and processes to make it happen in every department and team. New ideas and opportunities are all driven through data – it's a principle that applies to everything ,and most importantly – the end results..
Data-driven organizations invest in data – that is their prerogative and it's due to the important realization that their future depends on it. In doing that, they achieve:
Improved processes: data enhances processes and quickly solves potential issues by pinpointing them in time
Higher customer satisfaction: data shows which areas to be improved in your customers journey, so you can achieve better results
Finding new opportunities quickly and growing your company's profits
Easily finding new trends and thus topping your competition
Improved team collaboration and better alignment that keeps the mistakes and delays at a minimum
Data-driven businesses use data analytics to foster transparency and trust while using data as a single source of truth. What happens for companies that choose to apply this principle? Keep reading to find out.
5 Examples of Data-Driven Companies
To see how data makes a difference for companies that strongly stand behind it as a strategy, let's take a look at some of the biggest and most well-known companies in the world – that you may or may not know are entirely data-driven.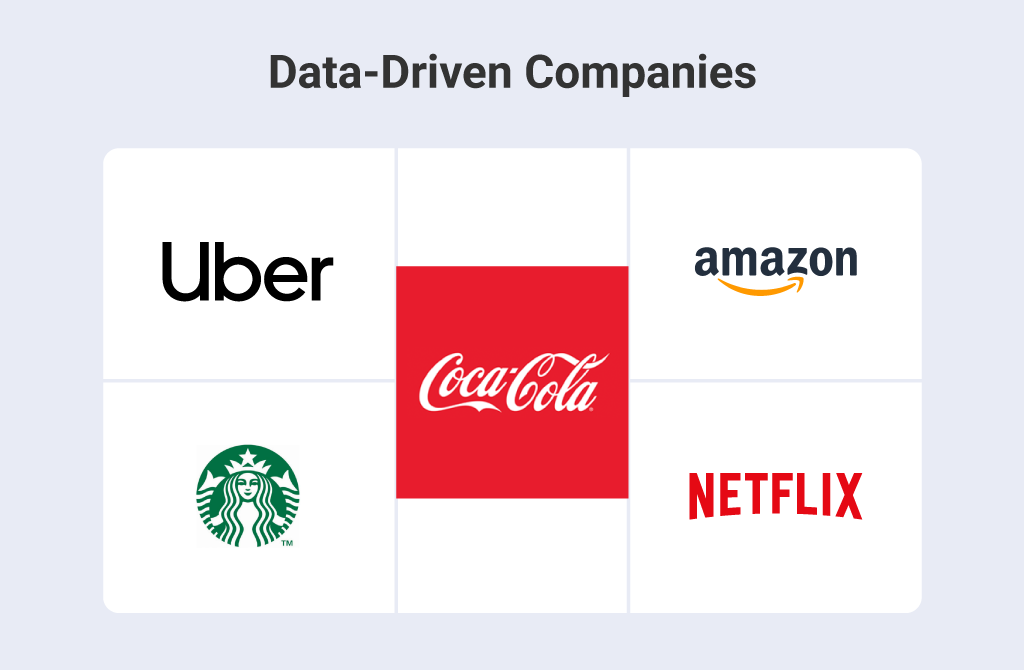 Coca-Cola
Coca-Cola is one of the best examples of a data-driven company, having built a strong strategy around data analytics as the main factor in achieving customer retention. Data plays a vital role in the marketing and product development of the label, helping the Coca-Cola team create relevant content for various audiences and following the consumers' input to adjust their approach. Data informs the brand's decisions regarding all decisions in sourcing, distribution, sales, production, and more. According to Greg Chambers, the global director of digital innovation, data analytics, and AI "have been woven into the fabric of Coca-Cola".
Netflix
Another great example of a brand that extensively uses data analytics for progressing ahead is Netflix. The company constantly accumulates, analyzes, and relies on data input to boost its strategy and improve its customer satisfaction with new shows, correct suggestions, and better management of its customers. The industry status that Netflix has achieved is due to the insights that show what triggers people to subscribe most, what makes them stay longer, and where to best invest the next effort in improving its services. Also, by using past search and watch data, Netflix is able to improve their suggestions to their subscribers and improve their satisfaction even further.
Amazon
Amazon makes data-driven business decisions to advance its profits and sales and nurture more clients digitally. They use data insights to make recommendations to customers, basing their next steps on what items the customers rank and review after purchase, what products are most viewed, click-through rates, and opt-out rates, in that way establishing the full Amazon purchasing process improvement on data. Increasing sales and staying the number one e-commerce shop in the world is due to following the data insights and trusting them to lead the way toward a more effective sales strategy
Uber
Another good example is Uber. Uber stores data for every taken trip, with or without customers. The company also looks at the way transportation happens in different cities and countries and uses those insights to make predictions and improve the services along the way. Through data analytics, Uber addresses the most common issues for its customers and acts to remove them. This is also the method the company uses to adjust its supply and demand strategy and accelerate its influence on the market, topping competitors along the way.
Starbucks
As data-driven brands go, Starbucks is definitely one of the most active ones. The company uses big data through mobile apps and reward programs that help them gather insights directly from its customers. They are then creating a better customer experience, personalizing their strategy more and more to achieve better marketing campaigns, improved service, loyal customers, and popularity. Data informs Starbucks' decisions as to what products to offer, in what way to customize them, and how to proceed with discounts and new customer targeting.
How to Become a Data-Driven Company
The way to become a data-driven organization is tied to instilling a data-driven culture – trusting data first and foremost to solve potential problems and build better results along the way. The most important steps to achieving that are tied to relying on data analytics, building team collaboration around data, driving transparency in your organization, and making data accessible, sharable, and easily digested with the right tools.
Becoming a data-driven company looks like:
Encouraging your team to engage with data – look at it, use it, share it, understand it. It starts at the top.
Process data fast with the right tools, to draw insights from your campaigns
Expand data usage across all levels in your organization
Use data visualization to summarize and view your most important insights and the full customer journey
Encourage data literacy in any way and with any tool you can, so data can be processed fast and easy, with insights drawn immediately – preferably, with data visualization
Foster data-driven decision-making instead of intuition-based decisions across your whole organization
Refer to data points prior to making your next decision.
Data-driven companies can master their past, present, and future without gambling – they can foresee outcomes and determine the correct steps, from allocated resources to the budget used.
What Tools Can Facilitate the Process
In turning toward data, companies realize the importance of tools that solve multiple data needs at once – turning the focus toward evolving through data-driven decisions. These are solutions that provide:
Data Analytics
Team collaboration around data
Data visualization
Task tracking and transparency in data campaigns
Team discussions in the context of data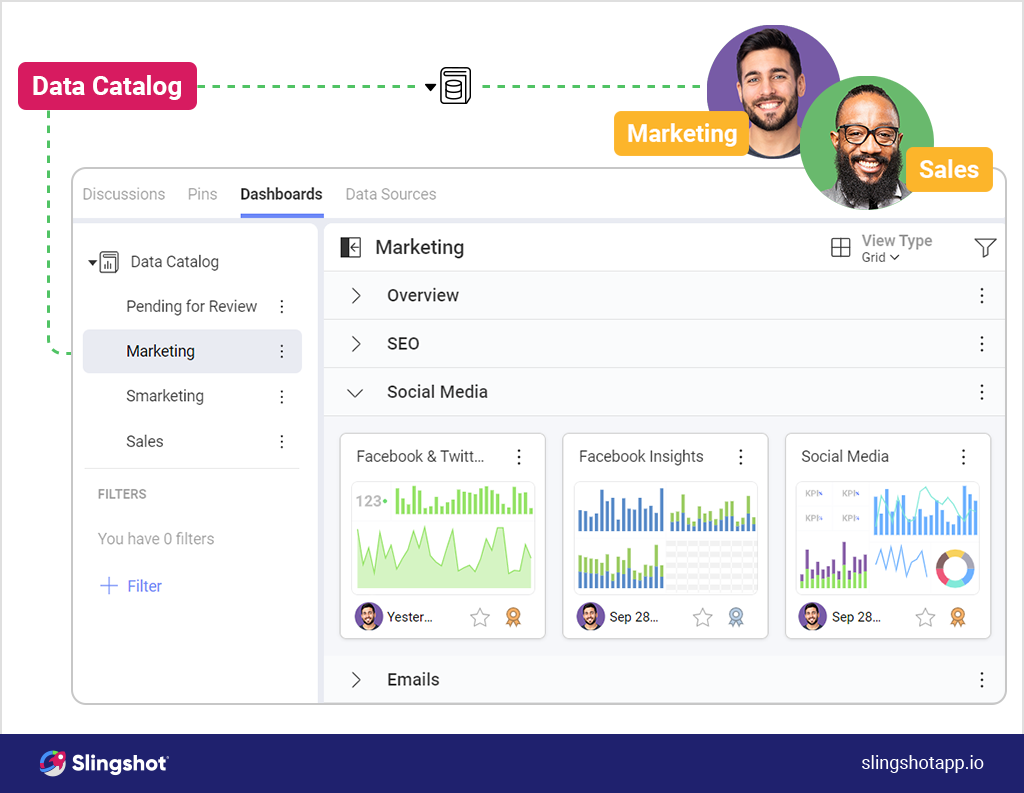 Slingshot is a digital workplace that can help build a data-driven company by quickly connecting everyone you work with to your different data sources and creating dashboards within seconds. Dashboard creation in Slingshot brings all your data together into a full 360-degree view of your business.
Besides data, Slingshot offers planning and tracking of projects, division of tasks, and keeping tabs on any issues or blocks with marketing campaigns. Slingshot also has a chat function that runs both on a task level and in context, group chat and 1-1, so nothing gets lost, and keeps all digital assets in one place, allowing for the upload and/or link to any file and dashboard.
Data visualizations can be arranged in a data catalog – a feature that provides more guidance than ever when it comes to sifting through large datasets. It's also the best way to track information easily, per topic or department, fast and efficient. Through data catalogs, businesses can grow data-driven with minimal effort, with the ability to access data insights in an organized way, creating a library for the whole organization – to always see the full picture.
Staying on top of the accumulated data relevant to your company has never been easier. Go from insight to action and make it possible to drive business results by being data-driven, in every way.