Best Business Intelligence Tools for Startups
We created this guide of the best BI tools for startups to narrow your choices and presented you with some of the crucial pros and cons of the best BI solutions.  
Bilyana Petrova
14 min read
We live in an age where data affects everything. And when it comes to your startup's success, data can display how your key performance indicators are functioning: marketing strategy, sales, user experience, lead conversion, everything.
Thankfully, we also live in an age in which we have business intelligence and data analytics tools to our advantage.
Business intelligence tools (also known as BI tools, business intelligence software, or business intelligence solutions) allow users to quickly access data sets from multiple sources, analyze them, and then present key findings in easy-to-understand visual formats. With these insights, you can overcome the top startup challenges and set your growing business for success.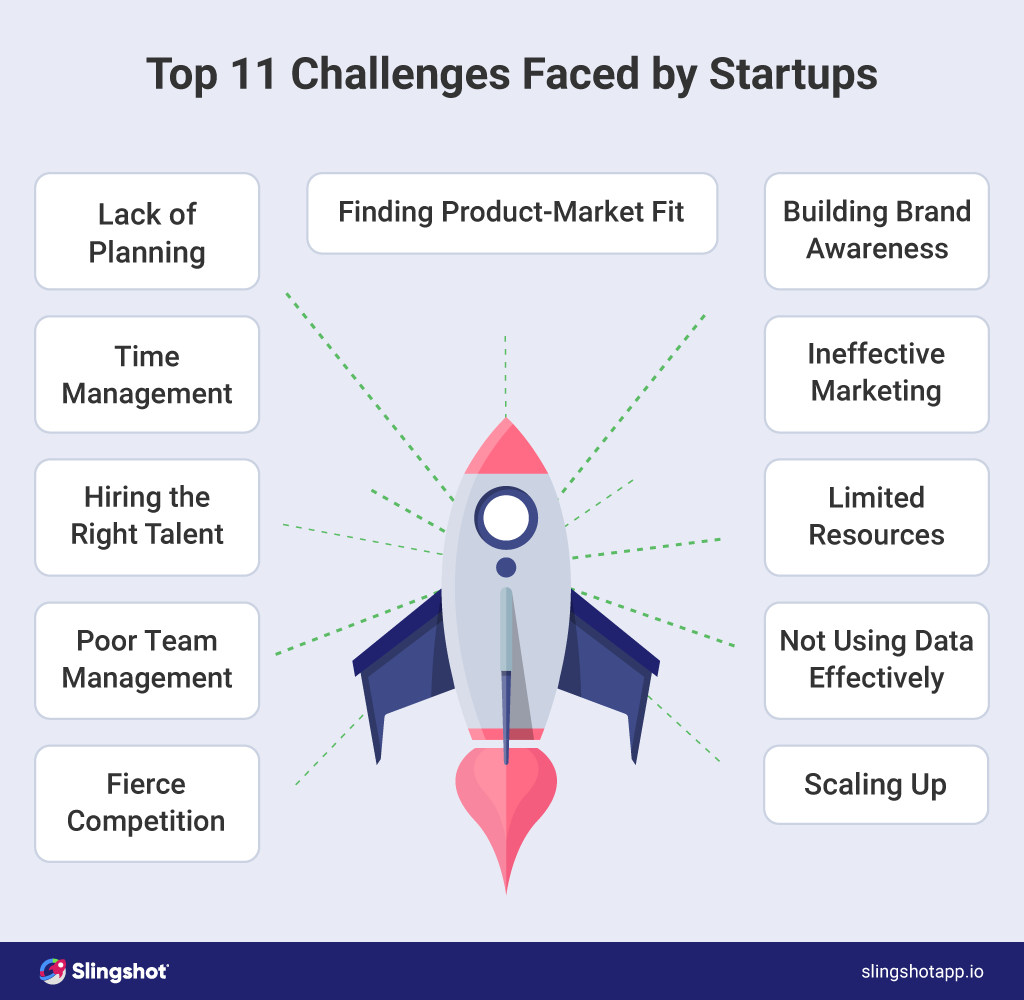 But the BI market is full of solutions trying to earn a place in your tech stack, and choosing the best fit for your startup takes much work.
Finding the best BI solution for your startup business requires understanding what your business needs, but it also requires some help.
And that's where we come in.
We created this guide of the best BI tools for startups to narrow your choices and presented you with some of the crucial pros and cons of these selected solutions.  
Why Is It Important for Startups to Invest in a Solid BI Tool?
Whether you're in the early stages of your startup growth or you've just received your next round of funding, you need a BI tool for your startup to help you make data-driven decisions.   
For startups to survive, they must embrace a culture where decisions are backed by data and made quickly across all departments and operations. Business intelligence and data analytics might sound scary, but do not worry; many of these solutions offer easy-to-use and intuitive capabilities that allow all business users, regardless of skills and expertise, to analyze data and build dashboards and reports by themselves.
Data-driven decision-making provides a roadmap to any startup's success. By investing in a BI tool, you can bring the power of data into the hands of all your business users, allowing them to make better business decisions with minimal training or effort.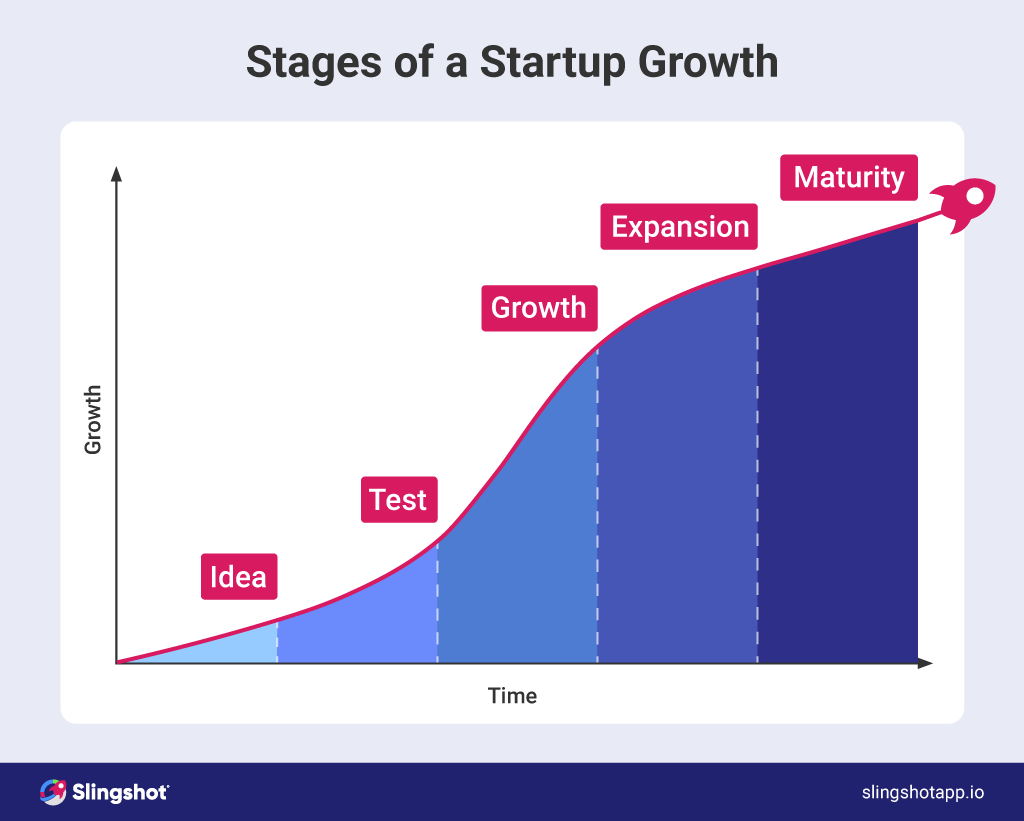 What to Look for in BI Solutions for Startups
Once you've realized that you need a BI tool for your startup, you should compare the features of different vendors. Here's a list of the critical things you need to look for:
Modern application
Collaboration functionality
Mobile support
APIs
Rich library of data visualization options
Robust security
Scalability  
Best Business Intelligence Tools for Startups
For your convenience and to make the decision easier, we've broken down the list of best business intelligence tools for startups into four categories. That way, you can focus specifically on the BI tools that answer your startup needs:  
For business users – BI tools for your startup business users that offer an intuitive and easy-to-use interface. These tools provide startups with self-service analytics capabilities so that every team member can work with data regardless of their expertise.  
Free/low-cost BI tools – in this category, you will find BI tools for startups that won't be as heavy on the budget and offer a free trial, so you can test them before making any investment decision.  
Embedded analytics tools – in contrast to traditional BI tools, which require users to leave their workflow applications to look at data insights in a separate set of tools, embedded analytics tools allow users to view data visualizations or dashboards in context—while in the application itself. 
For technical users – these BI tools can be great for technical users, but the regular business user will have a hard time navigating and getting used to them.  
Slingshot Tip: Some BI tools on our list can fit into more than one category. Here, we provide some general information about each one, and we advise you to make a better evaluation of the ones you like yourself.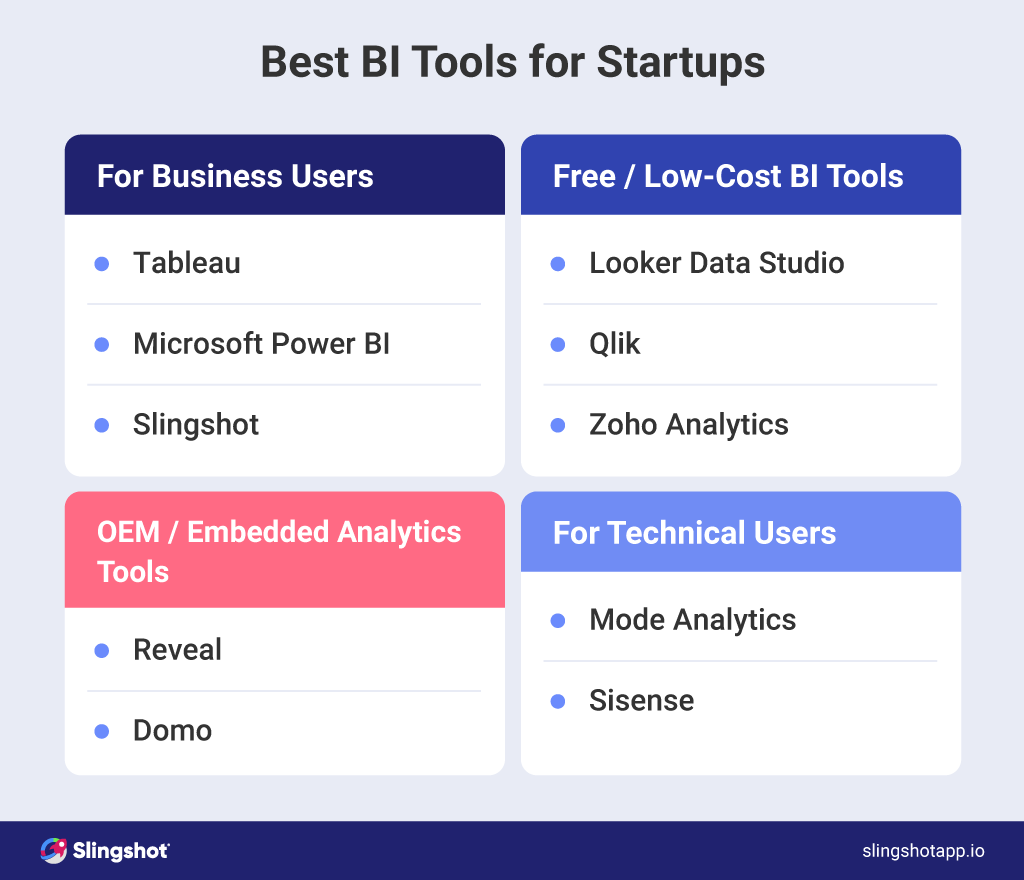 BI Tools for Business Users:
Tableau  
Tableau is a data analytics tool best suited for businesses looking for a business intelligence system, including startups. It helps users to see and understand data and has an intuitive drag-and-drop interface that makes it easy to use. Tableau is one of the early players in the analytics space. This maturity makes it very appealing to businesses and is why it has such a large community. The community is an excellent resource for users seeking advice and support.
Tableau offers two hosting options – host on your own server if you have the resources to do so or host with Tableau Online. Tableau does not require programming knowledge, making it a big plus for startup teams with limited technical resources. It is also a good option if your users frequently work from their smartphones, as the mobile app offers almost as much functionality as the desktop version.
However, Tableau's embedded capabilities are not as smooth as expected. Integrating Tableau into your application could be both a financial and technical challenge. Another con of Tableau for startups is the pricing. Tableau is one of the most expensive tools on the market, so you need to smartly evaluate if its advantages will be worth the significant investment.
Microsoft Power BI  
Microsoft Power BI is a cloud-based BI and analytics software service that is something of an umbrella term and includes:
A Windows desktop application (Power BI Desktop).
An online SaaS service (Power BI Service).
A mobile app.
An embedded platform
The BI system of Microsoft Power BI allows you to create sophisticated, dynamic data visualizations from various sources. It also allows you to communicate critical business insights that lead to better decision-making and, ultimately, better results. This BI tool will enable users to quickly build and maintain data reports and dashboards and share them securely with other application users.
One of the most significant advantages to Power BI is that it comes bundled with Office 365 Enterprise Edition, which is a massive plus for startup organizations already heavily invested in the Microsoft/Azure/Office365 ecosystem.
Slingshot  
Slingshot is a self-service BI tool aggregating data analytics, project, content management, and chat – all in one, intuitive app. As a tool for data analytics, Slingshot is centered around data-driven decision-making. It has been designed to help teams and businesses of all industries and sizes stay on top of current data for campaigns through dashboards, KPI tracking, and KPI indicator spreadsheets that are converted into data analytics which are then easily shared. It also offers a set of statistical functions that allow you to receive more insights from your visualizations.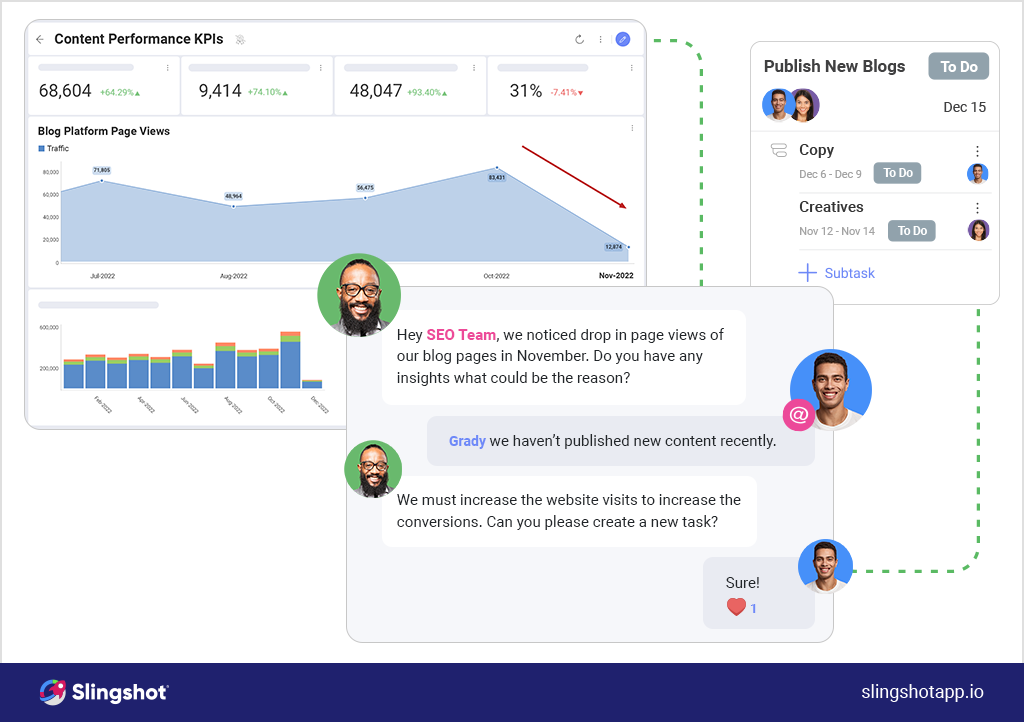 Some of Slingshot's key analytics functions include machine learning, data blending, dashboard linking, data catalogs, global filtering, and annotation. Thanks to the complete business intelligence engine inside it, users can quickly connect to various data and create a beautiful yet informative dashboard with just a few clicks.
Slingshot is a great BI tool for startups as it has an interactive interface that is easy to use. The dashboard creator is completed with a drag-and-drop capability, allowing all business users to work with data independently. Moreover, small startup teams can start for free. And the best is that you receive a full suite of integrated essential business tools.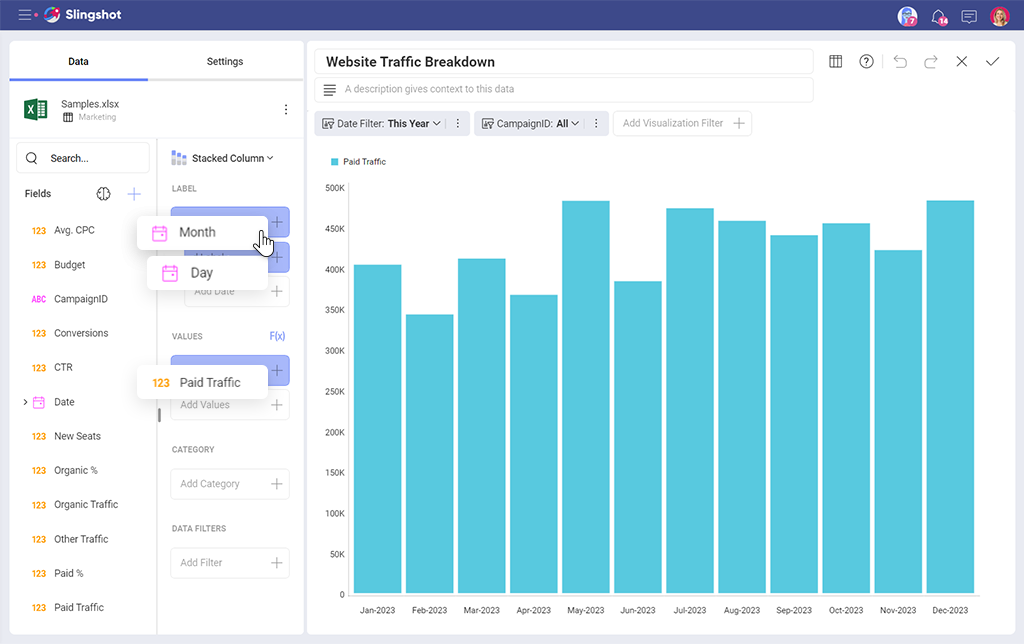 Free/Low-Cost BI Tools for Startups:
Looker Data Studio  
Part of the Google Cloud Platform, Looker is a web-based BI tool optimized for cloud data warehouses. It provides robust developer support and offers extensive APIs, SDKs, and developer tools so that developers can create custom analytics to embed in your startup workflows and applications. Looker also supports multiple SQL dialects, which means that you can avoid database lock-ins and sustain a multi-cloud data environment.
Looker best suits startup businesses using data to visualize patterns and essential traits. It offers a set of complete visualizations for outlier removal, funnel overview, and others, and 100+ pre-built blocks and templates or retention, cohort, analyzing results of BigQuery ML, and more. Looker's feature set also includes drill-downs and more.
Looker does not publish pricing information on their website, but according to different online communities such as Quora and Reddit, Looker's entry price is around $35K/year. Additionally, you have to pay $30 for dashboard viewers, $60 for dashboard creators, and $120 for developers (who can write LookML). The $35K entry price has been around since 2018, so it's doubtful that the price will remain the same or be any lower in 2023; for more accurate pricing information, you need to request a quote. Looker does not offer a free trial.
Qlik  
Qlik is a BI tool that is best suited for startups that are looking to use machine learning. The company has a strong vision for machine learning. It uses various augmented capabilities, including automated creation and data prep, search and natural language interaction, predictive analytics, and AI-generated analyses and insights. Thanks to those AI capabilities, non-technical users can easily use Qlik to perform data analyses. However, we didn't include it in the previous section as some non-technical users may not find Qlik's UI as visually intuitive and easy to use as other BI tools on the list.
Qlik offers two pricing solutions – Qlik Sense Business data analytics solution & Qlik Sense Enterprise SaaS. The Qlik Sense Business solution starts at $30 per user per month. You can also try Qlik for free for 30 days.
Zoho Analytics  
Zoho Analytics is a robust, feature-rich BI tool that enables startups to generate detailed business reports and facilitate visual analysis of business data to guide decision-making. With Zoho Analytics, you can extract data from different sources, including CRMs, accounting software, and eCommerce platforms like Shopify, to analyze marketing and sales campaign performance, monitor your social media accounts, and more. Business users can pull sales, marketing, and other business-related information from these sources to quickly create insightful reports to efficiently act on the insights.
Zoho Analytics also offers self-service data preparation and management capabilities and an intuitive drag-and-drop interface augmented with AI and ML capabilities. Another great feature of Zoho Analytics is an AI assistant. You can use that tool to automatically generate reports, set alerts for anomalies, and even develop some what-if scenarios.
The pricing starts from $14, and you can try it for free for 15 days.  
OEM/Embedded Analytics Tools for Startups:
Reveal  
Reveal was built with embedding in mind first, on today's most modern architecture removing the complexity of embedding analytics into your application. It brings the power of data to the end user's hands and lets them leverage actionable insights in their natural workflow from any device.
The embedded analytics software by Reveal offers robust dashboards, interactive data visualizations, self-service and white label capabilities, and advanced and predictive analytics, including machine learning, forecasting, statistical functions, and more. The key features are completed by drill down, dashboard linking, dashboard blending, in-context editing, data blending, and native SDK.
Reveal is available in both on-premises and cloud-based deployment models. Its native SDK can be integrated into applications on any platform and tech stack, including .NET Core, Java, NodeJS (coming soon), and front-end technologies such as React, Angular, WebComponent, VueJS, jQuery, MVC, and Java Frameworks like Spring, Tomcat, Apache.
With Reveal, users can connect to various databases, including online sources like cloud storage drives, social media platforms, and SaaS applications, as well as offline sources like Excel, SQL database, and more. Users can choose from multiple visualization types and create and share real-time dashboards to monitor and display key performance indicators. As well as being shared across teams, dashboard instances can be integrated into any third-party application.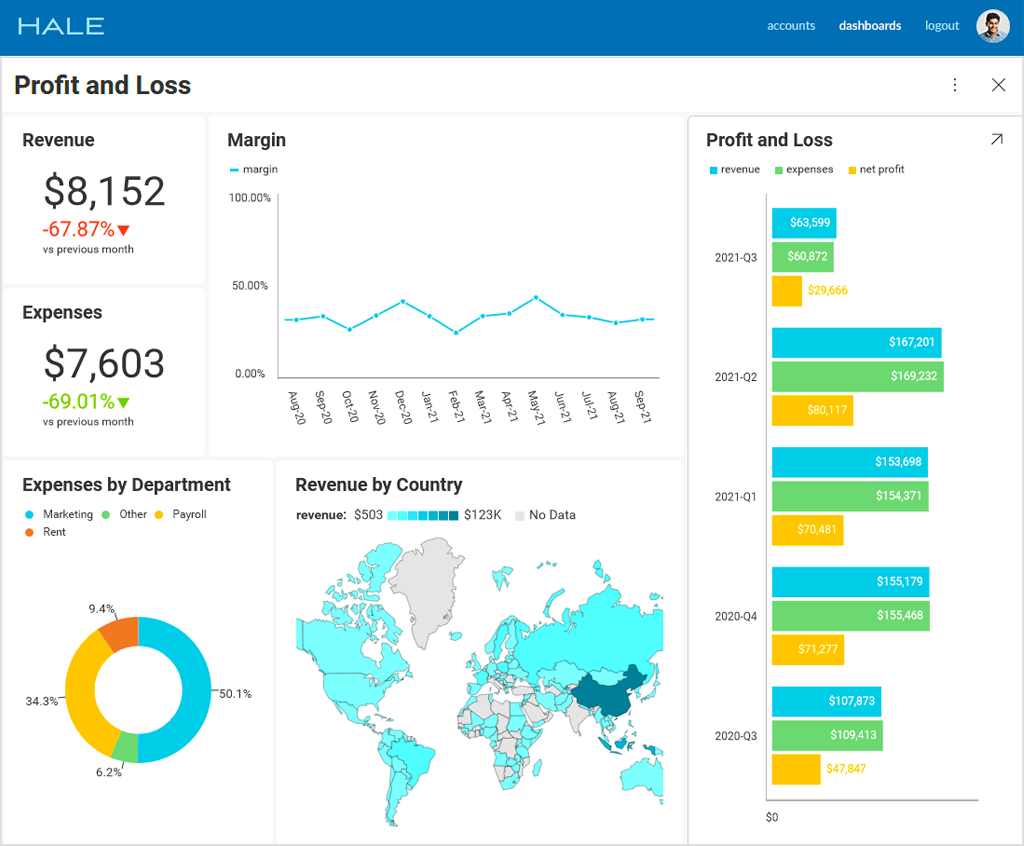 Domo  
With a powerful drag-and-drop ETL (extract, transform, and load), a rich library of chart types, 1,000+ pre-built and custom data connectors, and personalized data permissions, Domo is an embedded analytics tool best suited for startups that want to streamline workflows. It also offers collaboration with chat and push notifications, making it more appealing to startups needing a collaboration solution. There are also chart-specific interactions to allow users to filter content, drill down into specific details and link to other elements.
Domo is designed for cloud and mobile and comes with iOS and Android apps for users to access data and view dashboards and critical business reports even on the go. Another great benefit of Domo is that it provides white labeling capabilities. It also offers personalized data access to enable users to view relevant information.
But as your startup analytics needs grow, you might need some help with Domo. The UI needs to be more complex and intuitive for non-technical users, and the more data you add, the more difficult it becomes to extract that data from Domo. 
BI Tools for Technical Users:
Mode Analytics  
Mode Analytics, also known as Mode BI, combines an SQL editor, Python and R notebooks, and a drag-and-drop visualization editor. This makes Mode Analytics an excellent choice for startup teams with data analysts, data scientists, and analytics engineers who want to provide them with a code-first workflow. With Mode Analytics, your technical users can write HTML, CSS, and JavaScript code to embed dashboards into websites and can also share reports via a web URL, email, or Slack.
The SQL editor supports collaboration, while the visualization editor allows users to drill down insights to uncover more information.
Sisense 
Sisense is one of the leading tools in the analytics space, but it is only suitable for some types of businesses and startups.
Sisense provides robust BI capabilities like low-code and no-code tools, augmented analytics, data unification, data mash-up, drag-and-drop dashboard creation functionality, and in-chip technology for data processing. One of the most significant advantages of Sisense is the innovative in-chip analytics in the cloud. Thanks to it, you can get quick answers to queries, eliminating the need to repeatedly apply data rules for each question.
And although Sisense is a self-service BI platform, unfortunately, some of its key features, such as the in-cache technology and the ElastiCube, require training to master. Non-technical users will need help getting up to speed. Also, Sisense can meet most business intelligence requirements and is a great embedded analytics tool for data scientists or people who are very acculturated to data and numbers manipulation, but legacy infrastructure, limited customization options, and a confusing set of APIs mark it.
This will hinder your startup's ability to scale fast, and the ongoing technical support you'll need will significantly increase the tool's price. 
Choosing the Best BI Tool for Your Startup
If you're currently shopping for a BI tool for your startup that is business user-friendly and at a low cost, check our Slingshot. While we may be biased (we are talking about our product, after all), Slingshot provides an easy-to-use interface and a set of productivity tools. With everything Slingshot offers, you can grow your startup quickly and start hitting your revenue goals sooner.
Slingshot helps startup companies organize workflows, projects, tasks, content pieces, and more, all under the same roof. It also provides chat and discussions so that you don't have to switch between apps to view a message, a task, or a dashboard – it is all in one, easy-to-use app. Slingshot's robust analytics features allow startups to easily connect to all their data to track KPIs and extract critical insights. With Slingshot, you can go from data to task, from data to chat, and from chat to task with a single click. See more of our productivity flows here.
Start using Slingshot for free and see for yourself how it can help your team deliver extraordinary results that drive business growth for your startup.