Top 11 Startup Challenges and How to Overcome Them
How can you ensure your startup is one of the 1 out of 10 that makes it?  How can you position your startup for success?  How can plan ahead to provide your startup with the most opportunities and flexibility to achieve your goals?  
Bilyana Petrova
18 min read
Starting a business from scratch is one of the most rewarding things a person can do – but it's also no easy task.
According to Demand Sage*, the United States is the home to the most startups, with approximately 70,000 startups being created each year in the USA alone.
Globally, the number of startups being created per year is around 450,000.
That's a TON of new startups every year. Unfortunately, 9 out of 10 startups fail. The most common reason (34%) is a lack of clear need for the company's product or service in the market.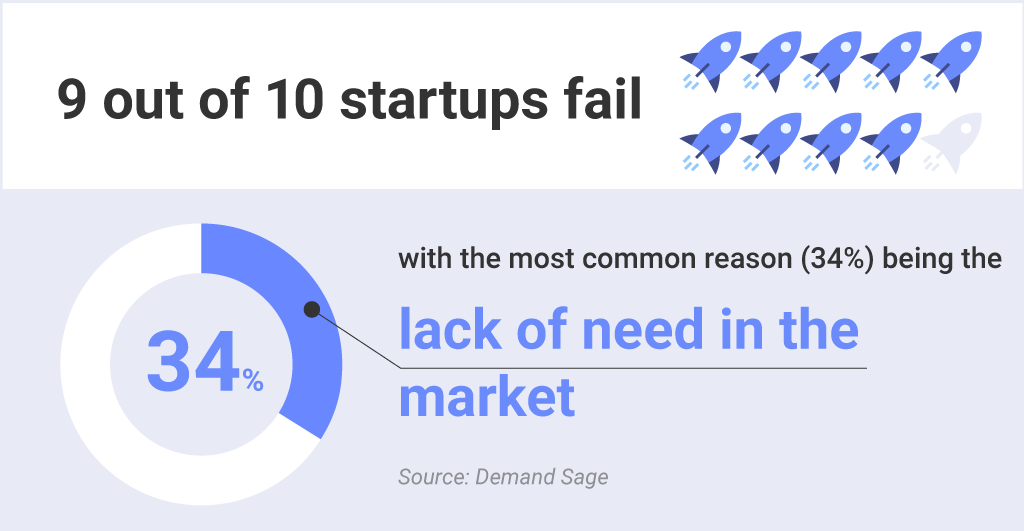 So how can you ensure your startup is one of the 1 out of 10 that makes it? How can you position your startup for success? How can you plan ahead to provide your startup with the most opportunities and flexibility to achieve your goals?
The first step is to understand the most common challenges that startups encounter and how to overcome them.
This blog will do just that: We will take a closer look at the most common startup challenges and outline a strategy to overcome them.
Top Startup Challenges and How to Overcome Them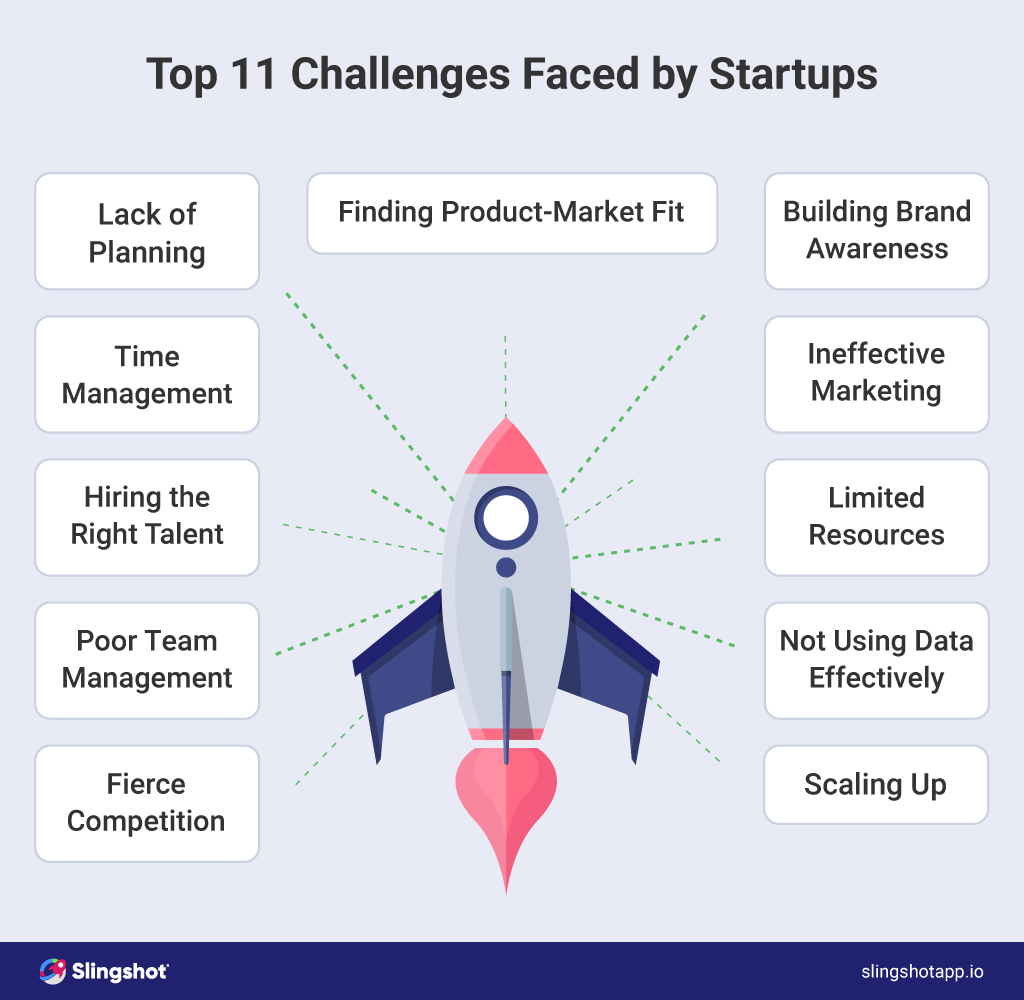 Challenge: Lack of planning
One of the top startup challenges and reasons for failure is a lack of planning. Sometimes amid the chaos and confusion of getting off the ground, startups may simply forget to plan and form key growth actions around development, setting up the right project management strategies for success, etc. Others will plan but fail to cover all their bases.
It's important to develop a comprehensive step-by-step plan on how to secure funding for your startup. It's critical to set up aspirational, yet realistic business goals. It's beneficial to research your direct competitors and develop a marketing plan. These key planning items shouldn't be an afterthought but rather an integral part of your business plan right from the beginning.
SOLUTION:
You know how that saying goes, "if you fail to prepare, prepare to fail". So, the solution to this startup challenge is quite simple – devote the intentional time to plan. Business plans are not always straightforward and tend to take unexpected turns. If you want your startup to succeed, you need to have a plan in place, and then have the flexibility to adapt those plans when events don't go as expected.
You don't need to be an expert on everything, but it is very helpful if you start your planning process by having experts around that you can trust. Find the right people and research to help you. Make sure that part of your plan includes setting SMART goals to increase the odds of success by making sure that any goals you have are attainable. SMART goals help you decide where to invest effort and time and show a clear roadmap to getting results.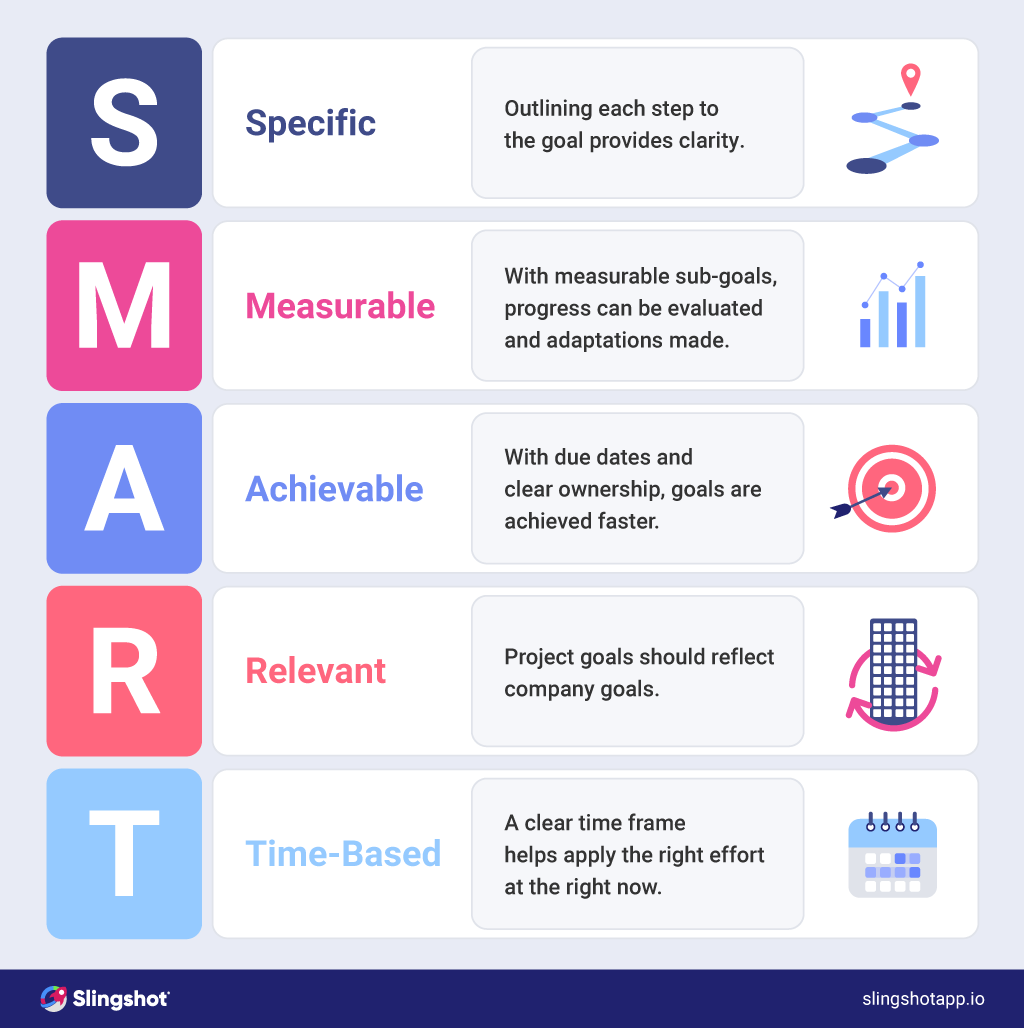 Challenge: Time management
In startup life, there are always a million things that need your attention and million decisions to be made. It seems like there's never enough time. In the beginning, and maybe even after startup owners find themselves being pulled in different directions by everyone on their teams as new projects or challenges arise.
But remember: you can't do everything. This is where prioritization and resource allocation can be a lifesaver.
SOLUTION:
Time management is a key skill that should be mastered, to cope with the fast-paced startup environment. Our recommendations? Start off by eliminating or minimizing distractions that get in the way of efficient time management.
In order to focus your time and energy on what really matters, start asking yourself the following questions: Which are the most important tasks to accomplish today? Which tasks cannot wait? Which can wait until tomorrow?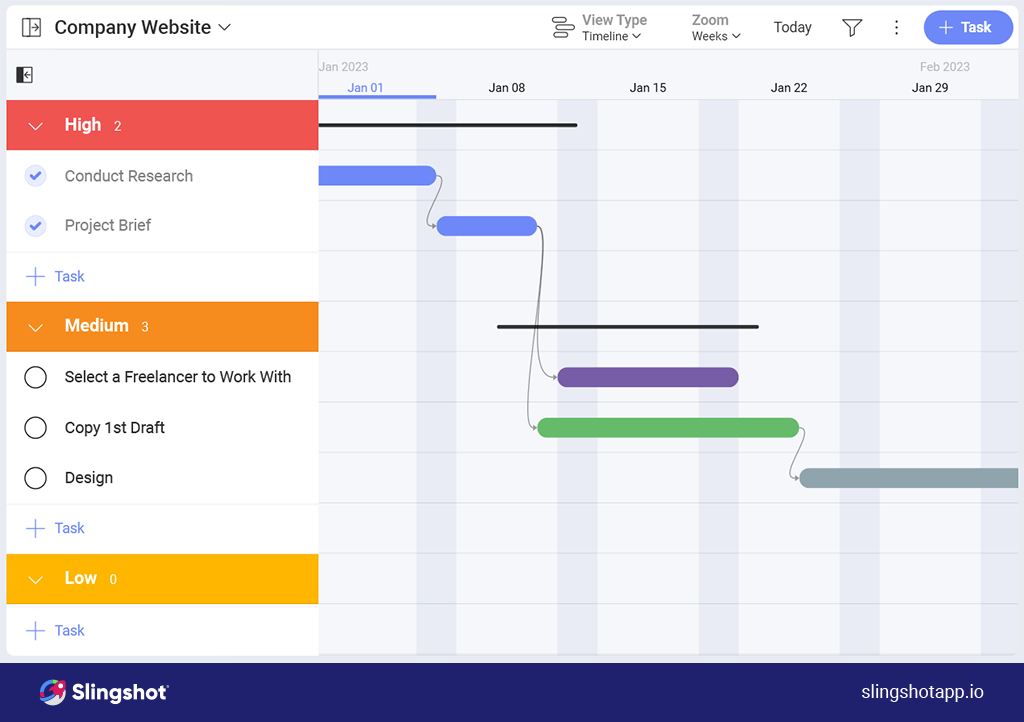 You don't need to keep it all in your head. Make a list of tasks that have to be done and prioritize accordingly by listing them in chronological order. Some people use sticky notes or calendar reminders to help them get through tasks. Others, however, prefer to use platforms such as Slingshot to easily plan, manage, and track the progression of tasks, all while collaborating with their team.
Always have your SMART goals in mind to ensure the tasks you prioritize will positively and immediately impact your business goals.
Growth Hacking
This template provides the essential resources to accelerate your growth in a fraction of the time.
Use Template →

Challenge: Hiring the right talent
Behind every great and successful business, there is a team of talented people who work together to develop outstanding products or services, market them, sell them, and generally make your business thrive. Without them, you wouldn't have business at all.
For that reason, it is important to hire the right talent to move your company forwards. There is a huge pool of aspiring, talented people out there, but selecting a rockstar candidate that fits the role can be a challenge for many startups.
Most startups also have smaller teams – which means that each employee you bring on board has a huge impact on the potential success of your startup. This means that the recruitment process can take time – but it's always time well spent.
SOLUTION:
The solution to this startup challenge is not to hire just ANY one – but rather to hire the RIGHT one. Before you start hiring new employees, create a clear description of exactly what you need from them, what their role will look like, and how it will fit into your overall business growth strategy.
The right candidate will be unique for every different business. That's why it's so important to sit down and clearly assess who YOU need. If someone's not a great fit – don't hire them. Don't settle. The right talents are worth waiting for.
Slingshot Tip: Just like you might create an ideal customer persona for your marketing and sales targets, you should also create an ideal talent persona for each role for which you're hiring. That way you'll know exactly what you are looking for and ensure you've identified the right talent to match the need.
Challenge: Poor team management
Have you ever heard of the phrase "people don't leave jobs; they leave bad managers''?
It is very true and is one of the reasons for high team turnover.
So, even with great compensation, if your team's struggles and problems aren't effectively addressed they may soon start feeling out of place and looking elsewhere for greener pastures.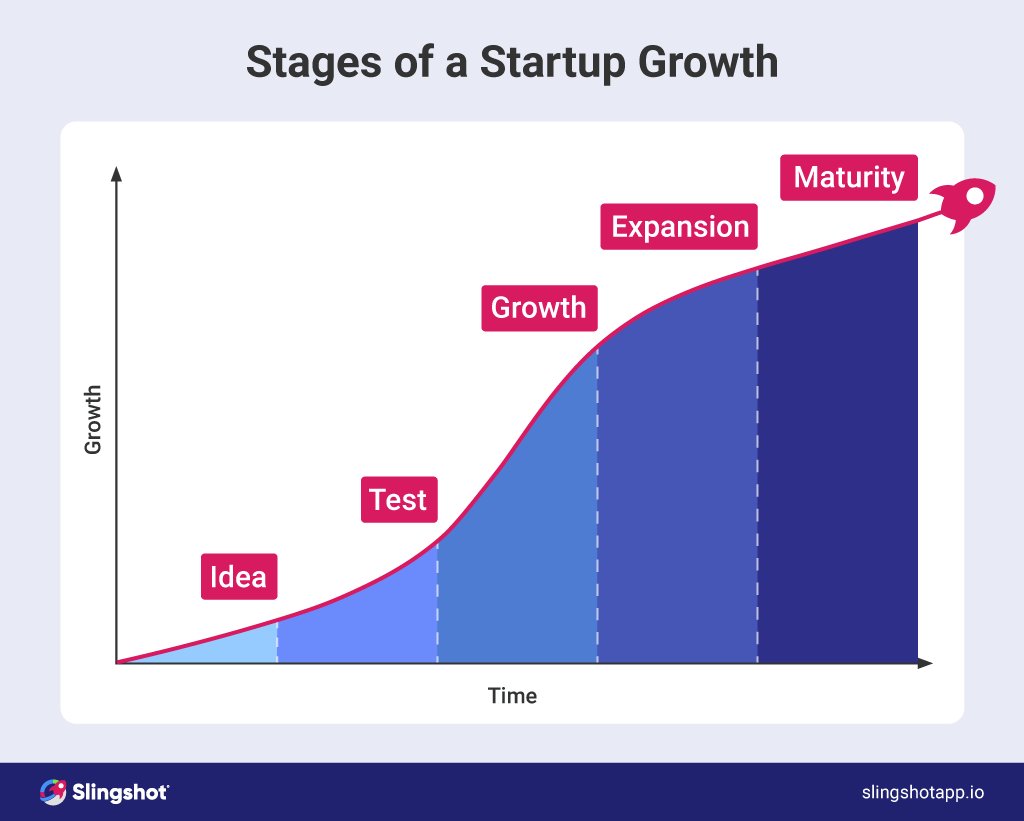 SOLUTION:
The solution is simple: seek feedback and talk to your team. Listen to what they have to say, be more involved, and build trust by being there for them. That said, be careful not to start micromanaging.
Ensure your leadership team builds transparency by keeping everyone on the same page. Be upfront about what's working and what isn't. If you spot anything that could become a major issue or a roadblock in the future, address that as soon as you identify it.
It's ok to have uncomfortable conversations or make decisions that aren't popular. We're not suggesting that your company be a complete democracy. But ensuring your team feels aligned, motivated, and engaged is critical to ensuring your startup is headed in the right direction.
Challenge: Fierce competition
It's no surprise that competition is one of the biggest growth challenges a startup faces. There are always going to be more established, bigger competitors with access to more resources than your startup have. In fact, CB Insights has found that 20% of startups fail because they get suppressed or overtaken by competitors.
No matter how great or useful your product or service is, you're never going to make it in the crowded marketplace if you don't study your competition.
It's not just about competing – it's about standing out… truly differentiating yourself in the marketplace. You are competing for audience and market share, which means you need to know what your competition has to offer, how they are offering it, and how successful they are in doing so. Measuring your competition's success and failures can help identify gaps in your own marketing, sales, and overall business strategies. Addressing those gaps gives you a competitive advantage.
SOLUTION:
You should learn as much about your competitors as possible and put yourself in a potential customer's shoes to see how you stack up. Having as much information as possible will help you put your startup in a better position to succeed.
One tried-and-true method to compete smarter is to highlight strengths in your service that align with your competition's perceived weaknesses.
After you've done comprehensive research and analysis on your competitors, start asking yourself the following questions:
What makes your product/service special?
What do you offer that your competitors don't?
What makes your brand unique?
Why would anyone choose you over your competitors?
But don't focus solely on defining yourself in comparison to your competitors. Yes, you want to describe your competitive advantage to potential customers and clients – but be confident in the value and quality of what you offer.
Challenge: Finding product-market fit
THIS IS BIG. Product-market fit is ensuring you know that your specific product fits a specific need for a specific audience. It's about making sure people want what you have.
According to Failory, 34% of startups fail because of a lack of product-market fit. Unfortunately, it is all too common for startups to rush to market without knowing whether anyone is looking for what they are selling. If you expect someone to pay for your products or services, you had better make sure it meets their needs.
Until you find your startup's product-market fit, you risk investing in the development of a product or service that brings no value to the market and therefore will be overlooked. Finding your startup's product-market fit means moving more quickly to ROI and faster growth.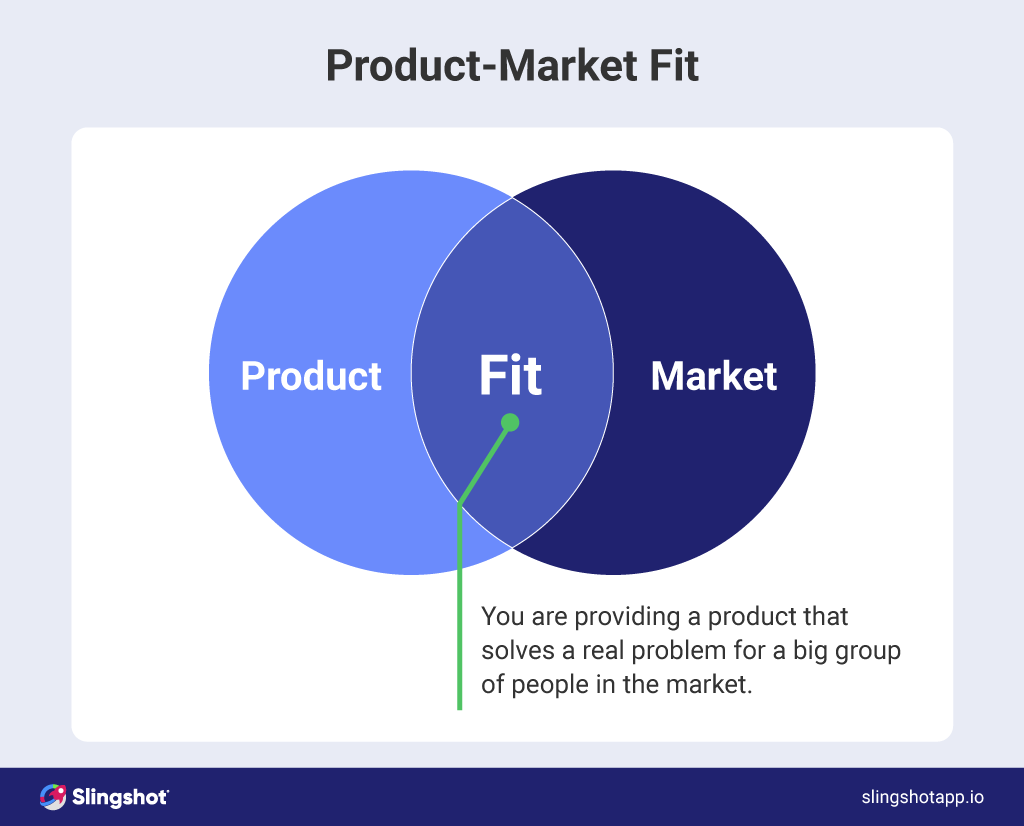 SOLUTION:
Finding product-market fit isn't easy – in fact, we've created a separate blog post to help ensure you're following the right steps and taking a data-centered approach. Some of the key steps in the process of finding your PMF include finding your targeted customers, identifying unsolved problems, and testing a prototype with real customers. But of course, there's more to it. Go deeper into this topic in our dedicated blog on ''How to find your product-market fit and grow your company''.
Challenge: Building brand awareness
People need to know that your product or service exists before they even consider buying or investing in it. Brand awareness is a marketing term that refers to the extent to which customers recognize a product/service by its name, logo, or another distinctive mark. Building brand awareness is not so easy for startups. Remember – you're competing in an ocean of competing products and services. It's an uphill battle – but one of the most fundamental challenges that startups face. It's critical as one of the first steps in the buyer's journey and instills a level of trust in your customers.
SOLUTION:
A study found that brand awareness increased by 21% in campaigns that utilized display ads, which means that display advertising is one of the best ways to achieve better brand recognition. If your company doesn't produce a physical product, you may want to explore advertising on social media and content marketing as well. The great news is that you can easily set content marketing KPIs or track the progress of your display and social media ads to identify how effectively they're working to increase brand awareness for your startup. In fact, Slingshot was built to address this use case as well as many others.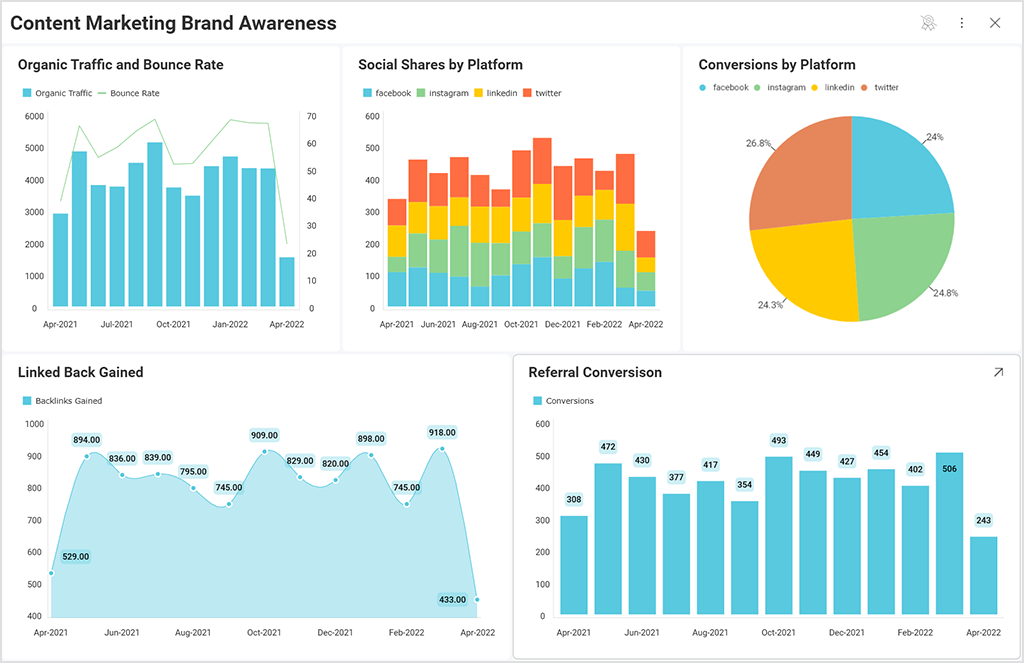 Challenge: Ineffective marketing
Ineffective marketing may be one of the root causes of other challenges described in this blog. For example, ineffective marketing can result in poor product market fit, low brand awareness, or even not hiring the right talent.
Marketing is all about capturing the attention, heart, and wallets of potential customers. If you want your startup to grow effective marketing is critical. Unfortunately, many startups don't take a strategic approach to marketing – placing the odd ad here and there, creating an untargeted Facebook page, or putting up a very basic website. This approach will never deliver the desired result.
SOLUTION:
The solution to this challenge is to develop a comprehensive marketing campaigns/strategy. The specific strategy depends on what you want to accomplish with your marketing.
If you'd like to increase sales, you likely want to start by revisiting the personas you think might encapsulate your ideal customer profiles. Are you making the right assumptions about the need your product serves for your audience? Do you know where your audience is most likely to see your marketing?
If you'd like to increase brand awareness, you must ask different questions completely to develop your strategy. How does your product compare to competitors and do you hold any advantages? Are you the best at something or the preferred option for a particular customer subset?
And lastly – if you want to hire the right people, ensure that your marketing describes your startup as a prestigious place to work rather than a place that is looking for new talent. It's a slight and subtle shift but goes a long way toward making sure your hiring marketing gets you the people you want.
Whatever the problem is, a strategic approach… a data-centered approach… an approach that analyzes what's working and what's not is the best path forward.
Challenge: Limited resources
Success isn't JUST reliant on the people you hire. You can have a team of outstanding individuals, but if you don't provide them with the right tools and resources needed to reach their fullest potential, then you'll never get the results that you expect from them.
For example, startups often require that team members wear varying hats and do things outside of their specific area of responsibility. When there are limited resources, you need people to pick up the slack in areas where they might not be experts. Startups are constantly being asked to simply 'make it work' with fewer resources than would be ideal.
The good news is that software can often fill in some of the resource gaps that startups are likely to encounter in their first years of business. Startup tools and resources can act like a workforce multiplier, empowering your team to do more with less or to achieve goals that they wouldn't be able to on their own. Startup tools and resources might be things like project and task management software, collaboration and accounting software, design tools, HR database support, help desks for customer service, social media scheduling tools, analytics tools, and more. Everyone, regardless of their role in your team, needs help from such tools and resources to be as productive and effective in their work as possible.
SOLUTION:
If you have fewer resources than you'd like to accomplish your goals or to support your team's work – the solution might be counterintuitive. Instead of austerity measures that cut back to try to stretch budgets or resources further, you may need to invest.
A relatively small investment in startup tools and software – like a digital workplace, task management software, or collaboration tools can act like a workforce multiplier, empowering your team to do more with the resources they already have. These small investments often pay off by allowing your startup to grow at a faster pace.
Challenge: Not using data effectively
The best decisions consider every angle, and multiple variables, and are rooted in fact. If you're still making business decisions based on intuition, you're necessarily limiting your startup's growth potential.
Nowadays, we live in an age where data analysis affects everything. And when it comes to your startup business, data can detail how your key performance indicators are functioning: marketing strategy, sales, user experience, lead conversion, etc.
Successful startups become data-driven so that they can see trends that they would've otherwise missed. Insight into these trends allows you to make more intelligent business decisions and guide you to success.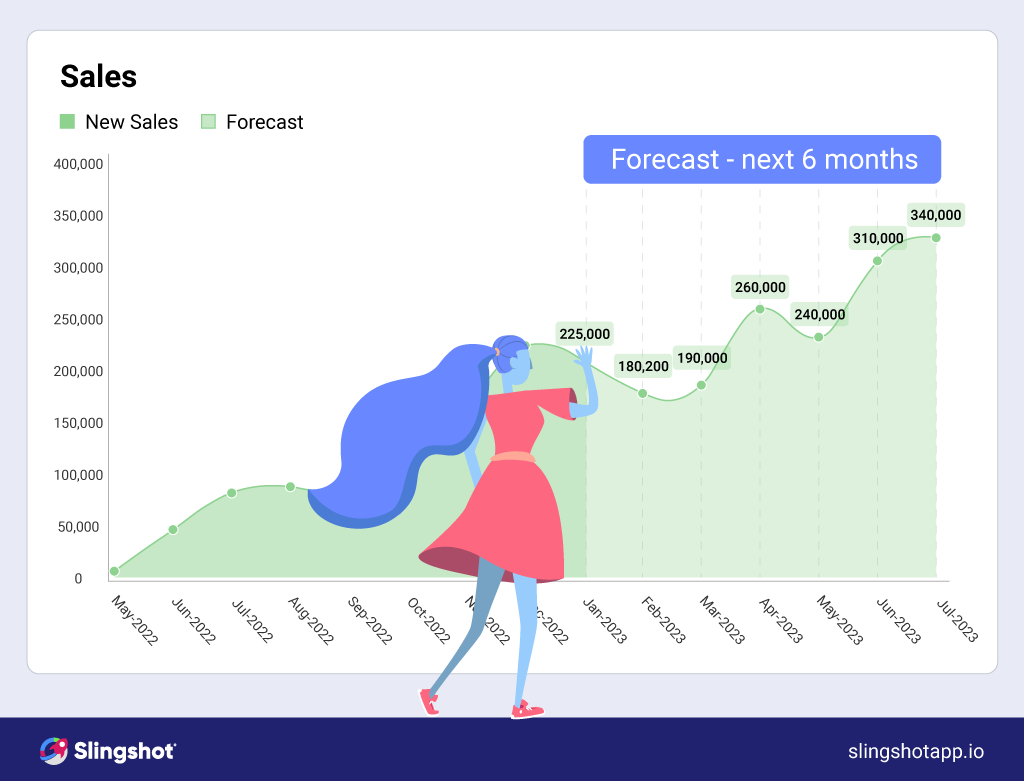 SOLUTION:
In order for startups to survive they must embrace a culture where decisions are backed by data and made quickly across all departments and operations. Data analytics might sound scary, but nowadays, many data analytics software solutions offer easy-to-use and intuitive capabilities that allow all business users, regardless of skills and expertise, to be able to analyze data and build dashboards and reports by themselves.
Data-driven decision-making provides a roadmap to any startup's success. By investing in a data analytics solution, you can bring the power of data into the hands of all your business users, allowing them to make better business decisions with minimal training or effort. Data helps your startup shape better and more effective growth strategies to increase your revenue.
Here is a list of top data-driven companies that you can learn from.
Challenge: Scaling up
Growth takes time. The key is not to get frustrated, but instead, keep in mind the solutions to all the challenges in this article. As you gradually tackle and overcome them, growth will come.
But what happens when you actually DO begin to grow? There are invariably NEW problems that arise as you scale up. Are you retaining your talent? Are you adapting to the changing marketplace? Are you utilizing your resources as efficiently as possible?
SOLUTION:
There is no universal solution to this startup challenge; the solution here will differ for every single startup and will depend on where you are on your journey of scaling up.
That said, strategic prioritization is our recommendation for tackling scaling challenges. First, ensure you have a business that works as clients expect. Then, surround yourself with talented people that can really help your business grow. When you have these foundational things in place, you will be in a better position to expand your business and increase your revenue.
For more on this, we have written another blog post focusing entirely on ''How to build a product-led growth strategy''.
Slingshot Your Startup
Whether you are at the seed stage, expansion stage, or growing into a small business, Slingshot can help you grow your startup quickly so you can start hitting your revenue goals sooner.
Slingshot is an all-in-one productivity tool designed to help teams and organizations produce extraordinary results by improving workflow efficiency with a rich and robust set of integrated features, aligning teams around opportunities to encourage them to reach their full potential, and enabling smart, data-driven decision-making with advanced analytics.
Slingshot helps you organize all your workflows, projects, tasks, content pieces, and more, all under the same roof. It also provides chat and discussions, so that you don't have to switch between apps to view a message, a task, or a dashboard – it is all in one, easy-to-use app. Slingshot's robust analytics features allow startups to connect to all their data to easily track KPIs and extract key insights. With Slingshot, you can go from data to task, from data to chat, and from chat to task with a single click. See more of our productivity flows here.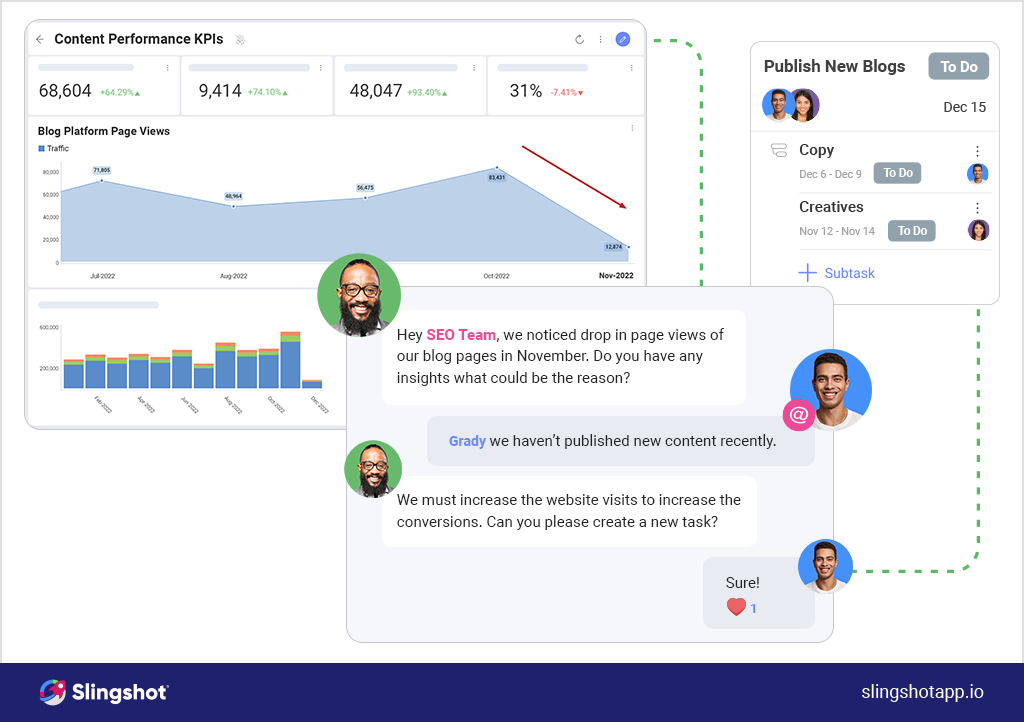 If you want to learn more and see how it can work for your startup, you can try Slingshot today for free and see how it can help your teams deliver extraordinary results that drive business growth for your startup.
*Source: Demand Sage