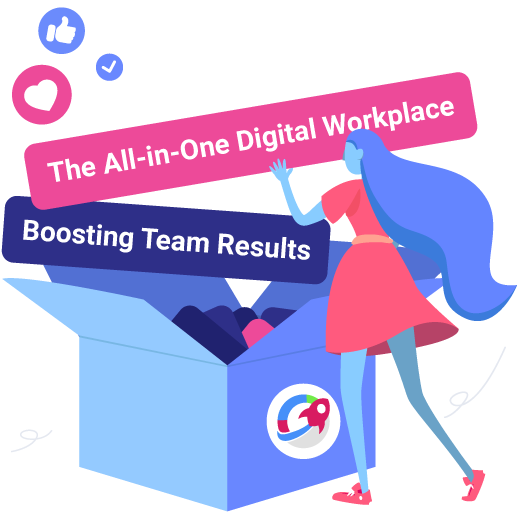 Product-Led Growth: Build Your Winning Strategy
Your product is what sits behind the wheel in the product-led growth approach. But what does this trend even mean and how can it be expanded quickly to produce results and alignment on strategy, while acquiring new customers? Read along to find out.
Tsvetomira Petrova
9 min read
Any product company's goal is to create that perfect flow in their sales cycle – making sure customers trust them, choose their product, and stick with it.
So, what is the key to achieving all of that and getting meaningful outcomes?
Enter product-led growth.
The trend is drawing more and more companies to efficiently grow their business and blaze their path forward.
What Is Product-Led Growth
Product-led growth is a go-to-market strategy that relies on using a company's product as the main means to acquire and retain new customers. In this method, the product is the driver behind the wheel of sales and marketing strategies – something very popular with SaaS companies. Campaign activities are built around the product and it's the product that pushes for business growth.
The centrality of the product in product-led growth is what builds the marketing and sales team's activities whose goal is to:
Align on strategy
Create campaigns
Acquire customers
Expand visibility
Conversion of customers
Retention of customers
In a product-led growth approach, everything is in favor of the user, so instead of the traditional funnel, marketers often use the product-led growth flywheel that let's them view the user experience and journey full circle.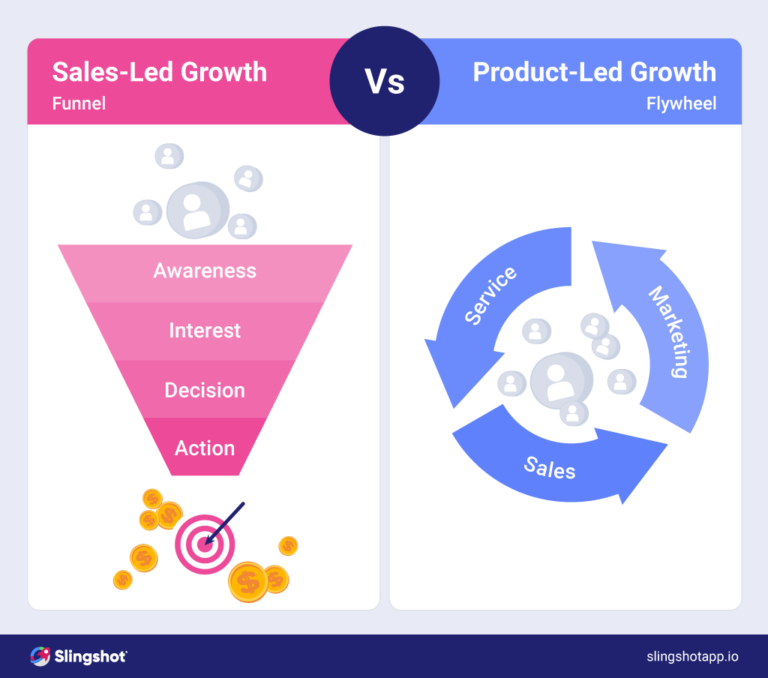 Benefits of Product-Led Growth
The product-led growth model has several benefits that make it a preferred trend among many product companies right now.  The reason being companies following a product-led growth strategy are hitting their goals faster than their competitors who are not.
Here are some of the benefits of product-led growth that deserve a look at:
Rapid Customer Growth
Companies using the PLG method grow faster than their counterparts, due to the focus on the end-user that closes the gap to convert a lot faster and lowers barriers to creating connections.
Big Scalability
Product-led growth is often chosen by small companies or startups. With a product-led growth strategy in place, small companies and startups grow quickly and expand faster. The focus on the product as a driving force allows them to build better relationships and achieve better results with more customers overall.
Greater Retention
When companies use product-led growth, they can quickly show the value of their product and align it with their customers' needs, to achieve higher retention rates.
Lower Budget
A product-led growth strategy reduces the acquisition costs since the customer acquisition is done through the product or built into the product, providing more reasonable costs to marketing activities.
Better Customer Trust
Since product-led growth is focused on delivering the value of the product directly to the customer (by testing and using), it builds trust faster and creates better promotion and satisfaction.
Product-led Growth Examples
So, what are some of today's most popular companies that found success with product-led growth? Here are just a few some examples.
DropBox
The popular brand has relied on product-led growth and in 10 years has achieved over $1 billion in sales thanks to it. DropBox relies on the approach to share its product as an acquisition tactic and attract more customers. The company focused on growing their customer base first and foremost and before monetization. They let their users take advantage of everything – features like shared folders, shared links, and put in place a referral program that let people increase their storage space if they invited friends to Dropbox.
Slack
One of the best examples for a company with product-led growth is Slack. In around five years, they have built $7 billion in revenue, and they keep using the method to this day. They've made sure they steer their model away from traditional sales-led growth and grew their user base instead.
Calendly
The brand uses product-led growth to become viral and takes the time to approach customers in that way, becoming a leader in their field thanks to it. The company has made their onboarding process a lot easier by providing a fremium model that directly takes the customer to a free version of the product for a trial period – without asking for any payment details.
Airtable
Since starting in 2012, Airtable is now worth more than $1 billion and its popularity around the world is indisputable. Like the ones listed above, Airtable has also used product-led growth to build a better customer base and expand its influence. They have no outbound sales model but instead made sure they grabbed more teams as customers by focusing on the user experience first and foremost.
Forming a Product-Led Growth Model
If you are a product company and you want to utilize all the mentioned benefits of a product-led growth model you can! There are just several steps you need to take and a few things to focus on.
Define and Track the North Star Metric
Tracking the North Star metric that is the most predictive of the long-term success of a company and its strategy. Every company that strives for product-led growth must define its North Star metric and use it as a lifeline for planning, as well as measuring progress.
Make Everything About the End-User
In product-led growth, the end-user is king. Truly understanding the customer behavior and making improvements on the product based on analyzing the end-user needs is the most effective way to grow your product and brand.
Go Viral
A big part of product-led growth is making sure your product has virality. So, experiment smartly and use all the strategies you can to create a social media buzz and other techniques for getting to as many people as you can.
Personalize Everything You Can
To truly make an impact with your product, try and personalize your approach – and the product itself wherever possible – to the specific target customer. Make your end users feel special by tailoring their experience, your messaging, and your approach to them.
Metrics to Track for Product-Led Growth
Trying to assess what to do next in product-led growth (and in any type of company growth, for that matter) is tied to measuring the right metrics – so you can track what is working. Let's take a look at the metrics you need to look at to make sure you keep growing.
Time to Value
The Time to value or TTV metric represents the amount of time needed for new users to realize your product's value. The shorter the TTV, the better for your product's and company's success.
Product-Qualified Actions
These are the activated users that have completed the desired key action within our product and had their "aha" moment with it.
Average Revenue per User
Segment your user groups and find out what is the average revenue per user for each of the segments. Comparing and analyzing that metric is a great indicator for business health and user engagement.
Customer Lifetime Value
Lifetime value defines how much revenue your company will receive via one customer during the lifetime of their account. The best approach is to calculate this metric both historically and predictively.
Conversion Rates & Pageviews
Those are two of the most important metrics to track in order to stay on top of your customers' product interest and brand popularity.
Sales & Referrals
The sales and marketing teams (especially with the ever so popular account-based marketing collaboration) will be happy to follow these metrics, so they can always stay on top of their next steps for campaigns and promotions.
What Is a Product-Led Growth Strategy
A product-led growth strategy relies on cross team-collaboration (product team, sales team, marketing team) to execute a plan around your company goals.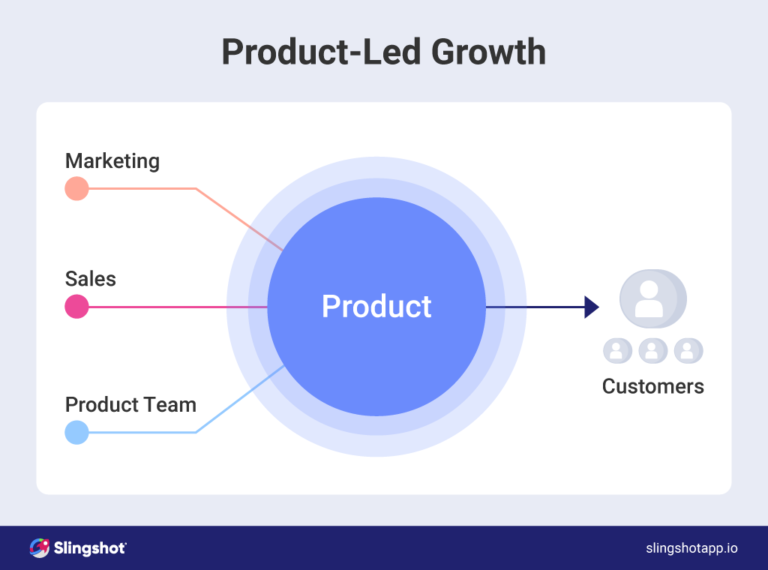 Marketing Team Efforts
Product launch
Product positioning
SEO & Content launches
Social media management
Paid ads
Promotions through campaigns
Sales Team Efforts
Proving the value of the product
Directly touching base with customers
Expanding strategy
Create a competitive approach
Finding new use cases to onboard
Product Team Efforts
Focus on the product
Promoting ease-of-use
Enhancing features and customer outcomes
Closely collaborating with other departments in regard to product understanding
All these efforts are combined to create a product-led growth strategy, while constantly following the North Star metric, to empower even more growth.
Implementing a Product-Led Growth Strategy
Implementing a product-led growth strategy depends on the team efforts, but also on technology and tools that aid the process every step of the way.
To make sure you've equipped your brilliant team with a tool that can perfectly assist their strategy, you should take it to the next level and use one that suits all elements we've mentioned in this article, such as:
Collaboration
Metrics tracking
Results sharing
Data-driven experiments
Focusing on the user
Creating a seamless process
Adopting an all-in-one digital workplace could create the perfect environment for assisting those needs, without app-switching. Slingshot enables teams to organize projects, content, tasks, and chats, as well as use data-driven integrated features to create the best flow
Slingshot also includes robust analytics features, including a data catalog and data visualizations in dashboards that are created and shared fast and the same app (in chat). These data-driven abilities can eliminate the need for a separate analytics tool.
With its project management features, Slingshot assists with ownership, division of tasks, and keeping tabs on any issues or blocks throughout campaigns. It also assists your team with ownership, and division of tasks and allows for tracking the progress of projects day-to-day. Your cross-departments and various teammates' collaboration is also taken care of, so sales teams, marketing teams, and product specialists can combine their skills to collaborate in one app, keeping all assets updated.