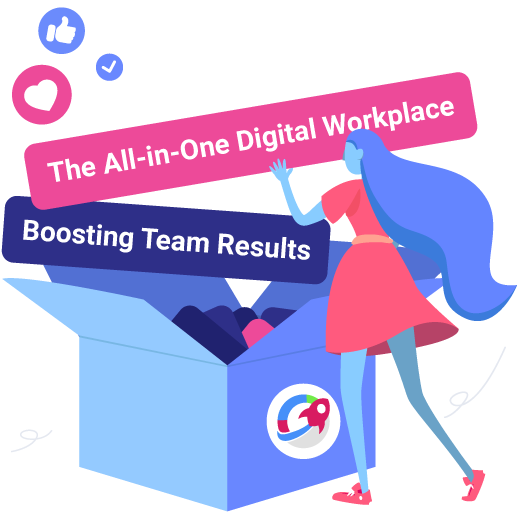 9 Project Management Features to Improve Your Team's Productivity
To help you choose the right project management software solution for your team and needs, we gathered this list of project management features that your project management software must have to deliver productivity, satisfaction, and peace of mind. 
Bilyana Petrova
14 min read
Resolving the chaos and creating calm and efficiency in your workspace requires a lot of attention and effort. On a busy day, managing multiple projects and tasks on top of a large team can become daunting and overwhelming even for the best project managers. To be able to effectively manage this workload as a project manager, you need the right project management features.
Feature-rich project management software solution is the secret weapon of successful project managers.
To help you choose the right project management software solution for your team and needs, we gathered this list of project management features that your project management software must have to deliver productivity, satisfaction, and peace of mind.
Project Management Software Definition
Before we proceed to the project management features that will improve the productivity of your team let's first answer the question of what project management software is.
Project management software is a specialty software designed to assist teams and organizations in managing multiple projects at the same time, all while providing robust features that simplify and streamline the workflow of every team member in an organization. It is used by businesses for project planning, collaboration, task management, tracking, resource allocation, easy navigation in a shared workspace, and many other things depending on the sophistication of the software.
Project Management Software Features
The different project management software solutions available on the market range in capabilities and functionalities. To find the best solution for your team, consider which features you need to manage your projects efficiently and effectively. There are many components of project management software that can make it easier and simpler to manage your workspace. Here are some must-have features that good project management software should include:
Project management
Seamlessly manage tasks, teams, and projects of any complexity from start to finish.
Use Template →

1. What Is the Project Management Feature?
Project management allows the organization of all aspects of a project from planning and scheduling to resource allocation and execution. Typically, the project management feature assists not only the project manager but other team members as well.
Projects usually have start and end dates, and multiple milestones in between, but projects could be ongoing too. For instance, an ongoing project could be your content calendar – everything that your team is planning to produce and publish as online content with set dates that everyone tries to stick with. And since every company works on both types of projects, you need a project management tool that supports both use cases.
A good project management tool should also allow the setting of priorities, project dependencies, and collaborators – one person will be listed as the primary owner of the project and will be responsible for it, but other team members could be listed there as well.
Why Are Project Management Features Important?
It makes managing multiple complex projects across organizations, departments, and companies at once simpler and easier. When you have all of your projects available on one screen in front of your eyes, you can easily track the progress of each project, instantly see roadblocks and know what exactly is causing delays and identify blockers in your projects before they become a real problem.
2. What Is a Task Management Feature?
The task management feature helps in managing tasks through their life cycle from planning to execution. At a minimum, it should include setting deadlines, priorities, dependencies, creation of subtasks, the ability to attach files and documents, and a comments section. The task management feature should also offer the ability to easily manage all your tasks in different views and choose the view that suits you and your project's tasks the best.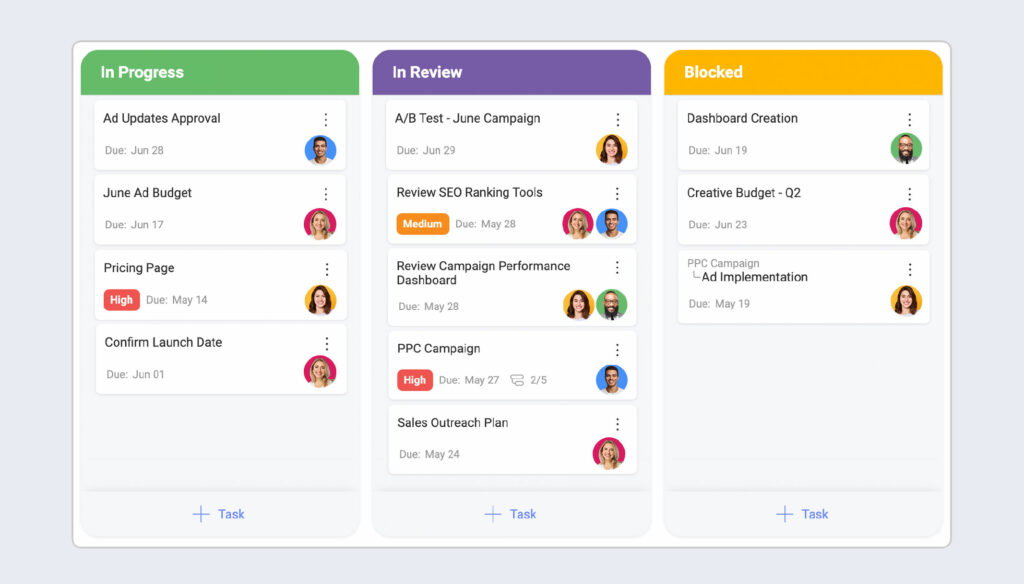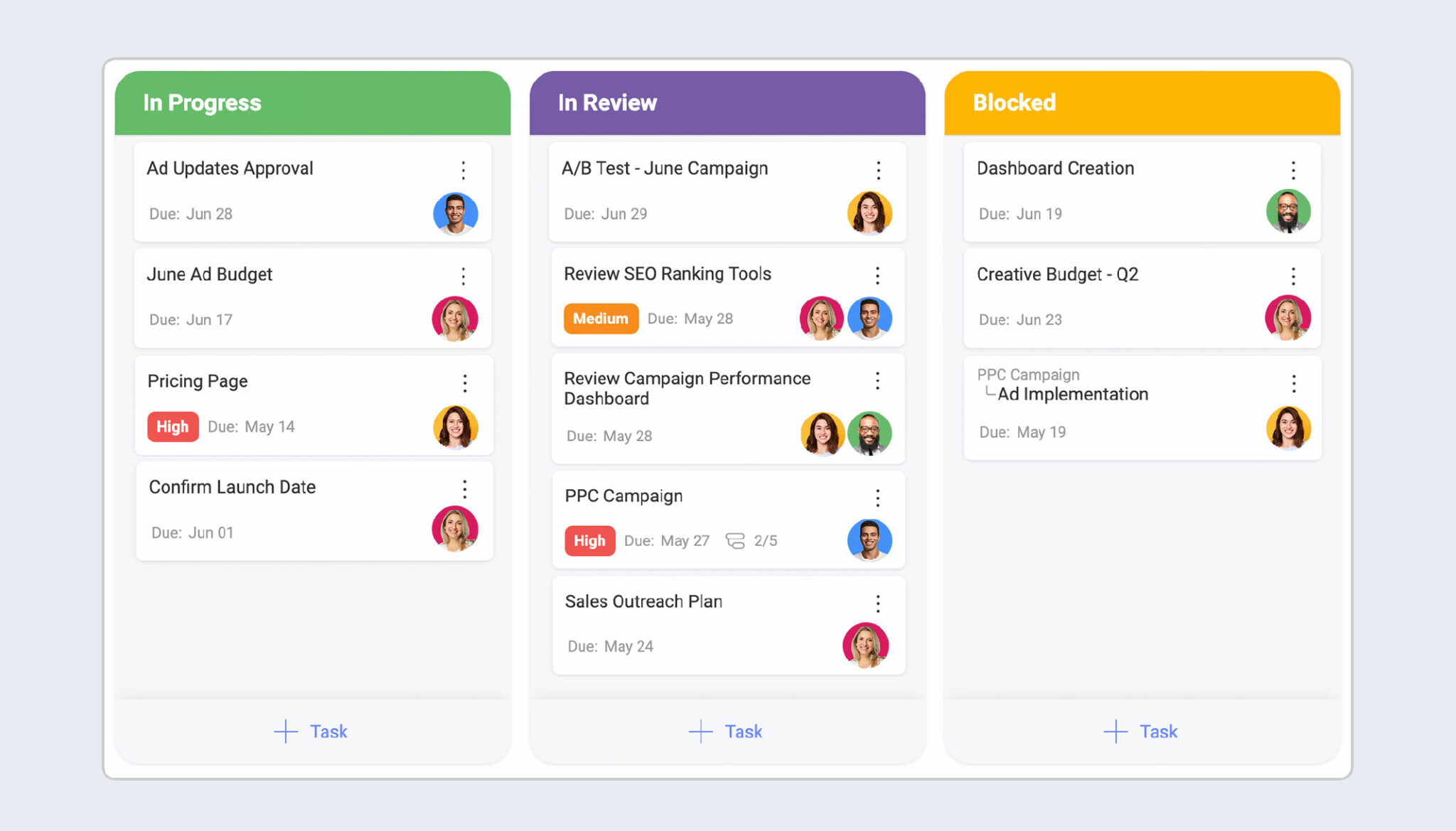 Why Is the Task Management Feature Important?
The task management feature lets you drive team and individual accountability by creating a transparent working environment where everything is visible to everyone and where everyone is responsible for the tasks that they have been assigned.
Also, by keeping all your tasks neatly organized in your preferred view, everyone will save time searching for information and deadlines will also be met.
3. What Is Content Management Integration?
Content management feature is important for every project management software. It allows users to share and work on documents together. This feature also helps in keeping documents neatly organized in one place, so everyone can easily access them at any time.
Why Is Content Management Integration Important?
No more hunting and searching for documents! Full integration with your files and storage providers saves time switching across different content storage platforms and frees your time so you can focus on more important things. You can quickly attach key documents and files to tasks and find information easily within context. Having everything accessible from the same place and by anyone increases productivity and team efficiency.
4. What Is a Team Collaboration Feature?
The team collaboration feature is designed to help teams be more productive and work together more efficiently by enabling them to collaborate on a single platform. It brings together everyone that you work with so everyone can focus on his work and contributes towards the same project and company goals. It also allows in-app communication and the ability to collaborate on task and project level sharing feedback, comments, and ideas.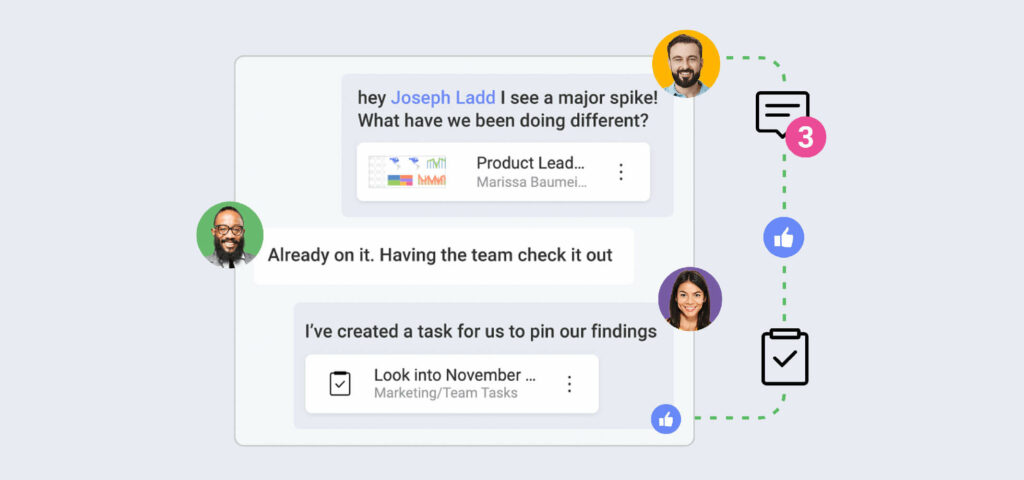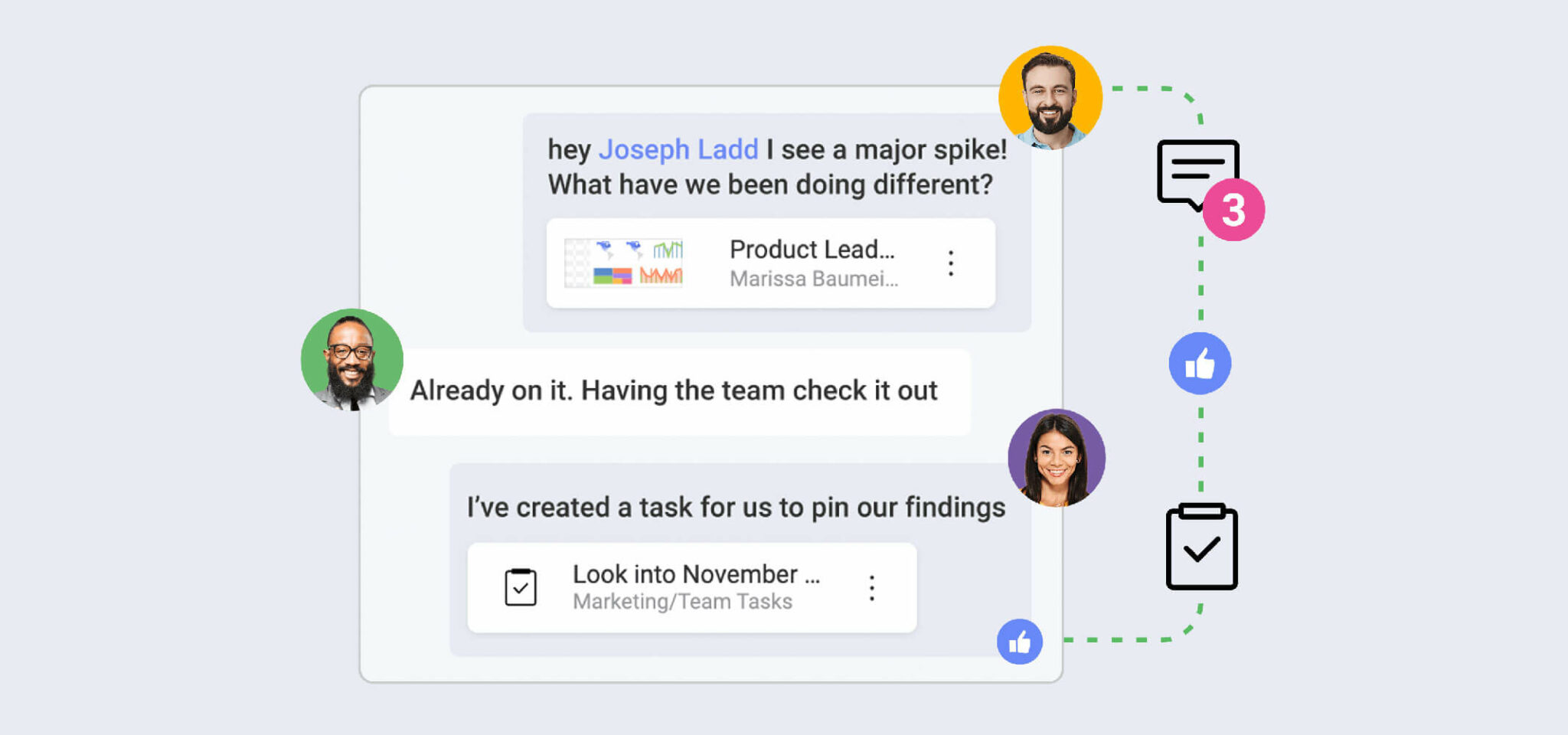 Why Is the Team Collaboration Feature Important?
The phrase ''Collaboration is the key to success'' is so widely used that you definitely come across it. It might sound a little bit cliché, but we must agree that it is true. The importance of collaboration in the workspace is vital – for managing projects, product development, event management, you name it. A group of individuals is more powerful and can achieve so much more than a single person.
Successful collaboration leads to improved employee and team relationships, maximized productivity, increased efficiency, and optimized work processes. On top of that, a team collaboration feature helps prevent and resolve problems and aligns distributed and remote teams.
5. What Is the Notification Feature?
The notification feature helps you stay up to date with all recent modifications made to tasks, mentions, discussions, and more.
Why Is the Notification Feature Important?
The notification feature is important as it serves as a reminder not to miss an important update. Every time when there is an update on the tasks that you're working on, you've been mentioned, or you've missed a chat message, the notifications are there to remind you.
6. What Is a Data Analytics Feature?
Data analytics is the process of analyzing raw data and helping identify trends, patterns, and correlations that you might have otherwise never discovered. The data analytics feature also lets you turn data into visual representation so that data is easier to understand even by people who are not data experts.
Unfortunately, data analytics is rarely found as a feature in project management software solutions, so keep your eyes open and don't settle for less as this feature is one of the most beneficial ones for driving more revenue and overall business growth.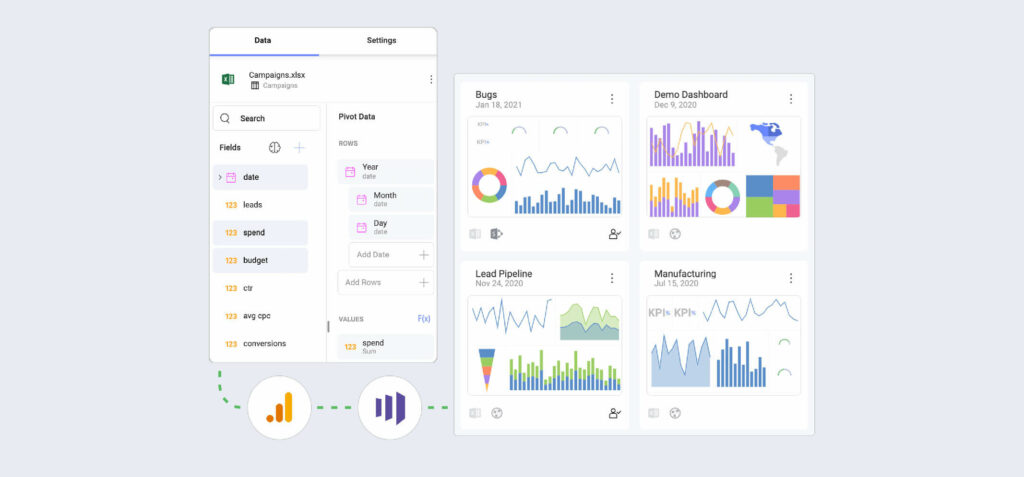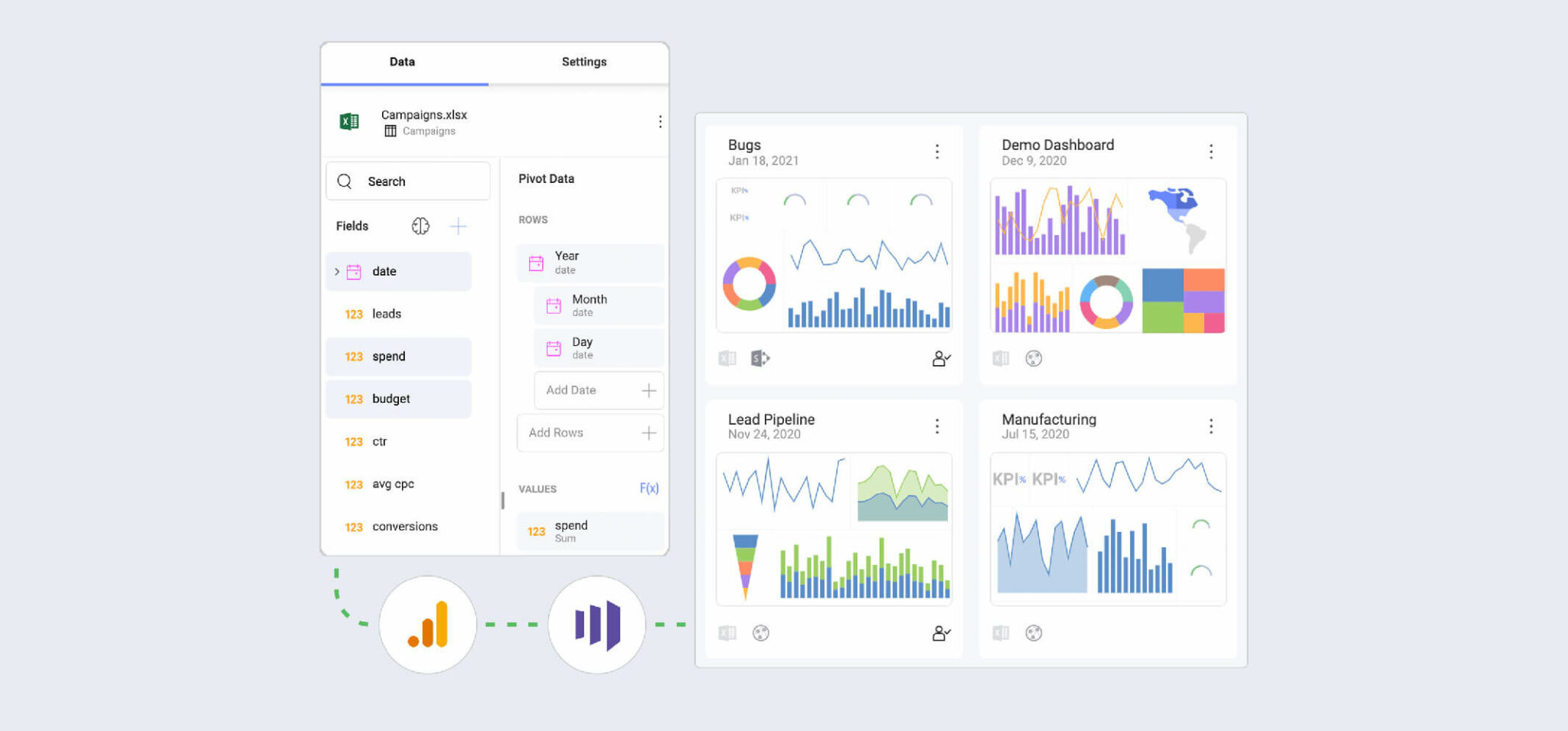 Why Is the Data Analytics Feature Important?
With the power of a data analytics solution, your team will no longer need to waste time trying to analyze spreadsheets but instead have more time to focus on the insights gathered and make choices based on facts. By having access to real-time data, you can act at the right moment and never miss an opportunity.
And it gets even better when you find out that modern BI makes it easier for everyone to analyze and understand key business data and create a beautiful dashboard independently. That means that your data expert and IT team can focus on their core competencies instead of wasting time creating reports and dashboards for other people in your team that need them.
Having that available in one place with so many other productivity tools brings instant effortlessness and effectiveness to the data-driven decision-making process.
7. What Is the Real-Time Reporting Feature?
With real-time reporting, you can customize reports or use different templates to create KPI (key performance indicators) reports. That helps monitor key business metrics as often as possible to make sure that everything that your team does is working.
Why Is the Real-Time Reporting Feature Important?
The real-time reporting feature helps you stay on track on important project KPIs, digital advertising KPIs, email marketing KPIs, and more, as well as it allows instant access to important KPIs that every CEO wants to see in its dashboard.
8. What Is the Integration Feature?
The best project management software includes a robust integration feature. The integration feature allows users to access all types of documents, files and resources, some of which are stored in third-party applications. Every team member can insert files and documents into the platform and everyone else will have quick access at all times.
Make sure to choose a solution that offers seamless integration opportunities with the tools that your team already uses.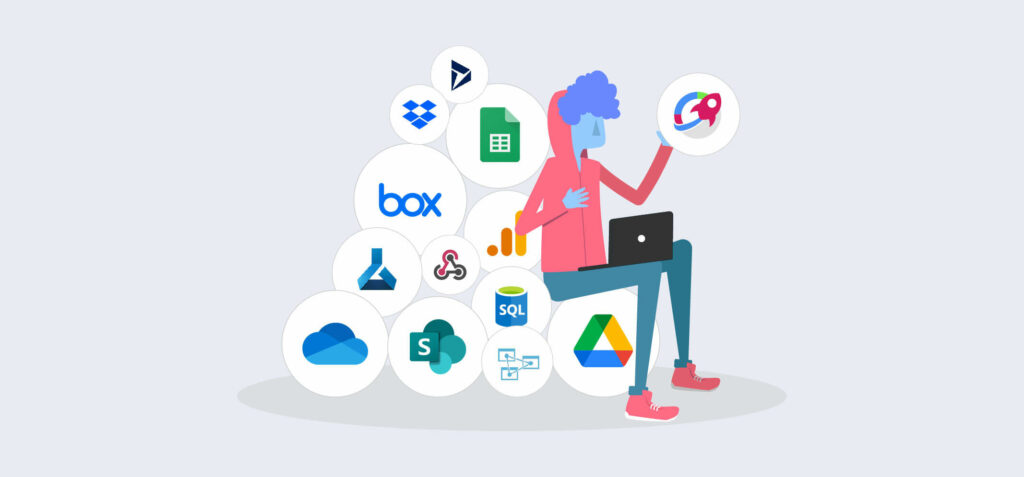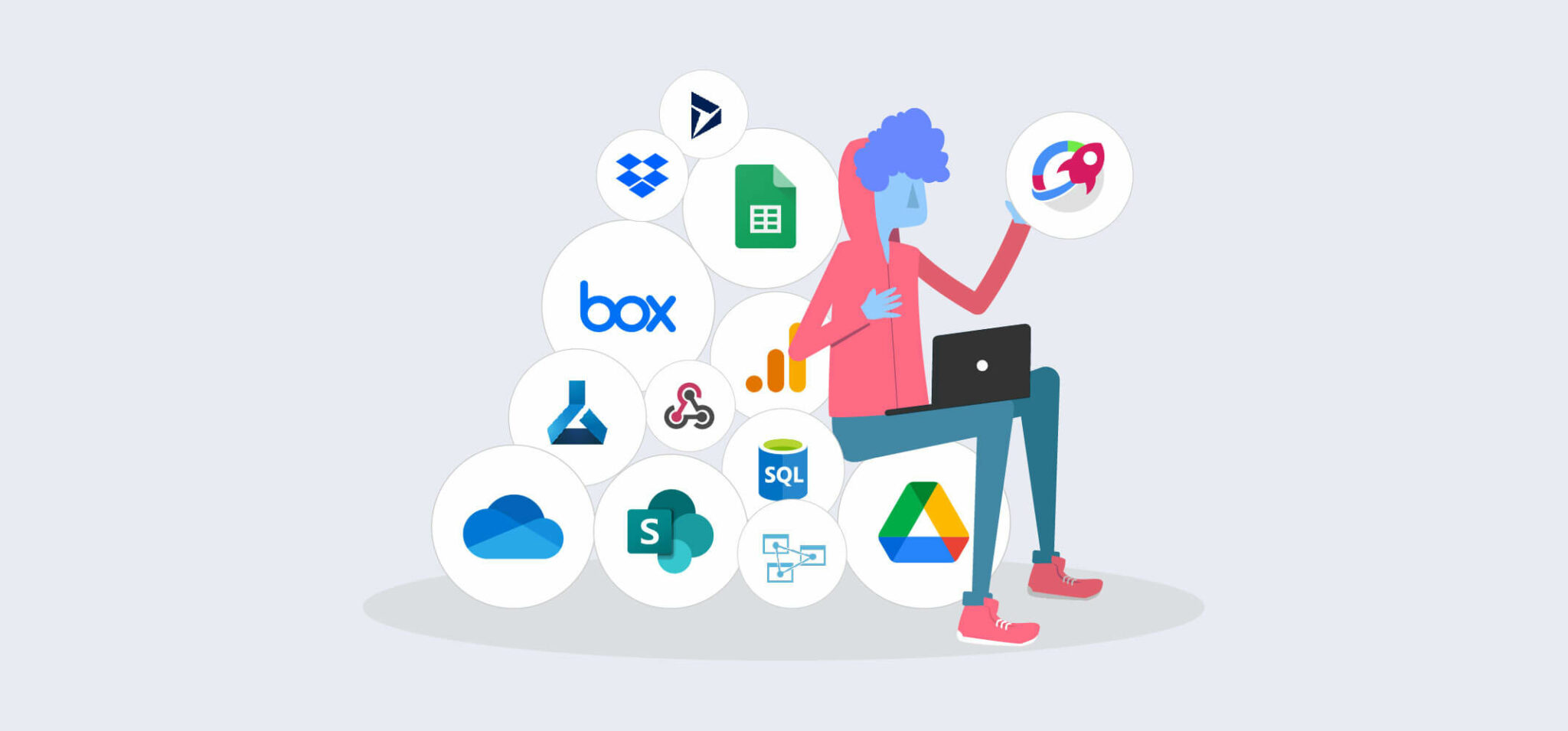 Why Is the Integration Feature Important?
With a project management software solution in one place that offers seamless integration opportunities, teams will be able to access everything from a single platform application. This increases productivity by reducing the time switching between various apps.
9. What Is a Native Mobile App Feature?
The project management features that you and your team need should be able to function properly on mobile phones and tablets, too. Mobile is changing the way we work and as we are hardly ''offline'' anymore, everyone should have access to the workspace at their fingertips being able to respond to messages, update project and tasks statuses, participate in key business discussions, analyze data, and everything else that you can do from a computer.
Why Is the Native Mobile App Feature Important?
It is highly important to choose a project management solution that has a native mobile version that you and your team can use to stay productive and work on your tasks even on the go. Employees cannot be always tied in front of the desktop; things happen and sometimes they need to go out to run errands, but when they can have access to the workspace everywhere and at any time, that ensures that they can react if there's an emergency that requires their expertise, and of course, helps stay on track and never miss an important update.
Benefits of Project Management Software
The primary purpose of project management software is to help project managers manage multiple complex projects with ease. With the help of all the project management software features that we covered, such as tools come with plenty of benefits for their users.
Here are the top 5 benefits of using project management software:
Effortless Project Planning
Project planning is an extremely important aspect of project management, and we all know that most of the time spent on project planning goes to waste. Or at least it used to. With the assistance of robust project management software features, project managers can plan, access, and track everything from a single screen. Such tools make the process of project planning feel like a walk in the park.
Remote Working
The remote way of working is likely to become the new normal way of working and project management solutions will be an integral part of it as it provides remote teams with so many advantages. No matter where your team members are distributed across the globe, everything is easily accessible and visible to anyone. The many ways of collaborating with one another strengthen team relationships, improve organization, and increases speed and efficiency.
Agile teams can greatly benefit from such effective project management features as they can help them big times in tracking the progress of the project that they are working on and improve their communication.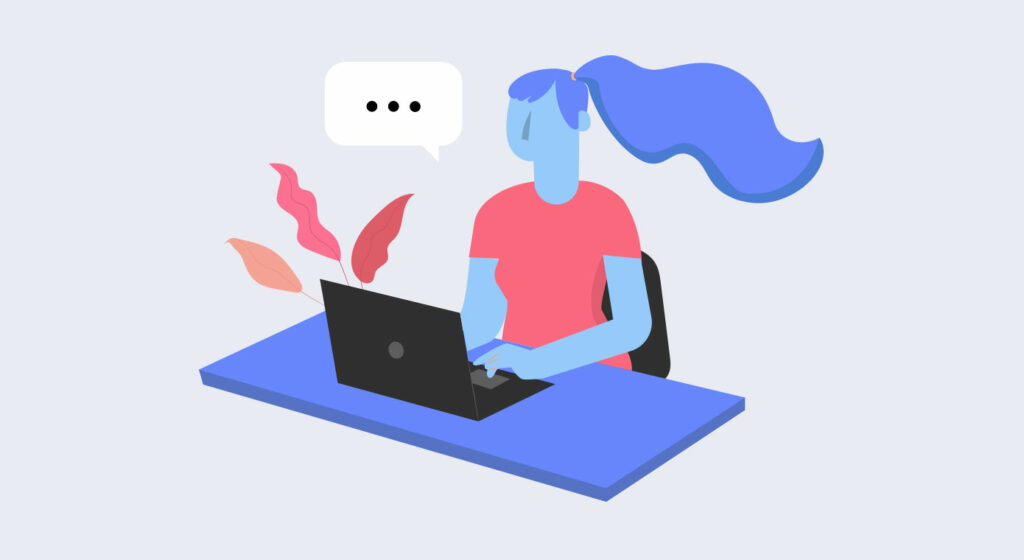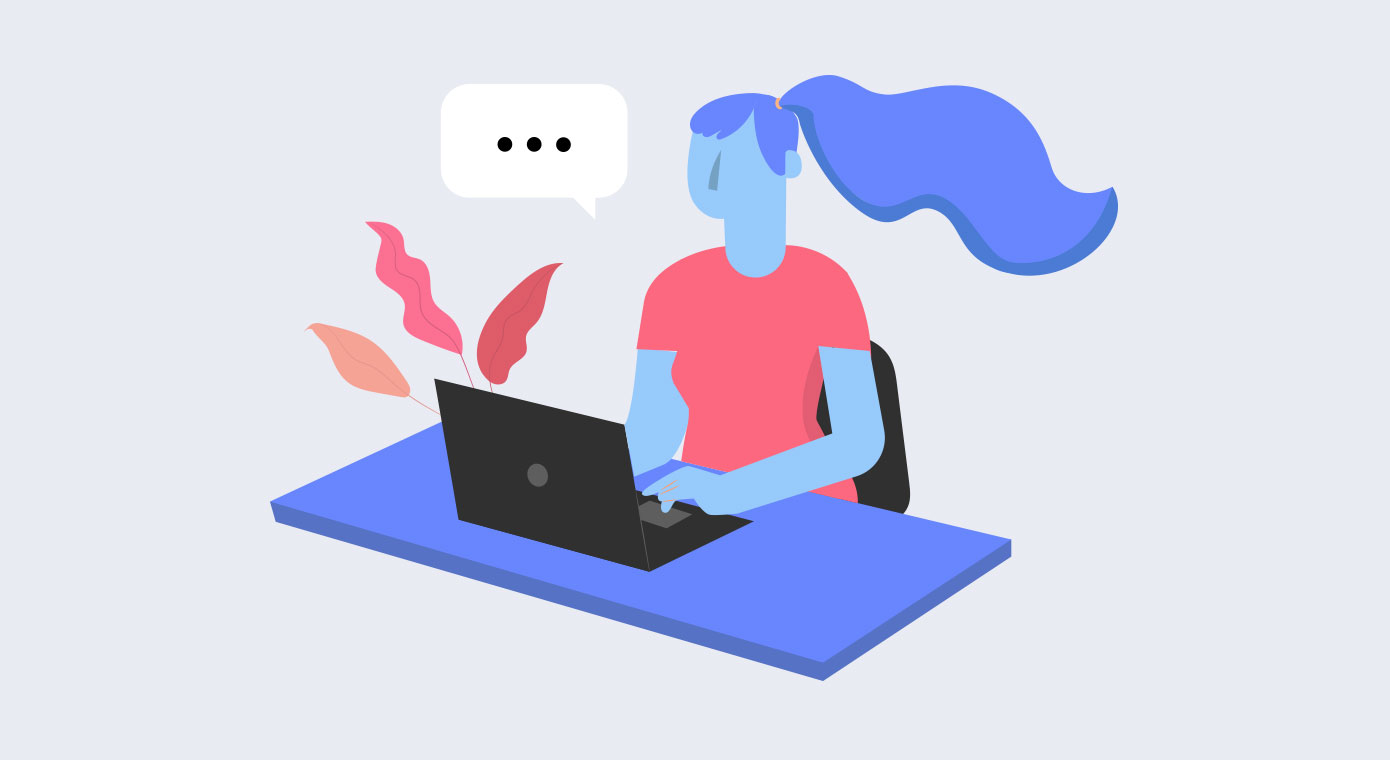 Improved Team Collaboration
A huge benefit of project management software is that it can simplify the collaboration between different teams and departments, which sometimes need to work together on projects and tasks. As they can collaborate on any level and have in-context discussions, communication becomes more efficient and ensures that there won't be any communication gaps that create unnecessary delays in projects.
Standardization of the Work Processes
Think about this: You are working in a team of 15 people. Every individual on this team has its own way of getting things done. There are multiple teams in your organization and perhaps hundreds to thousands of people working together. You are the manager who needs to make sure that every team member is on the same page. How do you make that happen?
The ability and opportunity to standardize the work process in your workspace is one of the main benefits of project management software. It is the key to coordination, synchronization, and alignment. That brings professionalism, consistency, and unity across your entire organization.
Enhanced Productivity
They say that project management software is the holy grail of productivity. And who can argue? Such tools help you keep all your key files and documents in one place, seamlessly collaborate with your teammates, design culture of ownership and responsibility with better workflow transparency, and so much more! This powerful advantage of project management software optimized the decision-making process as everyone can make better-informed decisions faster and more confidently.
Slingshot is Designed to Unleash the Productivity of Your Team
Slingshot comes ready to take your project management to the next level. By keeping everyone in the know, teams can stay on top of projects even across different time zones, meaning productivity doesn't suffer even though team members can't be physically present with one another. 
Slingshot simplifies collaboration by incorporating modern project and team file management, chat, and data analytics all within one app. When you can easily share all these elements in one place with team members and share projects with external team members, calmness is restored. With robust productivity flows out of the box and is designed to work seamlessly to enable continuous collaboration workflows. This helps teams cut across collaboration silos, prevents work disruptions, and makes it easier for teams to work better together.
Are you ready to enhance your team's productivity? Try it today and see how Slingshot can help your teams deliver extraordinary results that drive business growth.