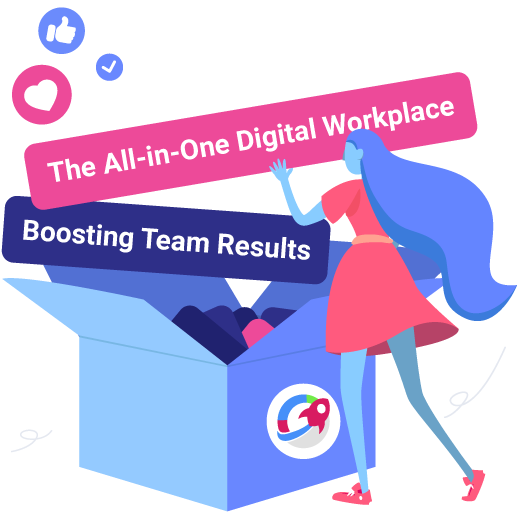 Collaborative Workspaces Online: How to Create and Use Them
Adaptation through the digital transformation of businesses is a necessity everyone is recognizing. So, let's take a journey through the main ways you can ensure optimal online workspace for your team.
Tsvetomira Petrova
7 min read
In your team's digital workspace, you get everything you ever might need – close communication, brainstorming and ideas, actionable insights, task tracking, and collaboration. But how can you create collaborative workspaces online? It's integral to the success of many businesses with hybrid, distributed or entirely remote teams to provide an ecosystem for their team to feel connected to each other from everywhere.
What Is a Collaborative Online Workspace
A collaborative online workspace is an all-in-one tool where teams can collaborate seamlessly and with improved efficiency. Most collaborative online workspaces incorporate management of day-to-day tasks, cloud document storage for easy access, data analytics, and options for chat and discussion.
Above all, a collaborative online workspace should be easily accessible and smooth to use in an uninterrupted workflow. This allows for any team using such software to be empowered for more productivity.
Importance of Collaborative Workspaces
In short, a collaborative online workspace is what takes your business into the future with never-before-seen agility. Regardless of if your team occupies the same physical space all the time or not, a strong working relationship today means greater productivity and good focus in a shared ecosystem.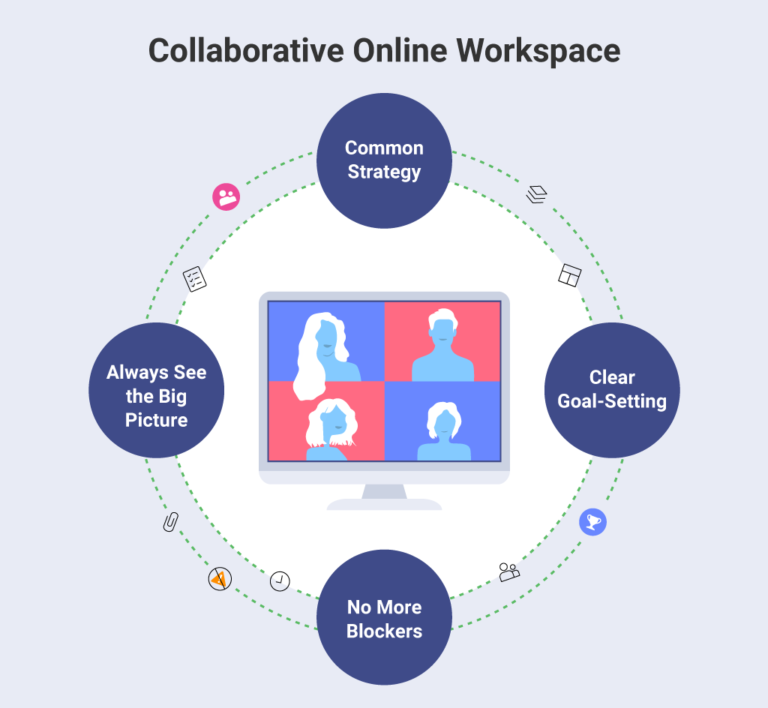 Having in mind that collaboration is a multi-layer process, always being connected to your teammates is a rising need for teams from any department. But why is a collaborative online workspace so important? Here are some of the reasons.
Common Strategy
In a collaborative workspace, teams always keep their mind on the same goals and craft a common strategy to follow. and always in the context of the project or task you are working on, brings the best results and keeps everyone on the same page while nothing falls through the cracks.
Clear Goal-Setting
In a collaborative workspace, everyone is clear on the requirements for a specific project or a task, so there is awareness of all objectives, and delivery is set with due dates and executed on time.
No More Blockers
Well, at least you'll spot them on time. With a collaborative online workspace, you have the opportunity to see potential blockers and clear them on time, so resources and time can be distributed wisely.
Always See the Big Picture
А collaborative online workspace always gives a good overview of the big picture. Tasks, discussions, projects, and data are there and in one look you can base your decisions and actions on them, plan the next steps and give your team the advantage of staying connected on a higher level.
Benefits of Collaborative Workspaces
Time to look at the benefits of collaborative workspaces online. They all have the same goal: to keep the team connected, never miss a deadline, and always stay result-oriented.
Here are 7 of the main benefits of utilizing a collaborative workspace for your team.
Good Organization
All departments, projects, teams, and divisions – as well as outside collaborators – can have their own spaces in a collaborative online workspace. Grouping per function and switching easily to check on the progress of something you are involved in saves time and raises the quality of the business communication.
Progress Tracking & Notifications
Never missing an update and keeping a good overview of each task is essential for any project manager. People of the same team can easily stay aware of the goals, progress, and status of everything – and it's smooth sailing from there.
Content Sharing & Collaboration
Assets of any type are inevitably flying among team members daily, and this happens smoothly within a collaborative workspace. It's good to have the option for external collaborators to take part in editing and discussions and to work simultaneously on the same documents, while always having the most updated file – no sifting through emails or app switching anymore.
Stay Connected to Data
Any team needs the ability to make decisions smartly and not base them only on intuition and gut. So, if a collaborative workspace provides the option for data analytics and can quickly pull up the needed data for any projects, that can bring a lot of actionable insights forward, especially for your
Seamless Communication
Conversations in a collaborative workspace, especially when they happen in context (on a task level, in a specific project space, etc.) allow your team to have transparent discussions and share content on their specific tasks with each other at all times.
Time-Saving
With all the due dates that inevitably accompany any project you might be working on, a good chat app will help you coordinate in a way that saves time and makes sure collaboration is effective and quick.
Improved Project Management
Tracking different tasks and making sure all specialists stay on point with their specific responsibilities leads to the best results possible.
What Makes a Collaborative Workspace a Good One
A collaborative online workspace that you can count on to create the best products for your team has several main functionalities that need to be present.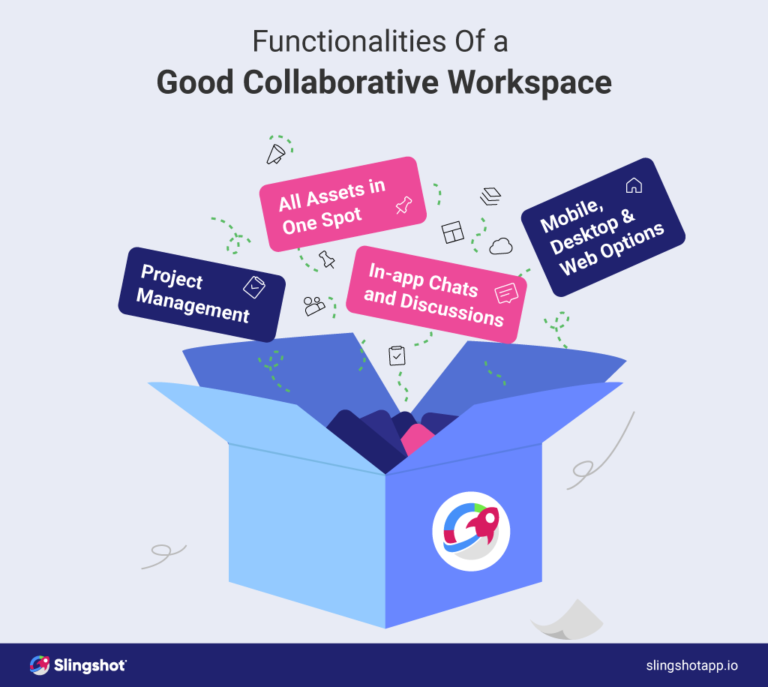 Project Management Functionality
Having project management features, helping with task management, deadlines, dependencies, priorities, and ownership is what would really help your team in a collaborative workspace.
All Assets Together
Keeping all assets and documents in one spot, easily shareable, and available for simultaneous editing means keeping everything on track – and nothing lost. It's best to have a good integration of third-party cloud storage apps into the collaboration platform you choose to use. It's also important that your tool gives robust integration opportunities for usage of tools such as Dropbox, Google Drive, etc., for easy shareability
Chat Away, People!
Communication never gets mentioned enough. So, in a collaborative online workspace, be sure to have the option for in-app chats and discussions, the ability to tag each other, and keep up with projects, sharing comments, feedback, and thoughts, all while keeping a record of conversations that everyone can refer to at any time.
Mobile, Desktop & Web Options
Your collaborative online workspace should be accessible on mobile and desktop so it's always the go-to communication tool for your team, wherever they are.
How to Create a Collaborative Online Workspace
Creating a good and working collaborative online workspace for your team is easy when you know what you need in terms of functionalities and that align with your goals. Slingshot is an all-in-one workspace platform, built on the premise of connecting teams even when they can't be physically present with each other. Besides incorporating strong data-driven features, file management, and chat, Slingshot's has other traits that can bring a team to full speed ahead – like:
Collaboration in Workspaces
In Slingshot, you can separate your teams, projects, and even departments in workspaces. In every workspace, you have chat discussions and accessible data analytics, project, and information management without the need to app switch.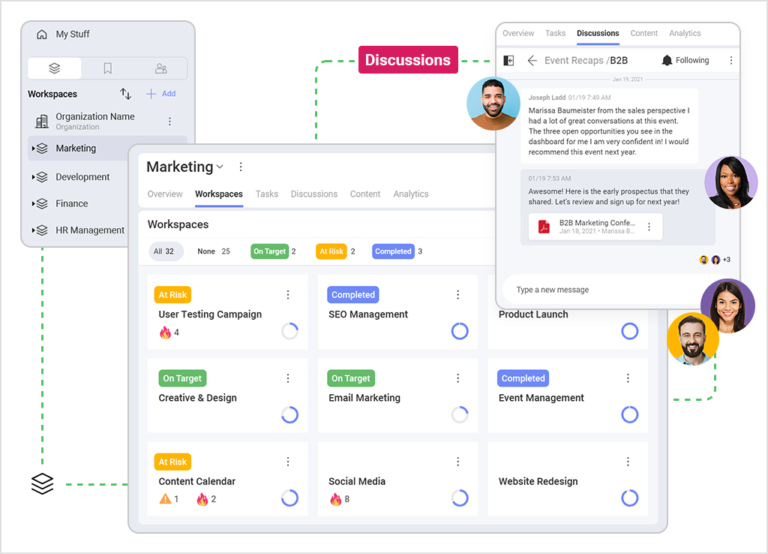 Collaboration on a Task Level
Every task in Slingshot has its own subtasks, owners, due dates, status, as well as chat options that bring the team together to share feedback and always find the latest discussions on everything. On every task you can bring all needed content together – from any cloud storage like Google Drive, OneDrive, Sharepoint, Box, DropBox (check out the whole list HERE), it allows for drag and drop upload and pinning links.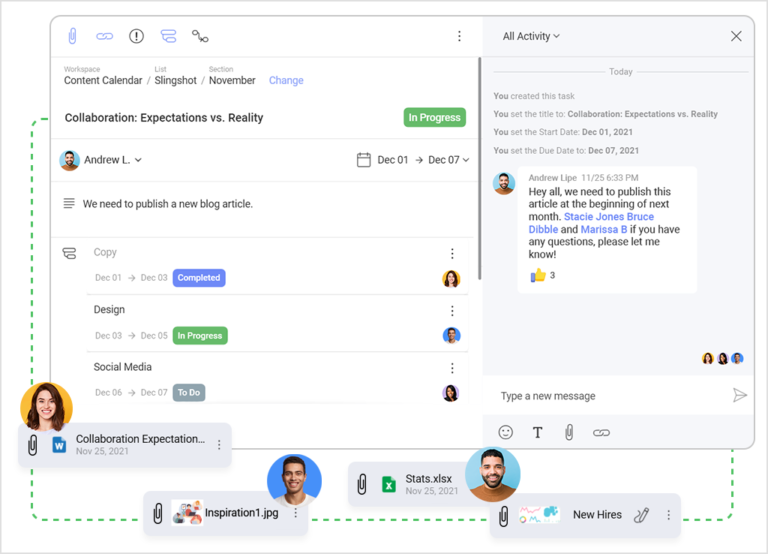 Collaboration with External Contributors
You can now loop in your external partners, clients, or industry experts by inviting them to collaborate in a specific workspace. In Slingshot, you can give them limited access according to their role and keep them always updated on what is happening, as well as discuss with them everything current.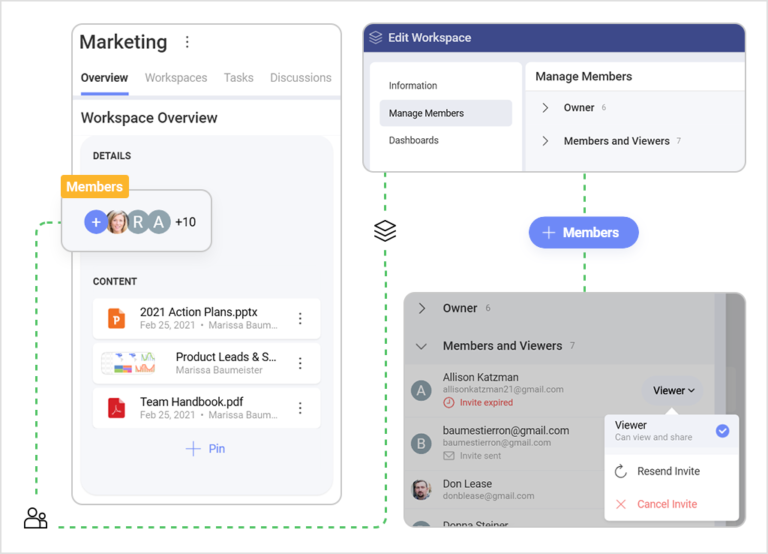 Collaboration around Data
The app has a full business intelligence engine where you can connect to your data sources and create beautiful dashboards, which then teammates can use for analysis and data-driven decision making.
Drop us a line if you would like a demo!