Top 10 Construction Project Management Software & How to Choose One?  
In this article, we will look at the top 10 construction project management software and provide some guidelines on choosing one. 
Bilyana Petrova
14 min read
Construction project management is a complex process. It requires a range of skills, effective communication, and various tools.
Luckily, today we have construction project management software to help construction professionals plan and execute projects, track budgets, collaborate in real-time and in context, and streamline processes.
However, with so many construction project management software on the market, choosing one that best fits your requirements and needs could be overwhelming.
In this article, we will look at the top 10 construction project management software and provide some guidelines on choosing one. 
Top 10 Construction Project Management Software
In no particular order, here are the best construction project management software solutions on the market:
Fieldwire
Designed for general contractors, specialty contractors, owners, architects, and designers, Fieldwire is a cloud-based, purpose-built construction project management software. It is an excellent solution for scheduling, document management, budgeting, collaboration, and issue tracking. Fieldwire also offers RFIs, submittals, tools for managing change orders, and punch lists.
However, Filedwire has limitations such as limited integrations (no Google Calendar, Microsoft Outlook, or Slack, for example), reporting, and customization, which may not suit the needs of some construction projects. A big con for Fieldwire is that the software allows you only to assign one user as an assignee; subsequent users are watchers.
Fieldwire offers a free plan for small teams who want to try the product's core features. For growing teams, pricing is transparent, starting at $39 per user. Fieldwire costs can increase, especially for large projects or teams.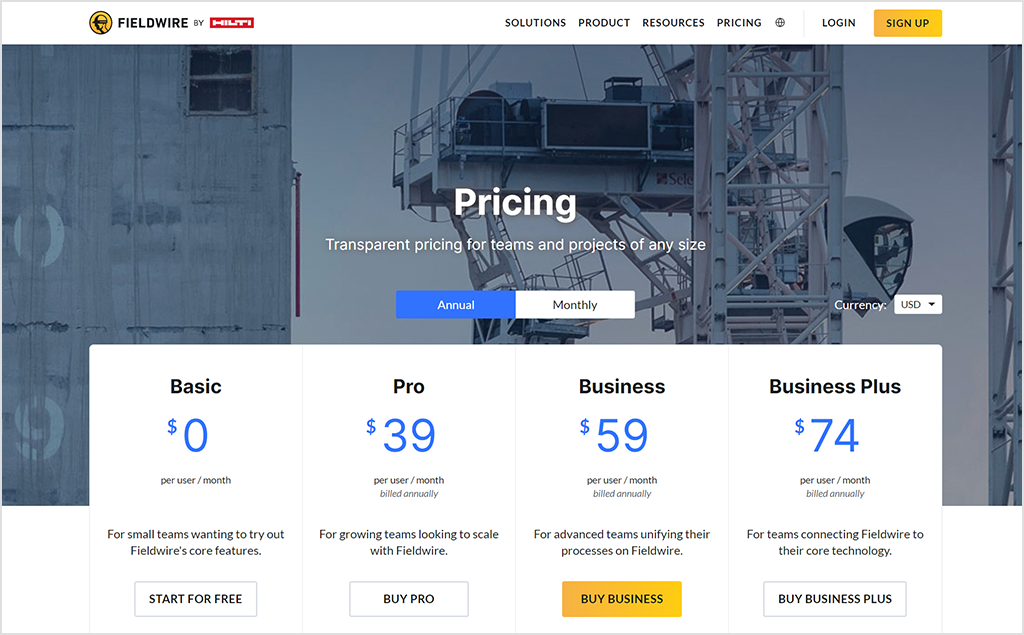 Contractor Foreman
Contractor Foreman offers many features designed specifically for the construction industry, including project planning, scheduling, estimating, document management, collaboration, and more. The software also has an intuitive and user-friendly interface, making it easy for construction professionals to navigate and use its various tools and features.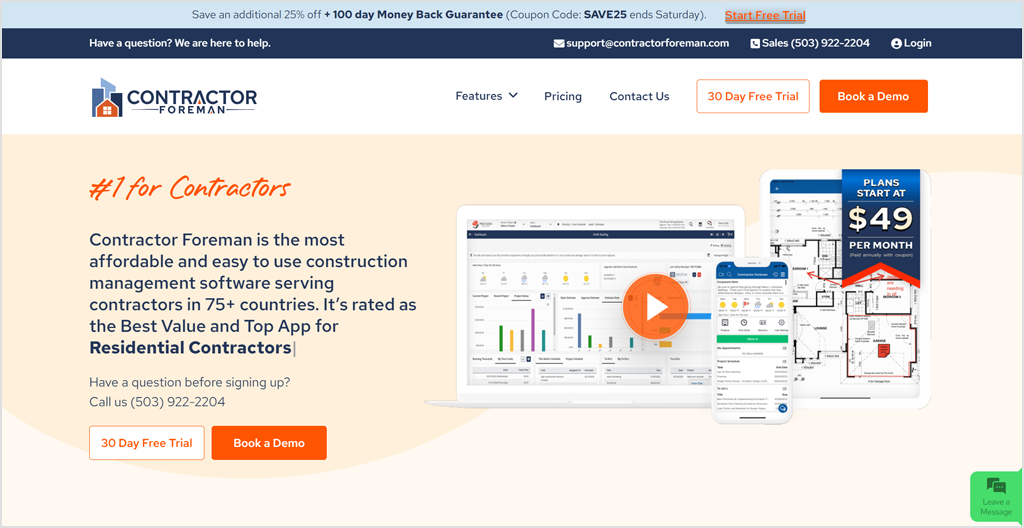 The best construction project management features that Contractor Foreman provides include daily logs of complete project records, weather tracking, and material and equipment usage. It also supports electronic approvals and signatures and integrates with key third-party solutions, including Google Calendar, Outlook 365 Calendar, QuickBooks Desktop, QuickBooks Online, SweetPay, WePay by Chase, and Zapier.
Depending on your requirements and needs, you may find Contractor Foreman's integrations and customizing options limited. Contractor Foreman offers a flat monthly package rate and a 30-day free trial.
Procore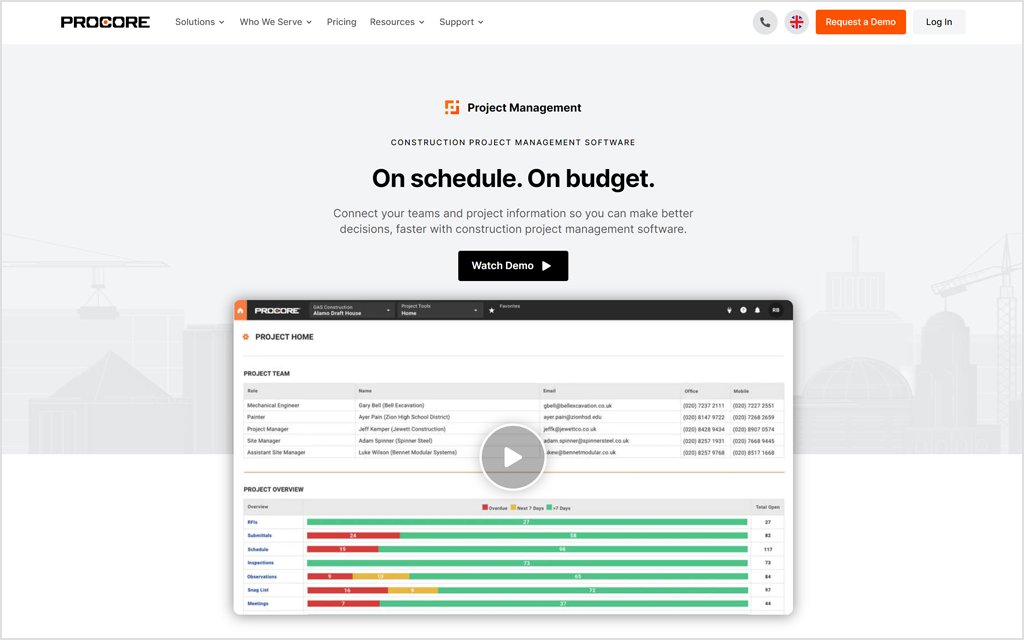 Procore is a widely used cloud-based construction project management software that helps construction professionals and operations managers manage projects from pre-construction through closeout. The software offers a robust set of features that cover various aspects of construction project management, like project documentation, scheduling, RFIs, submittals, budgeting, field productivity management, collaboration, quality control, and more.
Some of the key differentiators of Procore include the flexibility to customize the software to match your specific construction project management workflows and requirements. Procore offers 24/7 customer support, an active community with over 40,000 members, and over 400 integrations.
But, of course, Procore has its flaws as well. Integrating Procore with existing systems may require technical expertise and support. Before deciding, you should carefully evaluate integration needs and compatibility with your existing software ecosystem. And although the software offers an extensive feature set that may be more suitable for larger and more complex projects, for smaller projects with more exact requirements, the software's robustness might need to be revised and could add complexity. It would also result in a steep learning curve for users requiring proper training and onboarding to get up to speed with the software's benefits.
Procore doesn't advertise rates on its website. Potential buyers should contact Procore's sales rep to get a price estimate.
CoConstruct
Best suitable for residential builders and remodelers, CoConstruct has a modern interface designed to maximize efficiency and save users time. It offers analytics and reporting capabilities that help constructor professionals and operation managers identify areas where data and information can be integrated across functions to streamline processes.
CoConstruct offers a wide range of construction project management features, but its primary advantages over competitors include its customer relationship management (CRM) capabilities and client communication features. The software has a self-service client portal where customers can access information, updates, and photos to track projects.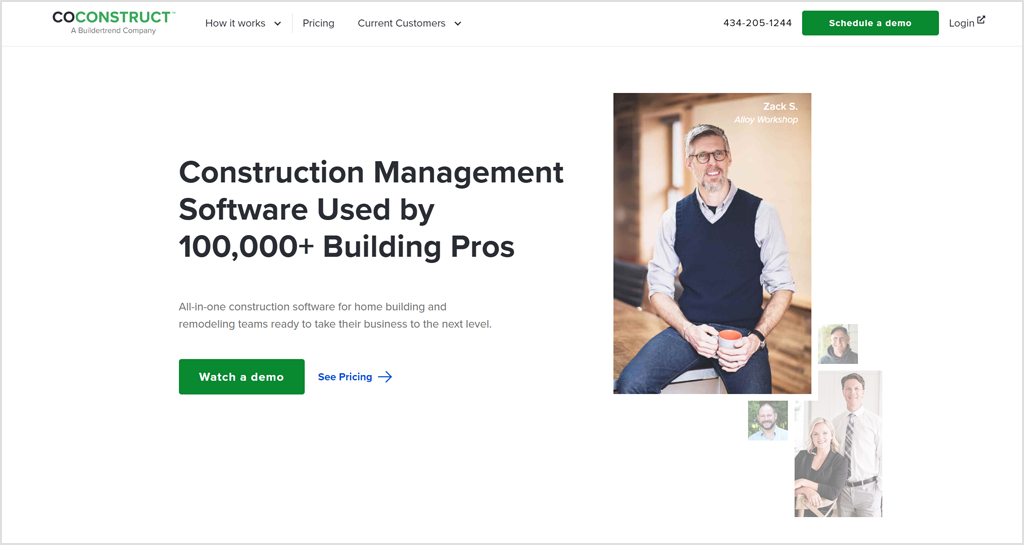 And although CoConstruct integrates with many key third-party solutions, its integration options with other software tools may need to be improved. This can pose data exchange and interoperability challenges with existing systems used in your construction workflow.
Starting at $399 monthly, all CoConstruct's pricing plans include unlimited projects and users across all tiers.
*CoConstruct is now acquired by BuilderTREND, another construction project management company that will be discussed briefly below.
Slingshot
Slingshot is an all-in-one digital workplace that offers a range of construction project management features to streamline and optimize construction project workflows. As a construction project management software solution, Slingshot provides a centralized decision-making and information-sharing platform that helps construction professionals plan and execute any construction project from start to finish from the same place.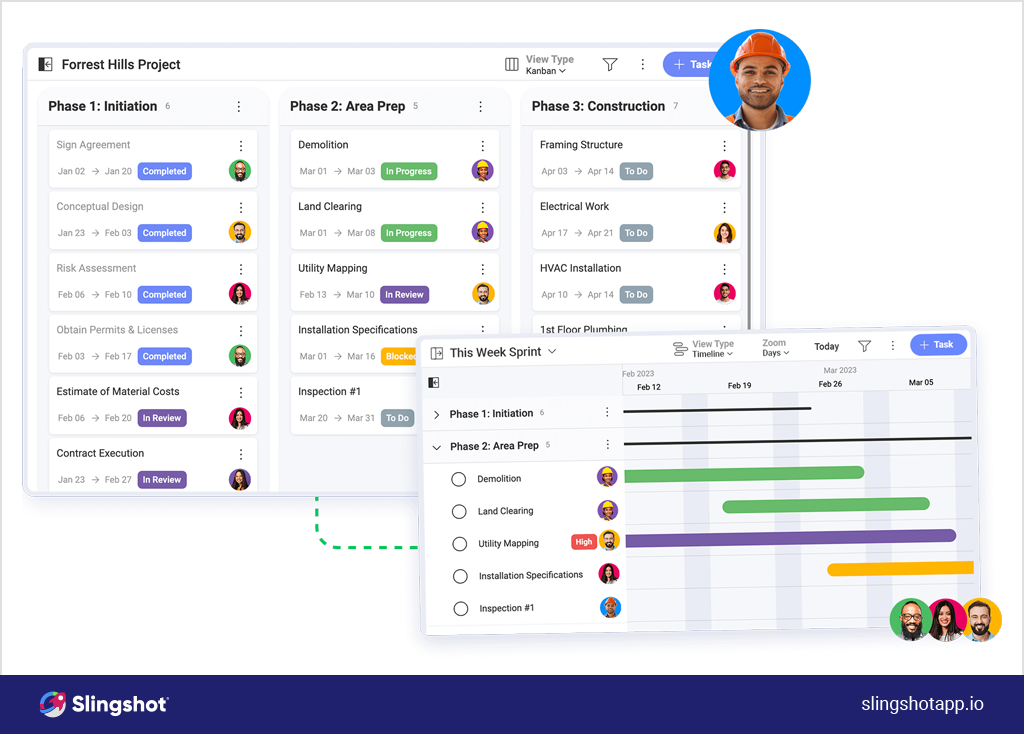 Slingshot facilitates seamless collaboration and communication among operations managers, stakeholders, and everyone involved in the construction project. With real-time messaging, task assignments, and file sharing available on mobile, Slingshot empowers team members to work together, exchange information, and stay updated on project progress even when spread across the office and on the field.
What sets Slingshot apart from other construction project management software is the powerful data analytics solution seamlessly built into it.
Slingshot's robust analytics features allow construction companies and constructors to connect to all their data to track KPIs and extract key insights easily. With Slingshot, you can go from data to task, from data to chat, and from chat to task with a single click.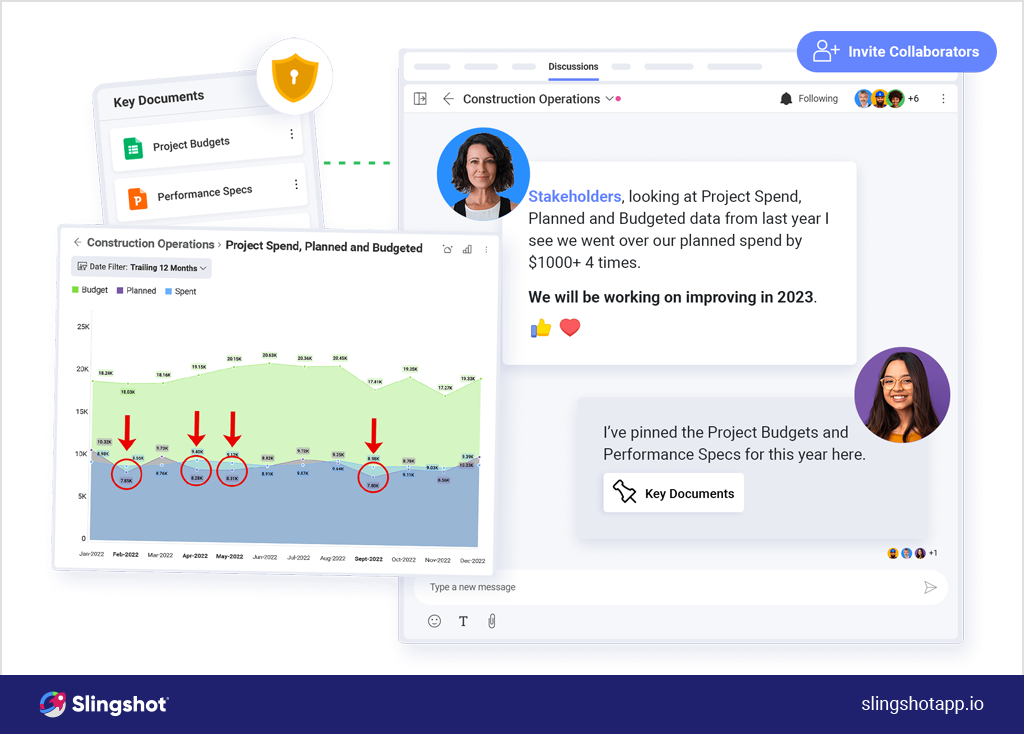 Here are some key ways in which Slingshot supports construction project management:
Leverage data from all your operational systems, SaaS systems, and databases to provide quick, key insights that help you and your team improve productivity while reducing costs and delays.
Access real-time construction reports from anywhere to ensure everyone's on the same page – even when they are spread across the office or on the job site.
Break your construction projects down into easily managed tasks and subtasks.
Get better visibility of your pre-construction, procurement, and construction projects' timelines with three interactive Gantt charts – Timeline, List, and Kanban.
Bring all contractors, clients, stakeholders, builders, and more to a shared place for better visibility, transparency, and improved collaboration.
Invite collaborators into your construction workspace for complete transparency while remaining in full control over permissions and access.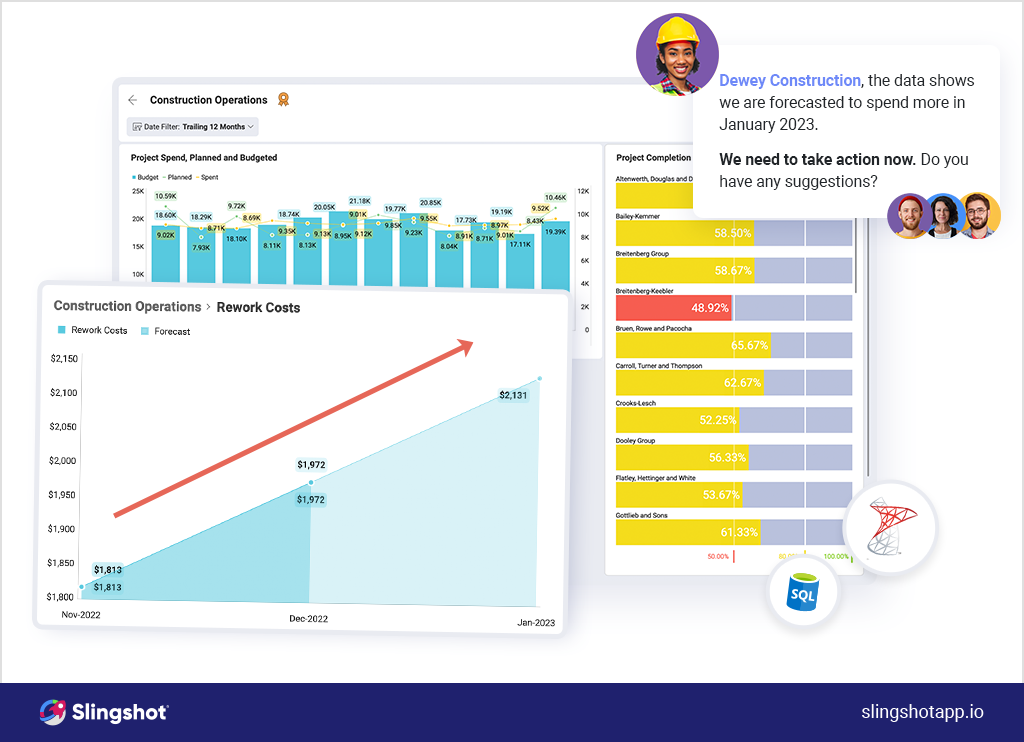 Regarding pricing, Slingshot offers three plans designed to suit any team regardless of size, type of project, goals, and objectives. The software is free for smaller teams and starts at $12 per user in its paid version, bringing more features and unlimited options. 
e-Builder
e-Builder helps construction customers achieve safety assurance, quality, dependability, and quick deployment. The software allows operations managers to measure and manage every construction project delivery process step, from planning, design, and procurement to the construction itself. e-Builder provides users with budget tracking, contractor management, change order management, scheduling, real-time data, big management, incident reporting, RFIs, and submittals. It also provides a feature that lets users manage the design review process with automatic version control for automated review and tracking. You don't need to install any special software; you can view CAD and BIM files straight from the browser.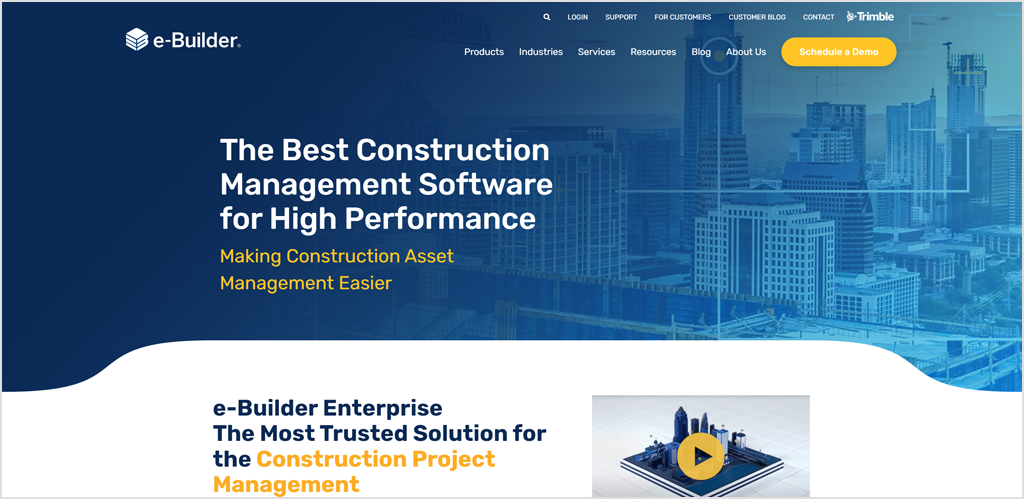 And while e-Builder offers integration capabilities, those are limited. The software also doesn't provide an API for seamless integration with other software.
In terms of pricing, e-Builder is considered a higher-end solution. However, pricing is not publicly available, so the only way to get a cost estimate is to contact the product sales team. The software also requires a free trial to test if it will work for you.
Monday.com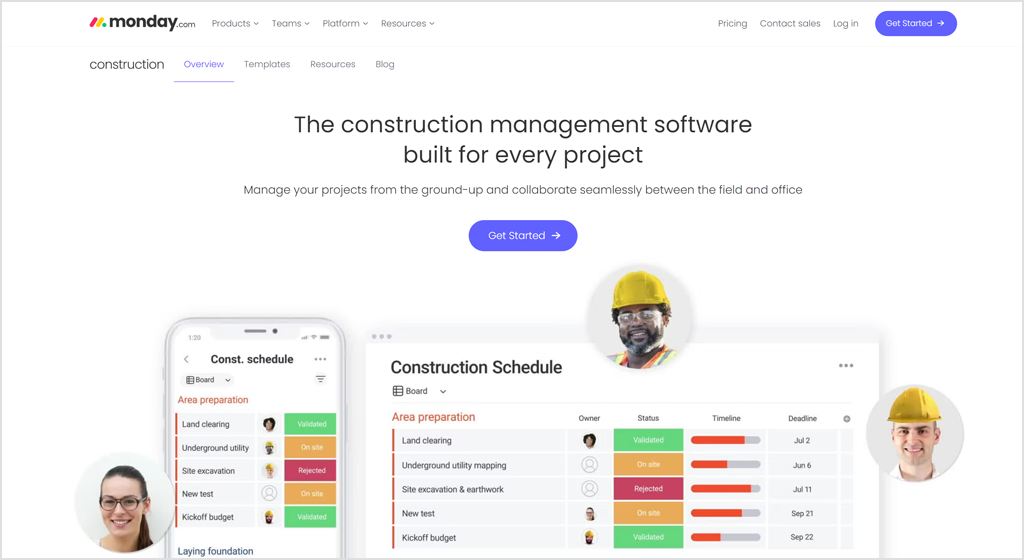 Monday is a popular project management software that can also be utilized in the construction industry. It allows for a quick overview and management of the status of ongoing tasks and following up with team members. Using drag-and-drop technology, Monday is easy to use and provides complete visibility and relevance in day-to-day work. You can choose between over 200 templates, customize them for your workflows, and create groups that are a color-coded section on your board containing your tasks. Tasks are organized in boards, which are shareable with internal and external team members.
The software also offers analytics and reporting features and allows integration with various third-party tools and services commonly used in the construction space.
All-in-all, Monday is versatile project management software but lacks certain construction-specific features in industry-specific construction management solutions. You should carefully assess whether it meets your specific construction project management needs.
Regarding pricing, Monday is free for up to two people and starts at $10 per user per month for paid plans.
ClickUp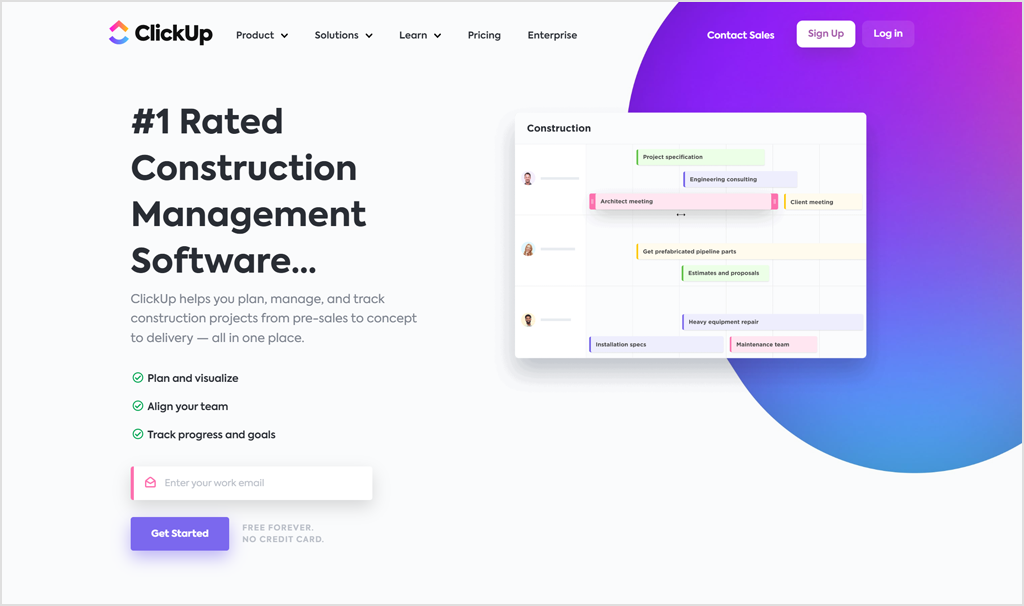 ClickUp is a productivity tool that offers a construction management solution as well. The software provides a highly customizable platform, allowing construction teams to tailor their project management workflows to their needs with various features and customization options to adapt to project requirements. ClickUp has multiple views, including a list, board, and calendar, which can help track construction projects. Users can also benefit from built-in chat and time-tracking features, making it easier to collaborate on projects remotely. ClickUp provides over 1000 integrations of other tools.
ClickUp is free for up to 100 MB of storage and is $5 per monthly user for unlimited features and space.
Buildertrend
Designed primarily for homebuilders, specialty and commercial contractors, and remodelers, Buildtrend is a powerful tool for organizing and collaborating on construction projects. The software provides a great suite of project management features, including daily logs, work-in-progress reports, to-do lists, scheduling, in-platform messaging, document and photo storage, punch lists, and plan markup.

Buildtrend also offers a time clock feature that enables teams to clock in and out from their phones. It supports email campaign automation, lead response tracking, and a centralized hub for clients to access projects, bills, estimates, and bid management capabilities. The software also has financial tools for invoicing and payment tracking, which can be particularly helpful for builders. Buildtrend integrates with various third-party tools, including Quickbooks, Xero, Slack, PlanSwift, Clear Estimates, and Gusto.
A drawback of Buildtrend is that the software doesn't provide an open API. The company says they are working on that and expect one in 2023. Users report that learning the software takes time and may involve a certain level of digital and data literacy to benefit from the features truly. Subcontractor use has also been a roadblock for users.
Buildertrend doesn't offer a free trial and is a pricy tool for small companies. The price starts at $399 per month and includes features like scheduling, daily logs, to-dos, communications tools, a client portal with homeowner payments, and select integrations.
Autodesk Construction Cloud
Autodesk Construction Cloud (including former products BIM 360 and Plangrid) is designed to support construction projects of various sizes and complexities, from small-scale projects to large-scale developments. The Cloud is a suite of software modules built specifically for the construction industry and the multiple stages of the construction lifecycle. Each solution is priced and sold separately, but all operate together on the same cloud-based platform. This could be a great deal for some as it allows you to pay only for the solutions you need for your specific construction projects' needs.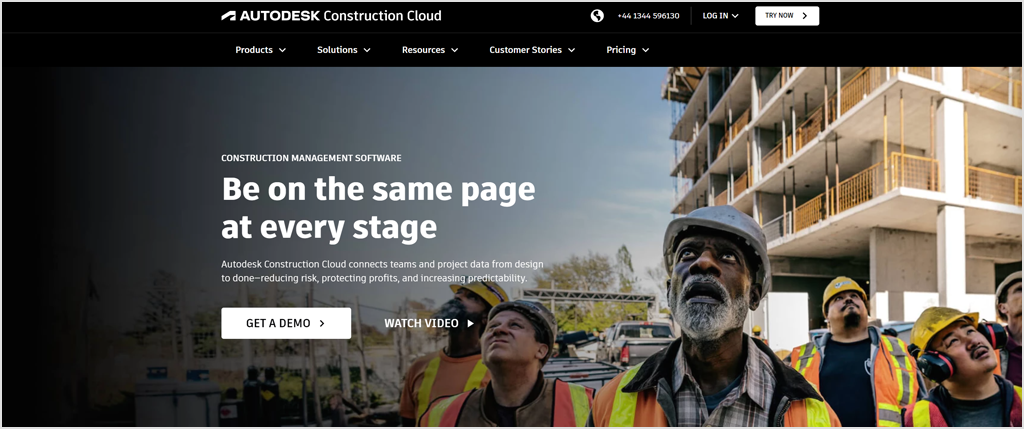 However, this solution can become very pricy depending on which modules you select to include in your offer.
Autodesk has a long list of features in its suite of solutions. Still, some worth mentioning include budget management, customizable templates, custom reports, time and expense tracking, cost calculator, 3D imaging, and BIM modeling.
What Is Construction Project Management Software?
Construction project management software is a digital platform designed to help operations managers plan, track, manage, and collaborate on construction projects. Construction project management software typically includes tools and solutions, like construction reporting, specific to the construction industry to make work more accessible and effective. Such platforms also bring all contractors, clients, stakeholders, builders, and more to a shared place for better visibility, transparency, and improved collaboration. 
What Features to Look for in a Construction Project Management Software?
When choosing a construction project management software, some key features you want to make sure that the software has include project management with the ability to assign tasks, roles and responsibilities, priority, and deadlines, document and content management solutions for keeping all your essential information unified, actionable data analytics and reporting capabilities for better operations decision-making, and mobile capabilities so that onsite workers and office employees can communicate and collaborate seamlessly. Of course, pricing is also a significant consideration factor. Look for a tool that offers either a free trial or a freemium version, so you can test it for your team and needs before investing.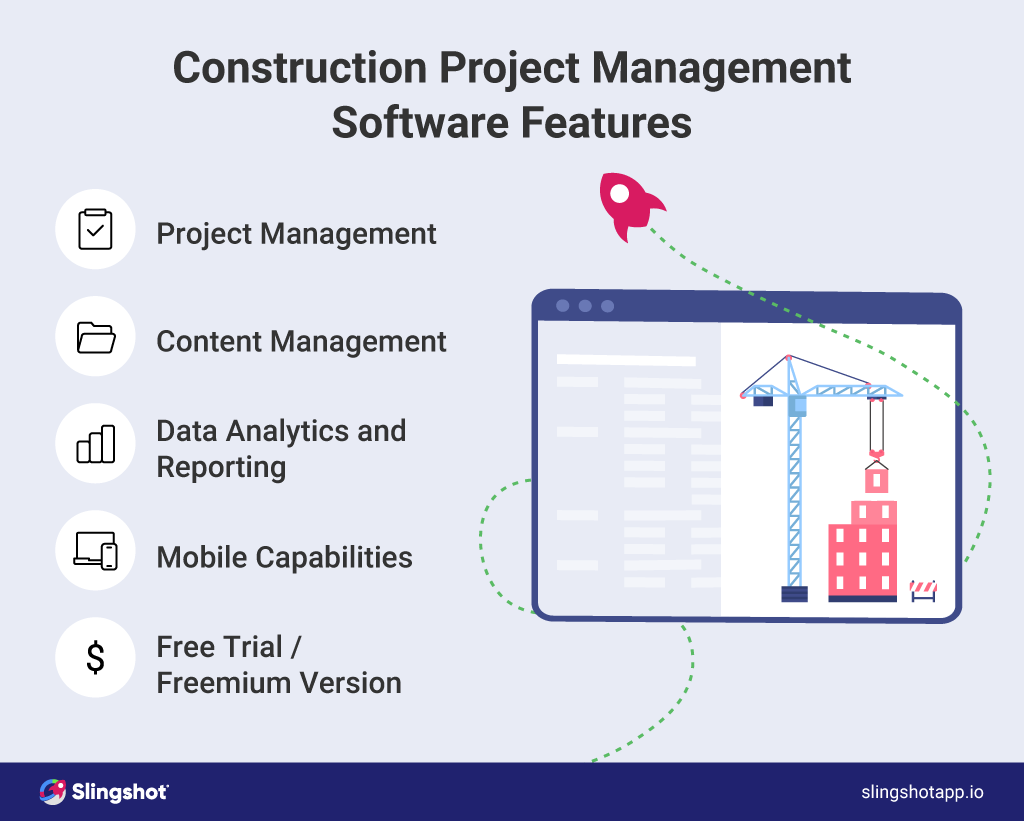 Effectively Manage All Your Construction Projects with Slingshot
With Slingshot's powerful construction project management features, you can save time and money on operations, exceed client expectations, and hit your revenue goals sooner. Here are some ways in which Slingshot helps that:
Powerful project and task management features: Slingshot allows you to break your projects into easily managed tasks and subtasks. You can better see your pre-construction, procurement, and construction projects' timelines with three interactive Gantt charts – Timeline, List, and Kanban. Construction operation managers can set deadlines, dependencies, and priorities to ensure the projects remain on track and are completed on time.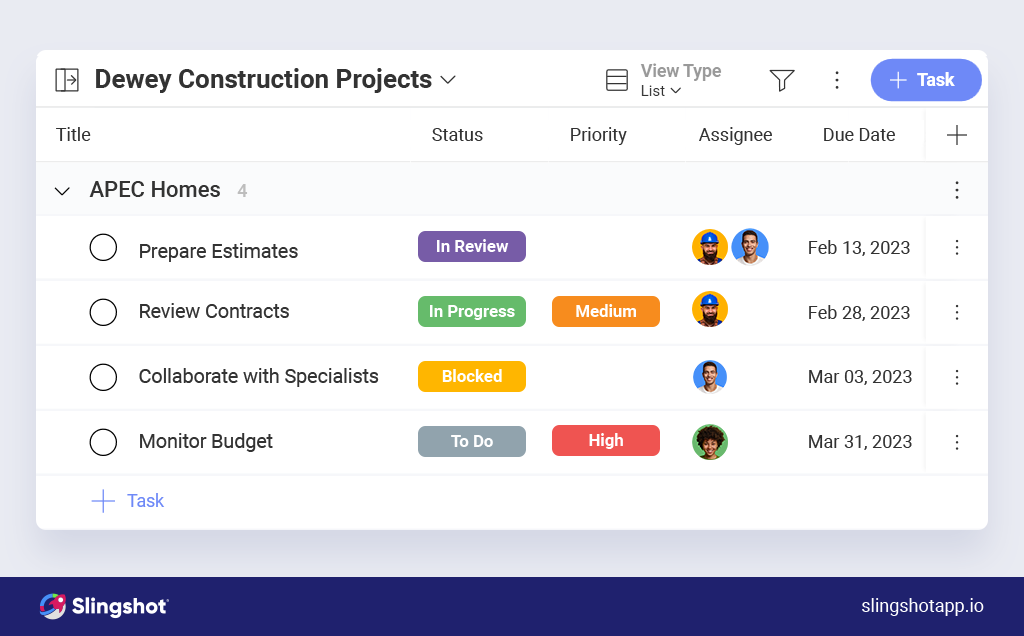 Collaboration and sharing capabilities: Slingshot simplifies collaboration between different teams and departments that must work together on projects. The native mobile application ensures that team members across the office and field can always have in-context discussions. Slingshot also makes keeping stakeholders, contractors, and clients aligned easy. With real-time data and reports that are accessible from anywhere, everyone remains on the same page. In Slingshot, you can invite external collaborators into your workspace for complete transparency while fully controlling permissions and access. 
Document sharing capabilities: Anyone with the proper access and permissions can upload, store, and share key construction documents and files in a centralized location. This makes it easy for others to access files from anywhere and reduces the risk of losing important documents. 
User-friendly interface: Slingshot is intuitive, so your users can get used to it quickly. It also offers self-service BI capabilities that simplify working with data and create insightful dashboards for users of all levels. With Slingshot's user-friendly interface, even non-technical users can easily select data fields from the tables within the data source, drag and drop them into separate sections, and instantly build beautiful data visualizations. 
Data analytics features: Slingshot provides real-time data visualizations and reporting so that construction operation managers, stakeholders, contractors, and anyone involved can get a better understanding of what is happening throughout the entire construction lifecycle. In Slingshot, you can seamlessly integrate the data from all your ITC systems, equipment, utilities, transportation systems, and more. Tracking production costs to reduce expenses and stay on budget is easy with interactive dashboards that allow you to drill down to any data you need for a deeper overview.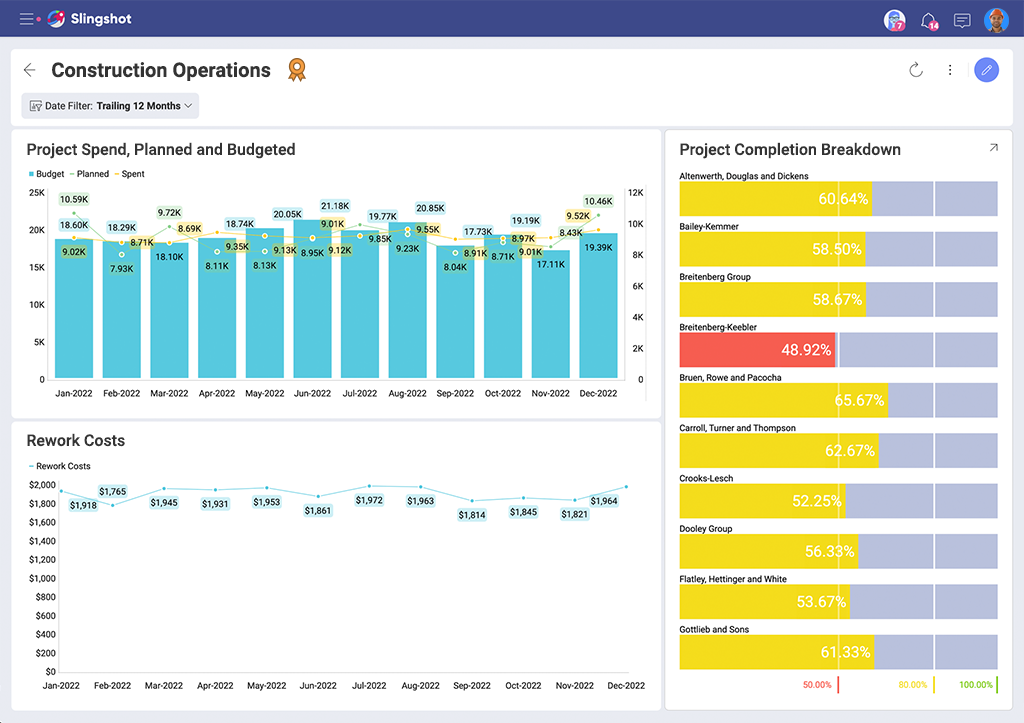 Integration with multiple data sources: Slingshot's seamless data integration is intuitive and easy to use. Integrate data from all your operational systems, SaaS systems, databases, spreadsheets, cloud services, and APIs, empowering easier data-driven decisions for more efficient operating results. Slingshot is also fully integrated with Azure Machine Learning Studio. It supports Google BigQuery, adding significant speed in processing big data with advanced analytics, allowing for the usage of huge datasets in seconds.  
Customization and scalability: Slingshot makes expanding and managing more complex construction projects easier as your business grows and evolves. Slingshot is designed to scale alongside your business and accommodate increasing data volumes and business users. 
Pricing: Slingshot has a subscription-based pricing model and offers construction companies three plans designed to suit any team regardless of size, type of project, goals, and objectives. It offers different pricing tiers and features, allowing you to choose a plan that aligns with your budget and requirements. 
Are you interested in learning more?
Try Slingshot for free and see how it can help you elevate your construction projects.