What Is Collaboration Software & Why Your Organization Needs It?
Collaboration software helps in reducing the stress of working with others no matter where they are located. It can help strengthen team relationships, save time and headaches, improve organization, and increases speed and efficiency. 
Bilyana Petrova
7 min read
Nowadays, the market is flooded with tools promising to simplify your employees' work processes and achieve that.
But do they really?
According to a Tuesday report from Pegasystems Inc.*, employees switch between 35 different job-critical applications more than 1,100 times every day!
How many applications does your team use?
Ineffective software and inefficient processes are impacting the productivity of each team and to avoid that many businesses are seeking help in collaboration software.
But is that the best solution for your team and needs?
In this article, we'll answer all your questions related to collaboration software. Including what collaboration software is, how online collaboration tools work, and more. 
What Is Collaboration Software?
Collaboration software refers to a type of software solution that enables individuals or teams to work together on a project, share information, and communicate with each other in real time, regardless of their physical location. Collaboration software may include tools for project management, messaging, file sharing, and other features that facilitate teamwork and improve productivity. 
Why do Companies Use Collaboration Software?
Imagine working on a project where the teams are distributed across the globe: the software engineers are in New York, the marketing team is in London, and your design management team is in Paris. Ensuring that everyone stays focused and in sync can be challenging given the fact that each team is in a different country and operates in different time zones.
So how can you make sure that everyone is in the know?
Collaboration software helps in reducing the stress of working with others no matter where they are located. It can help strengthen team relationships, save time and headaches, improve organization, and increases speed and efficiency.
Collaborative productivity software by the numbers:

Benefits of Using Online Collaboration Tools
Using collaboration software offers numerous benefits for businesses and teams. Here are some of the best advantages of using collaboration software:
Improved communication – Collaboration software allows team members to communicate in real time, making it easier to ask questions, share information, and resolve issues quickly. 
Enhanced collaboration – Online collaboration tools enable team members to work together seamlessly, regardless of their physical location, improving teamwork and increasing efficiency.
Increased productivity – Collaboration software provides a centralized location for team members to access project information and collaborate on tasks, reducing the time and effort required to complete projects.
Project management – On top of it all, collaboration software provides tools for tracking tasks, setting deadlines, and monitoring progress, making it easier to manage projects and keep everyone on track. 
How do Online Collaboration Tools Work?
Online collaboration tools help teams communicate and collaborate seamlessly around tasks and projects and make it easier to use an array of other productivity tools from a single platform. Collaboration software eliminates the need to switch between different apps, waste time, and interrupt your workflow by making it possible to stay within the same tool to get work done.
It also resolves the chaos of having files hosted in different services and apps and having to search through long lists to find critical information by allowing users to have everything in one place from where anyone can access everything that they need to complete their tasks.
Another way online collaboration tools work is that they keep all internal communication under the same roof. Forget about searching for messages in your inbox and chat apps again because online collaboration tools keep your conversations organized and transparent.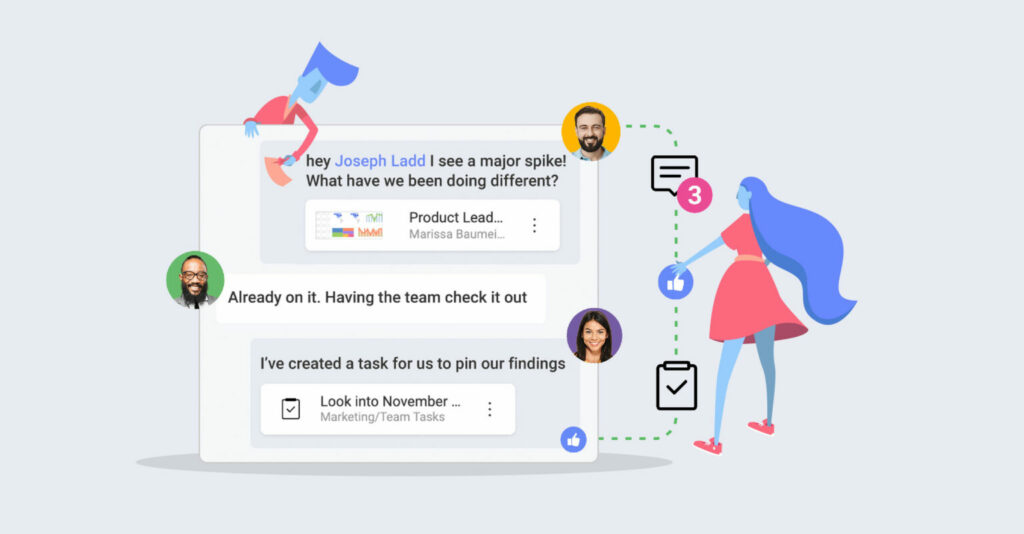 Online collaboration tools not only help your team work smarter but also help increase overall team productivity and track the progress of projects and tasks and get status updates in real-time.   
Collaboration Software Key Features
Collaboration software can widely vary in terms of its features and capabilities. Here are some key features that are commonly found in collaboration software: 
Messaging and chat – Those are essential parts of any collaboration software. Look for chat and messaging features like direct and group messaging, threaded conversations, in-chat file sharing, notifications, emojis, and reactions.  
Document sharing capabilities – Collaboration software typically includes a file-sharing feature that allows team members to upload, store, and share documents and files in a centralized location. This makes it easy for team members to access files from anywhere and reduces the risk of losing important documents. 
Project and task management – The project management tools allow team members to track tasks, set deadlines, and monitor progress. This feature can help teams stay organized and ensure that projects are completed on time.
Integration with other tools – The ability of collaboration software to integrate with other tools and applications that teams use can streamline workflows and reduce the need to switch between different applications, which can help teams save time and work more efficiently.
Mobile app – This feature is becoming increasingly important as more and more people work remotely or on the go, and need access to their projects, tasks, and work-related communication on their mobile devices, such as smartphones and tablets. 
How to Choose Collaboration Software?
These are the 6 crucial factors for selecting collaboration software for your team: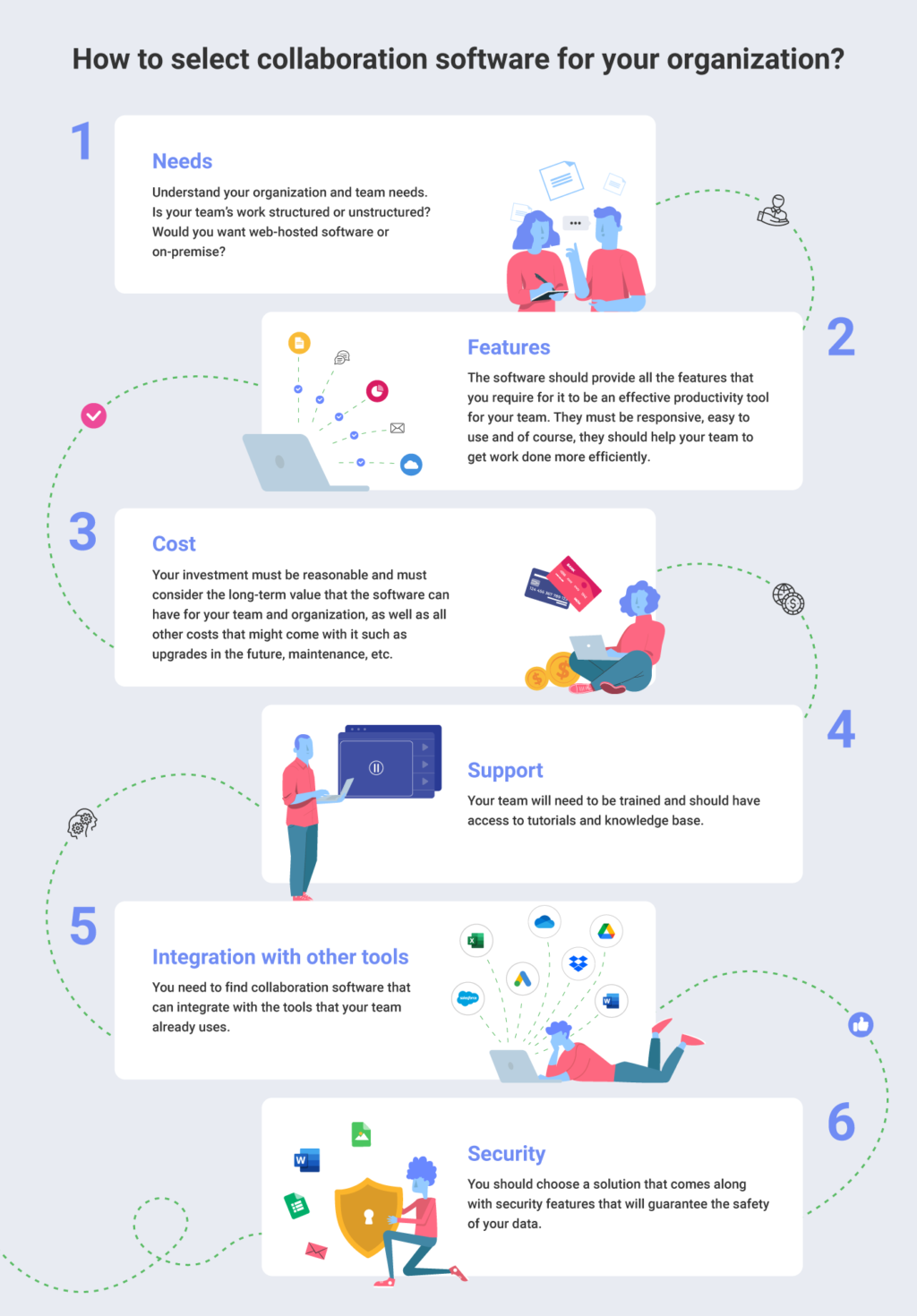 Your organization's needs – Start by identifying what you want to accomplish with the collaboration software. Are you looking for a tool that will help you manage projects, communicate with team members, or share files? Ideally all. Understanding your needs will help you narrow down your options and choose collaboration software that fits your organization's and team's needs. 
Features available – Look for software that offers the features you need, such as task management, messaging, file sharing, integration with other tools you use, etc. Also, consider the ease of use of the software and the ability to customize it to fit your needs.
Cost of the solution – Collaboration software can range from free to very expensive. Determine how much you can budget for the software and consider the cost of additional features and add-ons.
Support – Look for a vendor that offers reliable support and can provide your team with the necessary training, tutorials, and knowledge base.  
Integration – Don't ignore integration capabilities. If you chose a tool that cannot integrate with other tools needed by your team, then it won't help you achieve productivity and efficiency in your team.
Security – Check the security features of the software, such as data encryption, user authentication, and access controls. 
Slingshot Digital Workplace
Slingshot simplifies collaboration by incorporating modern project and team file management, chat, and data analytics all within one app. When you can easily share all these elements in one place with team members and share projects with external team members, calmness is restored. With robust productivity flows out of the box and is designed to work seamlessly to enable continuous collaboration workflows. This helps teams cut across collaboration silos, prevents work disruptions, and makes it easier for teams to work better together.     
*Source: Pegasystems Inc.