B2B SaaS Marketing Guide to Grow Your Business
This B2B SaaS marketing article will review some key components and strategies that can help you grow your business.
Bilyana Petrova
13 min read
With so many SaaS companies competing for a market share and B2B sales, it could be challenging to stand out and grow your business.
Luckily, B2B SaaS marketing doesn't have to be rocket science.
With the proper knowledge, experts, and tools, you can establish your SaaS brand as a leader in your industry, drive customer acquisition, generate revenue, and ultimately grow your business.
This B2B SaaS marketing article will review some key components and strategies that can help you grow your business. From establishing your product-market fit and embracing content marketing to incentivizing referrals and harnessing the power of account-based marketing, we will provide the insights you need to take your B2B SaaS marketing to new heights.  
What to Consider in Your B2B SaaS Marketing Strategy?
When developing your B2B SaaS marketing strategy, it's important to include several critical aspects of SaaS growth marketing for SaaS companies to ensure effectiveness and success in reaching and engaging with potential customers. Here's what to have in your B2B SaaS marketing strategy: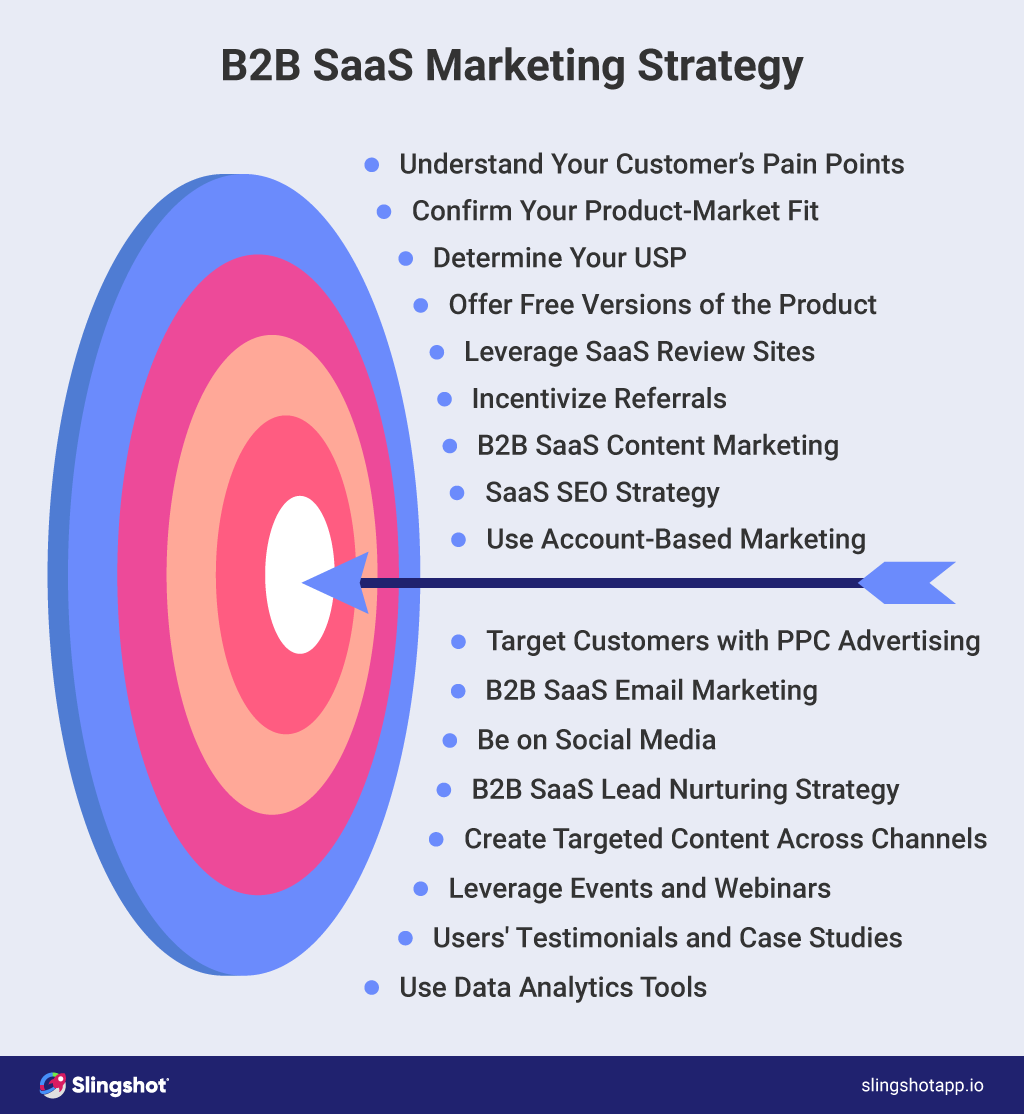 Understand your customer's intent and pain points
Understanding your target audience's pain points is crucial to any B2B SaaS marketing strategy. By knowing what your customers want and need, you can create marketing campaigns and messaging that speaks directly to their needs. You can use this information in many lucrative ways, like developing new products or features.
Confirm your product-market fit
According to Failory, 34% of startups (especially SaaS ones) fail because of a lack of product-market fit. Unfortunately, it is too familiar for startups to rush to market without knowing whether anyone is looking for what they are selling. If you expect someone to pay for your products or services, you had better make sure it meets their needs.
To overcome this common startup/SaaS challenge, you can start with these steps:
Research your target market to determine whether there is a need for your product or service
Create a buyer persona 
Determine the problem that your product or service will solve (value proposition) 
Plan out the features of your minimum viable product (MVP) 
Develop your MVP
Test your MVP with your target audience 
Doing this, you will be closer to finding your product-market fit and ensure that you won't become part of this 37%.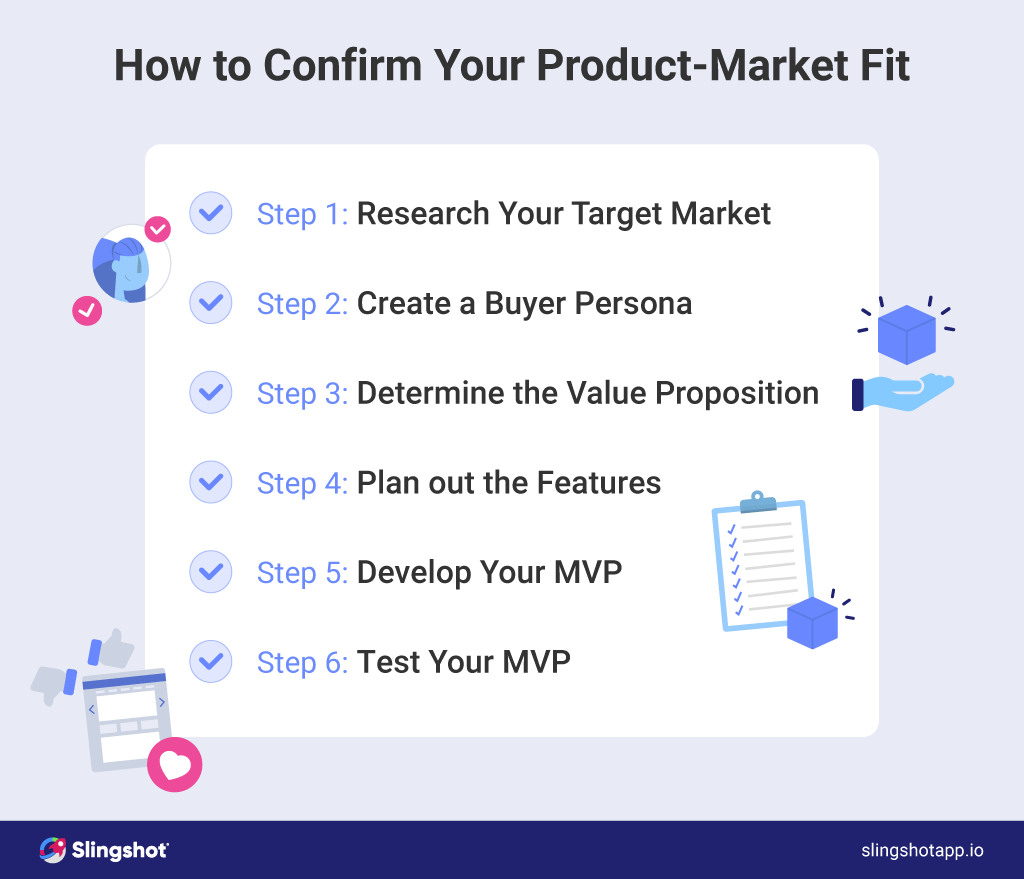 Determine your USP
Determining your Unique Selling Proposition (USP) is critical to any B2B SaaS marketing strategy. Your USP sets your software apart from the competition and communicates its value to potential customers.
Here are some steps you can take to determine your USP:
Identify the key features and benefits that matter the most to your targeted market
Analyze the competition
Identify your strengths (be its capabilities, features, expertise, technology, or something else)
Define your USP
Test and refine
Your USP will be front and center in your B2B SaaS marketing efforts, so you should keep it simple, memorable, and easy to communicate with potential customers.
Offer free trials, freemium versions, and personalized demos
SaaS companies are in a unique position to provide customers with a free version of their product, so those potential customers can try your product, compare it to the competition, and determine whether it is worth the subscription. These free versions of your software are free trials, freemium versions, and personalized demos, and they each come with pros and cons.
Free trials – provide access to your software's full functionality for a limited time. There is often little to no cost in allowing a potential customer to try out your software. 
Freemium versions – provide unlimited access to your software for free but keep some key features and functionalities accessible only for paying customers. To offer a freemium version of your software, you should figure out ways to continue to monetize non-paying users. For example, up-sell features that expand your software's functionality, add storage limits or provide different levels of support for paying customers. 
Custom demos – whether you decide to offer free trials and freemium versions or not, at the very least, you should always have a way to provide your customers with a customized demo of your software. Customized demos are compelling as they establish a personal connection with your potential customers and teach them how to use your software to reach their business goals.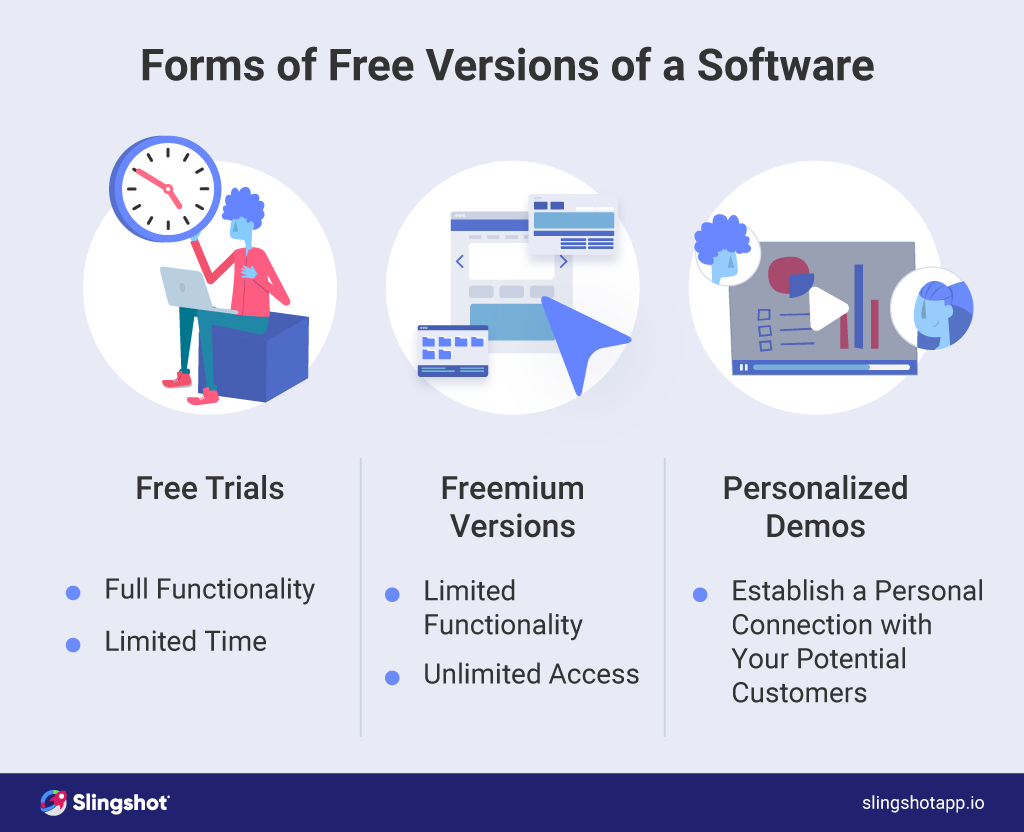 Leverage SaaS review sites
One of the best B2B SaaS marketing strategies is leveraging the SaaS review sites. These platforms allow you to connect and build trust with your potential customers by showcasing the value of your software, sharing product details, user testimonials, and accurate, honest feedback. As a bonus, SaaS review sites offer helpful marketing tools such as search optimization and paid ads to help you reach even more potential customers. Some of the best and most popular SaaS review sites include Capterra, TrustRadius, G2, GetApp, Trustpilot, Product Hunt, CompareCamp, and Gartner.
Incentivize referrals
Referrals are the most effective way to reach your SaaS business's new customers. Establish a referral program that incentivizes your existing customers from the beginning. By incentivizing referrals as part of your B2B SaaS marketing strategy, you can tap into the power of your current customers to become brand advocates and help drive growth for your SaaS business. You can create a valuable channel for customer acquisition and revenue generation with the proper program structure, rewards, and promotion.
Remember to make it easy for customers to participate, communicate the benefits of your program clearly, and track your results so you can optimize your program over time.
Embrace B2B SaaS content marketing
Content marketing is a strategic approach focused on creating and distributing relevant, informative, engaging, and valuable content to attract and retain your audience. This content should also help your targeted audience solve a specific problem. That is why you should produce high-quality and SEO-optimized content and persona-driven content.  
Your most important content marketing channel is your company's website blog. Invest time and resources into it to educate your prospects, build brand awareness, and drive profitable customer action.
Develop a strong SaaS SEO strategy
SEO and content marketing go hand in hand. You can create and publish as much content as you want, but it requires optimizations so your targeted audience can find it in top search results, so your efforts will be well-spent.
Your goal with SEO should be to rank up in the top 10 results for your targeted keywords, as anything beyond the top 10 results gets much fewer impressions and clicks. To achieve that, you need to focus on the three faces of SEO – on-page, off-page, and technical SEO. And that is a lot to master, so we recommend investing in an SEO specialist to help you achieve your SaaS SEO goals from an early stage. SEO campaigns are often long-term projects involving keyword research, content audit, SEO analysis and management, link building, and more, so time and dedication are of the essence.
Use account-based marketing
Unlike traditional B2B marketing, which often focuses on generating leads at scale, account-based marketing (ABM) takes a more targeted approach, focusing on individual accounts and decision-makers within those accounts. ABM aims to identify key accounts that fit your software offering well, then tailor your marketing efforts to those accounts specifically. ABM often involves a highly personalized approach that considers each individual account's unique needs and pain points.
Target customers with PPC advertising
PPC (pay-per-click) advertising can be a highly effective strategy for targeting customers in B2B SaaS marketing. Unlike traditional advertising methods, such as print or TV ads, PPC allows you to target specific audiences who are actively searching for your product or service based on demographics, location, and search intent.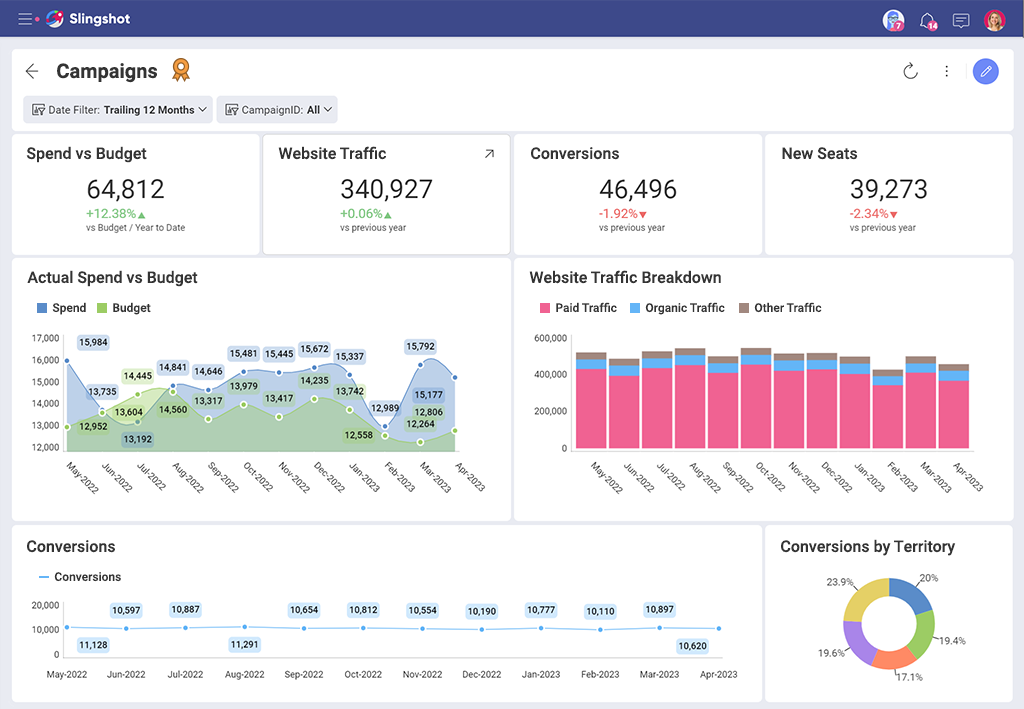 Harness the power of B2B SaaS email marketing
Email marketing comes with plenty of benefits for B2B SaaS marketing. It's one of the most successful and effective ways to advertise your business, increase brand awareness, and generate conversations and sales. The most important benefit of email marketing is that it delivers the most significant ROI for companies. Campaign Monitor reports that for every $1 spent, email marketing generates $38 in ROI for ten years in a row. That is an average of 3,800% return on investment for businesses. Email marketing allows marketers to send highly personalized and targeted emails by segmenting their email list and only sending emails to subscribers meeting specific criteria.
To learn more about email marketing, read our email marketing guide, including benefits, top email marketing KPIs, tips on improving your email marketing performance, and more.
Be on social media
Nowadays, everyone is on social media – your customers, your potential customer, your competitors, everyone. For that reason, social media is a must-have B2B SaaS marketing channel; it is where you can reach your targeted audience and ensure your brand recognition grows. 
Social media campaigns are not only effective for generating leads and increasing your sales. When done well, social media campaigns could increase your website traffic, grow your email list, and improve your business's overall brand image and engagement. Social media could be one of the cheapest methods to reach your B2B SaaS marketing goals and provide a variety of ways to display your campaign.
Develop a B2B SaaS lead nurture strategy
A lead nurturing strategy is a critical component of B2B SaaS marketing. It's a process that involves building relationships with potential customers, engaging them with relevant content and personalized communication, and moving them along the sales funnel toward a purchase decision. You can nurture your leads in various ways, such as through email marketing, content marketing, and social media.
Create targeted content across channels
Targeted content is the bread and butter of B2B SaaS marketing. You should target your content at the specific problems that your potential customers have and provide them with information on how to solve them. Furthermore, your content should be persona-driven. And although in the content marketing section, we talked about blogs being your primary content marketing channel, when creating targeted content, you shouldn't limit yourself to just blogs. You can create targeted content for your B2B SaaS marketing strategy in other ways, including webinars, ebooks, videos, infographics, and more.
Mix up the types of targeted content you create to appeal to various audiences and potential customers in various stages of the decision-making process.
Leverage events and webinars
Another B2B SaaS marketing strategy to consider is taking part in and organizing webinars and other events. These two provide an excellent opportunity to show off your software, establish yourself as an authority within your niche, and speak directly to your targeted audience. Furthermore, events and webinars help build relationships with potential and current customers, build brand awareness, and generate leads.
Users' testimonials and case studies
By incorporating user testimonials and case studies into your B2B SaaS marketing strategy, you can demonstrate how valuable and helpful your software has been for other businesses. Such content also helps in building trust and credibility with potential customers. With the right approach to collecting and presenting users' testimonials and case studies, you can create compelling content that drives conversions and revenue for your business.
Use data analytics tools to measure results and generate insights
Here at Slingshot, we believe that data should be at the center of all your B2B SaaS marketing activities. Your ABM, content marketing, emails, and social media posts generate a wealth of data. By analyzing it, you uncover insights needed to ensure you deliver successful marketing campaigns in the future. Data tells you what is working and what isn't, where you should optimize resources for maximum performance, how effective your B2B SaaS marketing efforts and activities in generating leads are, and more. With this information, you and your marketing team can make better decisions and drive your future activities with data.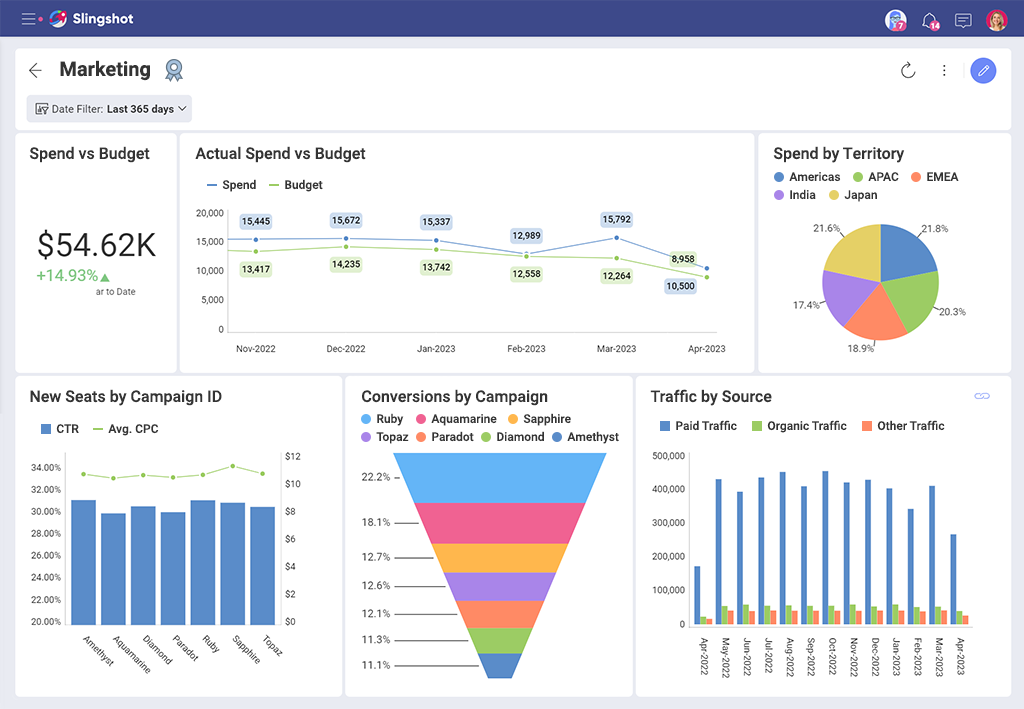 What Is B2B SaaS Marketing?
B2B SaaS marketing refers to the marketing strategies and techniques used to market and sells SaaS (software-as-a-service) products to other businesses (B2B).
How Is B2B SaaS Marketing Different than Traditional B2B Marketing?
B2B SaaS marketing and traditional B2B marketing share some similarities, but some key differences differentiate how to approach the two. The most significant difference between B2B SaaS marketing and traditional B2B marketing is that SaaS companies typically use a subscription-based model instead of other companies' single-purchase model.
Here are some other ways in which B2B SaaS marketing differs from traditional B2B marketing:
Focus on product-led growth: The product-led growth strategy, which uses the company's product as a critical driver of customer acquisition and retention, is preferred and prioritized by SaaS companies. It can involve offering free trials, self-serve onboarding, ongoing support and training, robust integrations, and using analytics to enhance the user experience.
Intangible products and services: Unlike tangible products, which can be felt, held, or experienced directly, B2B SaaS marketing is all about selling intangible products typically delivered electronically or through the internet, such as software or cloud-based solutions. This can make marketing intangible products and services more challenging. The sales process for SaaS products and services requires more education and information to be provided to potential customers.
Sales cycle: Due to a combination of factors, including clear value proposition, online purchasing, lower price points, the subscription-based model, and others, B2B SaaS sales cycles are often shorter. Of course, the sales cycle length varies depending on the complexity of the product/service, the size of the customer organization, and others. Still, without the need for face-to-face meetings, lengthy procurement processes, and heavy investments, customer organizations tend to make purchase decisions more quickly and easily.
Digital marketing channels: B2B SaaS marketing strategies rely on digital marketing channels to reach, engage, and promote directly to potential customers. Traditional B2B marketing may depend more on traditional marketing channels such as trade shows, direct mail, or print. Of course, many SaaS companies also sometimes use traditional marketing channels. Still, SaaS companies often use data and analytics to track, target, personalize, and optimize their marketing strategies.
What Tools to Use to Achieve Your B2B SaaS Marketing Strategy?
Slingshot is the only productivity tool that streamlines your marketing machine's moving parts. It brings together all the insights and tools that your team needs making it your marketing project control center from where you can easily track the progress of each B2B SaaS marketing campaign.
At its core, Slingshot is centered around data-driven features that help SaaS companies stay on top of current data for campaigns through dashboards, which are then easily shared. It also offers a set of statistical functions that allow you to receive more insights from your visualizations.
Slingshot integrates directly with Marketo, Hubspot, Google Analytics, and other leading marketing analysis tools to assess past wins and grow KPIs with each campaign.