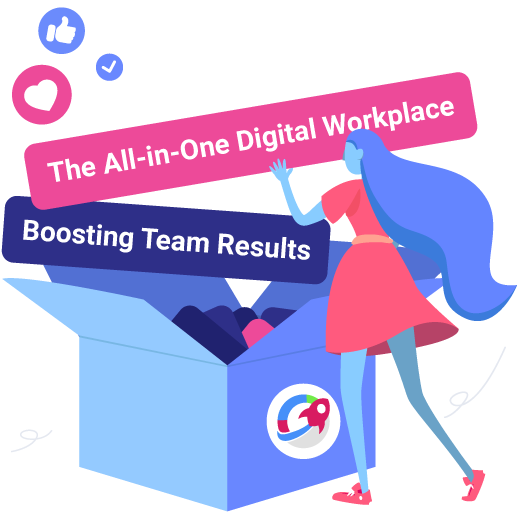 Data-Driven Marketing Teams: The Nature of Triumph
So how can a marketing team always be sure it is following the right insights and analysis in the right way? The answer lies in building a data-driven marketing team and intentionally embracing a data-driven marketing strategy.
Tsvetomira Petrova
13 min read
In this article, we will discuss the most important aspects of the data-driven approach for marketing and give you specific examples of data-driven marketing you can use right away, with specific marketing channels and personas. So, let's give in.
What Is Data-Driven Marketing
Data-driven marketing is the method of using data acquired through customer behavior by organizing, analyzing, and applying it to the future approaches of the team. By basing their efforts on factual data instead of gut-based decisions, marketing teams can improve their overall customer experience and move towards bigger profits and revenue.
As a key business strategy and one of the preferred innovative methods for marketing today, this approach must be understood fundamentally, so it ultimately helps companies optimize their results.
Why Is Data-Driven Marketing Important
To understand and analyze the data to its fullest potential, the data-driven marketing team needs to map out the customer journey, gather the data they have today, and then – the data they need to acquire next. They can include but not be limited to customer motivations, preferences, interactions, engagements, etc.
Trusting those metrics minimizes the trial-and-error traditional marketing is often associated with; a data-driven marketing strategy leads to smarter personalization, intelligent targeting, and improved predictions. Over time, this method becomes more and more accurate because it's supported by solid analysis, helping marketers always strike when the iron is hot.
The data-driven approach in marketing is all about optimizing – and since brands are so diverse, basing the strategy on gathered customer information is a guaranteed win. Insights taken from data provide marketers with solid ground to stand on in any situation.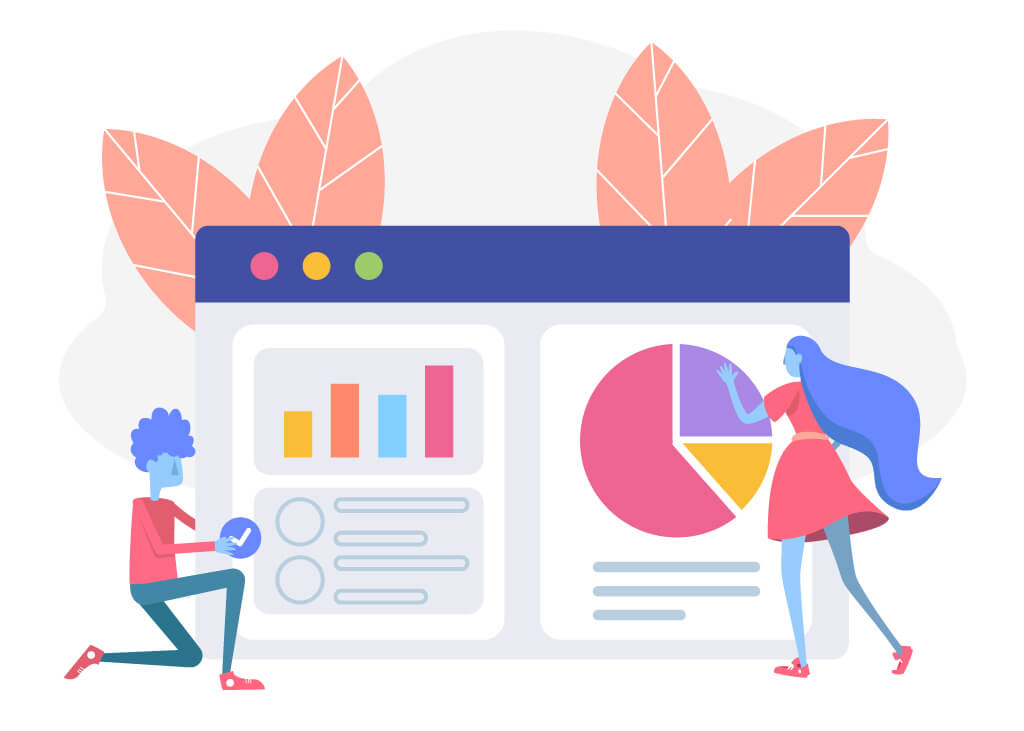 Benefits of Data-Driven Marketing
A survey from Forbes Insights says that 70% of senior marketing executives from brands, agencies, and related industry segments say data-driven marketing is a core element of a majority of their campaigns. Marketing teams that operate through a data-driven approach benefit faster in results for their brands. But why is this approach important?
Here are five of the most valuable benefits of data-driven marketing.
Smart Personalization
Data-driven marketing helps brands to tailor the right message to the right people. Data gives а deeper understanding of the customer's profile which is invaluable in the strive to really get under their skin and have campaigns that convert leads.
Implementing Clarity
Or, as we can call it: clarity in segmentation, the much clearer and more accurate determination of a customer's profile. With data-driven marketing, it's much easier to include/exclude the target audiences and drive more customer engagement.
Top Customer Experience
Data-driven marketing enhances customer experience and satisfaction by pinpointing and then focusing on specific areas for improvement, allowing for clear and methodical reach in the right direction.
Delivering in the Proper Channels
Through data-driven ads, marketers get to achieve a multichannel approach, ensure the message reaches the audience whenever and wherever is best, and shoot for the stars.
Optimized Marketing Budget
Thanks to data-driven analytics tools, marketers can have a greater understanding of where to boost their advertising budget and pursue the right prospects and customers in the funnel by investing respectively.
To achieve the data-driven marketing approach, you need to of course build a data-driven marketing team, whose goals are closely connected to establishing this strategy through drilling into data.
Things to Consider When Building a Data-Driven Marketing Team
Choose the Objectives
The business goals must be identified first and foremost – to build the strategy that is going to align your entire organization. These are the core objectives that will drive success fory your business.
Data Sources First
Decide which sources and which data your team must take into account to deliver the best tactics. This may include collecting data from different departments and through various means.
People are Important
Having personnel with diverse strengths in the team, ideally – people with analytical proficiency and inclinations, as well as creative savviness is crucial here. But even when your team is not data proficient, with the right tools they can pull data from different sources and build dashboards. With data visualizations, data is translated into a story and that's what every marketing needs to have insights fast.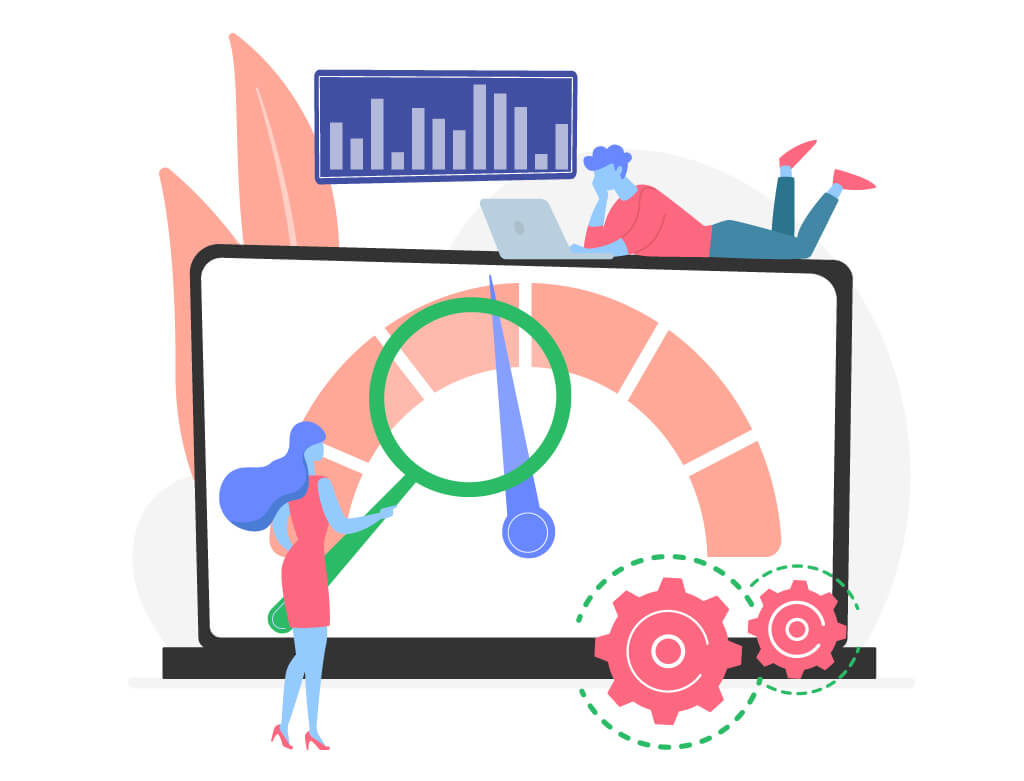 Organizational Unity
To be data-driven, your marketing team needs support – with data. That often includes cooperation from other departments, support from management, and generally just staying on top of the data-driven culture as a whole.
Teams that are following the data-driven approach are always in the mindset that data is what is most important in the business or for the brand. That said, such teams should learn to use only meaningful and relevant data and avoid making unnecessary reports which might muddy the water. Interpretation of what's truly important is one of the most important skills here and that comes into play with each part of the marketing process. This is also true for collaboration between cross-departments, like with account-based marketing.
Data-Driven Marketing Examples
In a data-driven marketing approach, teams need to always have data available and accessible in seconds. That goes for the marketing team and other departments that need to view the relevant marketing data – like the sales or product team.
Data dashboards are essential for C-level management in marketing as well. For example, look at the data a CMO or marketing director needs. This type of role requires a high-level data overview that gives them an idea of how their team is performing, campaigns and projects summaries or progress in different channels and KPIs for them.
Data insights here can be viewed in dashboards showing traffic, sales per month or sales per campaign, and revenue data comparing the current numbers vs. the target ones. This way, the budget is smartly reallocated, if needed, reduced on underperforming campaigns, and shifted to cover more promising opportunities.
Data-Driven Content Marketing
"Data are just summaries of thousands of stories – tell a few of those stories to help make the data meaningful."
When marketers rely on data-driven content marketing, they trust the analytic strategy to tell them what their content marketing campaigns should consist of. Again, we have data at the forefront, collected from specific audiences and providing the type of customer profile info that helps the set campaigns perform at their best. Data is the ingredient that helps with prioritizing what content you should be developing and ensuring your efforts are optimized.
With data-driven content, we don't just rely on thinking creatively – although that remains a big part of the result. It's the blending of creativity and data that data-driven marketing teams hunt for.
Data frames creativity and leads to effectiveness that helps your content connect with the public. Storytelling can captivate people; data can tell you which and how many people will be captivated by it and that, on its own, can alter the creative in the right way. It's all interwoven in myriad details, but here is what you need to focus on with data-driven content marketing.
Everybody works in sync in a content marketing team to achieve the perfect content piece or campaign – copywriters, designers, social media managers, editors, and SEO specialists. To stay smart in the decisions we make, we need to always take a look at the following:
Traffic: Measuring how many people you reach and what type of audience it is
Interactions: Seeing if people engage with the content, and which content drives them to (any) action
Conversion: Seeing what made people take the important action (e.g. download something, go to a website, register, etc.) – this metric tells you where your leads become customers
In most companies, there is always the question of who provides the report with insights. Who do we depend on to provide and analyze the data, so the team makes data-driven decisions faster? Do we need to add a data scientist to the marketing team?
There is an easy solution: bringing access to data to everyone in content production, with real-time visibility on content performance. Utilizing a data-driven approach can facilitate this process while keeping people engaged and focused on a common goal.
This data visibility can involve:
Writers have access to target keywords before they start writing
The content team has data on what content drives more traffic
Social media managers and copywriters have the data on what messages perform best on different channels
Video editors and the creative team have insight into what videos give better engagement
Data is at the core of the overall content performance, get better planning and resource allocation, and the best way to achieve it is to use the tool that lets everyone into the power of data with a few clicks and no additional training.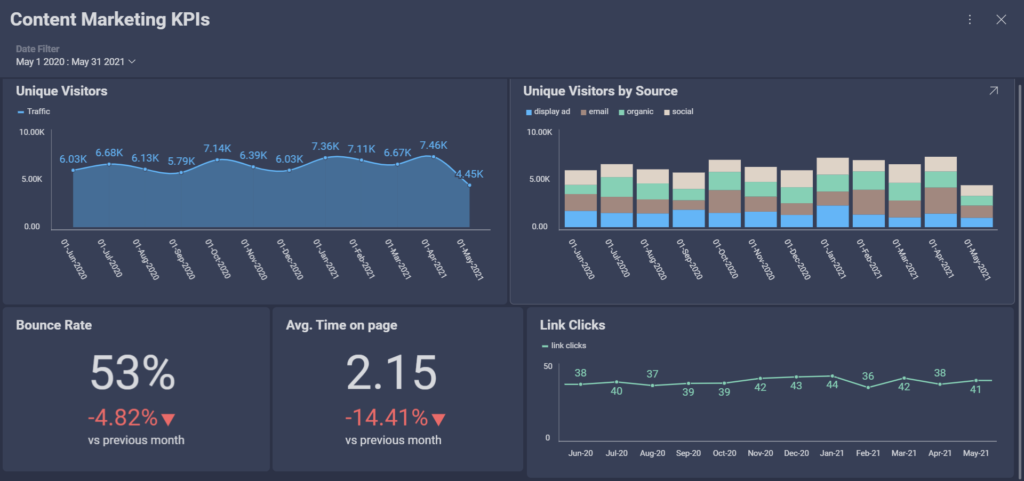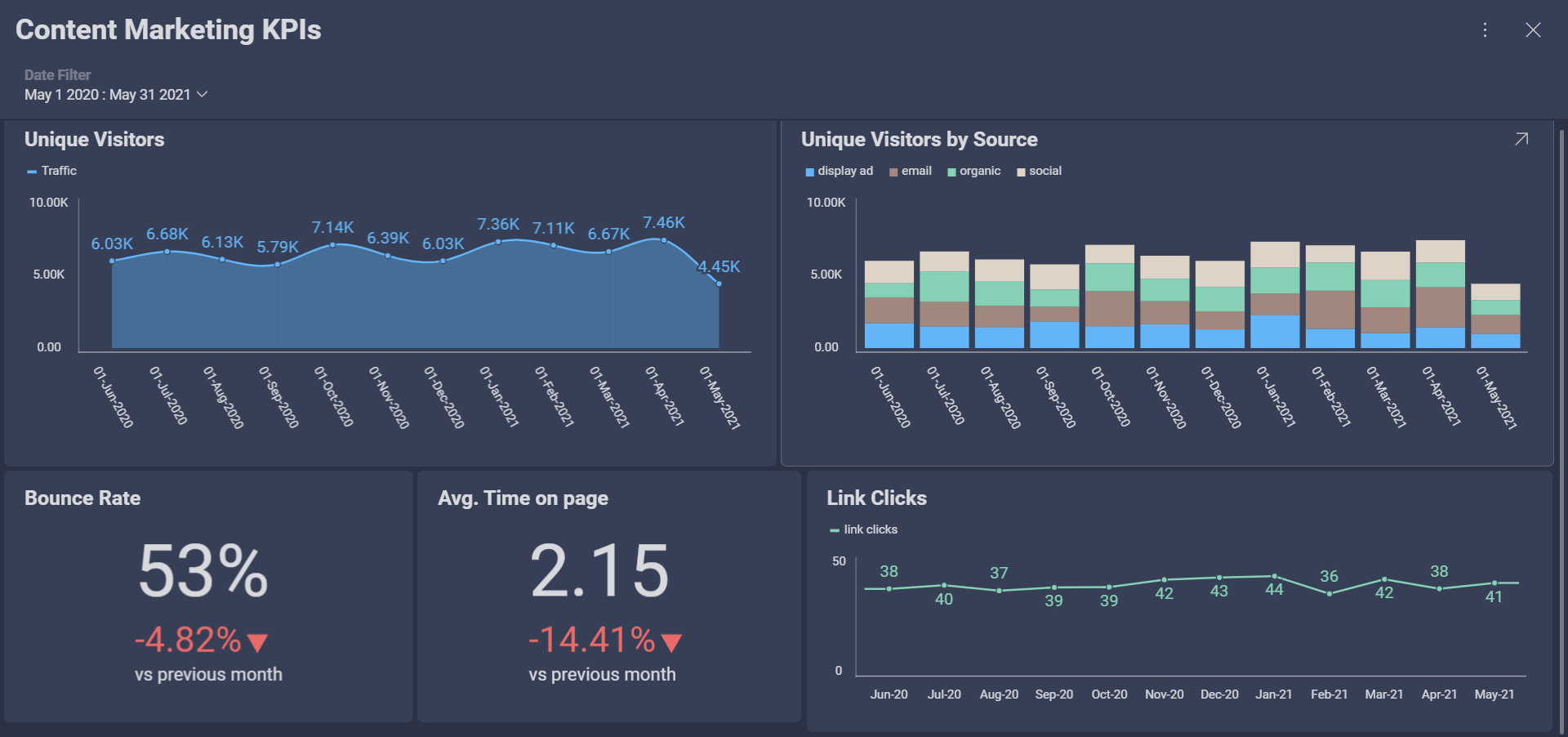 Data-Driven Email Marketing
To get into the core of data-driven email marketing, you first need to know that according to Ecosultancy , email marketing is currently outperforming all online marketing strategies, including SEO, PPC, and content marketing. Putting a data-driven approach on top of that is like the cherry on top of the pie. To utilize various kinds of users, however, you need some fundamental setup. Here are some tips for best appropriating the opportunities data-driven marketing gives.
Here are some examples and tips for best appropriating the opportunities data-driven email marketing offers.
Segmentation: there are multiple metrics you can look at for that, like demographics, purchase history, CTR, website activity, job title, type & amount of purchase
Relevant data: consider the kinds of information relevant to your marketing goals, like who opens the email, at what time, links they open, location, and actions thereafter. 
Measure campaign results: the KPIs we need here are open rate, CTR, and conversion rate, meaning – how many of your subscribers became customers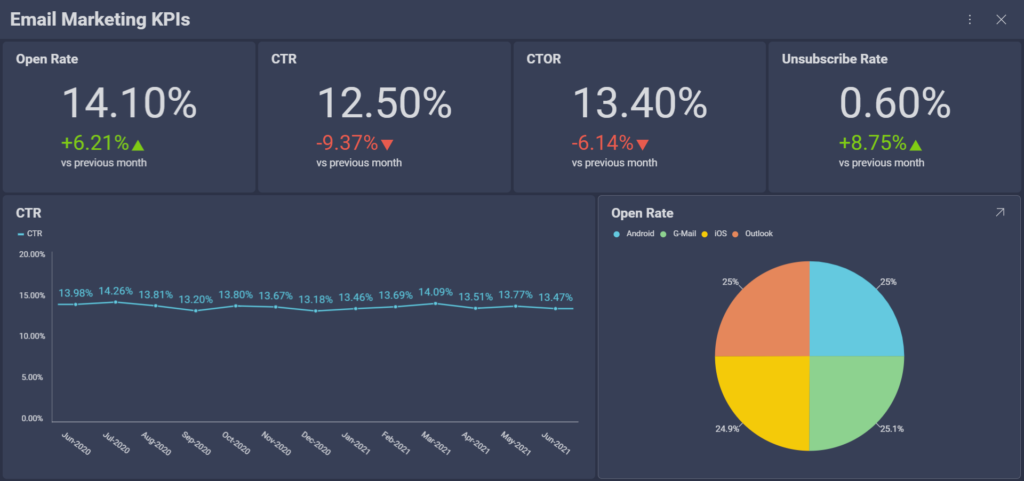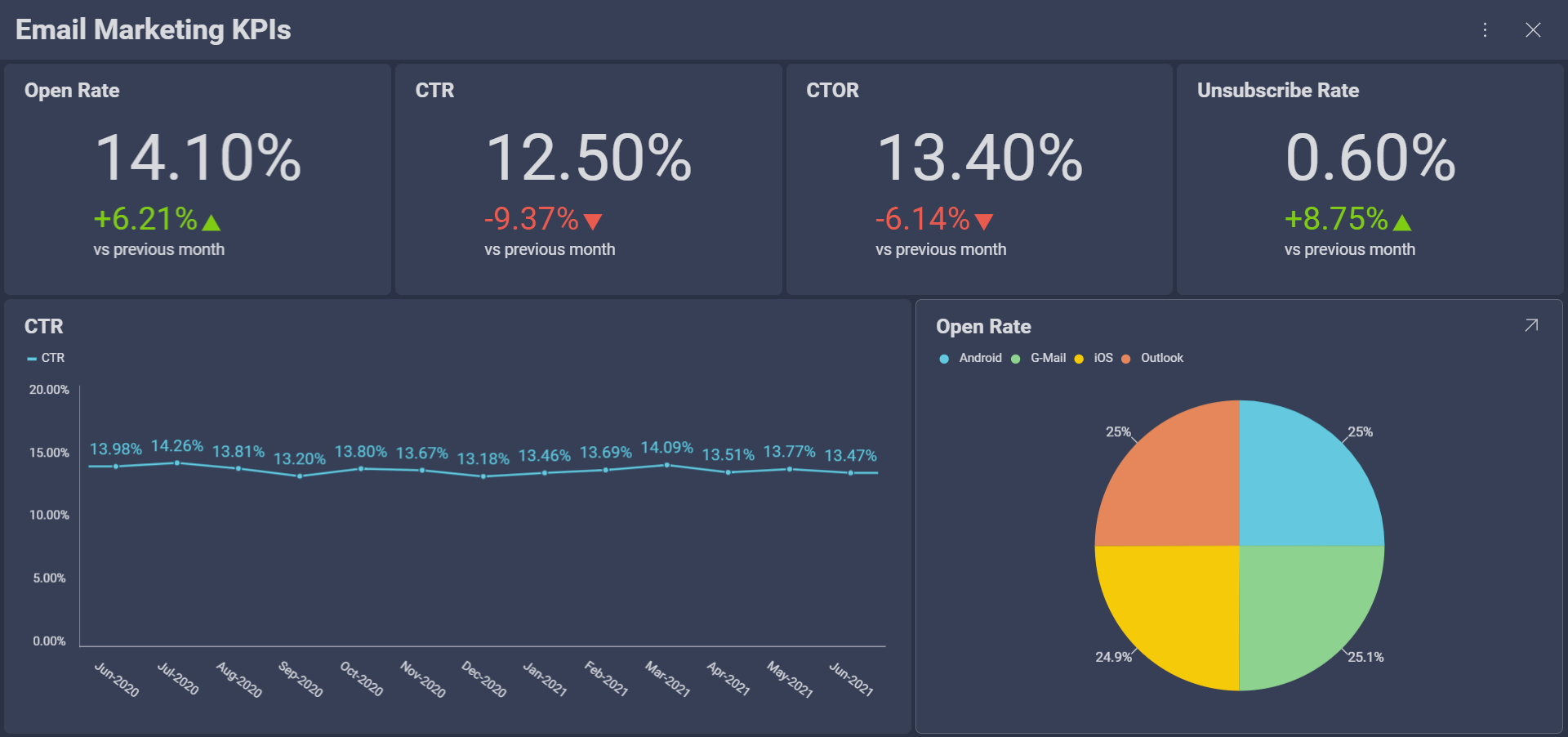 Data-Driven Social Media Marketing
With data-driven social media marketing, you get numerous benefits, including identifying the right personas and audiences, improving your brand's social campaigns, and reaching beyond the accomplished into new domains of success.
To strategize and successfully navigate the social media wilderness, you need to rely first on the numbers. Data analytics tools help you track your objectives as well as your goals through each channel and increase your leads. Here are just some of the metrics you should take into consideration with a data-driven social media approach.
Followers and reach: check out the data on your popularity to see where to focus more or touch up the approach
Conversion: see if your followers become customers and what drives them to it
Retention and referrals: see which content brought back some people and what made them share it and become ambassadors online
A data-driven social media approach will increase your brand's reach and help you track both your strong and weak spots, to make sure your KPIs are never left behind.
Social metrics: results of paid campaigns help you get the most out of your paid advertising since you can see where you go wrong and results shrink
Combination of multiple data channels: you need to combine your data, since the lack of transparency between the social analytics platforms – FB analytics, Twitter Analytics, and Google Analytics – makes you lose time and effort when those resources can be spent a lot better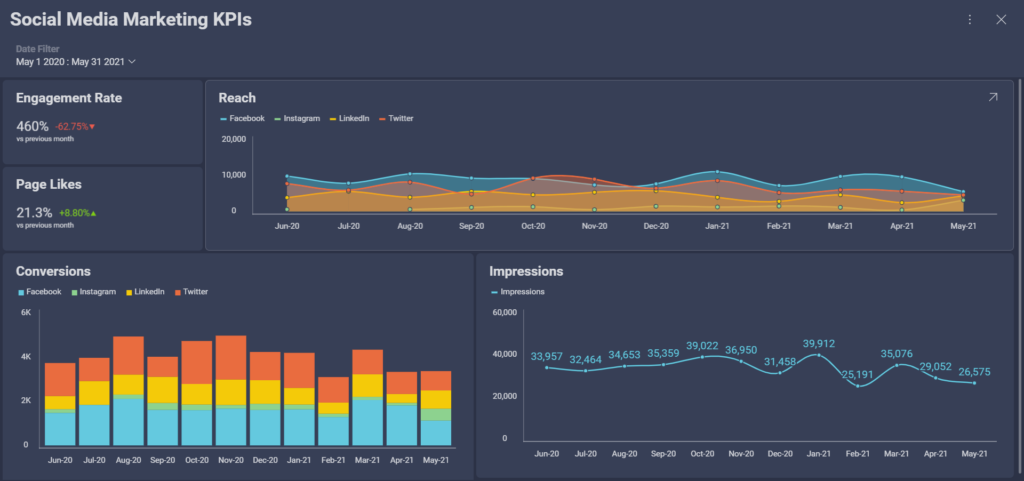 Data-Driven Marketing Tools: A Look At Slingshot
In the quest for creating the best data-driven marketing team and having data as the go-to supporting base for your marketing decisions, the importance of using good data-driven marketing tools cannot be stressed enough. The ability to keep up with the data-driven strategy and the data challenges it entails hugely depends on your choice of such a tool. To understand how such a tool unites your whole marketing stack and provides you with an easy way to track and organize the data, let's take a look at Slingshot as an example.
As an application, Slingshot is the unit that brings together all the insights and tools your team needs to unlock your full potential. It can essentially serve as your project control center for your essential marketing tools by integrating and connecting to the tools your team is using every day. You have all your data and files in the same tool, and you can quickly go from insight to action, by creating tasks on the spot (and as the need arises) and easily collaborating with your teammates.
But what can Slingshot be used for in marketing exactly? Here's a quick overview.
Campaign Launch Organization
You can keep key documents and project briefs for your marketing campaign at the forefront while at the same time gain quick insights into campaign timing, spot blockers, and clear paths to success without the need to sift through the chaos. Connecting to integrated analytics tools helps you improve KPIs with each campaign and save time by having the whole timeline in one place.
Content Calendar 
Never miss a deadline or get yourself lost in storage files. Your content creation process is optimized and tracking the metrics (page views, CTA clicks, and the most popular content pieces) easier than ever.
Account-Based Marketing (ABM)
Aligning sales and marketing directly unlocks the power of team selling. Slingshot tracks all your most important ABM metrics such as website traffic in Google Analytics, Salesforce opportunities by account, and email KPIs from HubSpot or Marketo to help you move from insight to action in seconds.
Event Management

Tracking the key metrics here and connecting to the hubs that let you see leads and opportunities with one glance is invaluable for event marketing. You have all resources in one place, map out event schedules, collaborate on ROI, track the budget, and much more.
Paid Campaign Management
Do not get lost in the ever-growing number of platforms marketing teams can advertise on – have your assets organized, gain insights and analysis easily and go from collaboration right into a project work back plan with one click.
SEO Management
Hitting your goals fast here is hugely dependent on tracking the data on performance – so design beautiful dashboards from any of your SEO tools like Google Analytics, Google Search Console, and some of the most common SEO tools like Ahrefs and Semrush; collaborate faster and with ease and follow best practices strategically. 
Your marketing data is willing to tell you a story – so it's important to take the time to listen. Gathering the information and taking the time to understand your customers' mindset through data is the key to your successful marketing plan – today and every day.