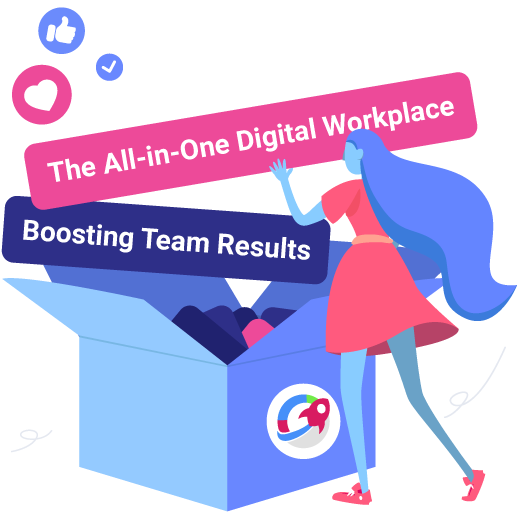 The Importance of the Perfect CTOR and How to Achieve It
Improving your CTOR or click-to-open rate in email marketing means being focused on the right choices and choosing to woo customers in a smart way. Read along to find out how to design better messaging and improve team flow in email marketing.
Tsvetomira Petrova
9 min read
Email marketing remains one of the most powerful marketing tools that have the most reach, beating even that of social media, bringing higher ROI while at the same time, being easily manageable. According to one study, 91% of marketers think of email as one of their most important channels, even before social media. But your email marketing brings success to the table only if you are tracking and improving the most important metric: CTOR (or click-to-open rate).
So how can the CTOR be improved so that it fulfills its role in your marketing campaigns and helps you build a better strategy for your content in the long run.
What Is Click-to-Open Rate (CTOR)
CTOR or click-to-open rate in email marketing is tracked by dividing the number of unique clicks by the number of unique opens. Тhis metric is essentially the most important indicator as to whether your email was successful. The CTOR fluctuates based on how strong not only your subject line is, but how strong the content is inside and how clients perceive it. According to a study by Campaign Monitor, a good CTOR now varies between 20-and 30%.
Understanding your CTOR makes it possible to design better messaging, tailor it smartly to your audience, and in time, find a way to resonate with them in the best way.
CTOR Formula & Usage
The CTOR measures the percentage of unique email recipients who have clicked on a link after opening your email. The formula for calculating your CTOR is:
– (Unique Clicks/Unique Opens) x 100
So, let's say, your email gets 100 clicks and 150 opens – by applying the formula above, you get a CTOR of 66%.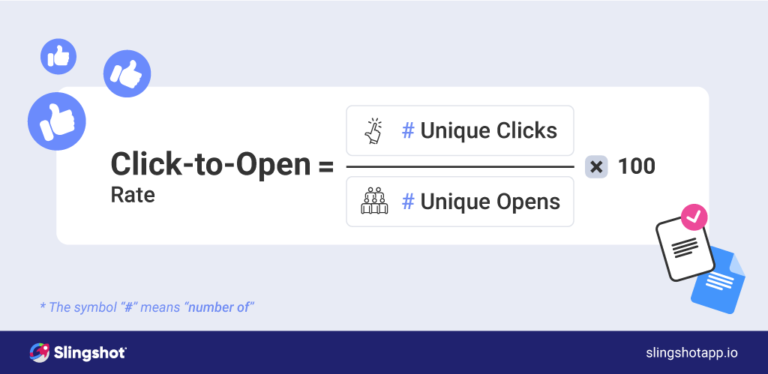 Using this formula to determine your CTOR provides companies with a fair idea as to whether the subject line, content and design of their email marketing are good. It's important to remember that in this formula, you must count only unique opens and clicks – not total opens or clicks. Meaning, if anyone returns to your email to click on the link a second time later, this second click is included in the total of clicks and not your CTOR, so it should not be included in the data.
The average CTOR across all industries is around 14.3% according to a report from Campaign Monitor. To achieve a good CTOR though, you need to find a way to resonate with the majority of your mailing list and that happens through analysis and planning your message to segments of your audience to identify what is working. That way you can adjust your CTOR performance to phenomenal heights and make the most out of your email marketing efforts.
Why Is CTOR so Important
Tracking CTOR for your business is one of the main things that provides a valuable understanding for your email campaigns. Meaning, that if you want to refine your campaign's design and content, you should be using CTOR as a navigator as to how.
Here is some of what tracking CTOR brings to the table as successful marketing goes.
Email Quality
Subject lines, visuals, CTAs, and body copy – all of these can be assessed through CTOR pretty accurately, to give an idea of what works and what doesn't.
Customer Insight
Every business depends on its customers, so choosing an approach that brings effective results in engagement and conversions is crucial. Through CTOR tracking, the overall performance can be improved and you can determine what strategies are most effective for the future.
Cost Efficiency
Knowing how to hit the nail on the head with your mail campaign brings new ideas to convert new leads and ultimately helps sales – decreasing the cost of lead generation.
Better Targeting
Fine-tuning your campaigns according to CTOR brings better targeting and better recipient groups, balancing out the additional marketing efforts of your team.
What Is a Good CTOR
Now that we've determined how CTOR brings a deeper look into your campaign performance and can improve it in time, let's take a look at how you determine if your CTOR is good or not.
Although the answer depends on the type of industry, audience, and content, you can still check your CTOR next to the average range of around 10-15%. This is a good place to start for your initial goal as you work on your campaigns and track your data insights for their performance. To check out what CTOR performance is considered good per industry, you can see the Email Marketing Benchmarks report.
CTR vs. CTOR: What's the Difference
Here are the main characteristics of CTR and CTOR.
CTR (Click-Through-Rate)
Тhe number of people who have clicked on your message's link as measured against the total number of delivered emails
CTOR (Click-to-Open-Rate)
Тhe percentage of people who have clicked on email links as related to the number of people who have opened it.
While CTR provides a good understanding of the overall content of your emails, CTOR helps you identify the effectiveness of:
Content
Design
Link placemen

t
Of the two, CTOR is better to determine if your content echoes the needs and preferences of your audience so you can focus on fine-tuning it to be more compellingly. Since CTOR takes into account only the actions of people who have opened the email, it measures only the performance of content in the email, not all of the inbox actions (like with CTR).
Essentially, CTOR is not a better or more important metric than CTR, but it provides a fuller picture and lets you analyze the success of the content within your email.
How to improve Your CTOR
Optimizing your CTOR can lead to more effective campaigns, more leads and conversions, and ultimately more revenue. Here are 4 steps you can take to improve your CTOR performance.
Create a Baseline
If you're using different campaign types (for different products, audiences, etc.) you need to set a norm for each of the types. This way you can make sure your CTOR stays in the right margins, campaign to campaign.
Tailor & Personalize
Use data insights to create a tailored approach to the specific audiences you're targeting. That way you can be really specific and thorough in the strategy you're using, getting to the right next steps in the right way.
The Subject Line is King
The first step is having your subscribers open the email – so subject lines and preheaders play a big role in the final goal you have (which is conversion). Create your own "it" factor to mesmerize people.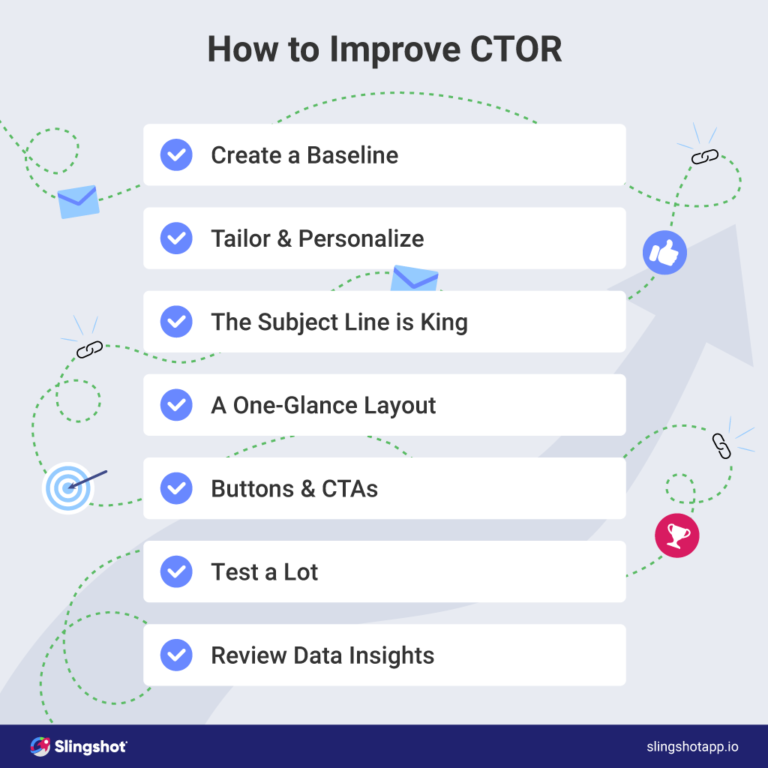 A One-Glance Layout
Operate on the idea that people are busy. So assuming they scan their emails, you need to influence them with a shorter, but more powerful copy and an email body design that draws their attention in instantly.
Buttons & CTAs
CTAs are important, but you shouldn't use more than 2, otherwise, you risk overwhelming your audience and confusing them as to where to click and why. Still, you can include graphical buttons in one place and linked text in another place, to cover all bases.
Test a Lot
A/B testing or split testing is still one of the best ways to try out different variables and experiment with your audiences. That includes font, colors, layouts, subjects and copy, CTA types, and everything else that can vary from email to email. Experiment smartly and always stay on top of your relevant data coming from each test.
Review Data Insights
Data is your best friend, so use tools to make it even easier for you to check out what's going on at every step. Create visualizations, and dashboards and share them with the relevant team members, to provide a clearer go-forward plan.
How Slingshot Helps Your CTOR Improve
It doesn't matter what type of email marketing campaign you're executing, the type of company you have, or if you are B2B or B2C directed. Email marketing is challenging, and marketers need to use any available tool to create a better experience and make smarter, data-driven decisions along the way.
Slingshot is the all-in-one digital workplace with data-driven capabilities that can help you execute your email marketing strategy from start to finish and achieve better CTOR along the way.
Track the Progress of it All
Every task in your marketing email campaign can be tracked very easily in Slingshot, with due dates, status, and discussions all in one place. For example, that could include using cross-team collaboration for an email newsletter, with experts in copy, visuals, and email marketing. In Slingshot, you can assign all elements of your newsletter to different team members to bring it all together for your campaign.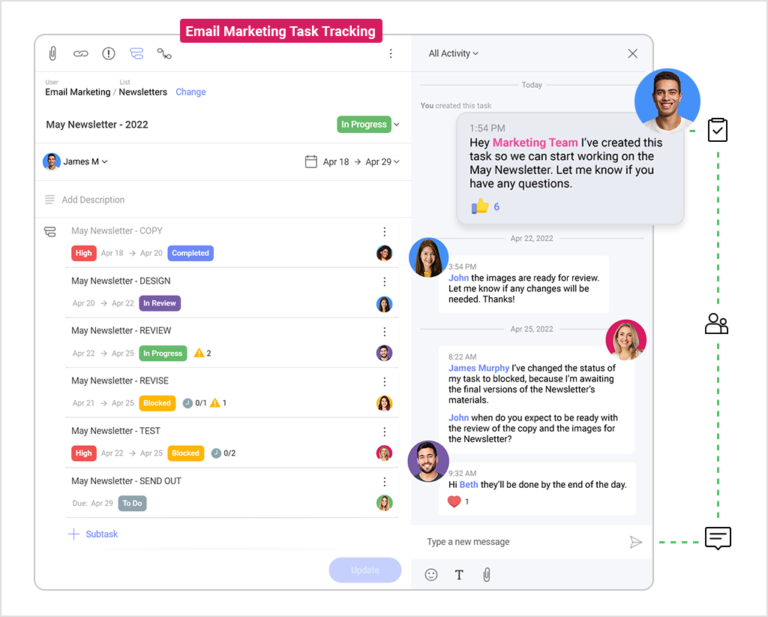 Team
Open communication is key, with creative teams, content, marketing, and sales teams and Slingshot is the perfect place for cross-team collaboration, having it all-in-one and communicating directly in the context of the tasks needed – such as first and final copy drafts, revisions from supervisors & marketing director, test and send date scheduling and feedback. Create discussions and chat around every task to keep everyone updated – you can also create a new task from a message with just one click.
Data Sources & Visualizations
In Slingshot, you can quickly connect to your different data sources like Marketo, Hubspot, and Salesforce Marketing Cloud and create beautiful dashboards within minutes, which then teammates can share and use for analysis. Have all your dashboards in a single place, create specific ones for progress tracking, and quickly check on the performance you're getting across all channels.
All Content One Place
Pin and share everything related to your email marketing campaign with your team in Slingshot – copy, designs, videos, and more – that way all information is always updated and available to everyone working on your campaigns. Pin from any cloud storage like Google Drive, OneDrive, Sharepoint, Box, DropBox, and many others.