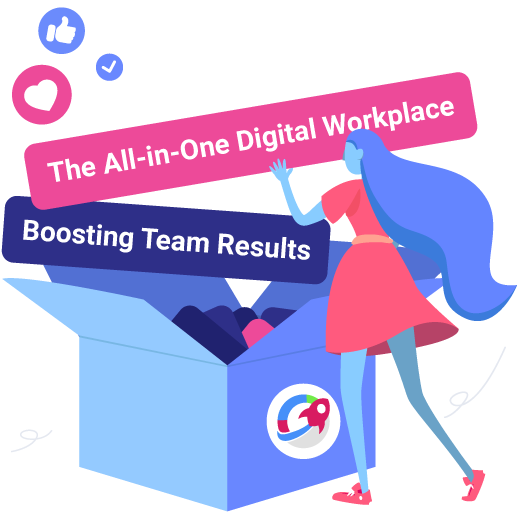 Creating a Startup Growth Strategy: Steps & Tools
For every new business, growing is one of the first and foremost goals. So bringing a good strategy forward means everything and usually determines how the company will continue to develop going forward. So what are the steps to take?
Tsvetomira Petrova
11 min read
Everyone who has gone on the path of creating their own startup wants to be one of the success stories. Starting with the right startup growth strategy is crucial, in order to bring your vision to fruition and help build the progress you need.
The good news? There are several ways to make sure you achieve startup growth – and we've combined all you need to know in this article.
What Is a Startup Growth: Scale-up
Startup growth is the rise of a new organization into its growth stage usually determines how big the company will be and measures the potential success.
The growth phase is important and sets the course ahead for sales, marketing, value, products (or services), and the framework for the future, determined by the company's ambitions. In this phase, the company must decide:
Which factors to consider when building a strategy
What kind of strategy will bring the most growth and revenue
What complex metrics and data to work on and gather
How to build a high-performing team to make all of this happen
Different startups have different characteristics when it comes to goals and strategy, but they usually have the same ambition regarding the scaling up of their organization. Size, diversity, style of management, and good collaboration between departments all play a role in the strategy – along with many other factors.
Stages of a Startup Growth
When we talk about pursuing startup growth and success, we need to take into consideration the several stages involved in a successful business.  
The 5 main stages of startup growth are: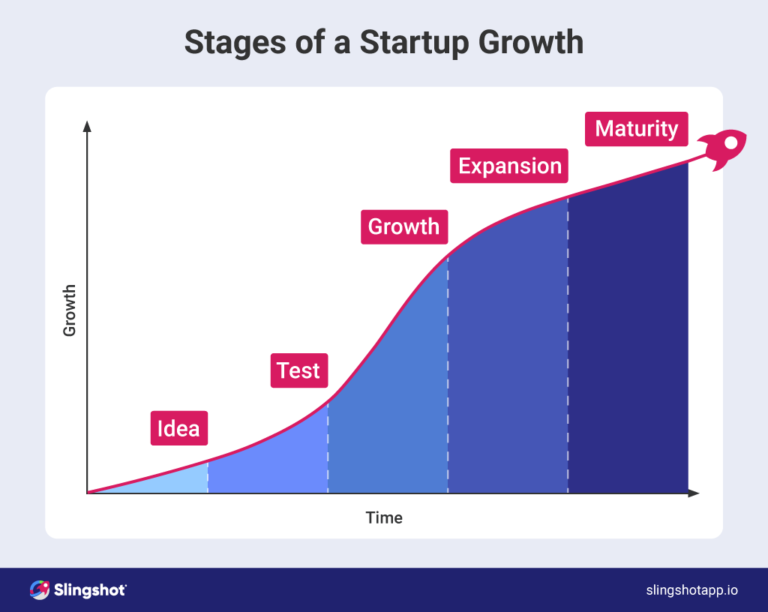 The Idea Stage
This is the developmental stage of startup growth – the spark that starts everything. Identification of the idea and deciding to follow a clear plan or a roadmap will guide you into your new business in this stage. All you need is a comprehensive plan, identification of the goals, and the ideal outcome in the targeted market.
The Test Stage
Тhis is the moment the idea stage is going into action. Here you find out if your startup is viable and if there is space in the market for it so you can establish a customer base and secure your funding. This is probably the "make it or break it stage" for business owners, but mostly it's a trial stage that measures your vision according to the market reality. 
The Growth stage
This is the stage that drives your business forward and upward in terms of team size, customer size, revenue, etc. Here is where you implement your startup growth strategy in full bloom.
The Expansion Stage
In this stage, the rapid growth has already happened and now you're testing how you can increase your distribution and customer channels even more. You already have a customer base and begin looking into how to grow by experimenting and finding the best path forward to develop further.
The Mature Stage
Here you have your established business – established on the market and proven its worth, evolved from the ground up. Even though this is considered the final growth stage for a company, many prefer to stay in the startup mindset, to always be in tune with the ever-changing environment and market needs, stay in touch with the latest trends and remain relevant.
Growth Metrics for Startups
Success is measurable – or at least it should be. To keep a close eye on your startup growth, you need to quantifiably measure different and important metrics. Here are the most important ones you need to track during each stage of your startup growth.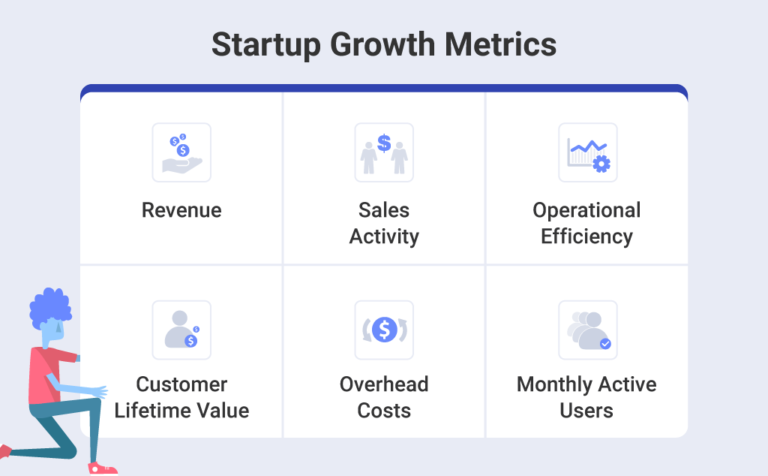 Revenue Metrics
One of the first and most important metrics to track is revenue. It can be checked every month or for a longer period, and it should always be considered the primary KPI in every stage of your developing company. Tracking these numbers, you can easily spot an issue with prices (for example) or the percentage of losses you've experienced.
Sales Activity Metrics
Tracking your sales team's activity and efforts, individually and as a group, is also really important. You can use a logging system or better yet, a task management system for keeping an eye on the progress of a project, customers contacted, achieved goals, etc. This data can later be used to determine if your team is struggling with their quota and how to improve the performance overall.
Operational Efficiency
The operational efficiency represents the calculated proportion between your sales efforts, your general expenses, and your sales figures. Related metrics include gross margins, burn rate, revenue for a set period, and others.
Customer Lifetime Value (CLTV)
Тhis metric shows you how much each individual client/customer is worth to your business from their first to their last purchase. Here you need to use historical data for the customers who are unlikely to appear again (and their customer lifecycle has finished) and analyze it to receive an accurate estimate.
Overhead Costs
This is the metric you follow to keep track of all the expenses that do not directly contribute to your profits/revenue, but that you have to keep paying for your business to keep running. This includes rent expenses, licenses, taxes, etc. Materials, labor, and production costs are not usually considered overhead costs. Your ongoing expenses should be monitored so that you can trim something when necessary.
Monthly Active Users
Тhis metric shows you how many people engage with your startup each month – usually measured on 30 days. It provides insights about seasonality, your sales movements, and success, and how many of your customers stick around for longer periods. You can also see what type of measures to take to keep engagement high and earn new customers, by looking at year-over-year trends. It's important to note though that not every startup has the same goal for several active users and this should be calculated per the individual KPI.
Tips for Setting up a Startup Growth Strategy
To launch your startup growth strategy so you can depend on it through each stage of your business, you need to create a plan for your smarketing team to follow. Although a growth strategy is not a marketing plan, it's a blueprint for your business that outlines the most important aspects you should take into account.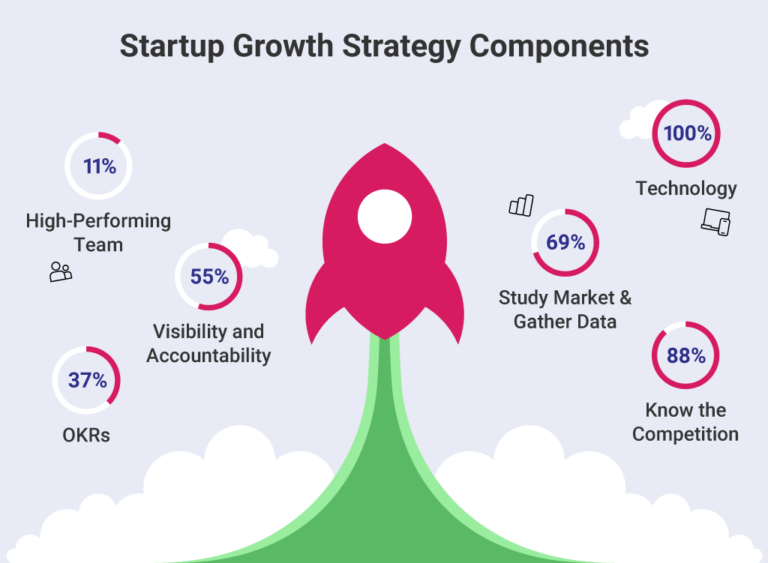 Create a High-Performing Team
A startup needs inspired and knowledgeable people – but how can you create a high-performing team that works as one? You need to unite your team and boost their performance by following several simple pieces of advice – read this article to check them out.
Set up Your OKRs
Be sure to follow the OKR (Objective & Key Results) method of setting goals for you and your team to work towards. These specific metrics will impact the overall performance and even confidence of your team. In your OKRs you can include metrics for the marketing funnel and more, so you can make sure you stay on top of things.
Foster Visibility and Accountability
Having mentioned the importance of creating a high-performing team, we also need to consider two of the most important goals for it in a startup growth strategy. All team members should have full visibility of the work being done and the progress of projects, as well as how that ties to the overall company values and goals.
Study Market & Gather Data
It's important to always stay on top of your market's interests, trends, preferences, etc. To fit the needs of your customers, you need to gather data and analyze it, so your marketing campaigns are always on spot. Data analytics is important to make sure you see if your content is working for your goals and customers, while also seeing which channels work best for you and which you need to strengthen.
An Eye on the Competition
Make sure to always looks at the strengths and weaknesses of your competition, singling out those startups and companies that are closest to your products, image, goals. Make sure to rely on social media but also analytics to see what they are offering and use this to improve your own operations.
Embrace Technology
Always look for the tools that will help your organization stay in tune, connected, and in constant collaboration. Be innovative in your choice of team collaboration software and data analytics software, and don't underestimate the power of data visualization for a better understanding of your data.
Toolset for a Startup Growth
Every startup is founded with the idea of continuity and "no expiration date" – people follow a dream and that dream, hopefully, becomes a successful company. To achieve the growth that leads to that final destination of stability, a dependable toolset for startup growth is an essential component.
So what should this toolset consist of?
Analytics Tools
To stay on top of current data for campaigns, KPI tracking, and can go from insight to action in seconds, you need an analytics tool that provides dashboards and helps teams connect to data in a meaningful way. Tools like Slingshot, Thoughtspot, Google Data Studio, and others can help for data insights and knowledge here.
A/B Testing Tools
Test your way to the best results. Best practices in campaigns and following different trends need to be A/B tested, so you get the necessary data to understand your customers better. Tools like Optimizely, VWO, HubSpot, and others allow for running A/B tests, automating sales processes, and getting higher knowledge and quality of your customer service.
Social Media Automation Tools
Software like or Hootsuite is great if you want to set up your social media posting across several channels automatically. You can set up a schedule and work out a plan for your ad hoc and your evergreen content, to achieve more visibility and engagement.
Lead Generation Tools
Automatically helping to build the relationship with your clients, the outreach/lead generation tools can be a true helper for a startup. Mailshake and Leadfeeder are just two of the tools you can turn to for personalizing your outreach tactics and developing a long-lasting connection with customers.
Collaboration and Connectivity Tools
Your startup's growth will be accelerated by quick project completion, meeting deadlines, and having everyone always aware of the status of tasks. Slingshot brings all processes together in an all-in-one workspace that creates easy flow for every type of company. Simplify user testing, bug tracking, and product development – and bring your business to the next level.
Accounting Tools
In growing your startup, you'll find out that every second counts – so why not save time and effort with an accounting tool like FreshBooks or Pably. Following up with automatic accounting will help you organize and establish the long-term goals for your company, as well as save time and have a lot more visibility.
User-Testing & Prototyping Tools
If your startup is product-based, you can include prototyping tools into your toolset. Indigo.Design is appropriate for prototyping in the MVP stage and getting built-in UI packs, design libraries, user testing, app building, and code generation.
All-In-One Tools for Startup Growth Hacking
Slingshot is an all-in-one digital workspace that can solve multiple needs in your growth hacking process and drive it forward with lightning speed. It is the solution that can help your startup evolve by bringing forward the power of team collaboration, data analytics, data visualizations, task tracking, and discussions in context. You can start with a free version of Slingshot and upgrade to one of the paid plans as your business needs grow. Here's what Slingshot can offer your startup:
Quick Data Insights
As a business intelligence tool, Slingshot provides you with dashboards, and analytics can quickly connect you to your different data sources and create dashboards within minutes. Dashboard creation and usage in the app bring all your data together into a full 360-degree view of your business.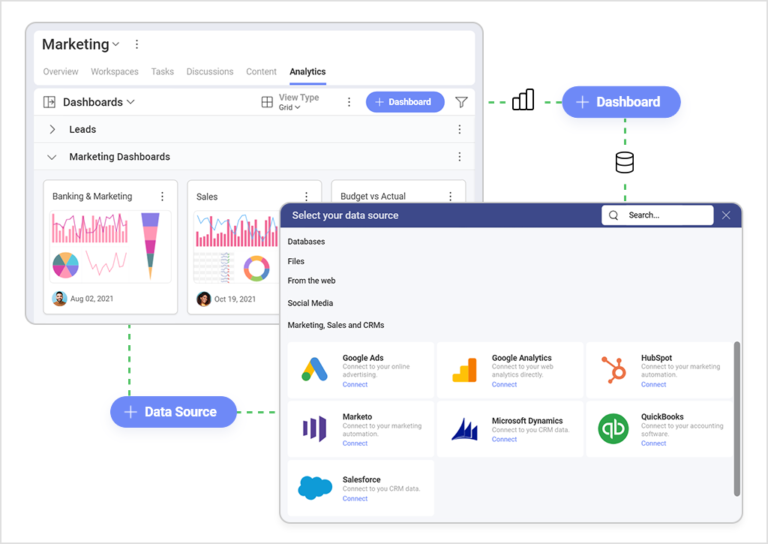 Project Management
Slingshot is a project management software that can improve performance immensely and enhance your startup growth strategy through utilizing resources wisely, controlling budgets, plan and tracking projects from beginning to end.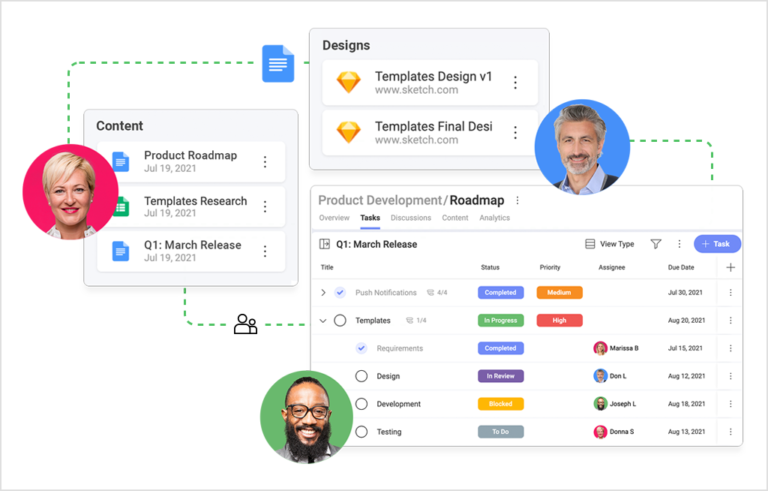 Clear Ownership
With its project management features, Slingshot assists with ownership, division of tasks, and keeping tabs on any issues or blocks throughout campaigns.
All Digital Assets in One Place
Slingshot unites every digital asset in one place, so everyone in your startup can collaborate efficiently across all time zones and always have access to the most updated files. All preferred cloud providers are integrated into the app, allowing for the upload and/or link to any file, on a task level.
Collaboration in Context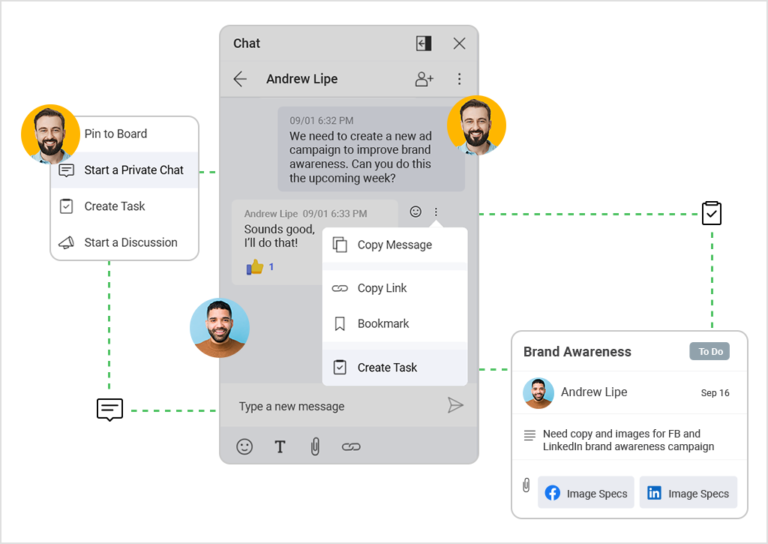 Slingshot has a chat function that runs both on a task level and in context, group chat and 1-1, so nothing gets lost. You can also assign tasks directly from a chat, so no idea is ever lost.