Providing Feedback on Slingshot: Here's How to Have Your Say

Providing Feedback on Slingshot: Here's How to Have Your Say
Casey McGuigan
2 min read
One thing is for sure – Slingshot is designed to drive success in teams with simple, smart, and transparent project management. Through the Public Preview, users can get their own impressions on how this all-in-one workspace removes the obstacles and frustrations coming from disorganization and getting lost between multiple tools. No time-wasting and designing a culture of ownership has never looked better.
Even better is the fact that during the public preview months of Slingshot, we will be continually adjusting and making short-term fixes, before launching even bigger features of the app down the line. More importantly, though, the feedback from you, our users, is of utmost importance to us. Understanding Slingshot's users' needs, and what they like and dislike about Slingshot gives us the ultimate advantage: knowing where our next effort in getting perfect needs to go.
There are two easy ways you can send us Slingshot feedback, depending on your preference.

1. Sending us feedback through the Slingshot App.

Right behind your avatar is a Feedback button where you can quickly submit what you love about Slingshot or what features do you need help with.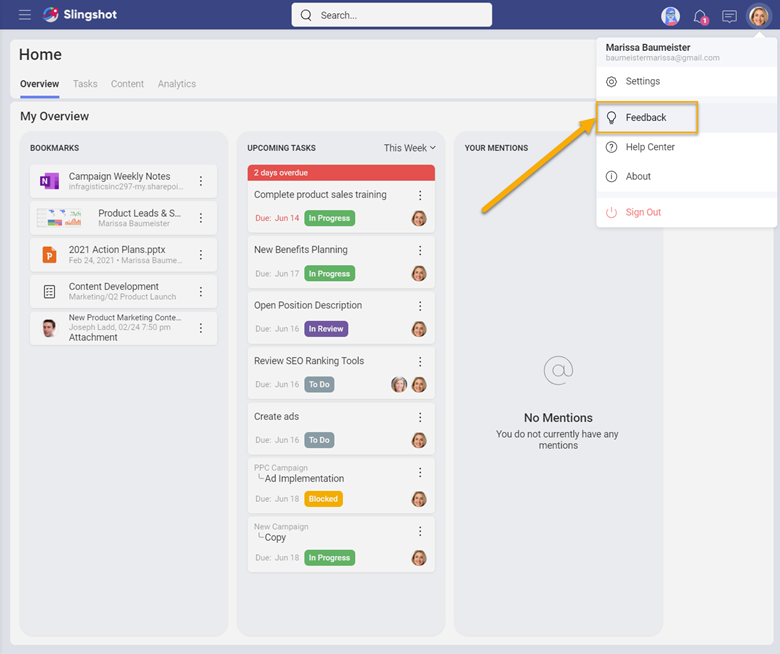 After you click on Feedback you can also give Slingshot a rating, a description for your feedback, and even take screenshots to provide us with as much context as possible.

2. Email Me, Casey McGuigan, directly.

Feel free to reach out to me – I would love to hear from you at any time at CaseyM@slingshotapp.io with any questions, product feedback, feature requests, etc.

Here are some of the things you can freely share with us:

– Your favorite features on Slingshot
– What features you use the most in the app
– What features feel hard to use or could be improved
– If you've experienced any issues during your daily work and the steps to how they happened (if you can provide screenshots, that would be awesome).
– What is the best way Slingshot has made a difference for your team
– In what way has your daily teamwork changed
– Specific advice for Slingshot
– What you wish was there but isn't and what is there that you don't use/need



Tags:
how to
,
Slingshot
Categories:
How To