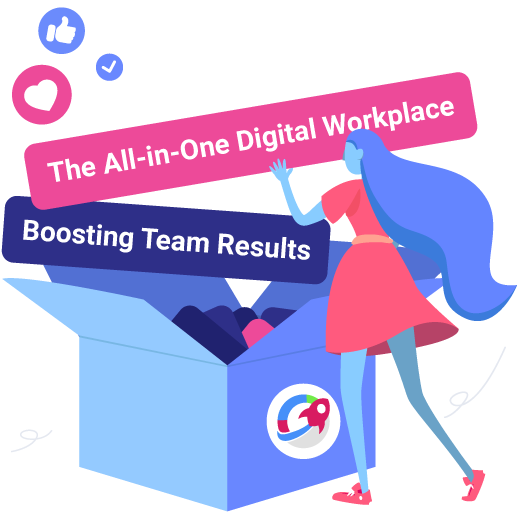 Agile Marketing: How to Adopt It for Your Team
Today, every marketing team under the sun has the opportunity to adopt agile marketing - an approach that takes more and more room in the heart of today's marketers, bringing forward unprecedented success for businesses.
Tsvetomira Petrova
10 min read
When we think of agile methodologies, our mind usually goes to software development, where they're most used.
But what if the agile methodology could be applied in other fields?
Well, they can.
According to a recent report, 51% of marketers have opted for agile ways of working in 2021. Another research shows that agile projects are twice as likely to succeed, compared to those with traditional project management.
So, what does agile marketing consist of and what are its main principles?
Agile Marketing: What Is It
Agile marketing is a marketing approach that at its core identifies and focuses on cooperation, flexibility, iteration, speed, efficiency, and result-oriented efforts.
Agile marketing is a tool that transforms how marketing teams function. In a rapidly changing digital world that needs a constant upgrade in the knowledge and trends used, the agile methodologies provide marketing teams with the ability to measure everything in a smart way, so they deliver the best results. That includes:
The clever analysis of data
Measurable insights that lead to action
More personalized messaging
Staying competitive
Staying on top of the newest trends
The core values that manifest in the agile methodologies are:
Putting individuals and team interactions above tools and processes
Using software instead of extensive documentation
Depending on customer collaboration
Being responsive and open to change
Applying agile concepts to marketing work provides a heightened and better focus on long-term planning with flexibility, usage of data to learn about customer needs, and overall – improved campaigns and results.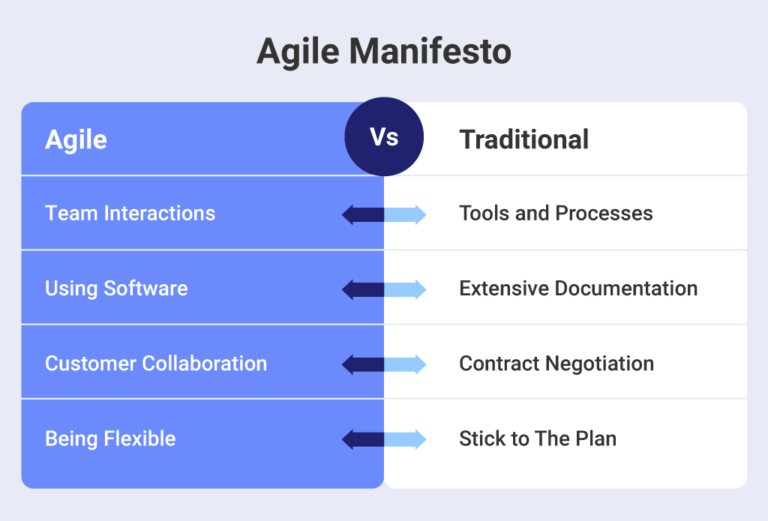 How Does Agile Marketing Work: The Gist
We've all heard about the agile methodology, but which of its components fit well with marketing teams? Here are the main principles:
Scrum
In the agile methodology, Scrum is often used in terms of having a backlog of activities set to be finished in an estimated time frame. In marketing, using scrum means breaking the marketing work into pieces that can be completed in a "sprint" of two or more weeks. With this so-called timeboxing, teams assess their progress easier and define what next steps should be completed next.
Kanban
The system that easily visualizes the work that is being done and its current status is godsent for marketing teams, or cross-collaborating ABM teams. A kanban board lets the team know with one glance what is in progress and what is yet to be done, as well as identifying the blockers along the way. This is useful especially with content creation, but it helps the overall workflow to quickly be completed.
Scrumban
Kanban and scrum can be fused together and used in a hybrid fashion – the so-called scrumban. Meaning – teams can use timeboxes that they visualize in a kanban system, utilizing the components of both methods for their needs.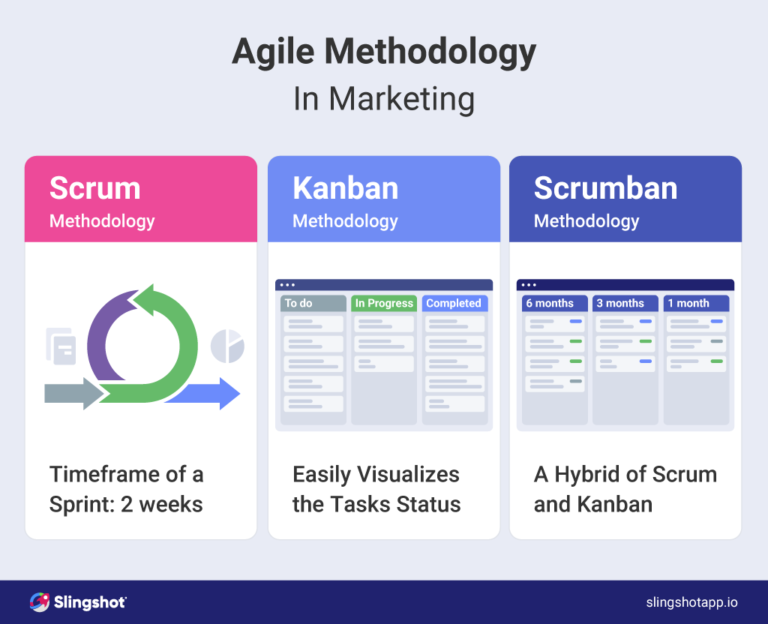 So how can your team adopt agile marketing? There are four main objectives to achieve it:
Objective 1: Use an Agile Manifesto (as listed above)
Objective 2: Team collaboration (involve your team with open communication in every project)
Objective 3: Data-driven decisions (rely on facts and data analytics to improve your marketing campaigns)
Objective 4: Use sprint cycles (produce iterative releases of parts of the whole project, adjusting the plan along the way)
Benefits of Agile Marketing
Learning the benefits of agile marketing for teams is vital to implementing them in the correct way. So let's take a look at them now.
Quick Adaptivity
Thanks to the flexibility that lies at the core of agile marketing, one of the best benefits of its usage are the quick adaptivity and ability to switch gears very swiftly when needed. For example, when certain campaigns are not currently performing well can be adjusted according to insights, this can change the outcome entirely in days. The needs of the market are constantly evolving, so quick adaptivity is essential here.
Constant Transparency
In marketing, there should always be enhanced visibility – especially when there needs to be a constant and close alignment with other departments. With agile marketing, teams provide that much-needed transparency with task management software, clearly showing the progress made, the decisions taken and the purpose behind every campaign – as well as blockers – until the project is done.
Good Workflow Management
The work of marketers gets better with agile methodology – and here, the statistics speak better than anything else. Around 80% of agile marketers say that using agile marketing is satisfying and 47% say they have achieved a higher quality of work as a result.
Higher Productivity
The same report states, that close to 40% of marketers using agile marketing are having more productivity in their teams. Since agile marketing allows for experiments and adaptivity that immensely help the construction of a marketing campaign, productivity and motivation are raised simply by applying those principles.
Blockers Spotting
Agile teams have the increased ability to spot potential blockers ahead of time and remove them, which improves the outcome. Blockers are spotted with planning and strategizing in portions, having a time frame for every activity and full visibility on the tasks consisting of each project.
Improvement in Alignment
As we said, agile marketing focuses on transparency, so the "marketing mystery" that many other departments are complaining from, is destroyed. It provides more trust between departments, an understanding of budgets, and an increase in accountability.
Agile Marketing Principles
Тhe values and principles that construct agile marketing can also be looked at as priorities by teams utilizing this method. To apply them, teams must fulfill the below requirements.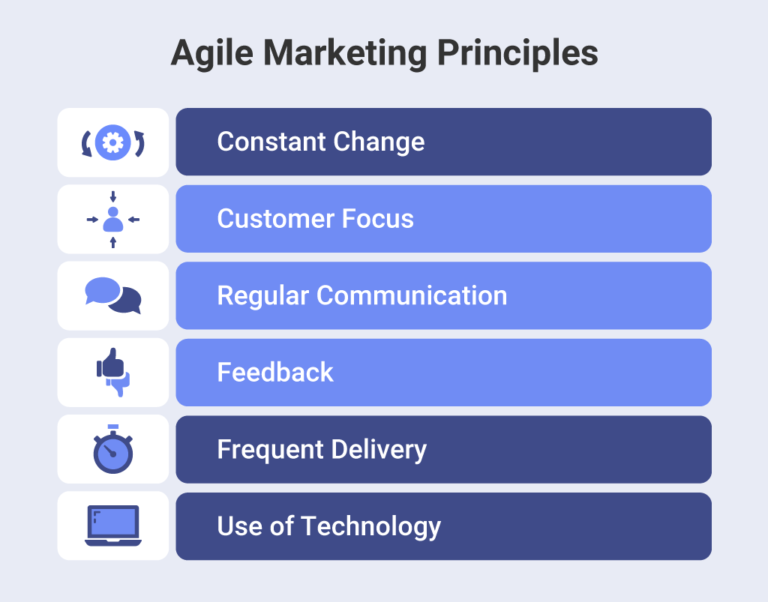 Welcome Change
And even plan for it. In agile marketing, teams need to stay on top of change and respond to it with competitive excellence. While traditional teams prefer to stick to the plan, agile teams embrace flexibility and change.
Customer Comes First
Customer satisfaction is a big priority and one of the main principles of agile marketing. The method always looks to the needs of the customer first and foremost to solve problems and build campaigns.
Collaboration
As we said, alignment with other departments (like sales), outside collaborators, and within the team itself is crucial. Agile marketing stands on the principle of regular communication and transparency.
Embracing Feedback
Feedback is big with agile marketing – and it is even embraced as one of the main ways to build back and learn. Feedback and gathering data are what agile teams depend on, to pivot quickly in the ever-changing digital environment.
Frequent Delivery
Agile marketing delivers quickly, with a shorter timeframe than traditional marketing teams. The preference is usually around a shorter timescale and progressing in iterations.
Progress Тhrough Тechnology
Agile methodologies are usually used in software development, but even in agile marketing, technology is still important. Marketing projects are built with greater ease and executed flawlessly with working software that brings the best out of everyone, helps with team collaboration, and syncs tasks and people quickly.
Is Agile Marketing Right for Your Team
Agile marketing chooses constant improvement and change over tradition and comfort in the known. So is this methodology the right move for your marketing team? Yes, if they follow the steps below.
Good Adaptivity
If your team is quick to adapt to change and always land on their feet – which is not uncommon in most marketing teams – then agile marketing might be the way to go to take them one step further.
Low Motivation
A bit of a strange requirement, but yes, if your team is feeling unchallenged with the traditional methods you use, agile marketing can bring them to speed by pushing them to think outside the box and be faster.
Low Collaboration
The feeling of a disconnected team is unmistakable. And for a marketing team – unforgivable. This cannot happen with agile marketing, so using it could provide the much-needed close collaboration your team is currently missing.
Need for Creativity
The agile approach pushes people to be more creative by helping them channel their energy into the project piece by piece, for small chunks of time each time. So this could be the boost your (stuck) team needs right now.
Need for Data
Projects that marketers put a lot of effort in, sometimes just don't happen. This leads to frustration and low motivation in teams. The agile methodology is much more focused on data and the analysis at the end of each sprint brings good insights into the next steps, so things are rarely "scratched", just adapted. Data is your team's best friend when it comes to agility, adaptivity, and innovation.
Agile Marketing Team Structure
Agile marketing teams are slightly different from traditional ones, by having some of the characteristics and roles that agile teams on the general have. In marketing, however, we can have
Horizontally-inclined marketers
Vertically-inclined marketers
The first one consists of the specialists who are more cross-functional, with a wider knowledge of disciplines, while the second are those who specialize in one area mostly. Every team tends to have people of both types. To really get into the agile marketing team structure though, you need to have roles specific to the methodology, like:
Agile Team Lead
This is the person helping the team with objectives and obstacles and the person they go to when they need something to be able to do their job better.
Marketing Owner
The role acts as a liaison between the marketing team and the stakeholders/decision-makers, as well as other departments like sales. The marketing owner also protects the team's time and effort so they are able to work to the best of their ability.
Scrum Master
Although the role is used mostly in development teams, it's not uncommon to have a person in an agile marketing team who creates the organization, provides clarity, conducts meetings, and follows each sprint closely, to help the team's process.
Principles of Agile Marketing You Can Use Right Away
If you haven't started with agile marketing yet and you don't have the structure – no worries. There are tools to help you achieve a quicker and more efficient flow in the methodology and Slingshot is one of them.
Here are some of the agile marketing principles you can use right away with Slingshot.
Team Collaboration
In Slingshot, you can divide and organize your teams, projects, and company departments in workspaces. In every workspace, you have chat discussions and accessible data analytics, project, and information management without the need to app switch.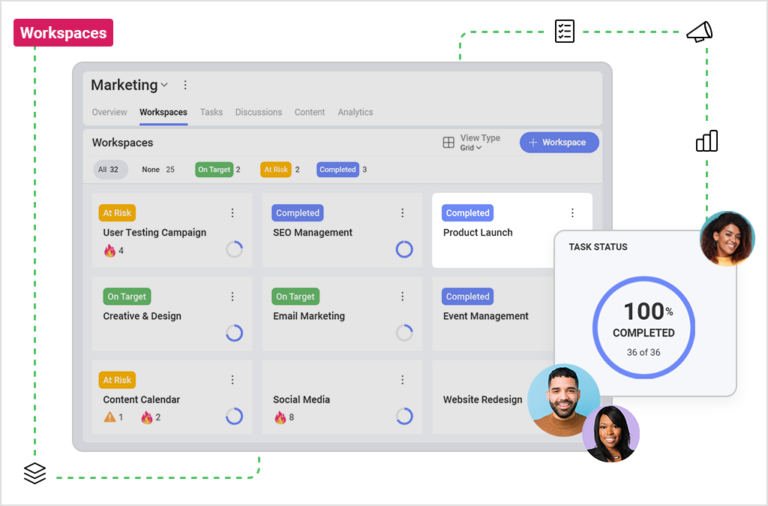 Timeline of Projects
Slingshot offers several views of each project, divided into tasks – the kanban view being one of them. Every task in Slingshot has its own subtasks, owners, due dates, status, as well as chat options that bring the team together to share feedback and always find the latest discussions on everything.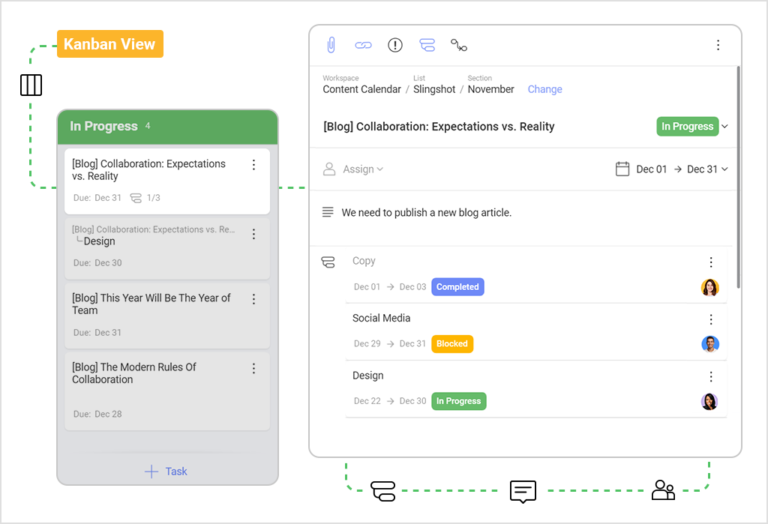 Content Stays Close
On every task in Slingshot, your team can easily find all needed content, in its most updated version – from any cloud storage like Google Drive, OneDrive, Sharepoint, Box, DropBox (check out the whole list HERE), it allows for drag and drop upload and pinning links.
Data-Driven Decisions
The app has a full business intelligence engine where you can connect to your data sources and create beautiful dashboards, which then teammates can use for analysis and data-driven decision making.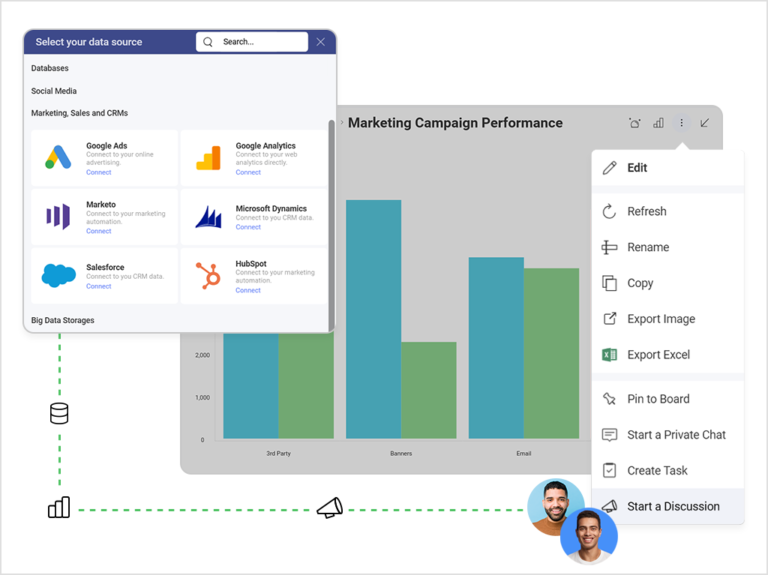 Clear Ownership and Task Tracking
With its project management features, Slingshot assists with ownership, division of tasks, and keeping tabs on any issues or blocks throughout campaigns. Slingshot also serves as a planning tool for the team, helping with ownership, and division of tasks and allowing for tracking the progress of everything day by day, with set due dates and priorities.
Easy Cross-Collaboration
In Slingshot, cross-departments and various teammates collaborate with ease, combining their unique functions – designers, content writers, sales specialits, etc. Now, all of them can collaborate in one app, keep all assets updated and pin the important files on best practices.