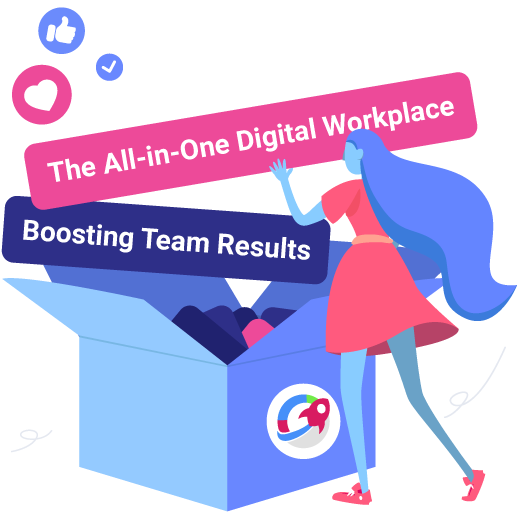 Why the Content Brief Is King of Content and How to Create It
Is there anything more frightening for a writing person than losing your groove when it comes to your next commisioned piece? Let's get you acquainted with how content briefs provide the best content marketing results.
Tsvetomira Petrova
12 min read
I've heard this saying among fellow copywriters, that being a good writer doesn't mean never going into writer's block. You just need to recognize it and take any necessary measures to change it up.
But in the content process at any company, many wheels are turning and several professionals must collaborate to get a flawless execution of even one content piece. This involves several steps, like:
Commissioning of the content piece
Writing the content piece
Reviewing and giving feedback
Final approval
And somewhere in there between all of these elements lies the danger of discrepancy between expectations and results. That's what you need to be careful about – and this article is here to help you find out how.
Beginning with the content brief.
What Is a Content Brief
А content brief is a document containing several clear-set instructions meant to guide a writer in drafting a piece of content. The content brief can be created by several different marketing team members, depending on the content piece that needs to be written – it can be an article, a landing page, a blog post, a whitepaper, or an advertorial copy for a specific campaign.
The content brief can come from:
The SEO specialist/ manager: an SEO content brief has the purpose to instruct the writer to target a specific search query, in cases where the content piece needs to earn traffic from the organic search channel
The product marketing specialist: when the content piece has to do with specifics of the product (or service) and needs to serve a specific purpose (a whitepaper, advertorial copy, landing page copy, etc.)
The marketing director/PPC specialist: when the content piece needs to support a campaign with certain demands, looking for more leads, etc.
A content brief can virtually come from anybody who needs the end result to be truly close to the vision of the team and the company as a whole. It sets expectations, shows the important focus, and saves valuable time in the review process afterward. Such a document can vary a bit, but there are specific elements that need to always be present so the writer has a foundation on which to start building, like:
• Type of content with a brief description of the specifics (title, word count, tone of voice, a channel of publication, audience)
• Оutline of the content piece, giving the main points and topics that need to be present
• SEO targeting, if the content piece needs to have specific target keywords to drive traffic
• Samples or specific examples of similar work (if applicable)
A content brief is supposed to create a solid base on which a content writer can build their piece – and this was established once again for me personally, as I was writing this article based on a content brief. And since only a minuscule 5% of marketers say that their organizations are definitely or somehow clear on how to run a successful content marketing campaign/ strategy – according to Digital Marketing Community – the content brief is truly a way to tackle that.
What's the Difference: Creative Brief vs. Content Brief
We've already established why the content brief must exist as an important stepping stone in the writing process and the content strategy. Having a well-written brief almost inevitably ensures seamless execution of the content piece that needs to be created.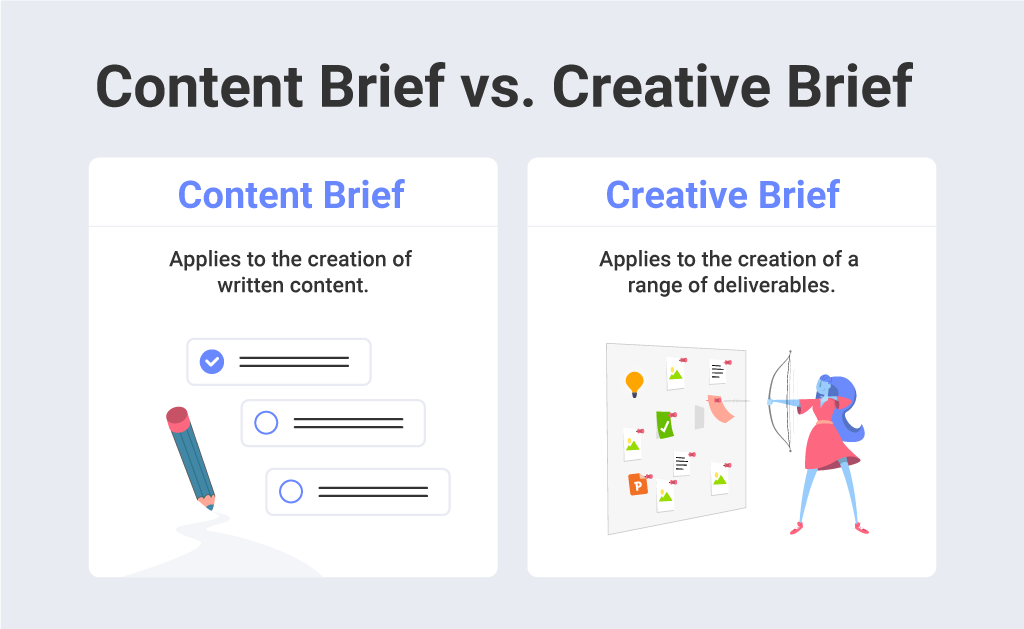 Still, many people think that the content brief in a marketing environment is the same as a creative brief. While they have many similarities, knowing the differences and distinctions when crafting them is very important for the successful delivery of the desired result. Here is how to differentiate between the two the easiest:
Content brief – applies to the creation of written content or copy, in the form of an article, whitepaper, landing page, ads, blog posts, copy for social media, etc., giving the editorial guidelines needed for achieving the desired result
Creative brief – applies to the creation of a range of deliverables, laying out brand requirements, necessary focus, elements, and overall goals; it can be used as a roadmap for the production of many types of assets, including visual ones like graphics, video, etc. for which specific guidelines are given (colors, size, elements, auditory, etc.)
For successful delivery of content and assets that work seamlessly into a marketing campaign, both types of briefs are essential to have and use in appropriate circumstances.
How a Content Brief Improves Your Content Process
To put it simply: content briefs are the link between your organization's content strategy and the quality content written. Through content briefs, writers know what strategy to follow and how to match the expectations the business has because they understand the goals better, and are able to craft content that brings clients, popularity, and success.
So let's take a look at the main benefits of having a content brief present as the first step of your content process.
Organic Traffic – If the goal of the content piece is to drive traffic from search engines, then involving your SEO specialists when preparing the content brief is vital. The content writers are able to rely on search data and user intent analysis, which is the main goal a user has when typing a query into a search engine. Answering that user intent in the best possible way within the content is a solid hint to search engines when deciding to rank some pages against others. Plus, having all this information as part of your content brief is crucial when the business works with external writers (freelancers or agencies)

Audience information – knowing where your content piece would go and what audience is targeted helps a lot with the overall tone of voice and writing style – two things that could turn out to be crucial for the quality of the content piece
Creativity boost – oftentimes, the brief serves as the creative spark, the idea behind some of the best articles out there. Sometimes this is the missing link that can turn out to be the most significant moment in the process of writing – the creative inspiration that gives writers wings to fly.

Less need for rewrites – since the content brief gives clear instructions of what is expected, it is very rare that the outcome is rejected and needs to be rewritten, saving valuable hours of work.

Time saved in review – when a content piece is written following the detailed guidelines of a content brief, the review is done quicker and the editor/person doing the review rarely needs to ask for a lot of adjustments

Easy achievement of consistency – when every copywriter in the team uses the same style of content briefs, they manage to achieve consistency in the content pieces which can be tricky when different writers, with different styles, are writing for the same blog or channel.

Scalability – scaling content production and streamlining the entire process from idea initiation to publishing – SEO, copywriters, editors, designers, publishers
When you provide a content brief, marketing teams and content writers achieve agility and easy flow in the process, so that they can be as efficient as possible and automatically know what constitutes a well-written article in the content strategy of the particular company or brand. It all, however, depends on how well the content brief is written – so let's take a look at some of the most important elements it must have.
3 Tips on How to Write a Content Brief
First, it's important to note in creating a content brief, you shouldn't have to start from scratch every time. While the specifics of them may vary, the components of the content brief can very well be the same and that is why a content brief template can save a lot of time in the long run. Having such a template allows you to fill in the relevant information needed for the writer for the specific type of content and not include guidelines you don't need for the time being. With a template, the brief can be adjusted easily and can be used for different types of written content, so you might want to start with structuring that, as a start.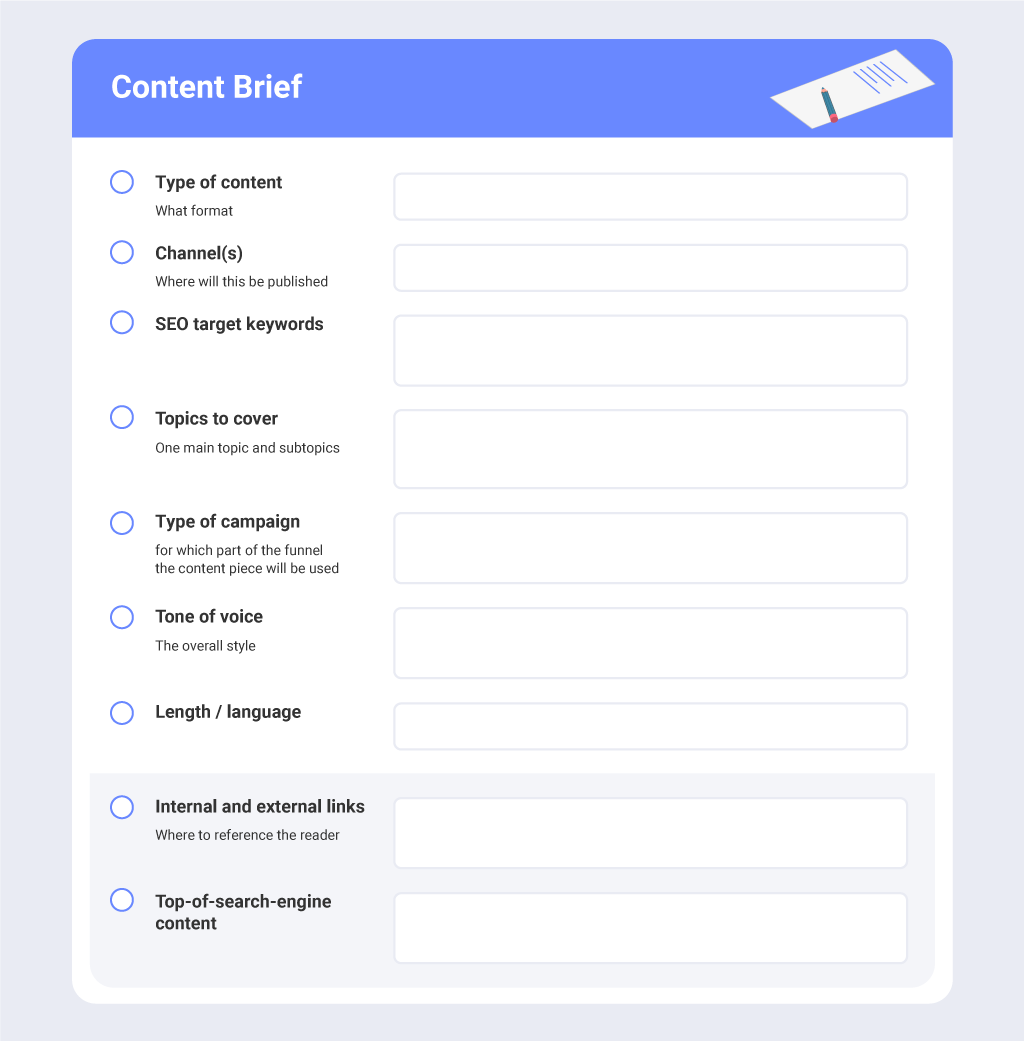 Here are some tips on how to create a content brief template that works efficiently.
Choose the desired benefits of the content piece beforehand – when you know what you seek (be it more traffic, popularity, engagements, etc.), you can put it in the brief template and have it as a requirement for the writer
Have united principles/brand guidelines – this will help you determine the type of content, the tone of voice, etc. The focus should be on your brand – the content needs to reflect this voice.
Always provide insight for all the elements you want to be covered in a specific way – including the topic, title, subtopics, audience, word count, etc. – but always leave room for creativity and freedom on the writer's part. Besides, through the content brief, you give an insight as to what the reader will be expecting and that's the most valuable thing.
Still, to be even more precise, let's take a peek at the elements that make the content brief truly efficient and therefore must be present in it.
Elements to Include in Your Content Brief
In all types of briefs: the content brief, the SEO content brief, the creative brief, and the research brief – it's important to know what kind of elements to include. Those elements should inform and strictly guide toward the realization of the desired piece. So here are some of the elements that should be present in a content brief specifically, to make it understandable and compact at the same time.
• Type of content – determine what format should the writer follow.
• Channel(s) – provide an idea of where will this be published and for what audience
• SEO target keywords – give the requirements for SEO optimization that will drive the best traffic
• Topics to cover – one main topic and subtopics, to provide information on what should be included in the piece
• Type of campaign (if applicable) – to give an idea for which part of the funnel the content piece will be used, if there are plans for it
• Tone of voice – gives an idea for the overall style of the article
• Length / language of the content piece
• Internal and external links – give an idea where to reference the reader – within the same blog or to an outside survey or study
• Top-of-search-engine content – links to content that the writer can take a look at to get an idea of similar and successful content pieces
By following these basic elements that you can include while crafting your content brief template, you can make sure that after the asset's been written, it's highly unlikely that it will need to be altered afterward. These and other elements can all be included in the content brief template, but their usage can vary depending on the current needs.
How Slingshot Can Help Improve Your Content Process
Here are some of the features offered by Slingshot in terms of content management.
• Сommunication and collaboration internally with the writers in the team: Slingshot has a chat function that runs both on a task level and in context, and 1-1, so nothing gets lost
• Workspaces – Slingshot gives the option for collaboration with external freelance writers or agencies in different workspaces, where permissions are set per need and everybody can have all their assets/communications in one place with limited access to the specific project
• Easy integration of all your cloud providers into tasks and boards – your content brief will be always easily accessible in the context of the specific task, so nobody ever loses sight of it

• Internal collaboration between different team members – as we said repeatedly in this article, many wheels need to turn for a content piece or a marketing deliverable to be created timely and efficiently. In Slingshot, various teammates collaborate with ease, to combine their unique functions – designers, SEO specialists, etc. While creating a content piece ready for publishing, all these people can collaborate in one app, keep all assets updated and pin the important files on best practices.
• Ability to monitor content performance with analytics dashboards within the app and easily share them with both your internal and external team, to keep everyone in the loop

• Clear direction on content creation, expectations, and accountability – within every Slingshot task there is always a timeline of the whole process from start to finish, all files available, brief, discussions, and clear directions all in one place, with no need for multiple iterations

• Data-driven decisions can be based on volumes and high-intent keywords so every resource is used intelligently and time is spent wisely.
The easiest way to improve your marketing content process is to trust – your team, strategy, and ultimately, the tools that will help you get where you're going. Through setting a clear path toward content creation and collaboration, setbacks will be minimized and productivity – raised.
Don't forget to also check out the benefits of running an effective account-based marketing process in your company – and what are the steps to achieve it.