Setting Up Cloud Storage Providers in Slingshot: A No-Limit Workflow

Setting Up Cloud Storage Providers in Slingshot: A No-Limit Workflow
Casey McGuigan
4 min read
As an all-in-one and data-driven app for teams, Slingshot is the only workspace that brings together all the insights, information options, and tools your team needs to unlock its full potential. Collaborating in context and with minimal disruptions is achieved simply: by making chaos in file organization obsolete and bringing all project assets in one place. Content within Slingshot is stored and shared in a blink of an eye, and searching for files in various places is made obsolete, so teams can focus on the essential work instead of wasting time.
For your team's convenience, Slingshot was built on top of Office 365 and Google Suite making it the perfect tool to integrate right into your existing tech stack. Have access to all your content at your fingertips by connecting to Google Drive, OneDrive, Box, Dropbox, or SharePoint. So here's a quick overview on how to use these options within the app to their full potential and bring forth quick productivity flow for your team.
Personal Cloud Storage
From within the Home area of Slingshot in the Content tab, you can connect easily to any of the cloud storage providers that you use by selecting your provider and logging in. If you logged in with your Office or Google account to create your Slingshot account, that respective account will be added for you out of the box.

Once added you can use the files and folders within your cloud providers to:

• Pin to boards in Slingshot
• Attach them to tasks
• Attach and send in chat

Through using these optiоns, all your team's content files stay in one place and are shared within seconds on a task level, so they are later easily found in their latest version.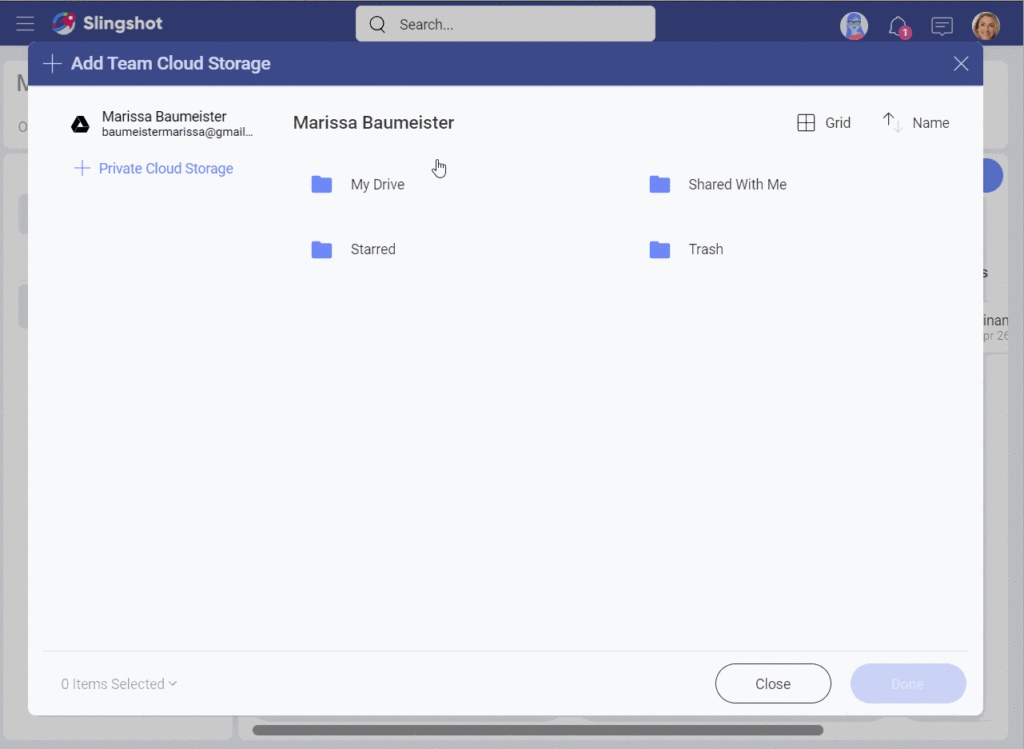 Workspace Cloud Storage
And there is more. In addition to having all your cloud accounts readily available to pin inside Slingshot, you can also add connections and permissions at the workspace level.


There are many use cases where this can be very useful. However, you want to be careful not to connect your entire personal storage to a specific workspace.

4 Benefits of Slingshot Cloud Storage
When a team is working within a specific workspace – for a project, event organization, campaign, etc. – finding all the necessary files at a drop of a hat is crucial for being efficient with their time. Take a look at some of the benefits of being able to seamlessly use cloud storage within Slingshot.

Benefit 1: No more switching between different apps! Slingshot eliminates workflow disruptions by bringing all the assets you need in one place. Even better – you never again need to search for the latest version of a file – it's right there, always up to date.
Benefit 2: By being able to pin and link to any cloud storage provider you want, your team can collaborate faster than ever without sifting through emails or different apps
Benefit 3: Collaborate in context, make faster, data-driven decisions, and stay on track with projects
Benefit 4: Storing all of your files in one place and being able to set permissions to specific workspaces – and the folders you share there – to external collaborators make it possible for both clients and team to be content with the workflow

Where team collaboration is designed to happen in a context and all of your data is easily stored within one place, all teams can easily focus on what matters. Slingshot is the app that serves as a uniting tool for your team's tasks and eliminates chaos and the traps of scope creep and being able to use cloud storage with multiple integrated technologies gives your team a true advantage in the way ahead.
Tags:
cloud storage
,
Slingshot
,
team collaboration
Categories:
Collaboration
,
Content
,
Project Management
,
Team Productivity