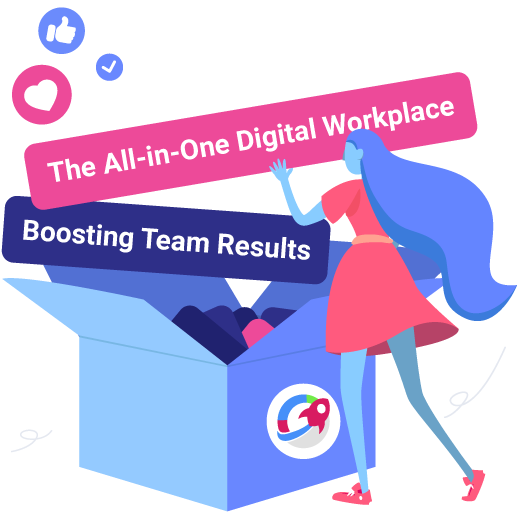 The Hybrid Workplace: How to Make it a Success
What is the hybrid workplace and why managers are having a hard time helping their teams bring their A-game in them? It's all part of a bigger perspective on the road to team productivity and the adaptation people around the world needed to go through since 2020.
Tsvetomira Petrova
10 min read
All of us witnessed the digital transformation of the hybrid workplace becoming a norm for thousands of workers all around the world. That brought forth the need for teams that do not occupy the same physical location to bring their A-game the same way they did before.
So how can you make a hybrid workplace success for your organization and team, while never missing a single goal and keeping a high-level collaboration for your team?
Use the step-by-step guide in this article to adapt successfully to the future of work.
What is Hybrid Work
Hybrid work is a flexible working model that is a blend of in-office and remote work – meaning, employees work partly in a physical office and partly remotely. It provides workers with a choice of where to work physically and is considered one of the ways of work that gives the most freedom and therefore, productivity.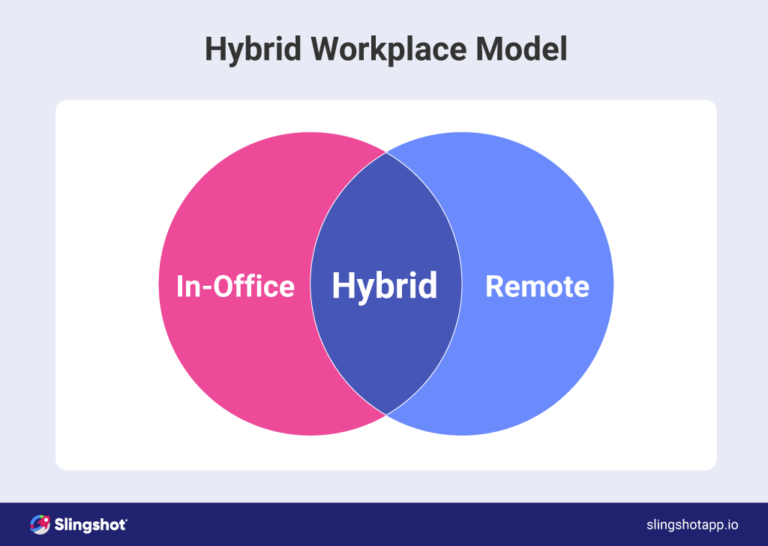 According to a study, during the Covid-19 pandemic, 58% of people had already worked hybrid and have reported benefits such as less burnout, better working relationships, and productivity. The same study reports that 83% of respondents have, at this time, said that the hybrid working model should be kept going into the future.
Similar to the digital workplace, the hybrid workplace can be an upgrade for a team in terms of productivity and collaboration, but it needs to provide teams with everything they need. Meaning that a hybrid workplace should allow teams to:
Collaborate without a hitch no matter their physical location
Track tasks and manage projects
Have visibility on progress, ownership, and due dates
Be able to spot blockers ahead of time and discuss them
Keep all relevant files within reach
A hybrid workplace is considered employee-centric, since it allows for great flexibility, while at the same time keeping and even increasing a team's ability to connect, collaborate and function to the best of their ability.
Benefits of Hybrid Work
Hybrid work is considered highly beneficial for employees and employers since it creates more opportunities and good outcomes. People's preferences have shifted toward the hybrid workplace due to several advantages and factors such as:
Better Work-Life Balance
The hybrid workplace is considered to bring better work-life balance for employees since a lot of them are free to get work done when they feel most productive. They can focus more in the mornings or evenings if they want, schedule meetings more easily and with no logistics involved, and save time in the process.
A Whole New Take on Flexibility
Hybrid working teams can often be spread to different time zones – especially your marketing and sales specialists. That means access to a wider range of potential markets, clients, and opportunities worldwide, while your hybrid team covers all possibilities.
Cost-Efficiency
For employers, a hybrid workplace could mean reducing costs, since many organizations don't need to keep that many physical offices anymore. Teams are agile and not limited by necessarily being in a specific place to do their jobs. Also, companies hire in locations they would not have considered before, unlocking new talent for lower costs.
Freedom of the Mind
The hybrid workplace is a revolution in itself because it provides people with a sort of mental freedom no one had before – and that makes for bigger productivity. Teams are not limited physically anymore, resulting in unlimited opportunities for the mind as well.
We Have the Right Tools
Now, managing a hybrid workplace is easier than ever – because we have the right technology. To make your hybrid workplace successful for your organization means creating a digital collaborative workplace where your team can manage their files, chats, tasks, projects, and data all in one place. Enhancing productivity to boost team results.
With a hybrid workplace, collaboration is reimagined – and that's a good thing, due to the many advantages technology and team collaboration provide.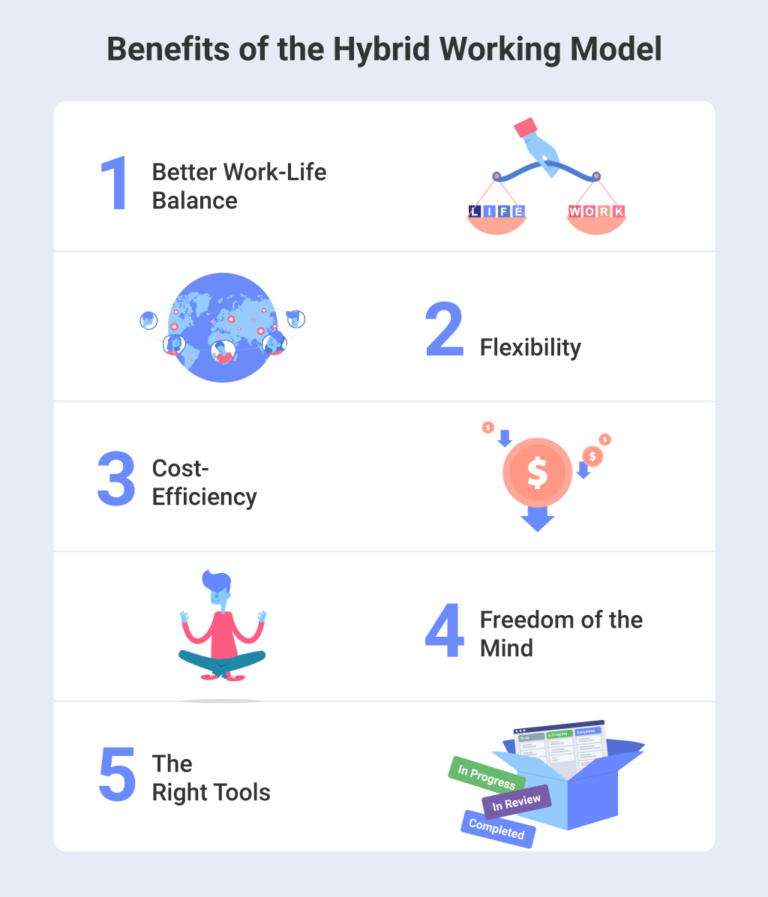 Challenges of Managing Hybrid Teams
Even with all the benefits, hybrid work provides to employees and employers alike, managing a hybrid team can be challenging. For managers, finding out how to solve these challenges means assessing them first and coming up with solutions that help any hybrid team feel solid. Here are some of the challenges managers face with their hybrid team, with tips on how to overcome them.
Lack of Trust
When teams are not always physically together, but still have to fulfill their deadlines, projects, and goals perfectly it can be hard to build trust and visibility. Managers need transparency, but that doesn't necessarily mean micromanagement or control. To build a culture of trust you need to use tools that give good visibility of what is going on at any point, but at the same time solidify trust and let employees take point whenever necessary.
Chaos in Documentation
Everyone knows what it's like to sift through different places online looking for the most updated document for a task or the latest important conversation you had about a project. In a hybrid work model, teams need to always have access to briefs, action items, overviews, data reports, and the most updated documents in every project they work on.
There needs to be clarity in communication, accessible and easily found assets with minimal time spent searching and ideally, no app-switching. Using one digital workplace tool simplified the workflow immensely and reduces dissent.
Need for Feedback
Managers need to connect with their people, and they play a big role in helping their team prioritize, feel seen, be productive and maintain a good balance in their tasks. And with a hybrid team, that can prove a bit of a challenge. The key is to provide your team with regular feedback and clear information for specific issues and projects and keep everything around that feedback in context.
Endangered Creativity
When people are working remotely or in a hybrid team, they still need to brainstorm and create the so-called "collective creativity". That goes for marketing teams, developer teams, and even sales teams – all of them need a good flow and fluid conversations where ideas can pop. Many of these ideas and action items can get lost if there is not a single place for communication that allows teams to brainstorm, give each other feedback and turn every actionable idea immediately into a task or a plan. It's also good to keep all creative briefs and documents in one place and not have your team sift through different places to find the most updated one.
Loss of Connection
To create a connection between employees and managers to socialize them and integrate the company culture among them even remotely is a challenge. So, it's important to bring your team together by engaging them in discussions, creating online initiatives for them to join, and keep adding to their company experience regularly.
What to Consider when Moving to a Hybrid Work Model
While the hybrid working model has the potential to give employees flexibility and productivity in new dimensions, it's very important to think about what factors come into play in achieving that. So here are three essential things to consider when moving to a hybrid work model.
Data Security
When off-site employees get access to sensitive company data, there should be enough data security to ensure nothing leaks during this process. So, consider implementing strong security in your tools that provide a secure process in accessing information and limited access to the specific project data.
Motivation and Productivity
In a hybrid work model, the approach to work is different when many are working from home. So your team's motivation and productivity might vary if they lose time in unnecessary activities, like app-switching for example – in a recent report, 43% of employees report that way too much of their time is spent on switching between the online tools. Keep your team's projects and tasks organized to avoid this and boost productivity.
The Right Technology
The tool you're going to choose to manage your hybrid workforce is more than essential since it's the solution to many of the hurdles you will inevitably experience along the way. Opt for one that provides good collaboration in terms of all the most important pillars of teamwork: chat, tasks, project management, content management, and easily shareable data insights, so that your team can analyze and take action in seconds.
Hybrid Work Tools: How to Choose Yours
With all the challenges that come with hybrid work, there needs to be flexibility in making sure the team is happy, thriving – and delivering results. When coworkers don't necessarily work at the same place, software tools are essential to provide calmness in daily operations. So, what do you need to look for in an app that solves obstacles for hybrid work and gives back valuable time?
Let's take a look at why you should consider an all-in-one digital workplace like Slingshot.
Keep All Assets in One Place
Forget about app-switching and unite all your documents, data, and creatives in one place, so your hybrid team always has access to the most updated files and metrics. Slingshot has all your favorite cloud providers integrated allowing you to pin, upload and link to any file, in the context of a task, project, or workspace.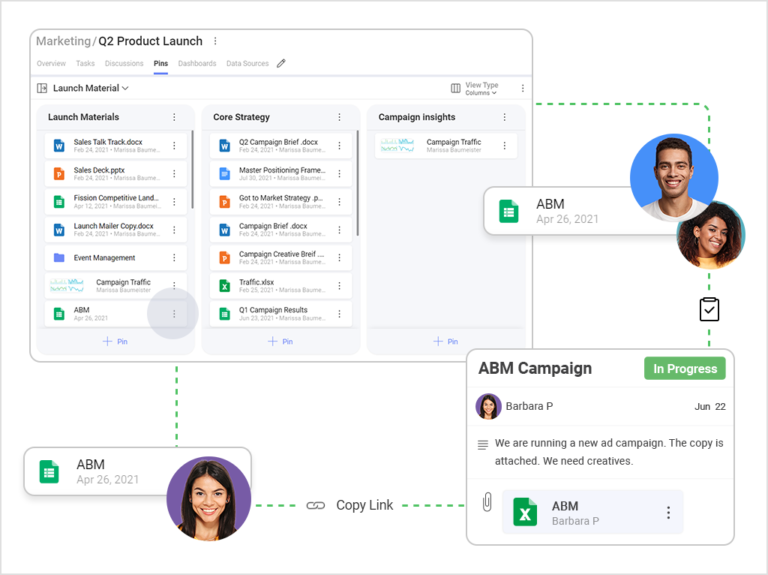 Communicate in Context
All ideas, feedback, and actionable items are in context with Slingshot – you can chat on a task, project, and team level, as well as create tasks directly from a message with a simple click. That way no idea or brainstorming gem is ever lost.
Have Transparency
Slingshot assists not only with the ownership of tasks and keeping tabs on the progress of projects. It allows for full transparency, showing potential issues, due dates, and blockers, so your hybrid team can manage their projects with trust.
Be Data-Driven
The data-driven characteristics of Slingshot allow hybrid teams to stay on top of current data insights for campaigns. You can pull data from multiple sources and create beautiful dashboards that tell the full story of any campaign or project, KPI tracking, and the ability to go from insight to action in seconds. You have your analysis ready with just a few clicks and you can share it immediately.
No App-Switching
Slingshot combines project management, data insights and dashboards, chat and discussions, and task management – so your hybrid work can stay in perfect flow. Stop losing time to app-switching to find files or important conversations in other places – stay within one app and be all-in-one, to boost productivity.
With Slingshot, hybrid teams can stay on top of everything, from collaboration and tasks to data insights, even across different time zones. Try the app that combines modern project and file management, chat, and data analytics – start a 15-days trial of Slingshot.