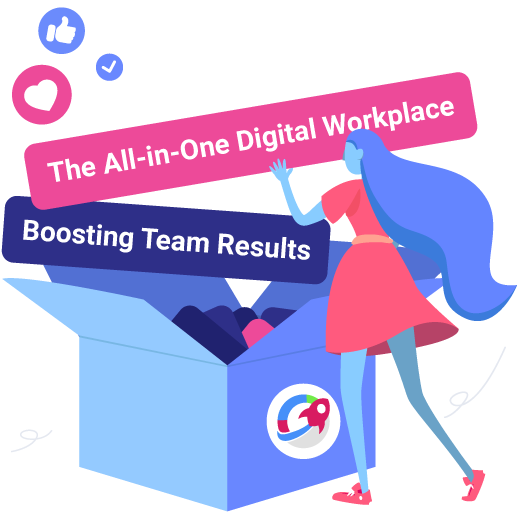 Top 12 Slack Alternatives You Need To Know About
Even if you're not using Slack, you most certainly have heard of it - it's one of the most popular communication apps that brings online collaboration to teams everywhere. Slack is a hub for organizing everyday work and instant messaging, replacing endless emails in professional communication. But is there something better?
Tsvetomira Petrova
15 min read
As a chat tool, Slack can improve the daily syncing of your team and hugely help with the workflow. Although easy to use and popular with its features, some other tools provide more flexibility, offering quick access, as well as data analytics, visibility, and clever management of tasks. If all of this is what your team needs right now, you can upgrade to another software that will really click for you.
What Is Slack
Slack is a messaging app designed to help members of the same organization communicate, collaborate and share files in their daily work. It can be used across multiple devices and allows teammates to talk in 1-1 chat, as well as groups.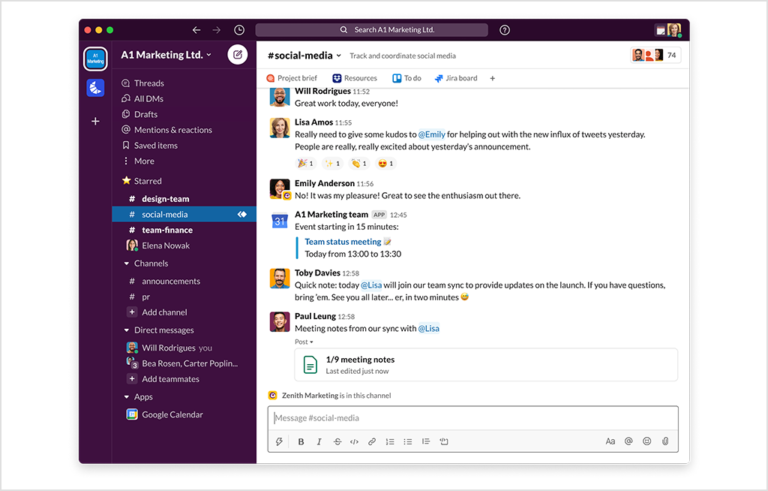 Slack divides the everyday work into Channels (for group chat) and DMs (one-to-one direct messages) all from which you can access in a click from the sidebar. You can also use a video conferencing feature and call your coworkers to talk, see each other, and share screen if needed.
Channels in Slack can be both public and private so you can decide if you want your channel to be searchable by everyone or you need to invite others to join. Slack supports multiple organizations that you can switch between to interact with different members and channels. Slack supports your standard chatting features such as @ mentioning in attention to integrations with:
Google Drive and Google Calendar
Dropbox
Github
Zendesk
Zapier
Your admin also has control of other applications that you can integrate with to help eliminated the need to switch applications.
What Is Slack Used For
Slack is used for team communication that can happen in a channel, in а direct chat, or a video/voice call. It makes communication easier for people who work together and need to stay in constant contact, share files, share screens and keep each other updated on the progress of the different projects.
Slack is useful if you need to:
Avoid Endless Email Threads
Slack provides а painless and quick way to follow-up with important projects and tasks without writing multiple emails to your team.
Have Visibility
A team needs visibility and communication, and with Slack, dividing projects into channels, trackability is always possible.
Prioritize
Communicating daily is vital for driving your teamwork forward and having everyone aware of what needs to be done and when – Slack gives options for quick checking of priorities in channels.
Real-Time Notifications
Teams should always stay connected and with notifications, this happens much easier – especially when people on the same team do not occupy the same physical space or even country.
Share Content
Assets of any type are inevitably flying among team members daily, so Slack helps with always being able to keep them in one place and share efficiently within the app.
Call Your Team
Slack offers a voice/video chat option that lets your team speak, update each other quickly and share a screen.
Search for Something
Slack has a powerful search option that shows all related channels, team members, direct chats, files, and history all with one keyword.
Why Consider a Slack Alternative
Although Slack is easy to use and provides collaboration that makes teammates' work life easier, it's still worth considering an alternative. Slack has some limitations that can be a deal-breaker to teams that strive to constantly raise their productivity or ones with multiple projects on their backlog at any time. So, take a look at them to see if you should consider a Slack alternative for your team.
No Task Tracking
Slack lets teams collaborate, but when it comes to a big picture overview of tasks, deadlines, ownership, etc., the platform does not offer it, since it's simply not a task management system, but a chat app for organizations.
Hard to Sift Through
If you have a bigger team and multiple projects, managing all of your team's collaboration in Slack only can prove overwhelming. Separate channels can be useful, but sifting through them to find something can prove time-consuming.
Limited Free Plan
Slack has three plans – free, pro and business+, starting at $6.67 per user per month. The free version, however, has some serious limitations like:
Your conversations are kept only for 14 days and history is deleted afterward
There is minimum file storage of 5GB for all channels/chats, so the older files get deleted after a time
You have chat history on 10 000 messages only
The free version doesn't allow for guests/collaborators in channels
The free version also offers only 1-1 calls and not group ones
Limited analytics data, depending on the plan – on free, you view only basic metrics and on paid plans, you view more detailed ones, for channels and members in a Slack workplace.
Slack is most definitely one of the most used chat apps – but what if your team needs an upgrade that brings all the collaboration to the next level?
Top 12 Slack Alternatives
1. Slingshot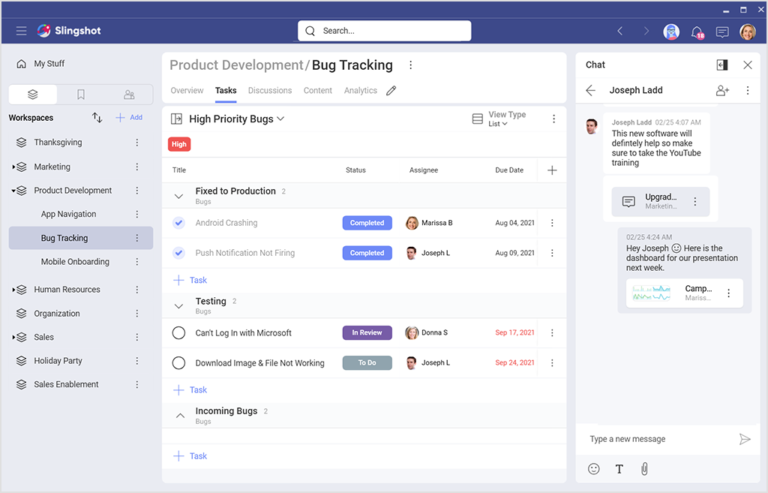 Overview
Slingshot is an all-in-one digital workspace that includes strong allowing teams to organize projects, content, tasks, and chats, as well as use data-driven integrated features.
Features
Slingshot is built to bring seamless chat and communication to your team, just like Slack is – but this tool goes a few significant steps beyond that. Besides being a chat app with all the options for tagging, creating 1-1 or group discussions, Slingshot provides workspaces for every project and strong analytics features, as well as organizes all tasks in lists and sections. You can choose between different types of views and assign tasks and subtasks to different users, set priorities, due dates, and blockers. You can also pin what's important for you individually from everywhere in Slingshot to your My Overview section, for quick access.
In Slingshot, teams, projects, and even departments are separated in workspaces. It's also the only online hub your team needs for bringing all their needed content together – from any cloud storage like Google Drive, OneDrive, Sharepoint, Box, DropBox (see the whole list here), it allows for a drag-and-drop, upload, and pinning every relevant link. Besides that, the app has a full business intelligence engine where you can connect to your data sources and create beautiful dashboards, which then teammates can use for analysis and data-driven decision making. The data analytics features within the app help with creating the right insights needed to change a course of action or simply learn the facts behind a campaign's success or failure. Chat functionalities are also there, both 1:1 and group and teams have a conversation in the context of the team or project they have entered. Different workspaces can also be shared with outside collaborators with limited access in Slingshot.
Pricing: Free for smaller teams and starts at $8 per user in its paid version, bringing more features and unlimited options.
Available on: iOS, Android, Windows, Web
2. Teams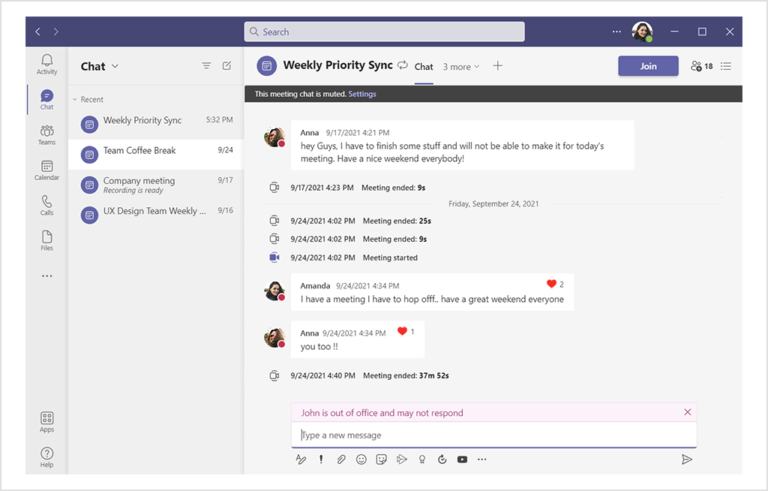 Overview
A multifunctional chat team app that brings you options for one-on-one and group meetings, Microsoft Teams is often chosen as one of the best team communication tools in the pool.
Features
Teams has a chat and video conferencing feature that lets remote teams conduct meetings directly into the app, and it allows for screen sharing, localization, file sharing, and chat. Microsoft Teams also provides a feature for using groups to divide projects, departments, topics, etc. Тhe app of course has deep integration with other Microsoft Office tools, making it easy to edit docs directly within it and collaborate in real-time with other team members.
Pricing: You can sign up for free with limited file storage and increase it, with additional features, for $5 per user per month.
Available on: Android, iOS, Mac, Windows, Linux, Web
3. Discord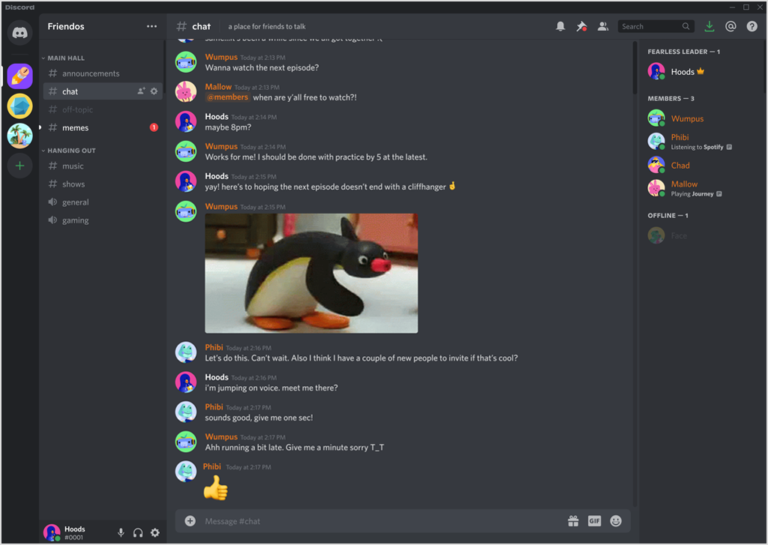 Overview
Discord is a communication platform that allows teams to connect via chat, voice, and video calls.
Features
Discord is organized in topic-based channels, similar to those of Slack, where you can collaborate and share files, as well as communicate with your teammates. It provides chat and calls, is flexible, and was originally built for gamers, but is now used by multiple types of communities including for business. In Discord, you can join a server that is a micro-community (public and private) and allows you to stream videos or screen share screens.
Pricing: The platform is free, with a paid upgrade for Discord Nitro $9.99 per month.
Available on: Windows, macOS, Android, iOS, iPadOS, Linux, Web
4. Flock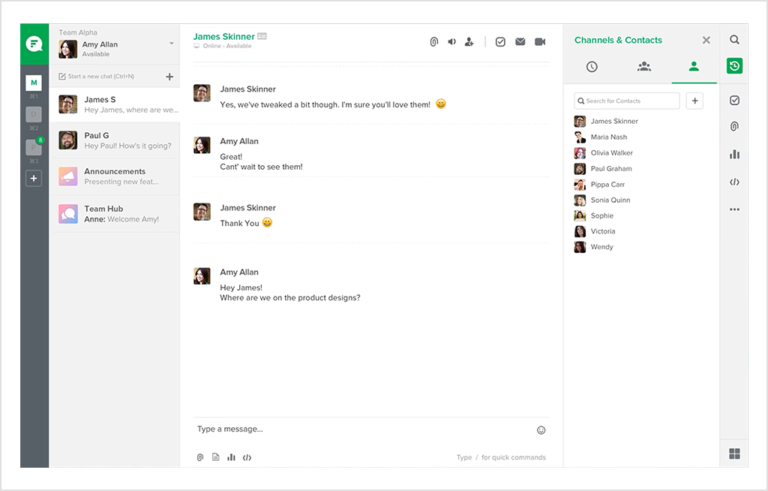 Overview
Flock is a chat app that creates great communication and is also, a fun hub for your team.
Features
In Flock, messaging is divided into channels and can also be used 1:1, which is standard, but Flock has many unordinary features going beyond that. For example, the app allows for creating polls within Channels which can be helpful in team decision-making and is currently the only app that includes a built-in note-taking feature called Notes that lets users write, edit and format short documents on the go. These can be easily shared between teammates and help with the organization and distribution of longer messages.
Price: Free with limited options for message history, file storage, and limited channels and starting at $4.50 per user for unlimited features and 24/7 support.
Available on: Android, iOS, Mac, Windows, Linux, Web
5. Google Chat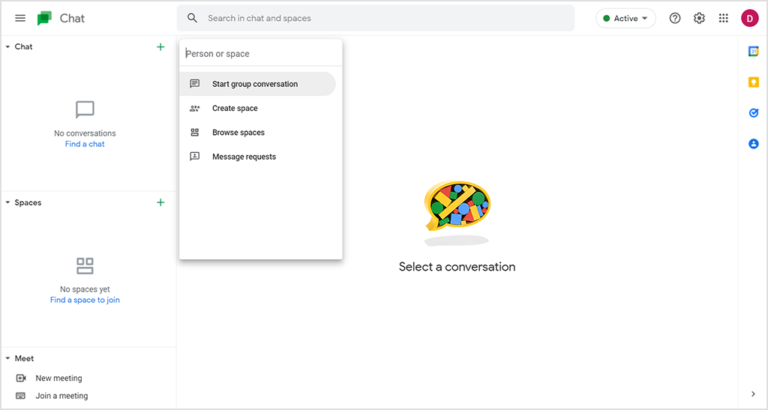 Overview
Google Chat is a business and team collaboration tool that covers teams' organizational needs and file sharing needs.
Features
Google Chat has its rightful place in this selection because of its powerful features and unlimited chat history even for its unpaid version. In Google Chat, you can create Rooms where you can discuss and center your team's talk around a specific topic. Even though it's not very customizable, you can do a lot in Google Chat – share files, photos, and links seamlessly thanks to its flawless integration with Gmail, Google Drive, and Google Meet – all just a click away. You can share files from GD, Docs, Sheets, and Slides and quickly search for items in the team conversations, both 1:1 and group. Inside the app, you can schedule meetings and pull information about your calendar from other apps like Salesforce.
Pricing: Starts at $6/month per user.
Available on: Android, iOS, Mac, Windows, Linux, Web
6. Chanty
Overview
Chanty is a team chat app for tracking your team workflow and task management.
Features
As team chat apps go, Chanty actually resembles Slack with its easy-to-use task management features and affordability. Arguably, however, it's more intuitive and has a more user-friendly interface. In Chanty, your team can create Conversations – public and private – and lets you turn every message into a task, assigning a person to it. The task feature is currently simple but stands to be expanded soon. The app is great for organizing and planning daily work and connecting teams that are currently working remotely.
Pricing: Free for up to 10 users and starting its business plans at 1.50 per user for unlimited features and full support.
Platforms: Android, iOS, Mac, Windows, Linux
7. Rocket.Chat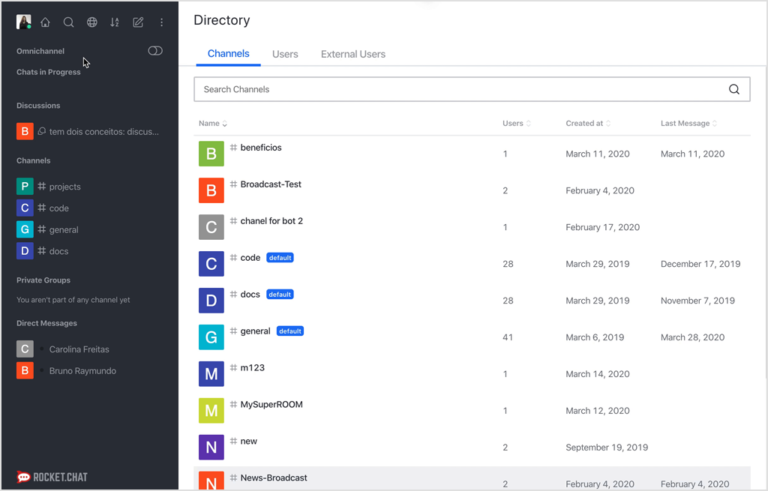 Overview
Rocket.Chat is an open-source team collaboration platform with secure messaging.
Features
As features go, Rocket.Chat offers direct messages between multiple users, companies, and customers, as well as file transfers that happen in Rooms. It allows real-time chat, audio, file sharing, and video calls with internal and external collaborators, and puts security first for every interaction (E2E encryption and two-factor authentication). Тhere is the Engagement Dashboard feature that shows how the team is using Rocket.Chat, 5 most popular channels, the busiest periods of the day, etc.
Pricing: There is a free Community plan, and Pro plan for $3 per user per month.
Avilable on: Windows, Linux, iOS, Android
8. Yammer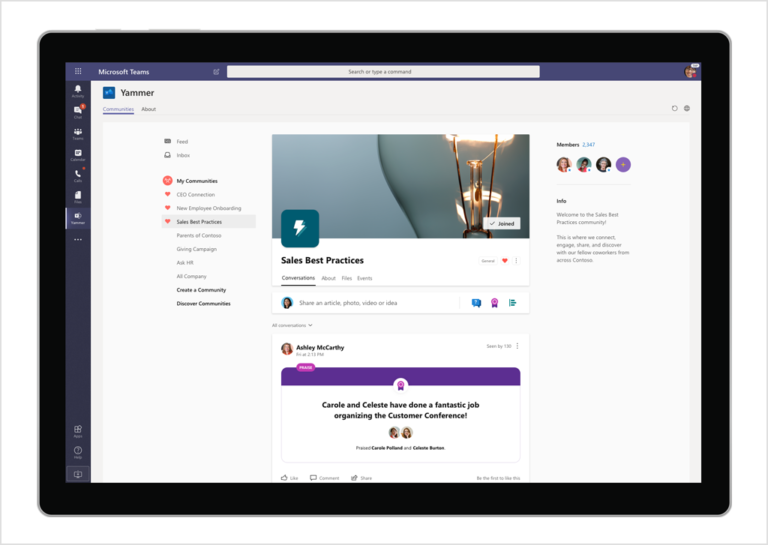 Overview
Yammer is a collaboration tool and social network for teams, part of Microsoft 365, helping with alignment and information.
Features
Yammer is described as "Facebook for business" because it holds some features that are very similar to those of social networks. There is a news feed that allows for current news and updates to pop up first, the latest posts made by teammates and organizational admins. Through Yammer, everyone stays connected and can post comments and feedback in their organizational updates. It's a closed platform for delivering announcements, and surveys and of course, it integrates with other Microsoft 365 tools. Yammer allows for sharing media with colleagues and it works with Salesforce, as well as Microsoft Teams (it can be accessed from within) to provide a full organizational collaboration for remote and distributed teams.
Pricing: Yammer starts at $5 per user per month, and next plans go from $8.25 to $12.50. You have a 1-month free trial before charging.
Available on: iOS, Android, Windows, Linux
9. Mattermost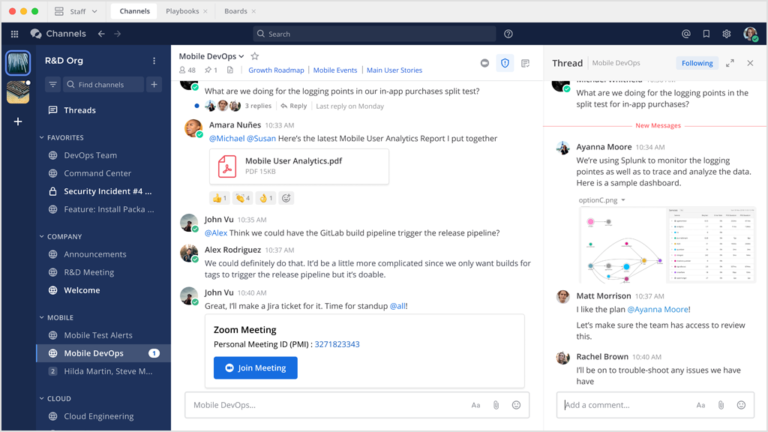 Overview
Mattermost is an open-source platform with options for chat service, file sharing and collaboration for teams.
Features
Mattermost is designed to bring your team communication in one spot, making teamwork accessible from everywhere. It actually has compatibility with existing Slack integrations. The communication is channel-based, allowing for sharing, team 1-1 talks and group communication. Teams can share files of various kinds and talk in voice/video calls for quick conferencing. You can use Boards, where you can follow up on project and task status, assign tasks and group them by status, in kanban structure. Mattermost is mostly used by developer teams that need a process and a structured workflow for quick reaction to incidents.
Pricing: Starter option is free, first paid plan starts at $10 per user per month.
Available on: Windows, iOS, Android
10. Ryver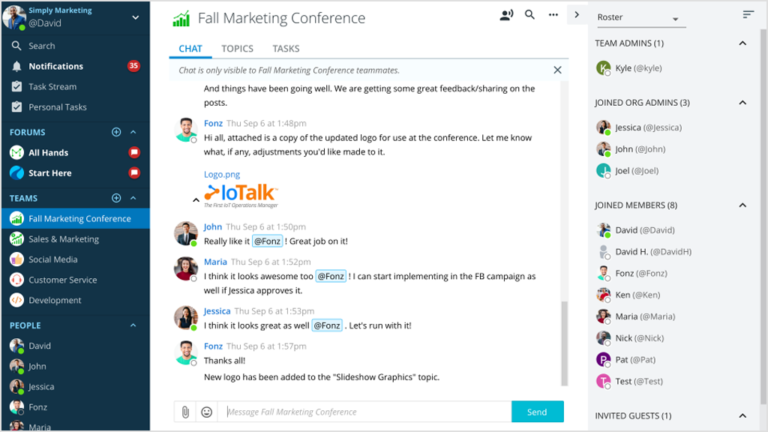 Overview
Ryver is a centralized platform for team collaboration and task management.
Features
Ryver provides your team with chat collaboration and unlimited file sharing, as well as task management across the organization. It's a digital tool for remote teams that makes their communication easier, including 1-1 and group chats and voice and video calls (although still in beta version). For calls, you get up to 5 people for group talk, and for tasks, you can create personalized task boards, assign people to tasks, tag, create checklists, and follow up on status easily. Ryver also has section for Forums, which is like group channels sorted by topic and open for anyone, and Teams section which is for private conversations per department or project. Conversations can quickly be turned into tasks, and there are a lot of integrations, including the option to share files directly from Google Drive, Dropbox, or Box.com. You can also automatically receive social media post update inside the app.
Pricing: Ryver has a 14-day free trial period, before charging you. Plans go – Starter for $49 per month for up to 12 users, the 30 User Pack $99 a month and an Enterprise option costing $4.67 per user per month (and allowing 30+ users)
Available on: Web, iOS, macOS, Windows, Android
11. Glip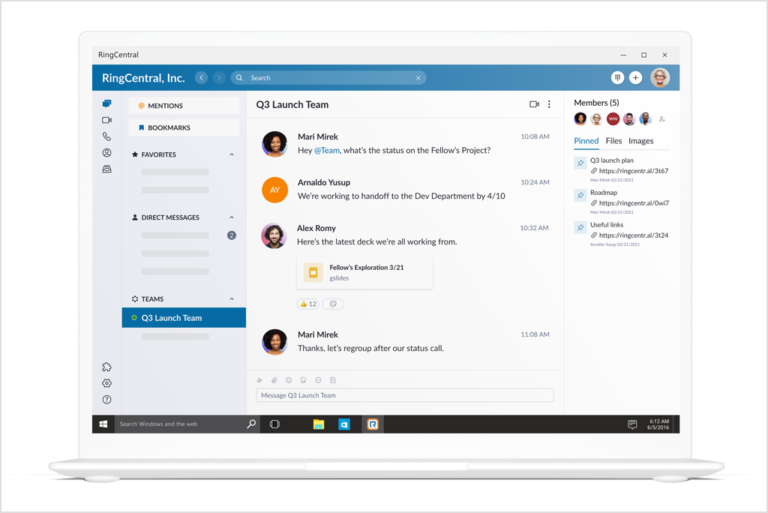 Overview
Glip is an online team chat app from RingCentral helping teams collaborate remotely.
Features
Glip is mostly used for video meetings and team messaging, built to connect people that need to work together digitally and seamlessly. Glip offers high-quality video and file sharing, as well as task management. Messages can be personalized with a message toolbar and can be responded to with emojis. For different projects and groups, you can create Teams and work in them. Any message can be turned into a video call with a single click. Video calls can host up to 100 participants in one call, and Glip can handle around 100 hours of cloud recording. The paid plans offer more participants, however. Integrations are rich, including analytics – but just for usage and traffic.
Pricing: Glip has one free plan and one paid plan that is currently $11.99 per user per month.
Available on: iOS, Android, Windows
12. Fleep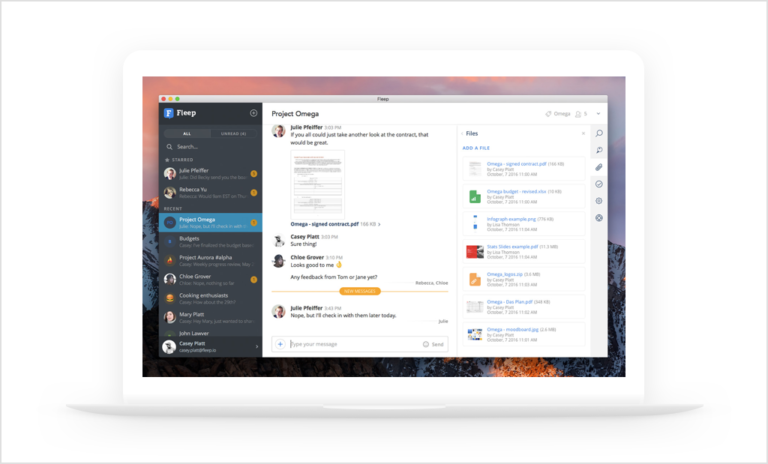 Overview
Fleep is a communication app for team coordination and task management.
Features
Fleep helps team collaborate and stay connected through its main features Tasks, Pinboard, and File drawer. It also has instant messaging that helps teams coordinate in all hours and locations. Conversations can be set up around projects and specific topics and any important part or decision can be pinned on the Pinboard, to create a task for someone. Calls happen through integration with Whereby, making it easy to check in with a colleague. The File Drawer feature holds all needed files and documents in a side tab where everyone can access them, and the Presence feature offers a peek into user activity and status, so you can see who is available and when. Communication can happen within the app via email integration, so even people who don't have Fleep installed can communicate with their team. You can also contextually search through Fleep's history, chats, pins, and topics to find all relevant information you need.
Pricing: The basic plan is free, and there is a Business version for $5 per user per month.
Available on: Windows, iOS, Linux and Android
These Slack alternatives can bring your team that much-needed comfort of knowing you're using the best app for your team collaboration and productivity.
If you want a stand-out team with seamless collaboration and productivity that always bring the best results, try some of the tools in the above selection.
Don't forget to check out оur advice on how to pick the best chat app for your team.