What is Workflow Management and How to Master It
You might not realize it, but you are currently in a workflow. Workflows are what each of us is doing - getting stuff done in a process that has a beginning, a middle, and an end. But workflow management is so much more than that. Making work efficient, and allocating resources properly, while always keeping in mind the end goal that gets you to the result. It doesn't sound so easy, but what if it could be?
Tsvetomira Petrova
8 min read
Building good workflow management is not a question of choice if you want to keep everybody on the same page and trust the process while creating your own masterpiece of daily work. It's also how you avoid chaos and minimize the inevitable mistakes that come from the simple fact that we are human. Managing workflows is what every project, campaign, and business plan is all about.
So, let's take a closer look at that.
What Is a Workflow Management
Workflow management is the process of optimizing workflows in a way that allows any team to collaborate efficiently and work with no interruptions, toward common goals. All workflows contain multiple steps that need to happen before completion. So, workflow management deals with the whole process of helping all the elements work together until the completion of the project, campaign, or any other type of agenda your organization has.
Workflow management can mean:
Optimizing workflows every day, to create more efficiency
Creating flawless coordination between the team(s) so nothing falls through the cracks
Organizing activities in an aligned way even when teams are working remotely or are distributed
Keeping an eye on details such as tasks, priorities, due dates, data insights, and discussions, to make sure everything runs smoothly
Using a workflow management tool to boost productivity
Running the perfect workflow management can happen in any field, any organization, and for every workflow. All you need to do is follow the steps to make it happen.
Why Workflow Management Is Important
Your business needs a good workflow. This creates efficiency and allows your team to operate and manage their day-to-day tasks without losing sight of the big picture.
That's why workflow management is so important – it improves your workflows and helps your business make smarter decisions while creating good collaboration between all the parties involved.
Good workflow management solves a lot of actual and potential problems for your team, such as:
Misplaced files and chaotic documentation: among workflow management best practices are keeping digital track of all files and documents in one place, so everything relevant to the process is always at hand for the team
Slow action and delayed response: with workflow management, action is very swift and the team is aligned around the correct decision, able to perform quickly
Missed deadlines or double work: workflow management prevents your team from messing up timelines of a project by letting them see precisely where and when their input is needed

Overall, the importance of workflow management relates to improvement – improvement of processes and the company's overall success. Using a workflow management tool and building workflows into everyday processes is the answer to meeting deadlines, improving collaboration, and getting better insights into what works and what needs refinement.
Benefits of Workflow Management
If you ask your team right now if work just happens seamlessly, the answer could not be what you hope for. Some teams keep struggling with their daily workflow because it always keeps breaking or getting interrupted somewhere, with confusion messing up one element or another.
Good workflow management has many benefits that help streamline every process, creating the necessary steps to get you to the desired results. Workflow management systems help you streamline workflows and make processes easier. Here are some benefits you get from delivering your results with workflow management.
Get More Insight
Your processes don't just happen; they are an established set of components and often you lose sight of the insights your team needs. Workflow management helps you look at the data to understand and identify where your business is strong and what are the weak links.
Use Resources Smartly
In many organizations, determining what tasks are a priority and how to get your team to focus on what's important is a challenge. With workflow management, you eliminate unnecessary operations, and nobody wastes time on things that don't bring value.
Reduce Micromanagement
Micromanagement can be a real pain for many teams and managers – it makes people anxious, reduces productivity, and can even become a reason for high turnover. Good workflow management can reduce and even eliminate micromanagement with a clear path of the tasks, expanded visibility, and accountability of the team for all the steps from the beginning to the end of a project. With the right tool, everyone can see what's going on and trust is improved immensely.
Improved Communication
Workflow management systems are a great way to create more discussions, chat in context, and quick updates between teammates. That way workflows are supported with the right information at the right time, especially when it comes to teams working remotely. This can also reduce costs with your team's raised productivity, save time and refine the full business process.
What to Look For in а Workflow Management Tool
Workflow management tools fill the gap when it comes to achieving uninterrupted workflow and team collaboration with modern technology. It's what smart companies rely on when they want to grow and improve their products or services.
So, what should you look for in a workflow management system (or WfMS)?
This type of software should have several important components that will help your team arrange, track, manage and streamline processes every day. Here are some of the features such a system can't do without.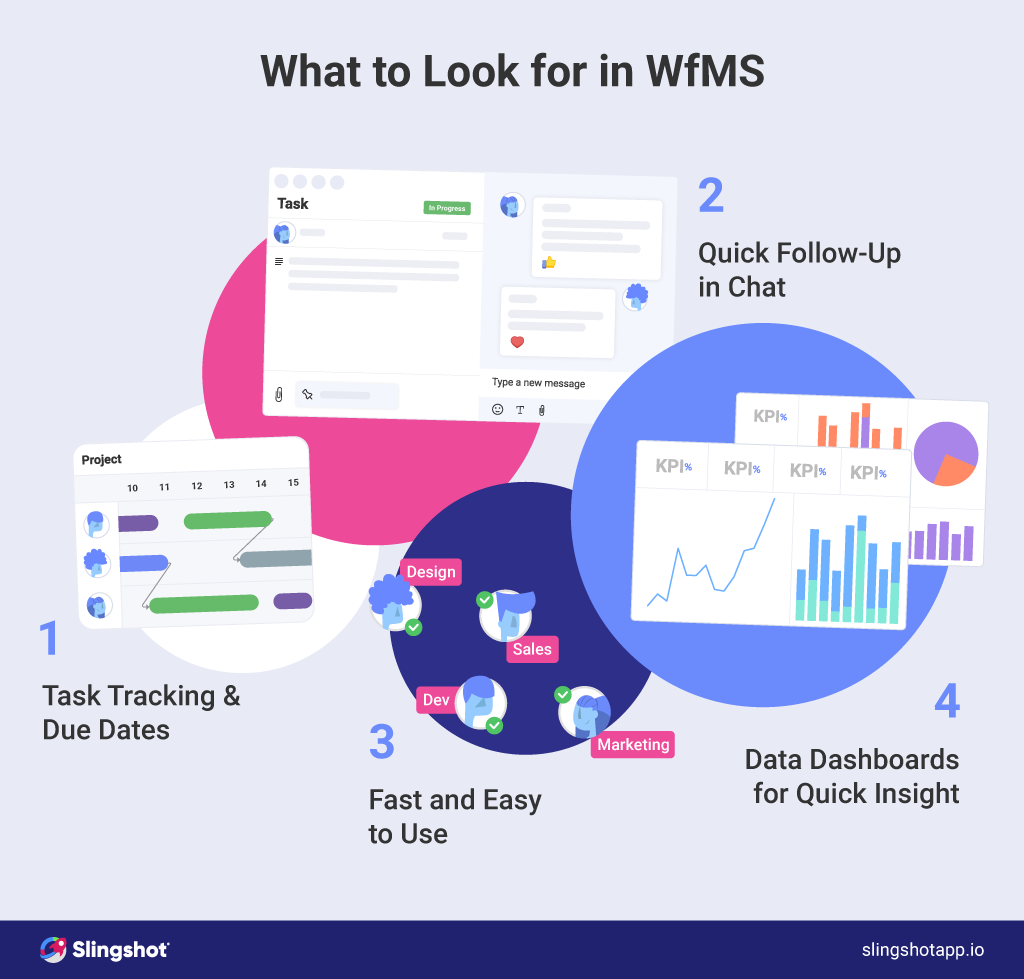 Tasks Tracking and Dependencies
To streamline any project, you need to keep track of your team's tasks, set dependencies and look at potential blockers, and set due dates and priorities, so nothing falls through the cracks. It's even better when you can look at your tasks from different views, Kanban often being the preferred one for project management.
Quick Follow-up in Context
A workflow management system should offer your team the option to chat with each other and open discussions on current items, without leaving it and switching apps to follow up on something. It's always easier to find the needed conversation later in the context of a task or a project and never lose yourself in the details.
From Data Insights to Action
Some workflow tools have strong data features that allow teams to quickly transform any data report into beautiful dashboards, and then store and share it in the same place collaboration happens. That allows teams to quickly refer to data insights and take action based on them, without the need to sift through Excel sheets and raw data to analyze where the bottlenecks are, what KPIs to focus on, and what area needs more attention.
Easy to Use
Such software should be easy to use for any type of team – in all departments, from sales and marketing to creative teams and developer teams. Make sure everyone can track their work easily and have visibility on everything upcoming, with free cross-department collaboration.
Building Smart Workflows with Slingshot
Slingshot is the only digital workplace that brings together data analytics, project, and file management and team chat. It's the tool that creates an uninterrupted workflow for every organization, making it possible to streamline your work, and creating the perfect environment for collaboration, file management, and data dashboards.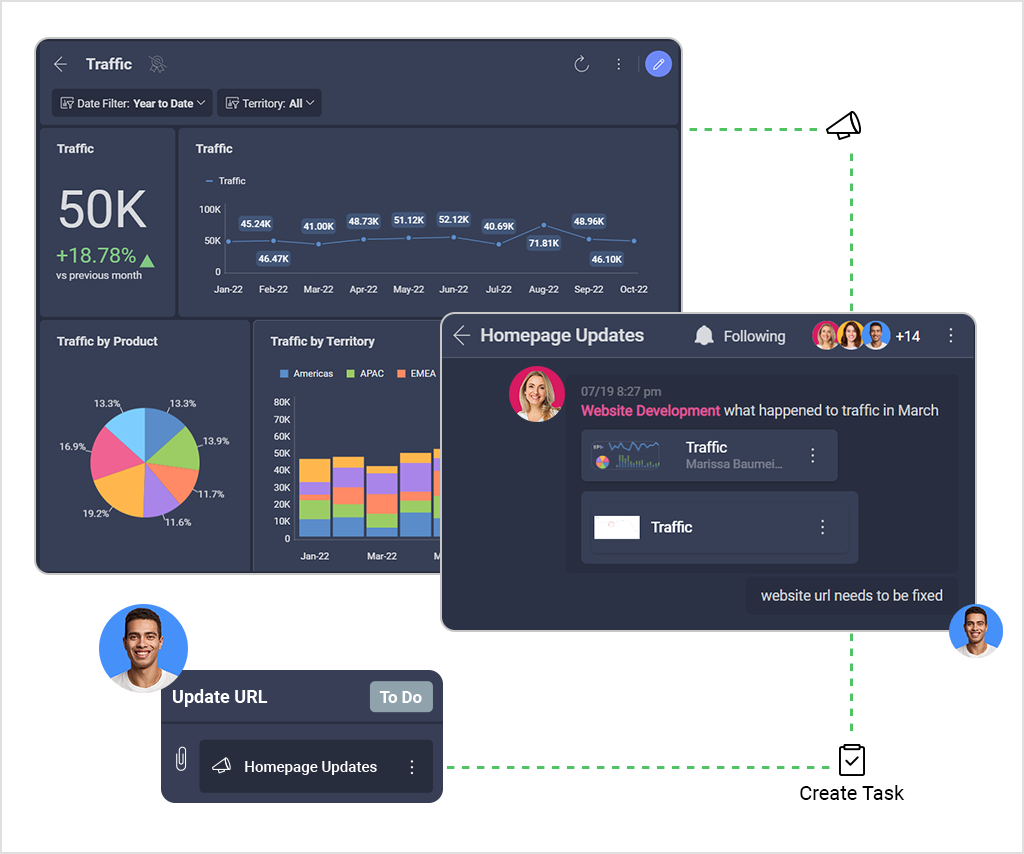 Slingshot allows you to build smart workflows by:
Keeping All Assets in One Place
Forget about app-switching and unite all your documents, data, and creatives in one place. Always having access to the most updated files and metrics helps your team experience uninterrupted workflow at every turn. Slingshot has all your favorite cloud providers integrated allowing you to pin, upload and link to any file, in the context of a task, project, or workspace, so you can go from a task to a file in seconds.
High Transparency
In Slingshot, all tasks have clear ownership and every team member and manager can easily keep tabs on the progress of projects. It allows for full visibility of progress, due dates, and blockers, so even micromanagement is eliminated at its core.
Be Data-Driven
The data-driven characteristics of Slingshot allow teams to stay on top of current data insights by pulling reports from multiple sources and creating beautiful dashboards that tell the full story of any campaign or project. Now, you can track KPIs and go from insight to action in seconds, creating dashboards with a few clicks, attaching them to a task, sharing it with your team, or adding it to a data catalog, where everybody can pull from different timelines and campaigns.
Collaborate in Context
All chats, discussions, brainstorm gems, and updates are in context with Slingshot – you can chat on a task, project, and team level, as well as create tasks directly from a message with a single click. No actionable item is ever lost and you don't need to switch apps and lose time if you want to quickly speak to someone in group chat, 1-1, or at a task/project level.