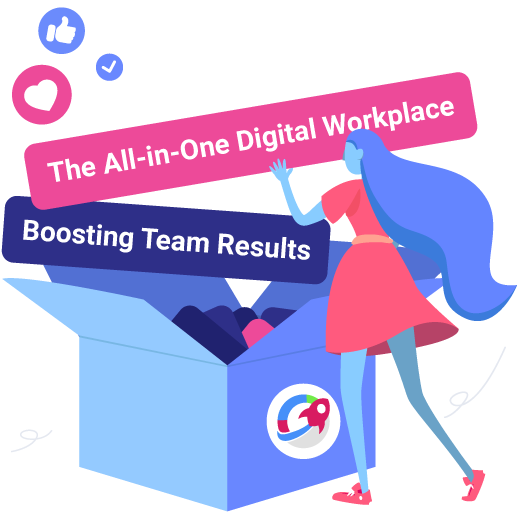 Announcing Slingshot: The All-in-One Workplace Where Teams Come to Thrive
Slingshot is the app created to put an end to every work disturbance and help your team make a true leap forward with its powerful features.
Casey Ciniello
5 min read
In order for teams to be truly productive, they need to make data-driven decision, have clear communication, visibility into projects and organization. To achieve that they need to stop getting lost between different solutions and losing time searching for files and project information. Slingshot is the app created to put an end to every work disturbance and help your team make a true leap forward with its powerful features.
Your all-in-one Workplace
Imagine having all aspects of your work blended together in one app. Slingshot brings teams together by being the singular hub where your teams, projects, organization, clients, all coexist in an uninterrupted workflow. This tool offers collaboration without limits through transparency, easy prioritization, dependency setting, and the freedom to share different project workspaces not only with the team within your organization but also with external members and organizations you are collaborating with.
With Slingshot, you get an immediate and easy overview of everything immediately after entering it. On the Home tab, you can screen your tasks, updates, and pinned items, to get the advantage of having your individual dashboard overview with content, analytics, and bookmarks.
Every team member can pin useful items, create boards for easier distribution, and with several options for the viewing style.
Project Management & Teams
Slingshot brings project management to a whole new level with a digital workplace where everything is visible to everyone. Teams have quick and easy access to all the Projects they are currently involved in and they can enter different projects depending on the team they are joining in the app. The list of projects can always be enriched with more and every team member can create a project themselves. Every project is easily shared with external contributors, building on visibility, collaboration, and trust.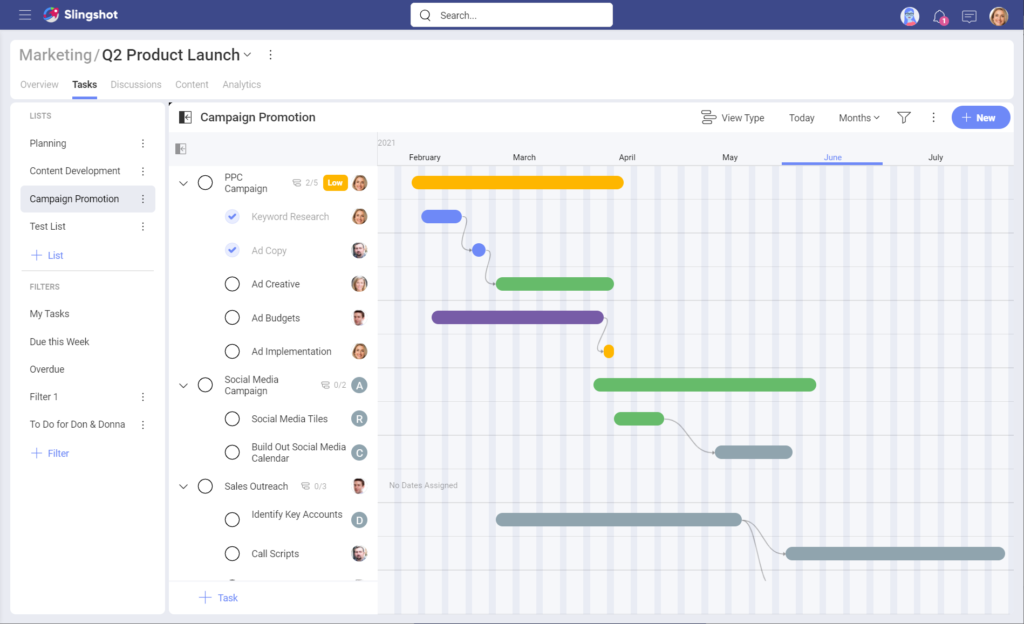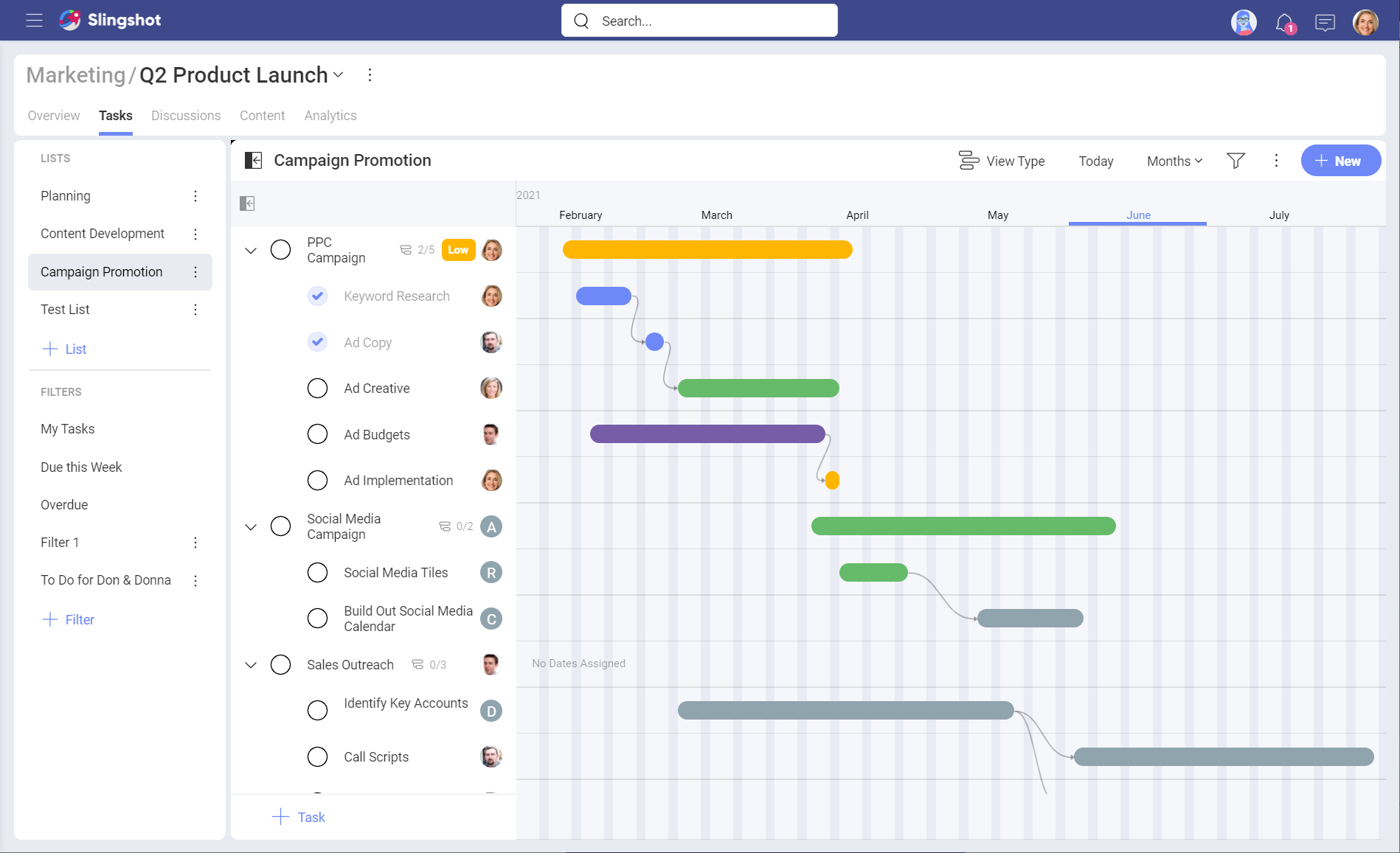 Slingshot utilizes Table, Gantt, and Kanban views, and allows users to see roadblocks at the overview level to know exactly what is causing delays. That way teams can quickly identify blockers in the projects before they become a real problem, allowing for quicker success.
In Overview, you can easily check the status of each task in the project by a member's name and again, pin relevant content for easy access. Through different filters and tabs, every member of the team can access all the information on upcoming, finished, or overdue assignments. The project management in every company thrives in awesome new ways with Slingshot's many features helping members to organize the tasks in lists and sections, assign them, set dependencies and subtasks, and even create tasks directly from a chat message. In each task, you can have discussions by a thread and maintain alignment on deadlines, as well as transparency of ownership.
New Levels of Data Analytics
Slingshot is the only app that ties it all together: modern planning and team file management, team discussions, transparency in team engagement, prioritizing, status following, and data. The last one is important, since, at its core, Slingshot is a data-driven app, helping teams to go from insight to action in seconds.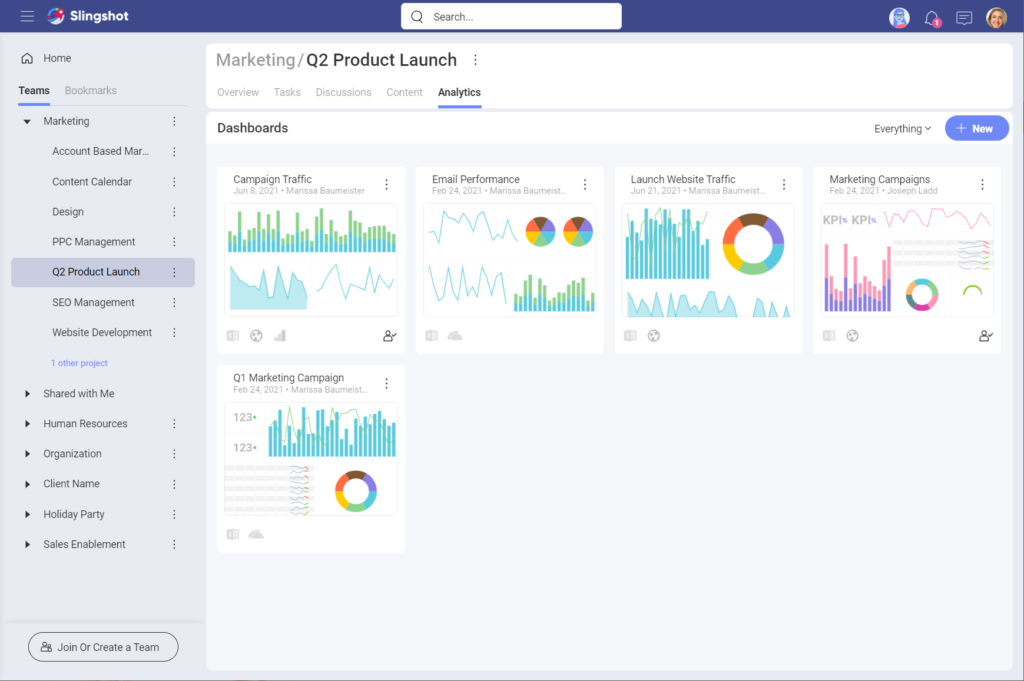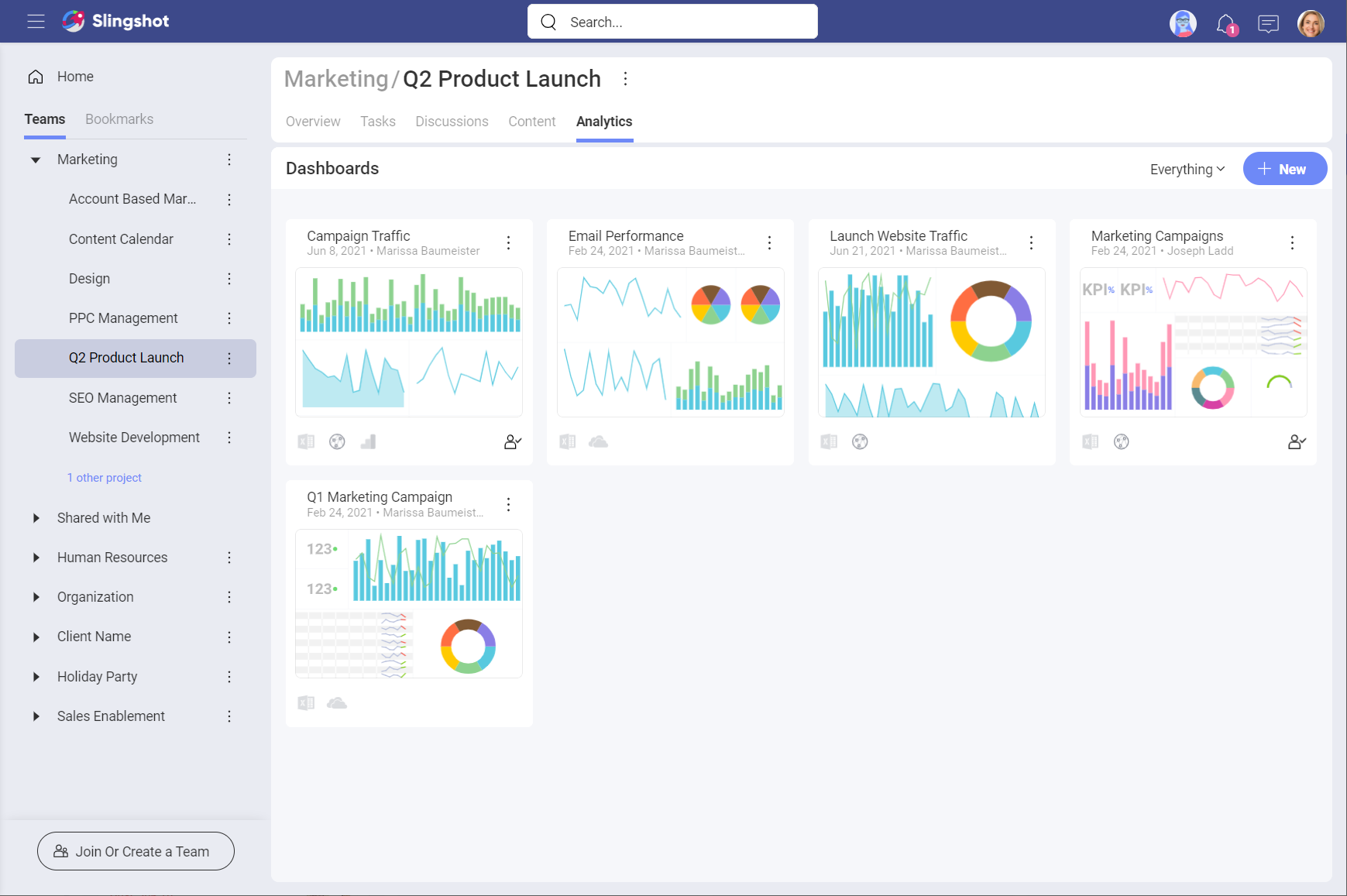 Through the Analytics workspace, teams get access to the business intelligence solution built into Slingshot. With this feature, people can create beautiful dashboards in minutes by connecting directly to the data sources you use in your everyday work activities – they are all integrated within the app, making it even more powerful. With machine-learning models, data-blending, and next-generation AI data analytics is taken to a new level.
Master of Content Management
With Slingshot, content is brought together in one place through whatever cloud storage you prefer, by pinning links or simply dragging and dropping files, to create a shared document. This is your workplace for linking all your needed content in an organized fashion.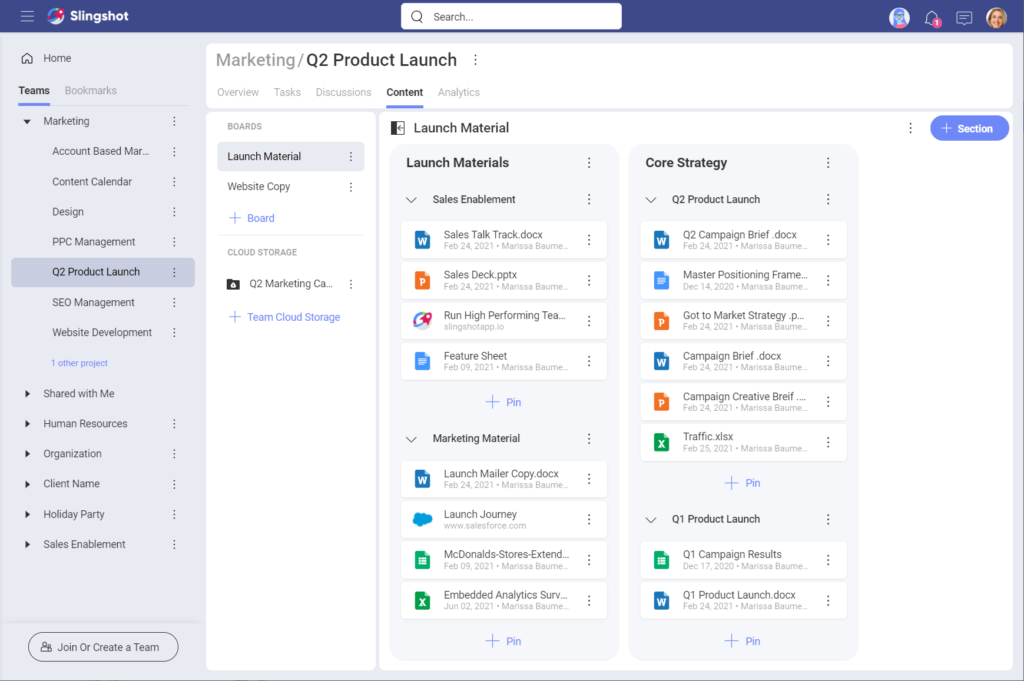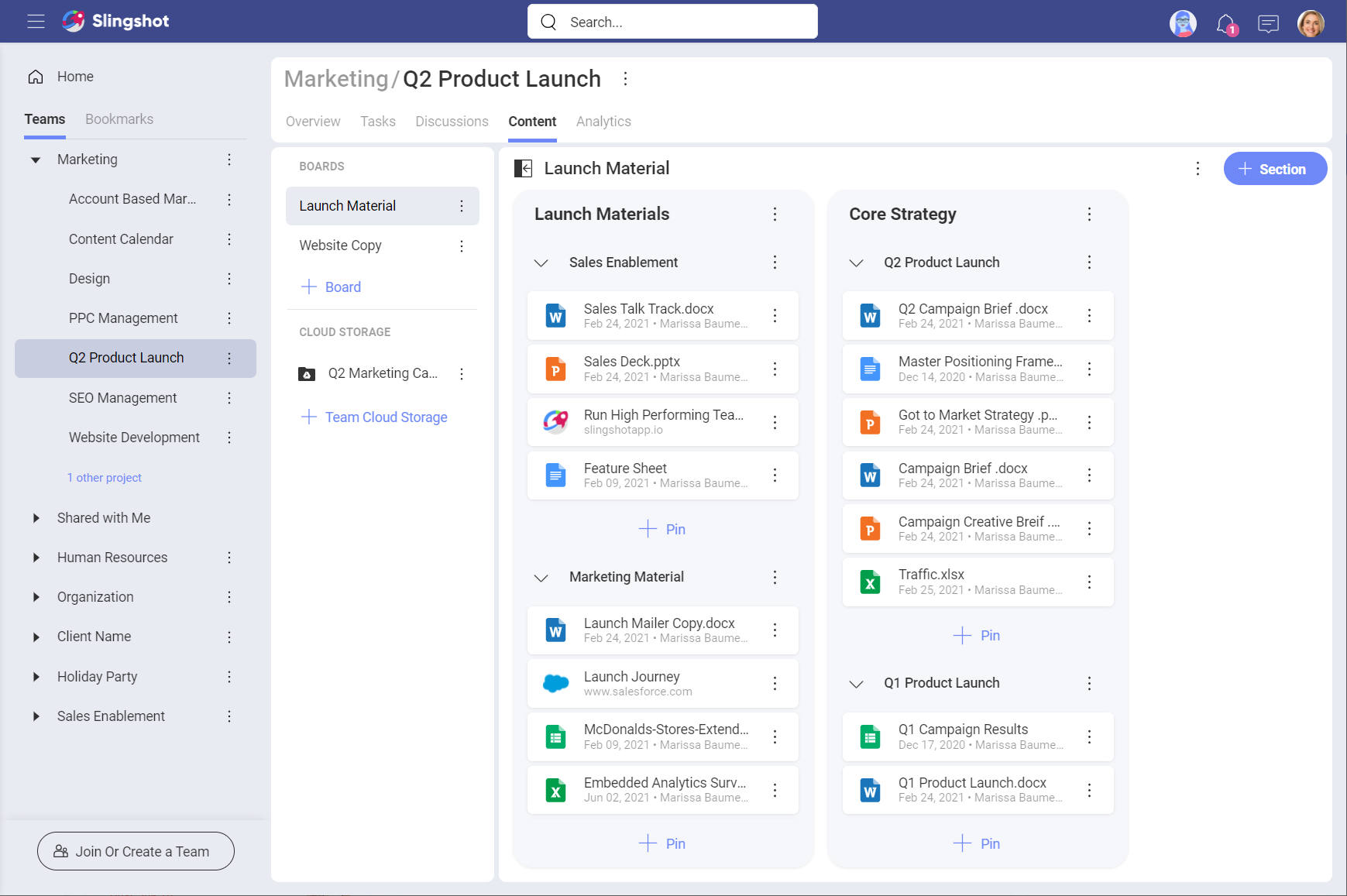 Through Slingshot's content options, the need to worry about version control is eliminated and your team saves valuable time when they don't have to scroll through multiple channels or an unorganized storage provider. Your content is all there – within your reach, in your Team, project, and task, and easier than ever to find.
Discussions / Chat Precision
Chats are a great way of connecting with your team or sharing an update or an idea with your team, without spreading discussions across various apps. In Slingshot, chats happen within the context of a team, a project, and even at a task level, improving the overall internal communication. Teams will never again lose track of any notifications or announcements, and prioritization will happen naturally.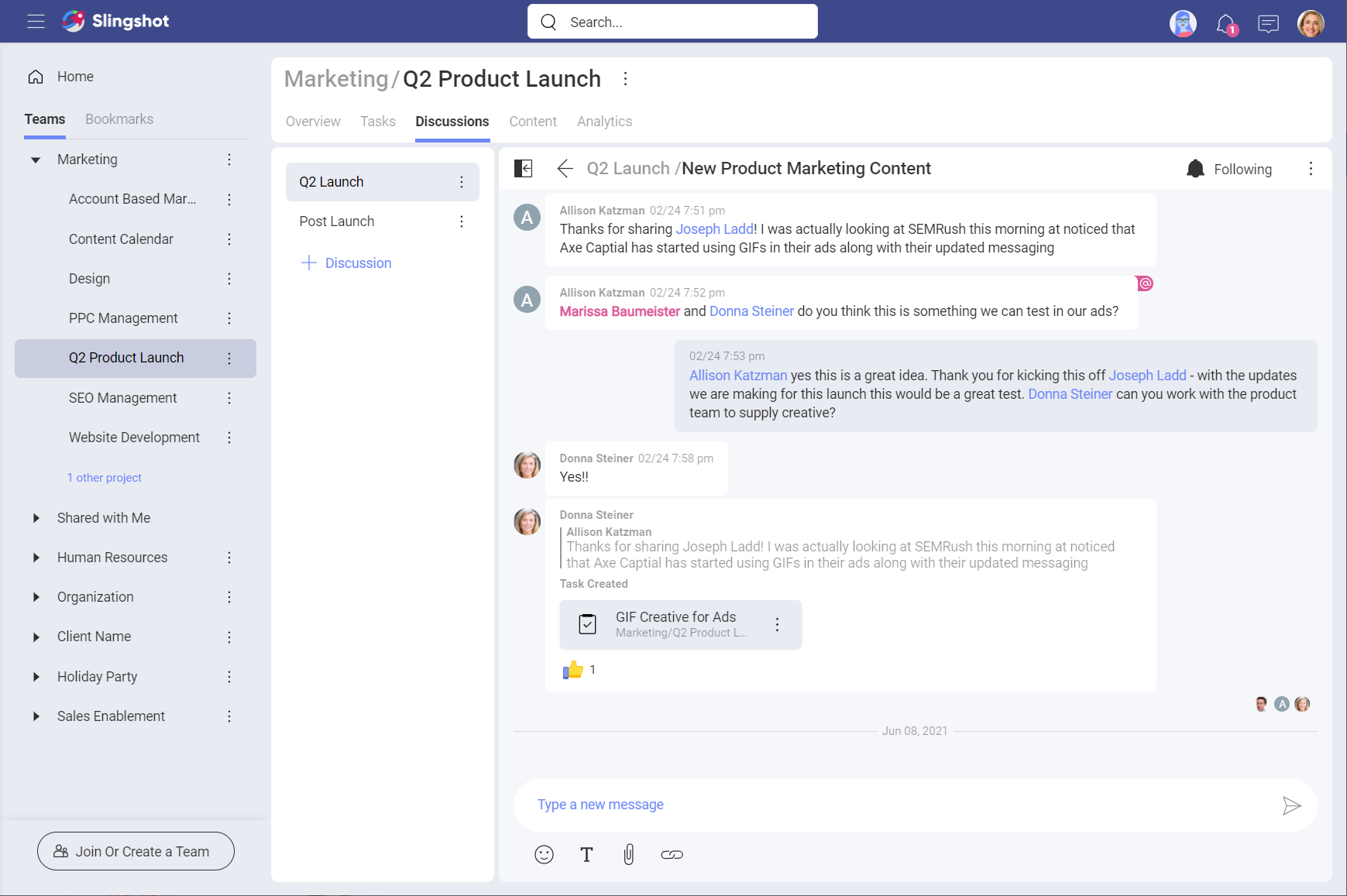 Chats in Slingshot, like everything in the app, are data-driven and allow for the creation of tasks directly from a message, as well as to pin any message, idea, and file so you never lose the smooth workflow.
Great Productivity Flows
Slingshot brings an uninterrupted workflow for teams at any time and any place. With built-in productivity flows and integrated powerful features, the app enables teams to thrive in going from insight to action in seconds or run a task directly from a chat in just a few clicks.
Team efficiency is improved remarkably when people stop getting lost in navigating in multiple applications or trying to tie it all together with loosely coupled tools. The all-in-one workplace that is Slingshot accelerates business results by allowing users to consistently access context, content, collaboration, and connections.