How Slingshot's Product Team Used Slingshot to Launch Slingshot
We got tired of constantly switching between apps to manage our work. After shopping around for a bit we realized not a single product would meet all of our needs. So, we decided to build it.
Casey McGuigan
5 min read
Slingshot launched at the beginning of April, bringing to life the greatest workflow any team might want to have a perfect outcome. We knew what we built was going to be a game-changer for any team that wanted to be extra productive, data-driven, save time, and collaborate in an all-in-one workplace.
What we didn't know at the time was how this tool will boost the productivity of our product team and how we would use Slingshot to launch Slingshot – and to bring the whole process together successfully.
So here's what we wanted to share.
Why Slingshot, Why Now
Slingshot was born out of necessity and the pain that we were feeling internally switching between and using so many different applications every day. We realized there were many hours lost and productivity often suffered simply because there wasn't a product that truly incorporated the full daily workflow of a team into one application, seamlessly.
We got tired of constantly switching between apps to manage our work. There had to be a better way. After shopping around for a bit we realized not a single product would meet all of our needs. So, we decided to build it.
The struggle with the app-switching was real.

We used applications that specialize in tasks to build our backlogs like TFS. Then we needed to collaborate on those features and bugs in tools like Slack. Meanwhile were searching endlessly through SharePoint for all required documents. At the same time, we were tracking product performance through dashboards in Reveal.
Creating Slingshot
Slingshot was designed to seamlessly pull all of our workflows into one place, with integrated productivity flows allowing us to work smarter and faster.
Here's what we needed – and so we built it in Slingshot.
Pinning that allows us to pull together requirements documents into one place and ensure that we always have the most updated versions

Discussions and in context chats on a task level allow us to keep all conversations right within the related features and projects we are working on

Real-time dashboards allow us to track bug ticketing, product usage and so much more

Task management allows us to run our sprint planning meetings with ease and track the progression of new features, bugs, and feature requests from our customers
Starting with Our Core Values
Our mission is to unleash the power of your team through enhancing team productivity with one application that combines it all. Modern file and project management, team collaboration, and data analytics – all in one intuitive application. Developed by Infragistics, Slingshot is backed by 30+ years of experience in software development. Now work happens seamlessly, effectively, and faster than ever before.
In creating Slingshot, we wanted to help teams exceed set goals and make sure productivity is at its highest all the time, in every circumstance – no matter their location, type of company, or size of the team.
Communication, decision-making, alignment, trust, and transparency are the elements that produce extraordinary results and drive business growth.

And so that's what we created in Slingshot: the open door to boosting any company's team performance and making sure every aspect of the working collaboration between teammates happens in one spot, with no app-switching. That's our core purpose.
Organizing our Slingshot Workspaces
One of the biggest advantages of Slingshot is the flexibility with which you can set up your Workspaces and Projects.
Throughout our development phases, we found it especially useful to bring our entire team to our Workspace and break down our features into projects.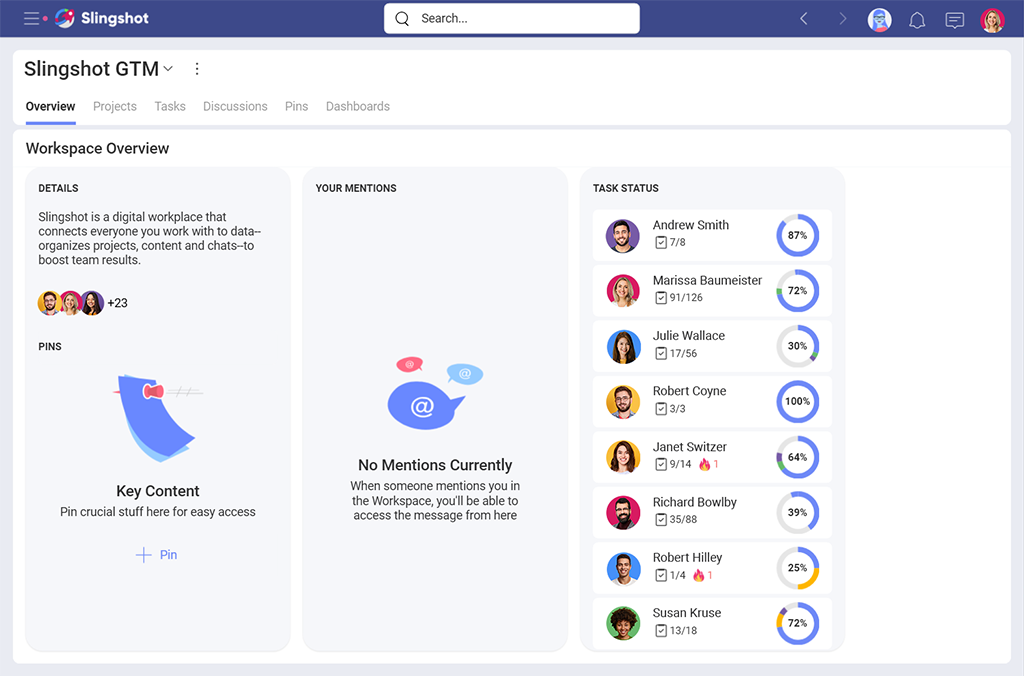 Our workspace provides the entire team with:
Visibility into important links from the Overview, team level announcements, conversations, stores our dashboards, and seamlessly runs our sprints. We can easily see the features that we have completed and what is causing any delays in shipping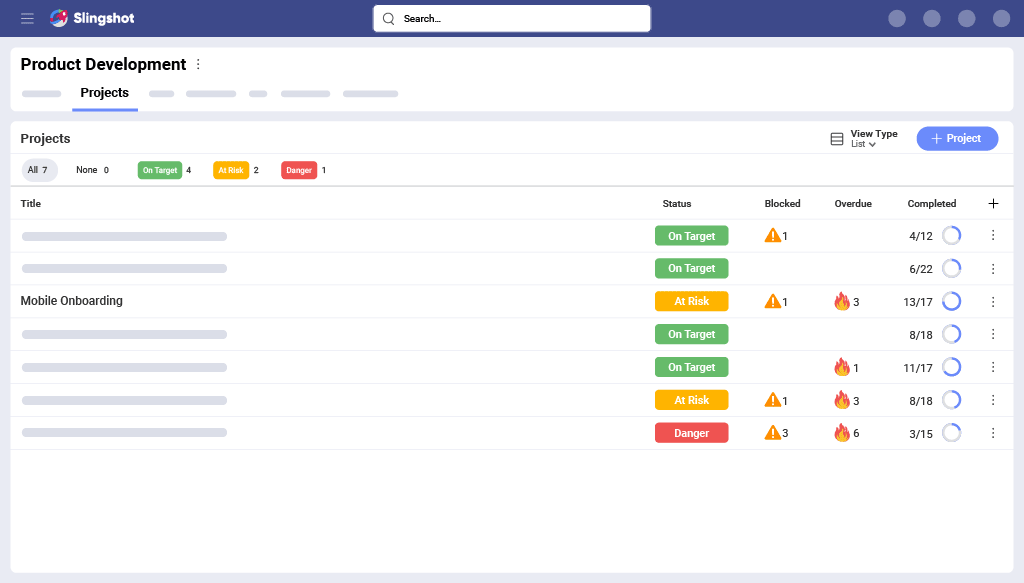 Utilizing task filters, that aggregate up all tasks from within the Workspace and Projects we can we use to run our sprints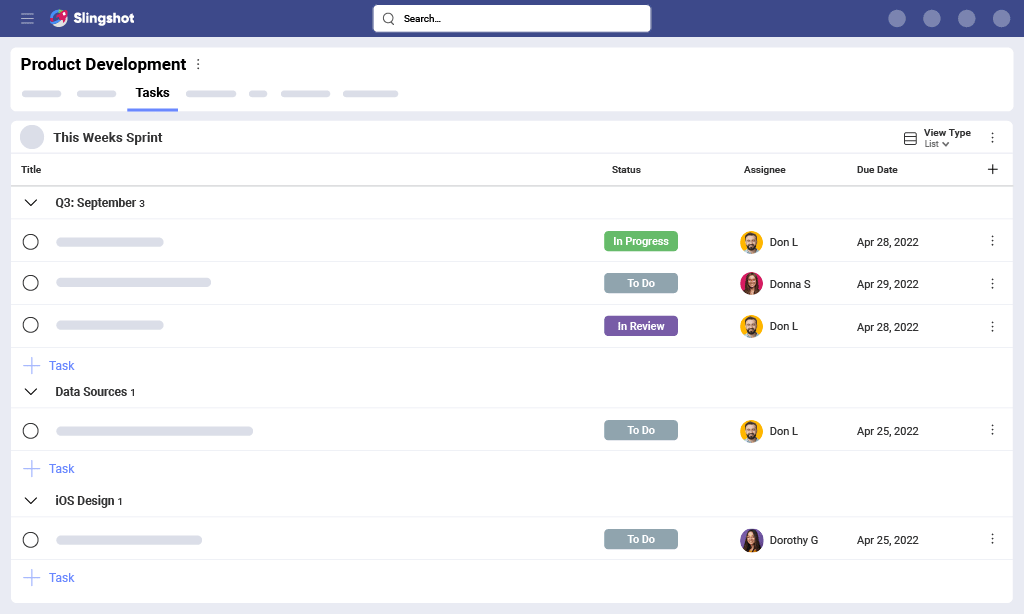 Transparent discussions that allow us to make Team level announcements and check in for daily stand-ups without the need to meet daily – resulting in fewer meetings and more productive time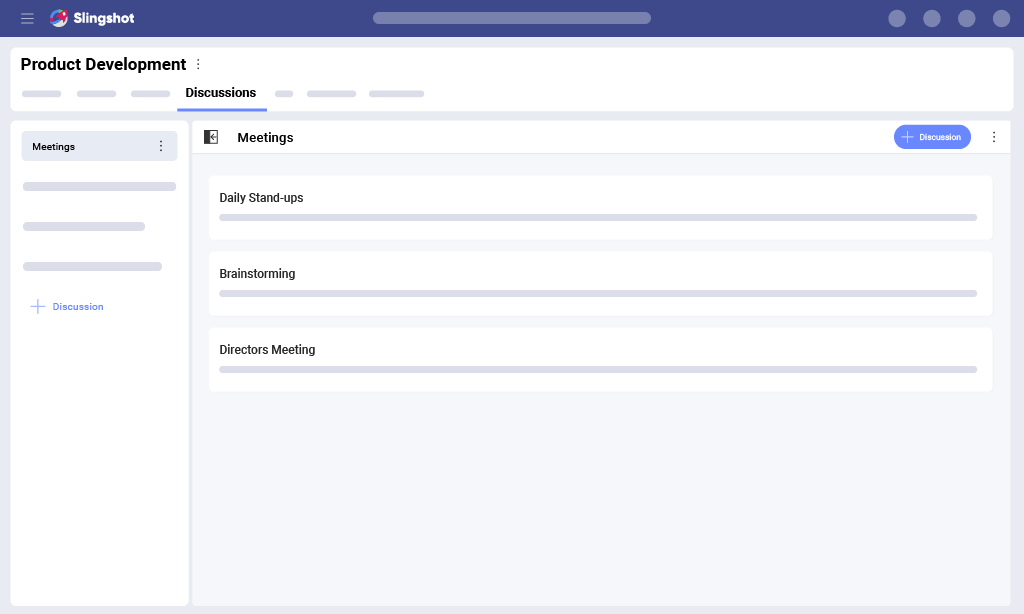 Dashboards enable our team to have real-time insights into our bug tracking as well as make data-driven decisions with features when the product usage data is top of mind.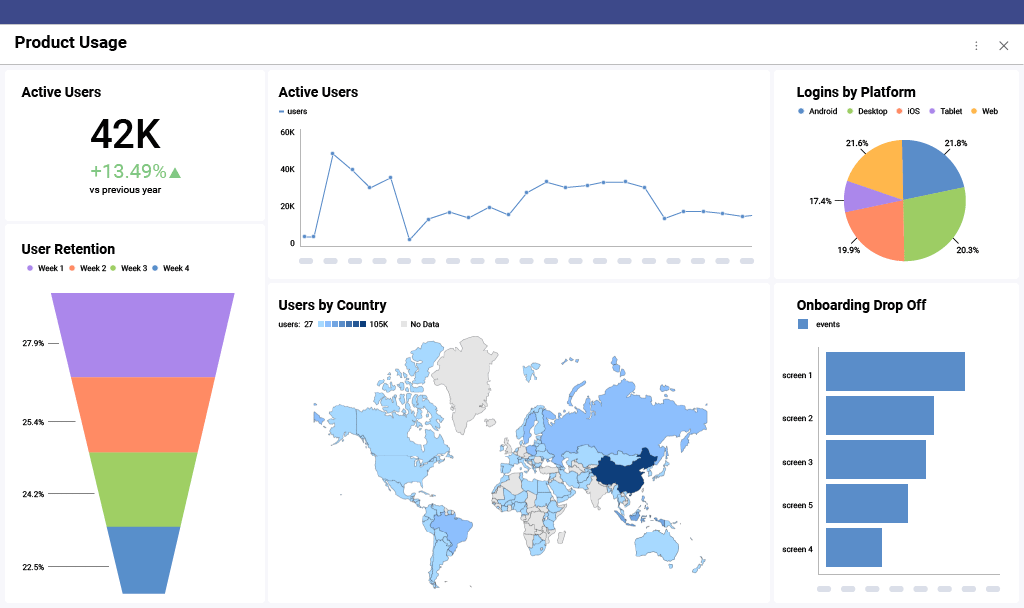 Organize Our Slingshot Projects
Breaking down our product roadmap and features into Projects allowed us to not only keep everything in context – like tasks that needed to be completed, requirements documents, and conversations. It also allowed us to add the specific team members to the features they are working on to keep everyone focused on their priorities. At the same time, developers can be given ownership status of the specific project or feature, so they can run point and lead more autonomously.
So we eliminated the clutter that we once experienced – and now no task or priority ever gets lost in the mix of everyday workload.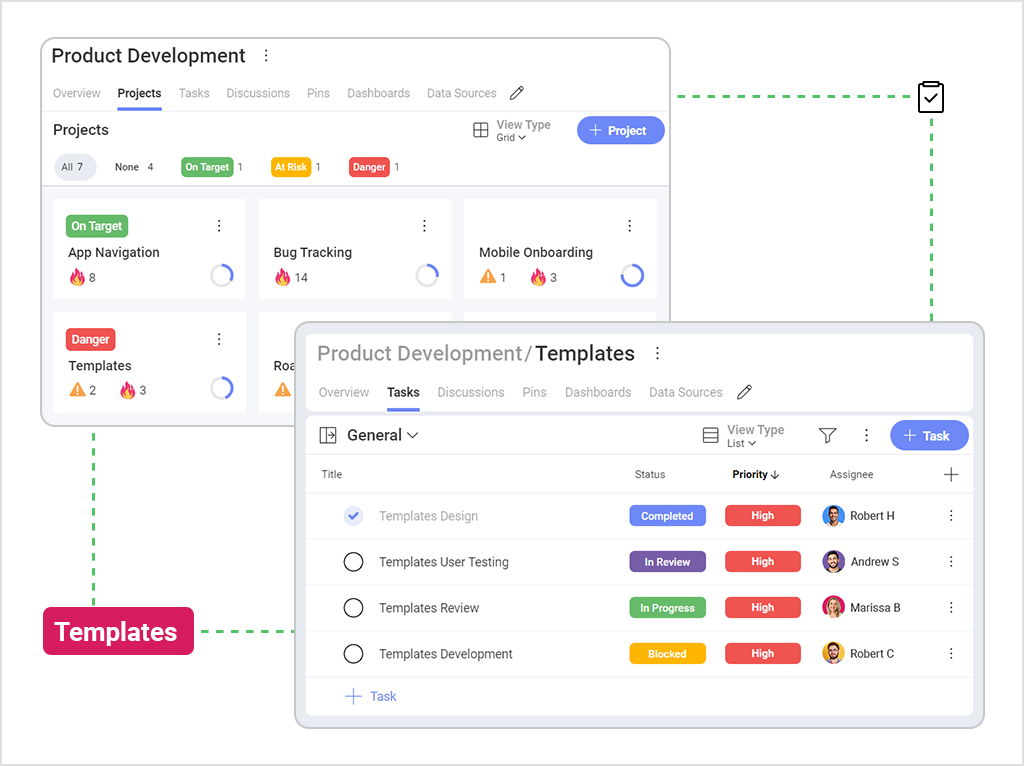 Running Our Sprints
With the ability to aggregate all the tasks from our projects and workspace we created filters that allowed us to run our sprints more effectively. Some of our favorite filters are:
Current Sprint: This allows us to see anything due in the current sprint where we can group by assignee or project

Changelog: This allows us to maintain a real-time list of any new features or bug fixes that we are pushing out in the next release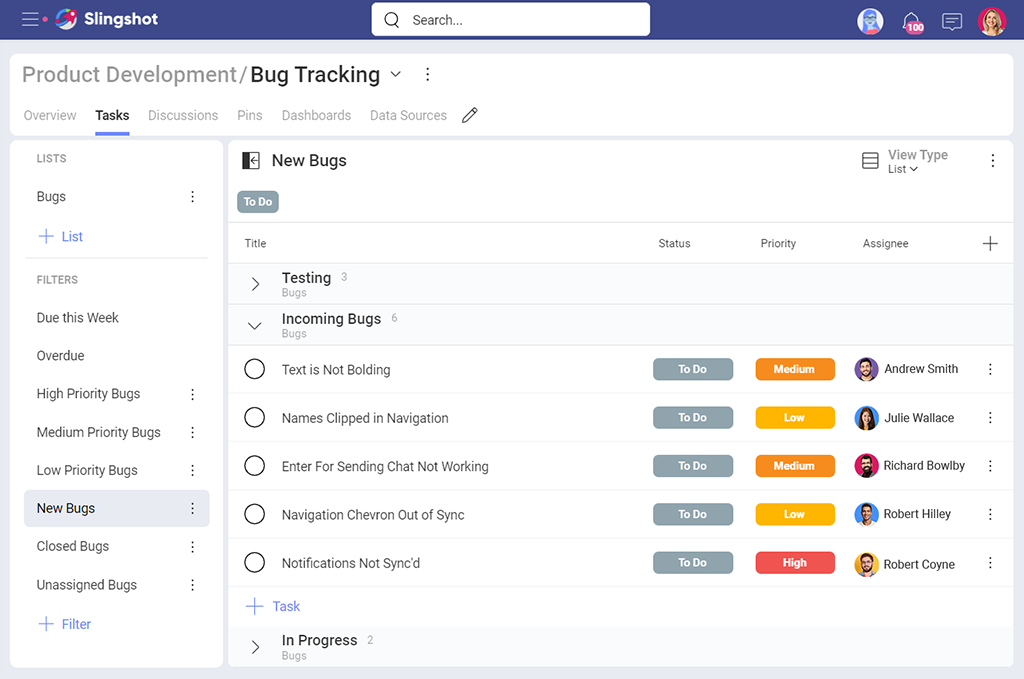 We Did it – and Now You Can Too
Almost two months after the launch, it's clear our determination to create the all-in-one digital workplace that brings a team everything they might need for thriving results was the best decision ever.
Slingshot is here to do the same for your team that it did for ours – create a single hub for collaboration that gives you your time back by being truly all-in-one. Achieve your goals faster with Slingshot – give it a shot today.