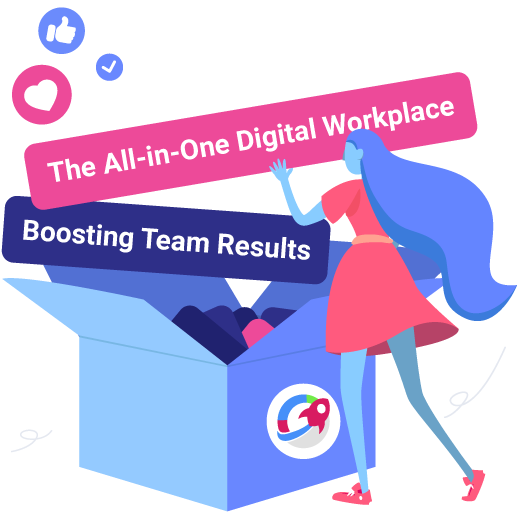 Operationalizing Data Insights and Why Data Is the Heart of Business Success
Data insight tools are also known as business intelligence applications that make it easy for your to connect to your data and create beautiful dashboards.
Casey Ciniello
4 min read
Today we have more access to data than we ever have before. The ability to gather millions of data points to better understand your customer funnel is easier than it ever has been.

According to an article from PCMag, "90% of all data in existence today was created in the past two years". So we can say for certain that the future of data in the next 5, 10, or even 20 years is about to bring major changes and boosts into any business. Data is indeed the beating heart of any business when it comes to valuable insights that show the right decisions forward. In this article, we cover:
What is Data Insights
Data insights represent the knowledge gained by businesses through data analysis and looking at data that pertain to their products and services. The analysis of this information is best done, not in huge excel tables, but with different data analytics techniques and visualizations, and chart types that make understanding data clear. These data insight tools are also known as business intelligence applications that make it easy for your to connect to your data and create beautiful dashboards.
4 Benefits of Data Insights
When it comes to gleaning insights from your data there are many benefits such as:


Make Better, More Informed Decisions

There are many ways that you can make business decisions such as – your gut, the loudest voice in the room, new influence, etc. – but there is nothing like deciding with hard data to back that up.

Get More Bang for Your Buck


When it comes to spending on marketing channels for your products are services you want to understand what channels are truly bringing in ROI so you can make sure you are spending money effectively.

Increase Customer Satisfaction & Retention


When you can truly understand your consumers, their behaviors, and triggers based on the audience you can experiment with improving experiences across your entire customer journey to increase satisfaction.

Better Predictions and Forecasting


With the increased use of statistical functions like linear regressions, outlier detection, and predictive analytics you can forecast your budgets more accurately, identify trends in your data and quickly see where outliers occurred.
What Does Operationalizing Data Insights Mean
То оperationalizе data insights mean to turn an abstract concept into a measurable observation. With this process, anyone can collect data systematically and find out valuable insights about processes, events, and other things that are not directly observable.
To achieve the operationalization of data insights, you need two components: good technology and data-oriented people. Besides that, there need to be:
Data mining
Use of algorithms
Analytics capabilities
Data model building
Even with the importance of data and insights, just having them is not enough anymore. You do not truly unlock data's full potential until your insights go beyond dashboards and PowerPoint slides and into actions that fit into your daily operations workflow. So, you're gonna need to choose the right tool that allows for seamless transitioning from insights to action.
Introducing Slingshot
Sure, you can go from being in a business intelligence tool looking at dashboards, to a chat platform to collaborate into project management software to take action. However, when you need to keep jumping between different applications and rely on loose integrations between them you lose a lot of productivity.

Now imagine the following process being seamlessly integrated into one application – just clicks away.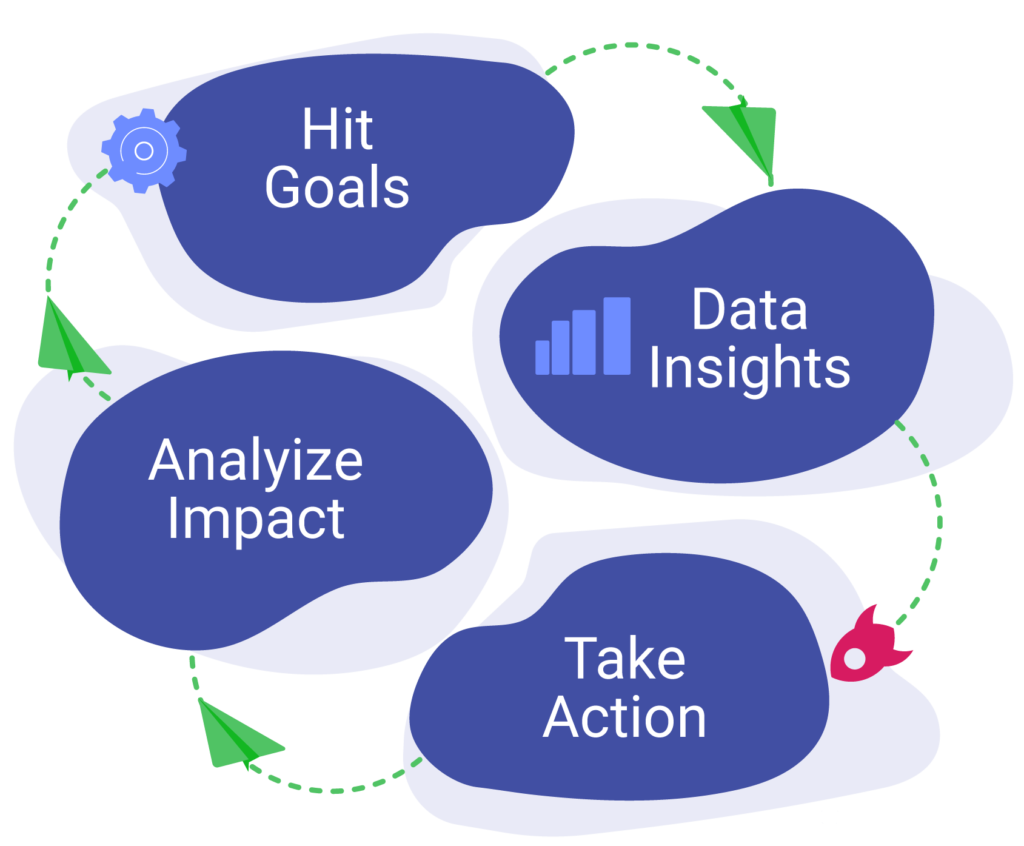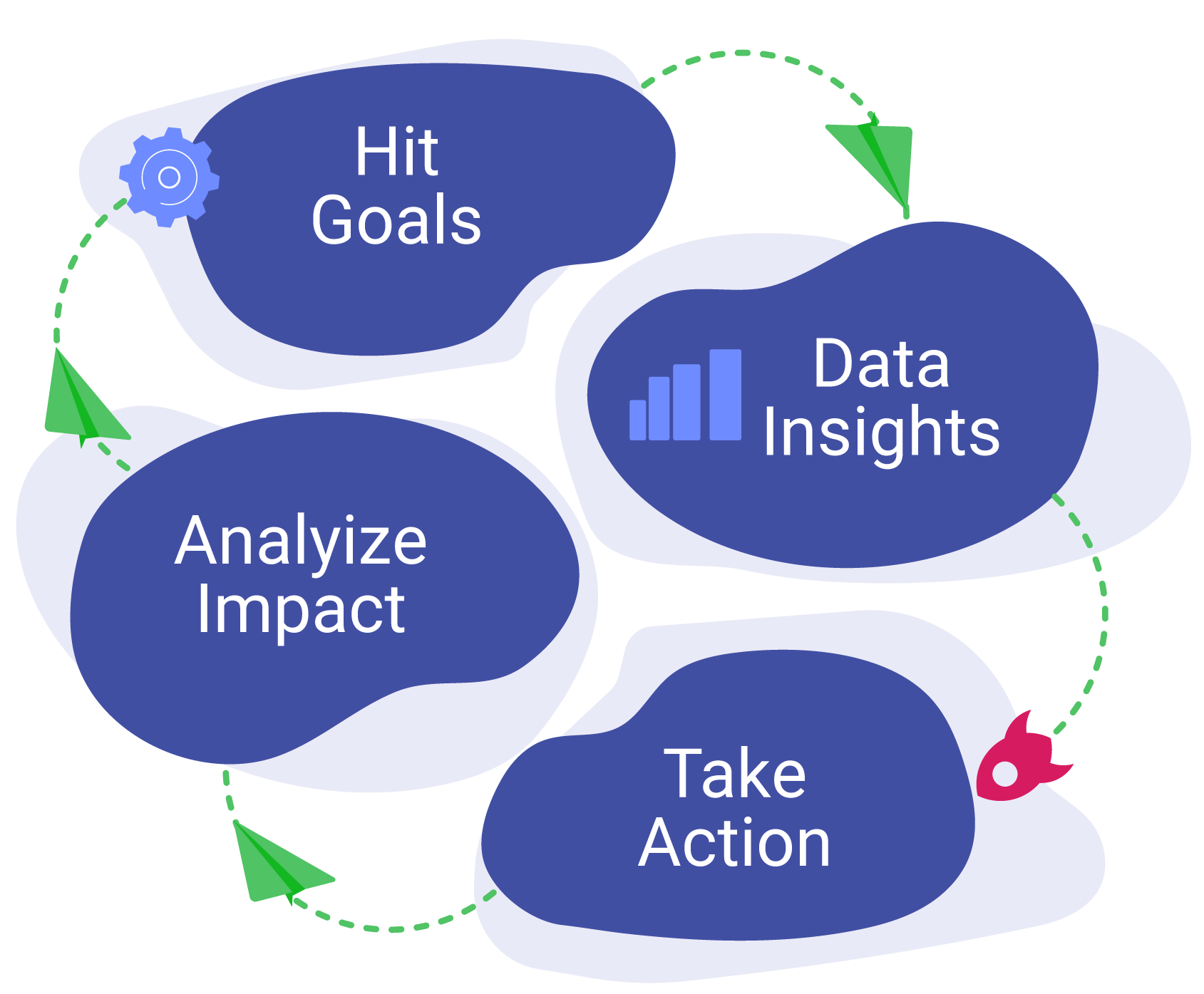 Data Insights to Action Example
Emily, Slingshots' AI-Assistant is going to run you through a step-by-step example of achieving the following process inside of Slingshot.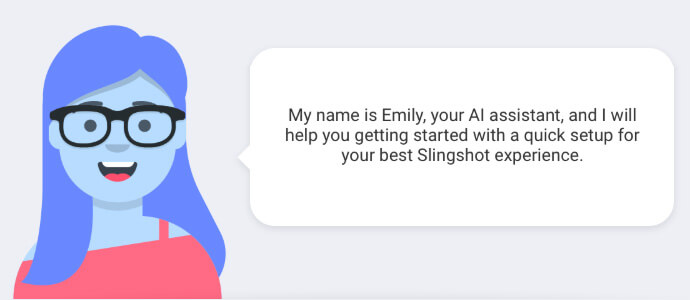 Let's say you are a part of a marketing team that is running an account-based marketing program. You start testing out some different ways to include personalization in subject lines and see the following results: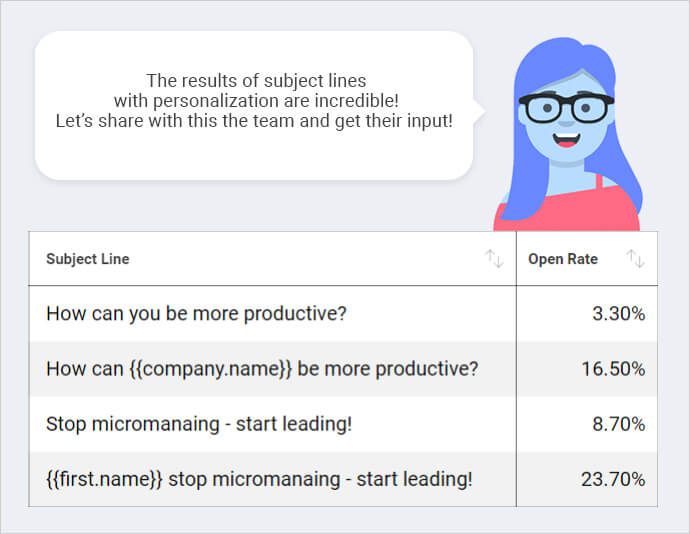 The results of subject lines with personalization are incredible! Let's share with this the team and get their input!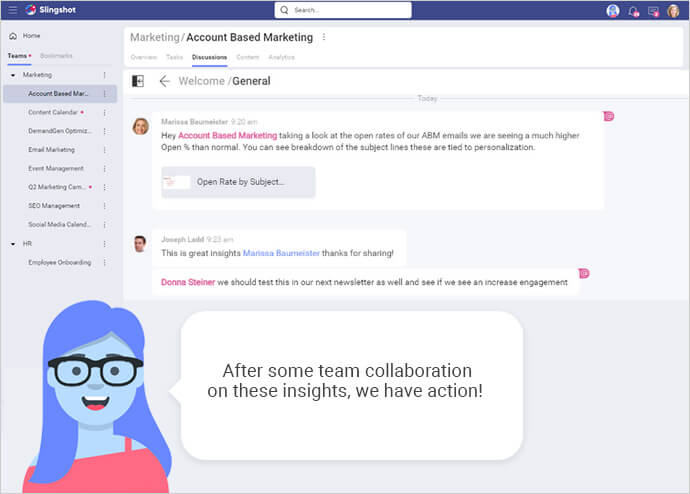 After some team collaboration on these insights, we have action!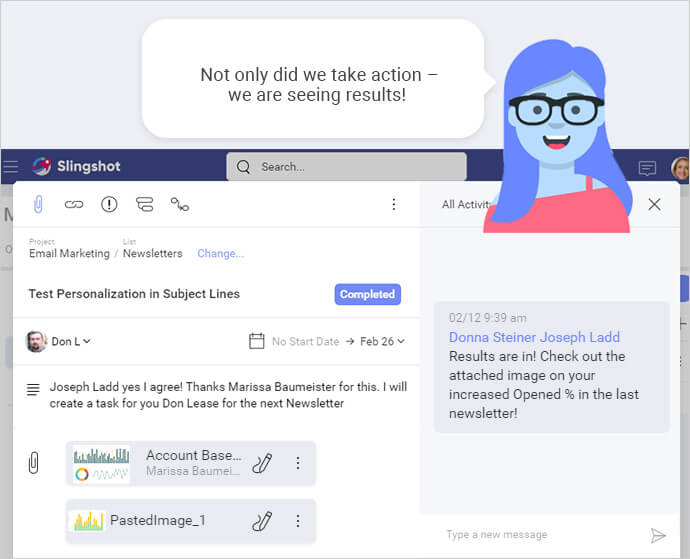 Not only did we take action – we are seeing results!