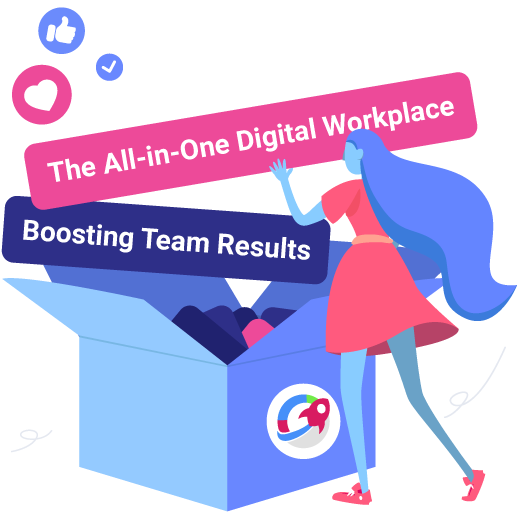 Top 14 Trello Alternatives You Can Choose from Right Now
As one of the most popular interactive project management systems, Trello is a known helper through the digital landscape of teamwork. But what if there is a better alternative?
Tsvetomira Petrova
17 min read
Whether you have an established company, or you are only now growing your business, you must have found out by now that without the right tools, you can't expect high productivity.
In this article, we've selected and analyzed 14 top Trello alternatives that you might consider for upgrading your project management toolset.
What Is Trello
Trello is a project management tool that uses a Kanban approach to offer clear navigation and visibility of your work progress. It assists with team organization, managing tasks, and has visual boards, that add cards to projects, helping with tracking of team activity.
Trello is generally considered a user-friendly project management tool that organizes the workflow to happen quickly and spot blockers in time. It is mostly used by teams and project managers who need to assign tasks and follow up on their progress quickly and efficiently, in an entirely digital environment.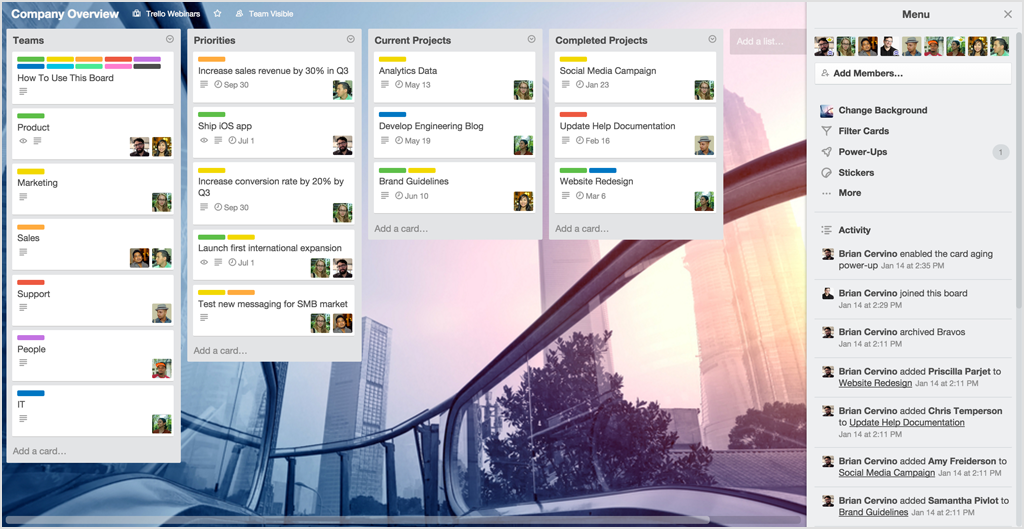 What Is Trello Used For
Trello is used mostly for collaboration and organization of projects with the help of boards in the Kanban-style.
The purpose of anyone who uses Trello is:
Seeing the progress of anything with a glance
Having all tasks assigned to specific people with deadlines
Giving everyone on the team visibility on tasks and projects
Creating a process for every project with steps from start to finish
Attach files and flag people to follow up on tasks
As a tool, Trello is easy to use, with a straightforward and simplistic design, yet it offers good integration with more than 100 third-party apps (like Google Drive, GitHub, Slack, Jira, etc.). Teams can use Trello as a central hub for visualizing the progress of their work.
Trello's Main Features
As we said, Trello is a Kanban-style tool for team task management and project organization. Here are its specific features as software with a focus on managing processes from start to end.
Cards
The visual setup of Trello consists of interactive objects known as Cards that are moved to different Boards per their status/progress.
Focus on Тasks
Each card represents a task, assigned to different team members with description, deadline, option for a file attachment, and other customizations.
Interactivity
Trello can serve as a stand-in for live interactions that usually happen in the office – people can stay in sync, label, tag, write comments. Drag cards from one board to another to show progress.
Alerts and Notifications
Trello sends automated email notifications, deadline alerts, and notifications to help teams never miss anything.
Power-up Calendar
This system allows for the prioritization of tasks with shorter deadlines, assigning operations last-minute, and displaying them depending on their status.
Search Оption
All relevant discussions and tasks in Trello can be searched and located in no time using keywords and filters to find any file.
Mobile Optimization
Trello is mobile-friendly and its data can be accessed from any Android and iOS device.
Third-Party Integration
Trello can be connected to over 100 third-party systems, extensions, or plugins.
Trello's Cons and Why You Might Want an Alternative
Project management through Trello might have worked for you up until now, but is it the best tool on the market for your needs? In reality, your team experience and productivity might need more than this tool can offer.
So here are some of Trello's limitations that might make you want to look at an alternative.
Not Built for Complexity
If your organization deals with larger teams and bigger and more complex projects, you might find Trello's simplicity quite limiting. It is good for general project management – but it doesn't work good for bigger teams spread across the globe and specialized projects.
No Built-In Calendar or Time Tracker
That is, for the free version of Trello. If you want to use a calendar or time tracking, you need to pay for the business version of Trello for the add-ons. Many Trello alternatives offer those built-in features for free.
Communication Not Made Easy
Yes, Trello has the option for comments on Cards when people are collaborating on them, but that might not be enough to say you have good communication in your team. There are tools with chat and discussion options that allow co-workers to collaborate better and with no app-switching.
Top 14 Best Trello Alternatives
If you've already made up your mind that your team deserves a more complex and useful alternative to Trello, you can check out our selection of the 14 best Trello alternatives currently on the market.
1. Slingshot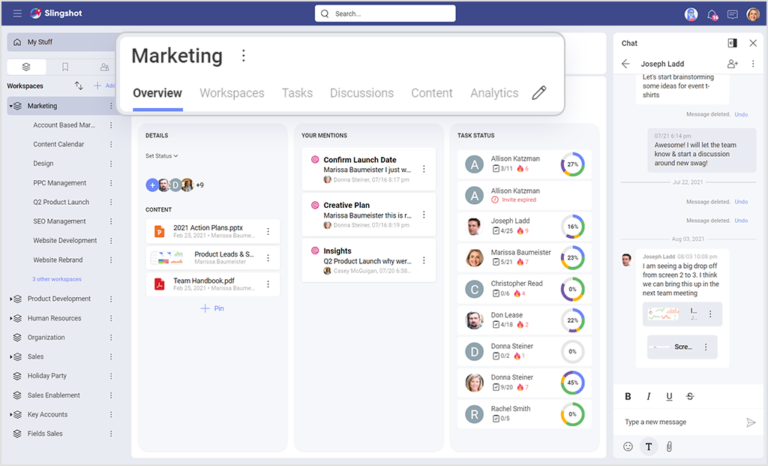 Overview
Slingshot is an all-in-one digital workspace that includes strong allows teams to organize projects, content, tasks, and chats, as well as use data-driven integrated features.
Key Features
Slingshot helps you organize all tasks in lists and sections, choosing between different types of views and assigning tasks and subtasks to different users, setting priorities, due dates, and blockers. In the My Overview section, you can pin what's important for you individually from everywhere in Slingshot, for quick access.
In Slingshot, you can divide your teams, projects, and even departments in workspaces. It's also the only hub your team needs for bringing all their needed content together – from any cloud storage like Google Drive, OneDrive, Sharepoint, Box, DropBox (see the entire list), it allows for a drag and drop, upload and pinning every relevant link. Besides that, the app has a full business intelligence engine where you can connect to your data sources and create beautiful dashboards, which then teammates can use for analysis and data-driven decision making. The data analytics features within the app help with creating the right insights needed to change a course of action or simply learn the facts behind a campaign's success or failure. Chat functionalities are also there, both 1:1 and group and teams have a conversation in the context of the team or project they have entered. Different workspaces can also be shared with outside collaborators with limited access in Slingshot.
Best for: Project management, data analytics, task management, team collaboration
Pricing: Free for smaller teams and starts at $8 per user in its paid version, bringing more features and unlimited options.
2. Asana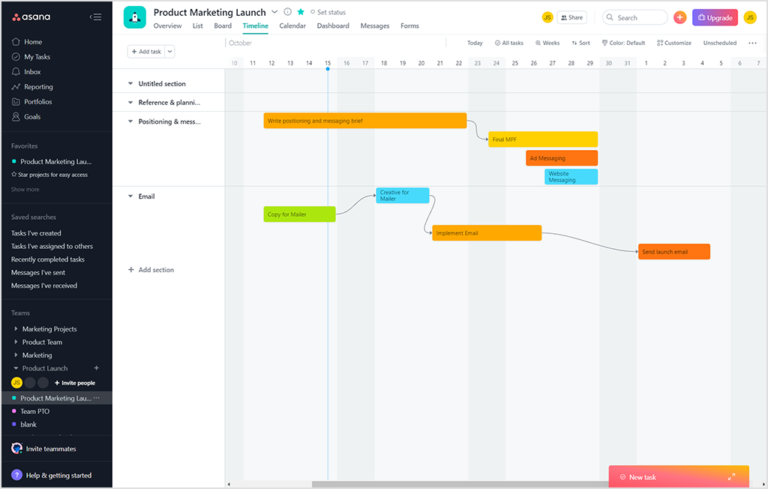 Overview
Asana is a project management and team collaboration tool specialized in organizing, managing, and tracking your daily work.
Key Features
In Asana, the team's workflow can be organized into shared projects and teams can create tasks with assignees and due dates within those projects – from start to finish. Projects can also be broken into sections and in two styles – Kanban, Calendar, Timeline and List view.
Asana's task manager feature allows you to create, schedule, and prioritize tasks. You can add attachments, dependencies and customize fields. There are a variety of other functionalities that Asana's project management feature offers such as custom fields, forms, custom templates, dependencies, and more. Asana's reporting feature allows you to turn your hard data into easily digestible reports, that can be filtered to show just the data you want to show to update stakeholders and can be shared in several formats. Team members can communicate on task and project levels by leaving comments asking questions or sharing important details related to the project/task.
Best for: Team collaboration, task management, project management.
Pricing: Asana is free to use for teams of up to 15 members and offers a 30-day free trial and its premium feature version starts at $10.99.
3. MeisterTask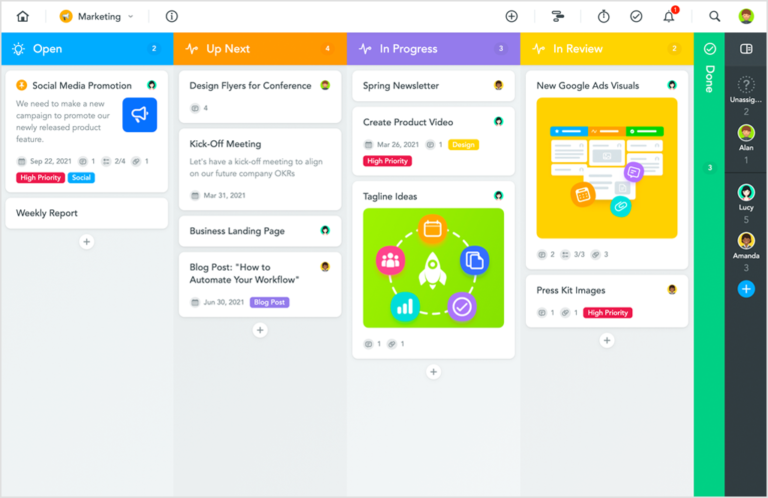 Overview
MeisterTask is a team collaboration and project management tool with intuitive options that easily enable the tracking of tasks from start to finish.
Key Features
MeisterTask is designed to help teams track the progress of their tasks and stay on top of their projects in a digital environment. It has dashboards, which provide a full view in a glance of upcoming tasks, notifications, current projects, and more. It has a customizable interface that allows you to organize your workflow in the best way visually and navigate through tasks, always staying on top of everything. Tasks can be assigned, and all vital files and information can be kept inside the tool, with options for discussion. You also get your Agenda board where you can pin and manage tasks from any project, creating your mix of things to do with quick access. It has a Timeline feature that helps with a viewing of deadlines and automation options for repeating steps in a task, as well as templates for tasks you've done before.
Best for: Team Collaboration, Project Management
Pricing: MeisterTask is free in its basic version and has three more paid options for upgrades, starting at €8.25 per month.
4. Monday.com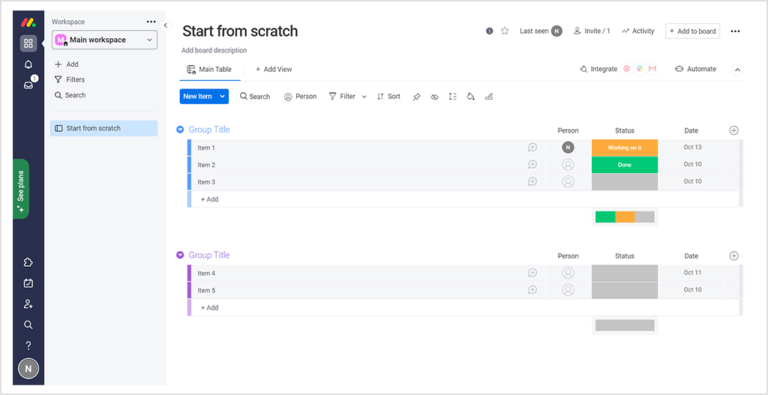 Overview
Monday.com is a platform for task management and collaboration of teams in workspaces.
Key Features
Мonday.com allows for a quick overview and management of the status of ongoing tasks and following up with team members who have taken on a particular task. Using drag-and-drop technology, the tool is easy to use and provides complete visibility and relevance in day-to-day work. You can choose between over 200 templates and customize them for your workflows, as well as create groups, that are a color-coded section on your board that contains your tasks. A group can be a week, a month, a specific step of a project, or whatever you want. Tasks are organized in boards, which are shareable with internal and external team members.
Best for: Team collaboration, work tracking, and project management
Pricing: It is free for up to two people and starts at $10 per user per month for paid plans.
5. ClickUp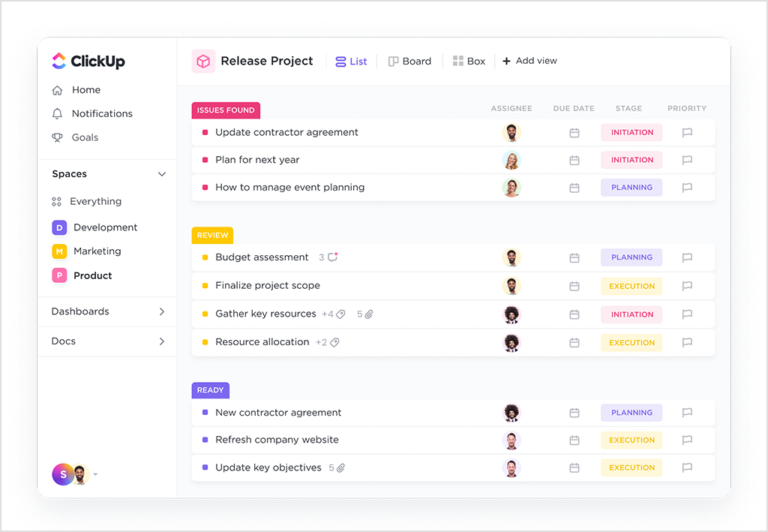 Overview
ClickUp is a task management tool that organizes teams and departments into Spaces, helps them group and manage their projects with a clear oversee of the day-to-day work.
Key Features
ClickUp offers teams the option to customize their task management by separating the team's work into different types of categorizations. The Spaces feature provides different business departments with independent space for their work. Projects and initiatives can be grouped into Folders and tasks. Further organize into Lists, providing a clear hierarchy. Another interesting feature is the ability to customize the task management with task automation, assigning Sprint Points, and adding Custom Fields data. Tasks can be broken down into subtasks and you can use ClickUpin 15 different views, as well as use over 1000 integrations of other tools.
Best for: Task management, project management, and overview.
Pricing: ClickUp is free for up to 100 MB of storage and stands at $5 per user per month for unlimited features and space.
6. Airtable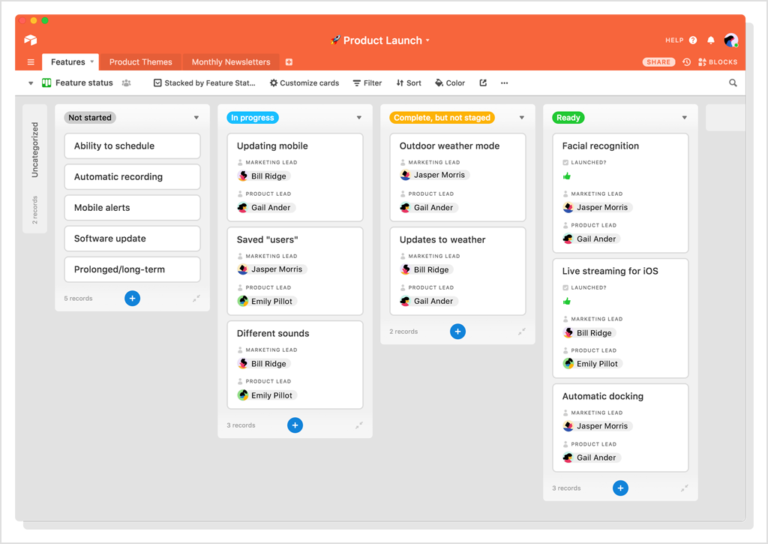 Overview
Airtable is an online platform for creating cloud collaboration for teams and .
Key Features
Airtable is a solution that brings together all relevant information a project manager might need, organize it, connect and change as needed. It allows for different views, like Kanban and Gallery, where you can follow campaigns and projects, see their name, status launch date and owner. The user interface allows users to create a database in minutes, to then store and organize any kind of information they need inside it. Since we are talking about relational database, you can always see the relationship between the data you are storing – and then use that to answer questions you might have. Among the basic components of Airtable are Fields, Records, Tables, Bases, Views, Directories and owners. You can import content to Airtable from other apps, including Asana and Trello.
Best for: Project Organization and Tracking
Pricing: Starts with a free option, with three upgrades (Plus, Pro and Enterprise) starting at $10 per user monthly.
7. Microsoft Project (MS Project)
Overview
MS Project is a project management tool that assists teams and project managers with maintaining a schedule, assigning resources to tasks, analyzing workloads, managing budgets and tracking progress.
Key Features
MS Project helps project managers control their projects, assign tasks and create reports. It offers two editions, one standard and one professional.
Among its features there are different types of views available – Grid, Board, Timeline, to help with managing the workflow better, as well as team collaboration option. It also has a Coauthoring feature where different people can work together to update schedules and task lists. MS Projects can be used for things like payroll and invoicing thanks to the Timesheets option.
Best for: Project Management
Pricing: MS Projects starts at $10 per user, per month, and the next paid plans are $30 and $50 respectively.
8. Wrike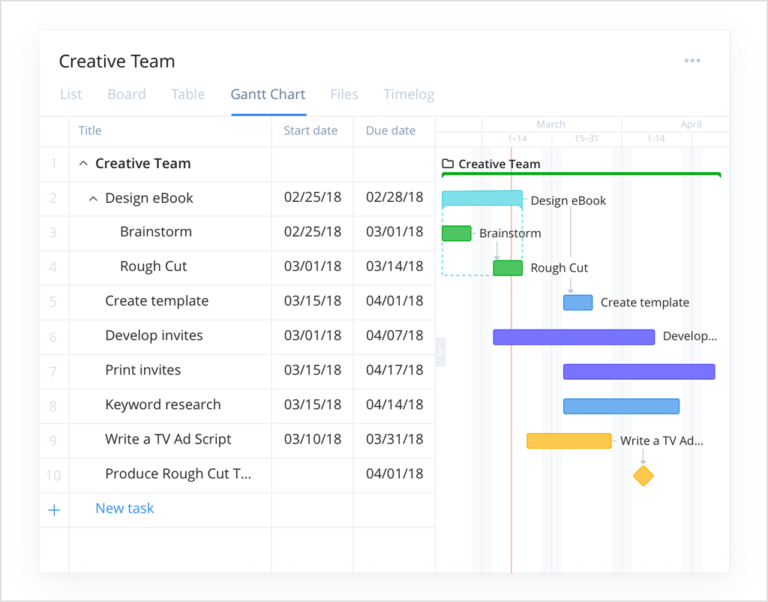 Overview
Wrike is a task management solution with workspaces for teams, customizable style, and multiple ways for organizing information.
Key Features
In Wrike, you can create custom workflows for specific tasks and in them, assign people, attach files and set the status. The app allows for project tracking by providing an overview of the schedule and setting dependencies with a drag-and-drop feature. You can manage your daily work in Projects, where you can customize dashboards and drag tasks to the assignment. Wrike allows for tracking your team's performance by creating dynamic data reports that are easily saved and shared with managers or stakeholders. There is also a workload management feature, to keep your team from burning out.
Best for: Team collaboration and task tracking
Pricing: Besides the free option, Wrike has three more paid plans, starting at $9.80 per user per month.
9. Basecamp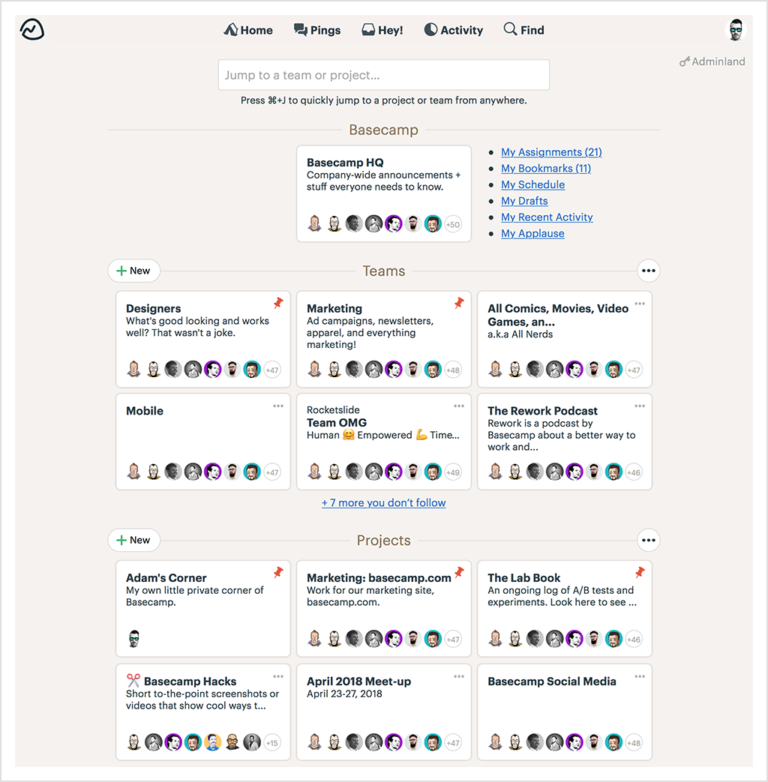 Overview
Basecamp is a project management tool that helps teams quickly find everything they need in their day-to-day work.
Key Features
Basecamp combines features that assist businesses and groups of people in managing their personal or professional projects and tasks. It gives an overview of all text documents and files and has an option for discussions, so teammates can always communicate relevant to their work. It has a customizable option for choosing external and internal members to collaborate with and you can host discussions (group chats) and organize meetings and events in the app. Tasks are assigned and easily trackable and conversations are kept in Message Boards, so everyone always stays on the same page. Projects have the Schedule option, displaying to-dos, due dates, and events for the specific project. In Basecamp you can also upload documents, files, and images – or link through Google Docs.
Best for: Team collaboration and project management
Pricing: Free for up to 3 projects and 20 users, and $99 a month for unlimited users, projects, 500GB of space, and priority support.
10. Teamwork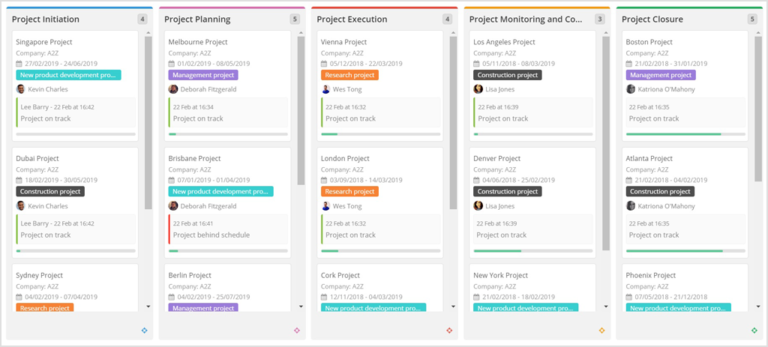 Overview
Teamwork is a project management platform, created for managing tasks and team and client work.
Key Features
Teamwork is an app designed to keep your team on track with their project management and break their tasks into subtasks. It allows for uploading of files and adding comments, for better team and client collaboration. You can use dashboards, Board View, and project health status updates to always see what's left to be done to completion. Tasks can be assigned and it gives to option to check people's load of tasks at any point, to avoid burnout and disbalance. You have instant chat so you can discuss whatever is needed on a project without app switching, get feedback, and tag people to notify them. It also offers organized document sharing and easy collaboration with real-time editing with Notebooks. Views are Gantt, Kanban, Task list, and Table, and it allows for goals setting with estimated time, priority, and assignee.
Best for: Team collaboration, project management
Pricing: Besides the basic free plan, you have three paid ones, starting at €10 per user per month.
11. Jira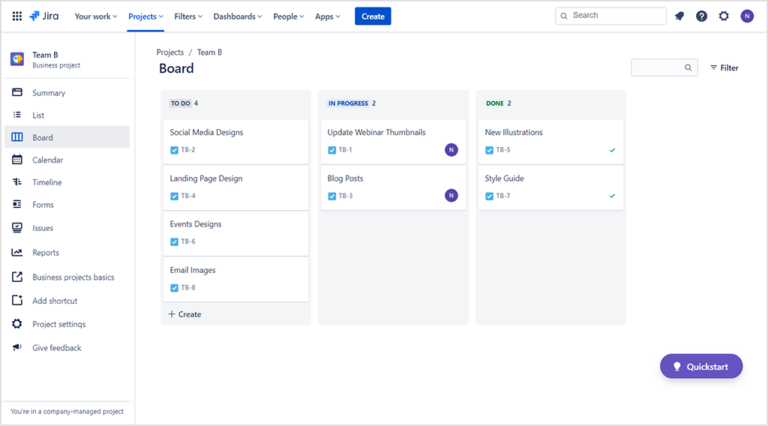 Overview
Jira is a tool used for project management, issue tracking, and workflow for teams.
Key Features
Jira is an issue tracking and project management software app, that is widely used by agile dev teams, but is currently offering services to other types of teams as well. Jira Core is for non-technical teams, Jira Software for software development teams, and Jira Service Desk serves IT teams.
Jira operates with Kanban and Scrum boards as main features. Within them, you get a workflow overview of your team's work. The Kanban workflow operates on a drag-and-drop system for tasks and tracks bug fixes, software development, and various projects. With Scrum boards, sprints and backlog is tracked in order to complete projects without delays, resolving blockers quickly by involving the right people on the team. JIRA offers business templates for managing tasks and provides the status of tasks, options for comments, attachments, and due dates in one place. It also supports over 100 add-ins for other software.
Best for: Project management, issue tracking
Pricing: Free for up to 10 users and starting at $7 for paid subscription plans.
12. Notion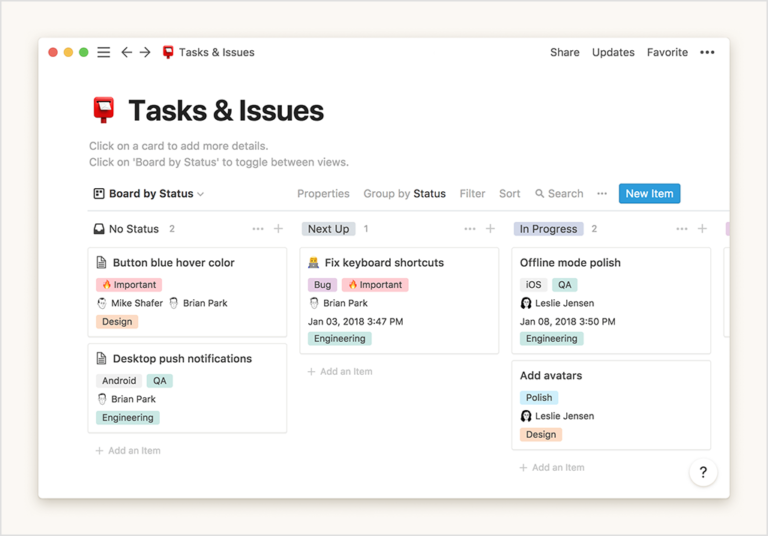 Overview
Notion is a software tool providing teams with data management, project management, and knowledge management.
Key Features
Notion provides a set of features such as notes, databases, Kanban boards, calendars. It is customizable and users can connect the components they need to create the management system they want for their project. Notion works with tasks and subtasks, as well as recurring tasks and Trello-style board views. Users can use the Database views feature that provides a different display of the tasks in the desired type of view: task list view, a gallery view, a calendar view, and a table. There is a Kanban boards feature that shows the status of all tasks by the name of the column the task is put in (with a drag-and-drop option). Another feature is Blocks, which essentially is a group of content, organized data, and documents that the team can access easily. The Pages feature gives details of every project, including to-do lists, knowledge base, etc.
Best for: Project management and team collaboration
Pricing: Notion is free for personal use and up to 5 users and has three more subscription plans, starting at $4 a month per user.
13. Smartsheet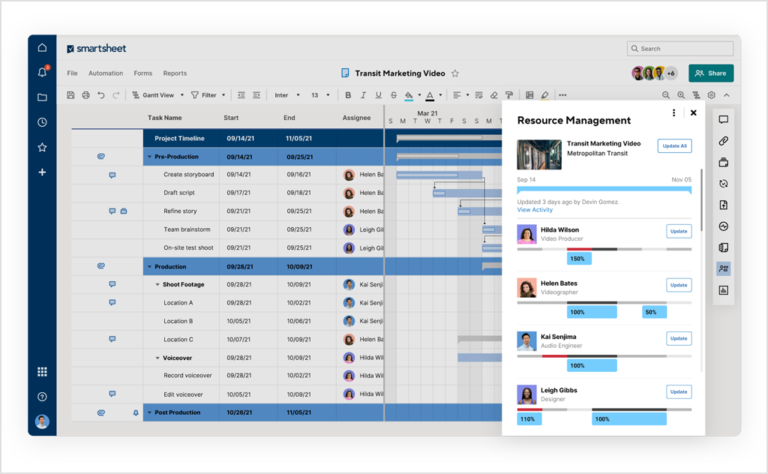 Overview
Smartsheet is a platform for end-to-end management, project tracking, and team collaboration.
Key Features
With Smartsheet, you can help your team collaborate on the go and empower their decision-making. It has features for project management, task organization, and resource management. Smartsheet has a selection of pre-built templates allowing you to manage your workflow, and get your team up to speed with their tasks. It offers grid, card, Gantt, and calendar views, as well as the creation and sharing of dashboards. Thanks to integration with chat tools, Smartsheet also allows for discussion and feedback to happen instantly in the app. It has data connectors to Salesforce, Jira, Microsoft and others that allow for the synchronization of information and reports creation, for keeping your team in the loop.
Best for: Project management and team collaboration.
Pricing: Smartsheet has no free option and starts at €6 per user per month, with a Business upgrade for €22 and a customizable Enterprise option.
14. Hive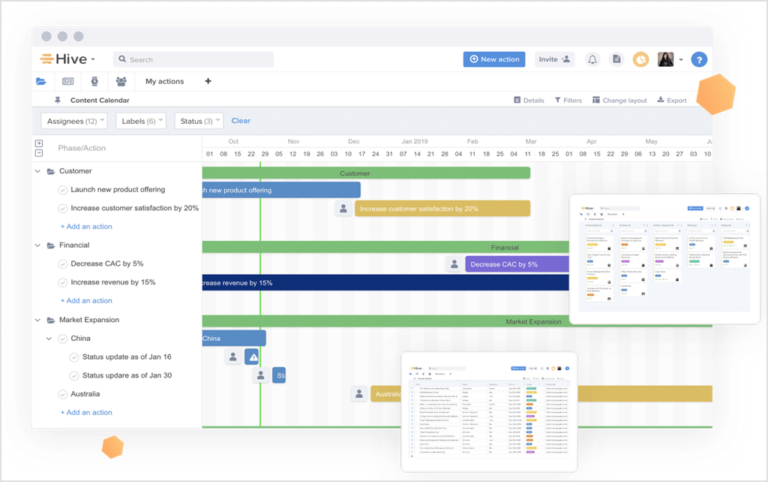 Overview
Hive is a productivity platform for process and project management.
Key Features
Hive allows for teams to manage their tasks and project flexibly, with different views. They can be organized in Gantt chart, Kanban board, table view, or calendar. Teams using Hive stay informed thanks to the easy interface that lets them see any project status, the owner, to-do items, and dependencies. Hive works with action cards and has a native chat and email integration that lets teammates collaborate fast and efficiently within the app. With its AI and machine learning capabilities, Hive estimates time for projects and resource allocation, as well as billing and planning. It has integration with over 1000 apps, turning into a centralized hub for all your team's work and files.
Best for: Team collaboration, project management
Pricing: App has a 14-day free trial and then starts its paid plans with $16/user/month.
Keeping in mind that your task management and chat collaboration app is one of the most important assets your remote or distributed team has, a Trello alternative might be the thing you need. Making sure you stay on top of your organizational needs by using the best app suited to your team needs is vital for keeping them aligned and productive.
Don't forget to check out оur advice on how to pick the best chat app for your team.