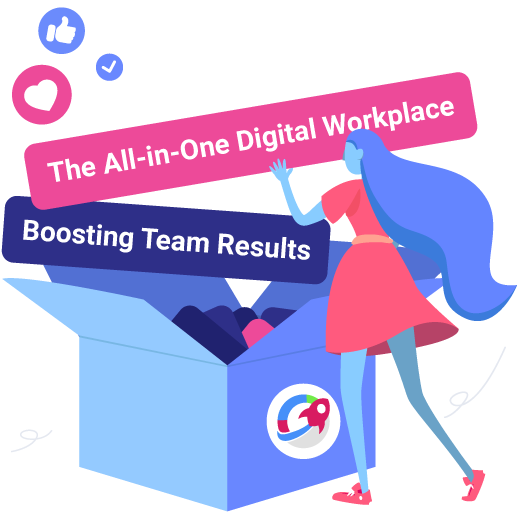 Organizing Content Boards in Slingshot
A content board is a dedicated place within your Workspace where you can quickly and easily pin, organize, manage and navigate your team's key content.
Casey McGuigan
6 min read
When it comes to organizing content for your different teams – we could be talking just about anything. Content can be the Word document that has your website copy, or the Excel file that is holding the data for this quarters latest launch, or even URLs to key information you need to revisit. That is why – in Slingshot – when it comes to content management, we take all of these different elements into consideration.
What is a Content Board?
A content board is a dedicated place within your Workspace where you can quickly and easily pin, organize, manage and navigate your team's key content. Content can be anything from a document or file, a URL of an important piece of information or research or a dashboard filled with insights.
The Importance of Organizing Your Content Boards
Gone are the days spent searching through Email, OneDrive and SharePoint to find a specific file – Oh and making sure it's the latest version!
The biggest benefit of the content boards is that they bring all of your content into one application, in-context to your team, projects, and initiatives, and organize the chaos of content management.
Introduction to Slingshot's Content Tab
Within your Slingshot workspaces, you have a tab that is specially made to store your content. Inside this tab, you are able to create different boards to organize your content in a way that makes it easy for anyone to find the information they are looking for.
Here's an overview of the content tab in Slingshot: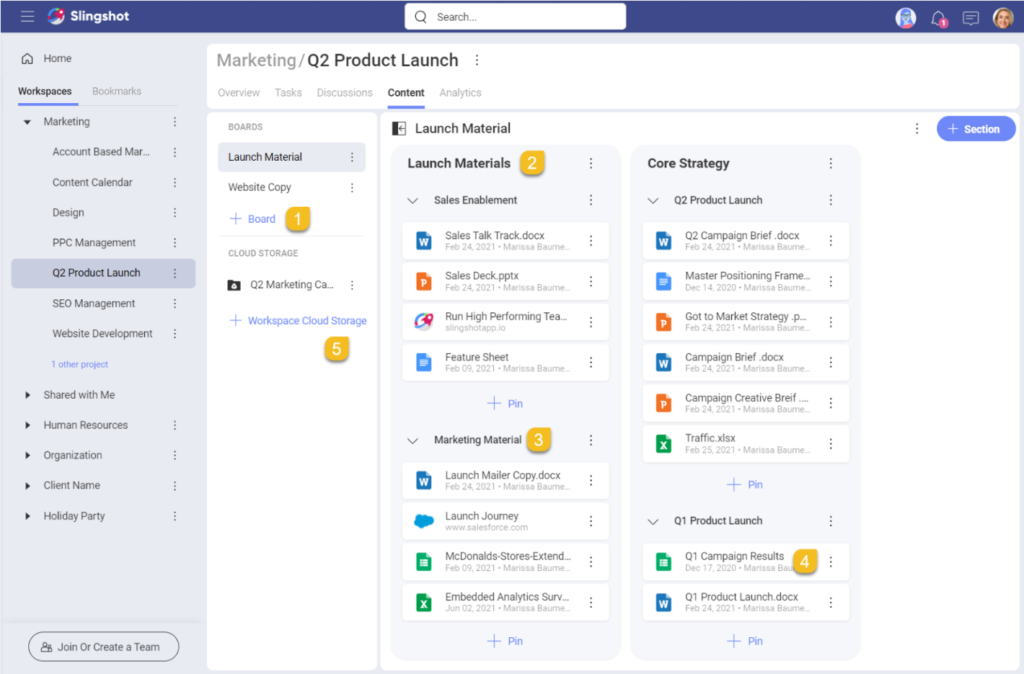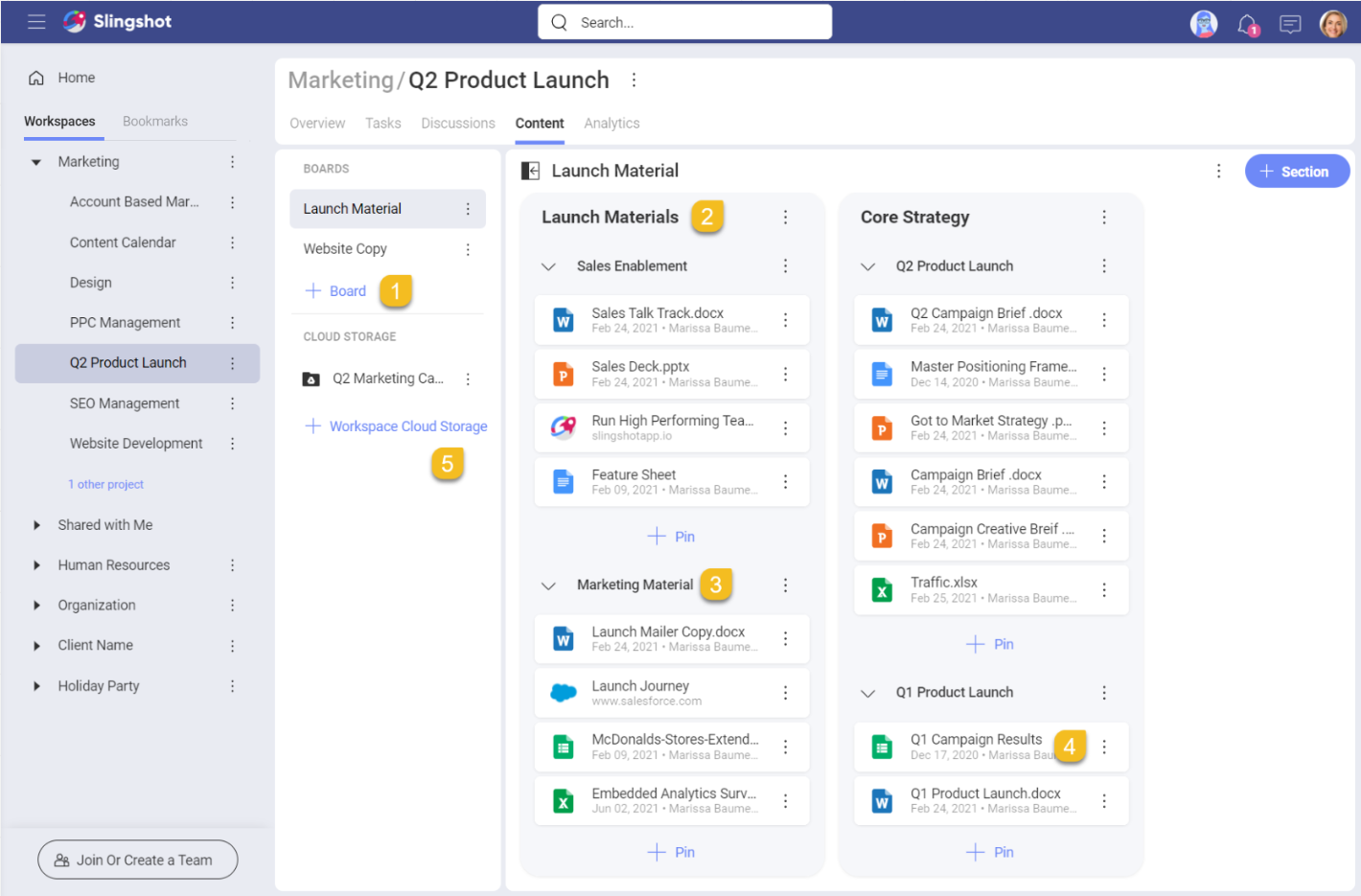 Boards: These are the areas within your workspaces where you can pin, organize and manage your content. From here, you can easily access any boards that you are a member of or create new ones.
Sections: Sections serve as containers for you to organize your content within your sections. In this example, Launch Materials and Core Strategy are different sections of the Q2 Product Launch content board.
Groups: This feature allows you to group pins within a section that can be collapsible, moveable and can even copy them to other boards and workspaces.
Pins: You can pin documents and files from any cloud provider you have connected to or from any board that has already been created in Slingshot, any URLs, and dashboards. In addition, you can upload files from your local drives to Slingshot. When you upload a local file, Slingshot will take that file, upload it to your default providers and it is now a shared document – that you never need to worry about having the latest on again!
Workspace Cloud Storage: From this area, you can add an entire storage provider or a specific folder or hierarchy within your storage providers to give everyone on that workspace quick access to all the content they need!
Tips for Organizing Your Content Boards in Slingshot
Now that you know how you can organize your content boards in Slingshot, here are some basic tips to do it more effectively:
Organize boards by priority
Some content boards that you create will be more important than others, so make sure to prioritize those at the top of your board's list by simply drag and drop. That doesn't mean that you should neglect the others, it's just so you can have the content for the projects and tasks that you're currently working on at top of your sight and focus – you can always change and reorder them by your current priorities.
Name your boards accordingly
To some, this might seem a little bit unnecessary to say, but the names of your content boards are highly important. Sure, you can name them as you want, but don't forget that other people could be looking at them trying to find what they need too. After all, the entire point of having those content boards is to save time having to search through different content storage providers, but if you don't know where to find something as you have no idea where it is because the name of the board doesn't convey it then productivity will suffer, and time will be wasted again.
Make use of the sections feature
Don't just pin and add content randomly to the board – organize efficiently, that's why we have designed the sections feature. As you can see in the example, content is organized by sections to further simplify the content board and make it even easier and more obvious where you can find the files and documents that you need.
Bring your key team members
Typically, everyone that is part of the workspace in which the content board is created will be able to access the content that you'll store there. However, if there are team members that don't work on the same project, but still need to access the same files and documents to complete their tasks, don't forget to bring them to the content board and provide them with the necessary access.
Everyone that is part of the parent workspace will have access to all content within the boards. However, if users outside of that parent workspace need to access the same files and documents, you can share the sub-workspace with them so they can view and benefit from it too.
Final Thoughts
Content management doesn't have to be intimidating or a waste of time. With Slingshot not only do you have that satisfying feeling that comes from a well-organized content board, but you are able to save time by being able to find what you need almost instantly and make it so much easier to manage content for everyone that you work with.