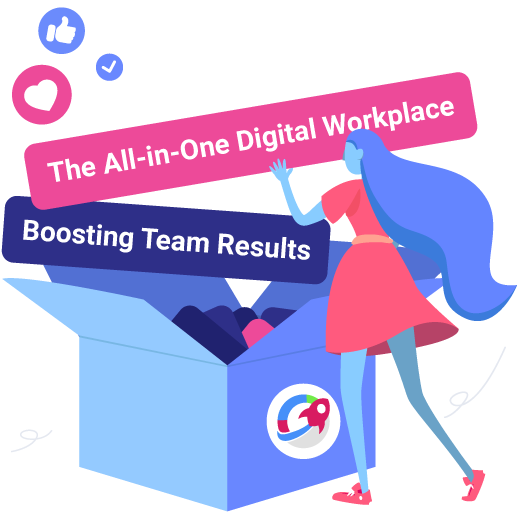 The Top 11 Notion Alternatives You Need to Check Out
Every project manager knows that a productive team needs tools for planning and organizing. Most companies opt for tools that provide easy daily syncing, quick access, visibility, and chat, as well as task tracking. But what about finding some better alternatives?
Tsvetomira Petrova
14 min read
Notion is one of the tools that is often picked for team collaboration, to provide uninterrupted workflow in the daily tasks and management of projects easily in one platform. Many, however, find that Notion has some limitations that could put someone in the market for an alternative. Good news? Several task management and collaboration platforms could serve as Notion alternatives, and we have selected the top 11 of them in this article.
What Is Notion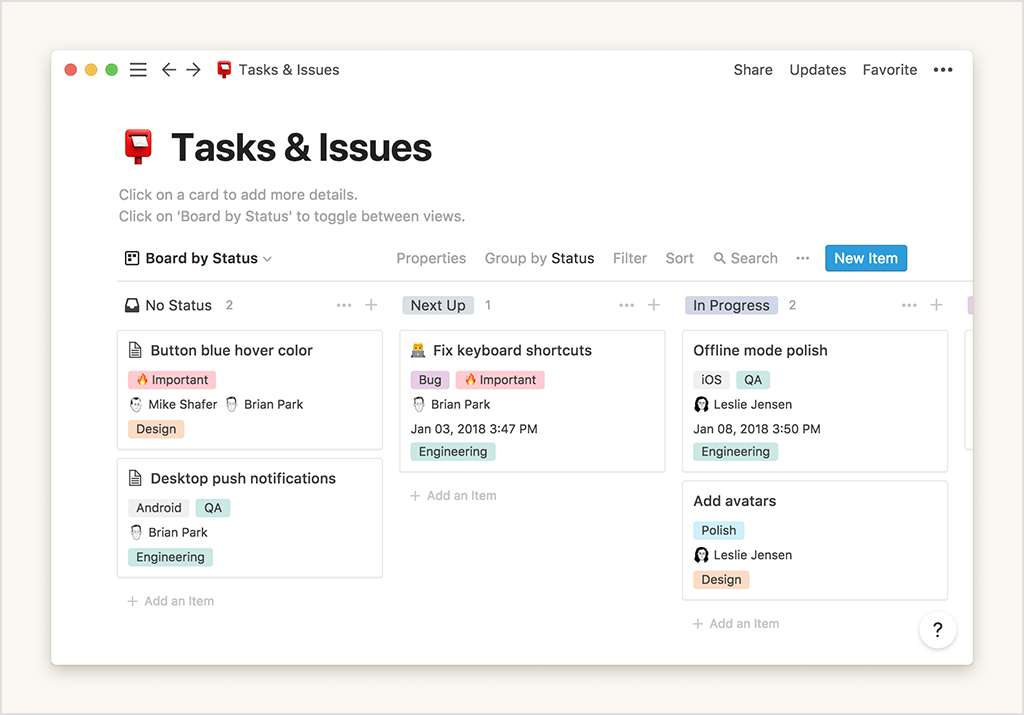 Notion is a software tool providing teams with data management, project management, and knowledge management. With Notion, teams depend on features like notes, databases, Kanban boards, and calendars, to keep track of their activity and projects. As a platform for team collaboration Notion uses:
Tasks and subtasks, as well as recurring tasks, to keep track of whoever is doing what
Customizable views of the tasks that provide a different display as preferred: task list view, gallery view, calendar view, table view
Kanban boards feature showing the status of each task by the name of the column, with a drag-and-drop option for moving tasks per their status or project
Blocks is a feature that groups content organizes data and documents so the team can access easily
Details on each project and to-do lists through what they call Pages
Notion is mainly used as a hub and platform for team collaboration, project management, and content storage.
What Is Notion Used For
Notion is an all-in-one app for collaboration that represents all the pillars a team needs to connect and bring their company's goals to success. In Notion teams can write, plan, collaborate and create templates for projects so they can get their work done.
Notion is interesting in its concept since it is imagined as a Lego structure – in a clean space, users can create and build endless layers of content, forming their own unique space of knowledge, projects, etc. It captures the workflow of your team letting them create their own database and stay on top of any task in a personalized platform.
Teams use Notion for:
Task management
Project management
Knowledge management
Note-taking
Customizable layouts
Team collaboration
Personal work
Notion: Key Features
So, let's take a look at Notion's key features that make it one of the preferred team apps for collaboration and project management.
Note Taking
It's one of the most powerful capabilities of the tool – to let its users add lists, plain text, videos, sound, code snippets, you name it. In Notion you can craft your own layouts and do your formatting as you prefer, and the team can add comments to create meeting notes, etc.
Project & Task Tracking
As projects and tasks go, Notion lets you assign tasks, create to-do lists, and manage everything your team is currently working on, with clear statuses. Tasks are represented on а Kanban board and you can move the tasks from one to another, showing new developments on a project. You can also create folders within the platform and enable task notifications.
Customizing & Templates
Notion allows the creation of templates for your notes and to replicate whole pages of databases already created, to save time. That way teams can duplicate the project or task for something already created and start on a new and similar project quickly. Notion is also highly customizable.
Different Views
Besides the drag-and-drop Kanban board option, Notion offers a to-do list view, calendar view, gallery view, table view, and timeline view, to keep the team's preferences on focus and let them track their tasks easily.
Integrations
Notion is integrated with several tools that can streamline your team's workflow better, including Slack, Google Forms, Twitter, Google Drive, Github, MailChimp, and others.
Features You Should Look For in Notion Alternative
While Notion is straightforward to use, there might come a time when a team, striving to be productive, finds it necessary to search for an alternative. Every team's needs are different, but hеre аre some features you should probably consider in choosing a new all-in-one workspace for your team.
Quick Sharing
Teams inevitably need to share assets of any type daily, so it's essential to be able to quickly share them with one click, without switching between multiple apps. Keeping all files in one place, sharing and editing the same doc efficiently is invaluable. A big bonus is if the app alternative you choose supports different file formats.
Discussions in Context
Transparent conversations within your projects and directly on tasks themselves, is very important when trying to keep your teams on the same page. This helps with brainstorming, keeping everything in context and again, not switching among multiple apps.
Data-Driven Features
Project management and collaboration tools are not complete without data analytics features. Creating insightful dashboards directly from your data sources will bring your team's productivity and great decision-making home.
The Top 11 Notion Alternatives You Should Check Out
1. Slingshot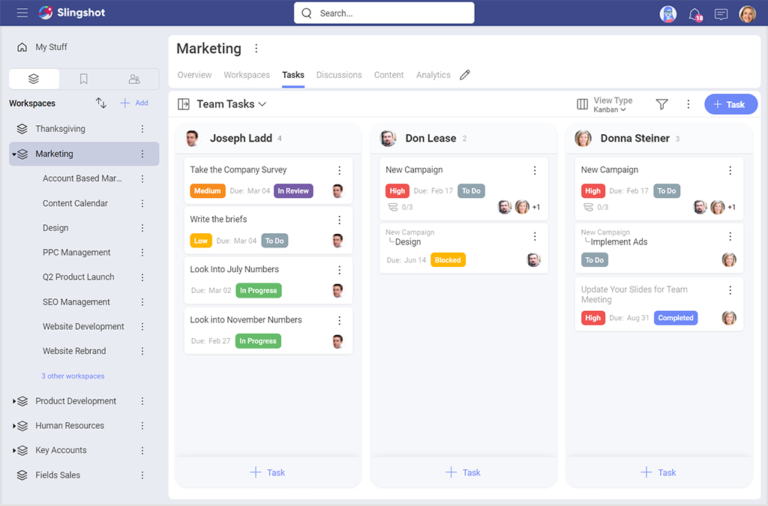 Overview
Slingshot is an all-in-one digital workspace that enables strong teams to organize projects, content, tasks, and chats, as well as use data-driven integrated features, including data catalog and data visualizations.
Key Features
Slingshot helps you organize all tasks in lists and sections, choosing between different types of views and assigning tasks and subtasks to different users, setting priorities, due dates, and blockers. Bookmark what's important for you individually from everywhere in Slingshot, for quick access.
In Slingshot, you can separate your teams, projects, and even departments in workspaces. It's also the only hub your team needs for bringing all their needed content together – from any cloud storage like Google Drive, OneDrive, Sharepoint, Box, DropBox (see the entire list), it allows for a drag and drop, upload, and pinning every relevant link.
Besides that, the app has a full business intelligence engine where you can connect to your data sources and create beautiful dashboards, which then teammates can use for analysis and data-driven decision making. The data analytics features within Slingshot help to provide the right insights needed to change a course of action or simply learn from the performance of a campaign's success or failure. Chat functionalities, that also leave the app switching forever in the past, are there, both 1:1 and group chats and conversations in the context of the workspace or project they have entered. Different workspaces can also be shared with outside collaborators with limited access in Slingshot.
Best for: Project management, data analytics, task management, team collaboration
Pricing: Free for smaller teams and starts at $12 per user in its paid version, bringing more features and unlimited options.
2. Trello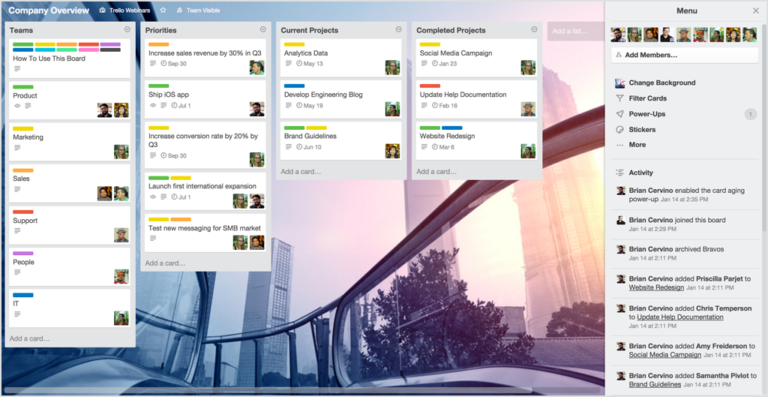 Overview
Trello is a project management tool that uses a Kanban approach to offer clear navigation and collaboration for teams.
Key features
Trello is a Kanban-style tool for team task management and project organization. The visual setup consists of interactive tasks they call Cards that can be moved to different Boards per status/progress. Trello puts the focus on tasks – they can be assigned to different team members, filled with descriptions, added deadlines, options for file attachments, etc. For remote teams, Trello is a good option to have an overview of what is happening with a project – inside t he app, people can sync on the status on tasks, label projects, follow up, write comments. The app, however, does not offer a chat option besides the comments one on a task level. Inside Trello, there is a search option so all relevant discussions can be found quickly with filters, and the power calendar option allows for the prioritization of tasks with shorter deadlines.
Best for: Project management, team collaboration
Pricing: Trello has a free option for smaller teams and three paid plans starting at $5 per user per month.
3. Evernote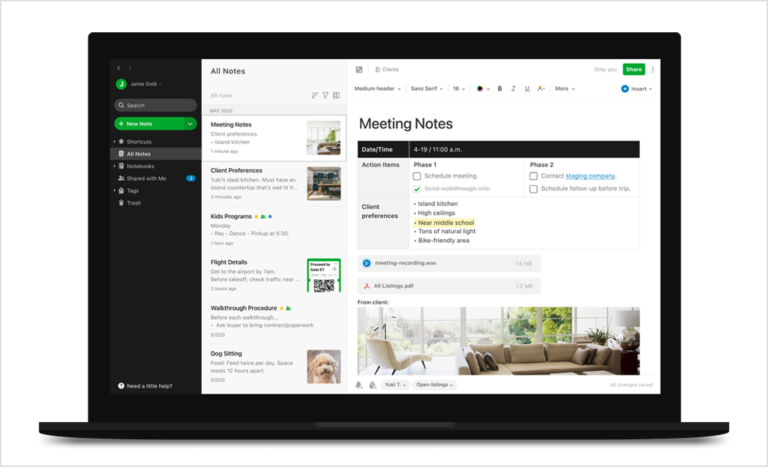 Overview
Evernote is a note taking app that lets you keep notes of all your relevant information, centering it in organized view for personal and work use.
Key features
Еvernote provides personal and professional features that allow for better task tracking and organizing. The Home of Evernote consists of widgets that display the content of the most relevant information front and center in an organized view. Evernote allows for task creation and assignment and calendar integration (Google Calendar) to easily find related events and notes. As a note-keeping app, Evernote provides the option for mobile offline notes, and notes uploads up to 20 GB monthly, as well as larger notes upload (up to 200 MB maximum size). In Evernote, you can scan and save business cards, and although it's not built for complexity, it still works well as an app for quick references, organizing, project and task tracking.
Best for: Notes taking and task tracking
Pricing: The free plan of Evernote allows for syncing with up to two devices; for more, you can choose between two paid plans for $7.99 and $9.99 a month.
4. Infinity
Infinity is a tool for project organization, team management and task management.
Key Features
Infinity offers a task management system with a variety of views for your team's tasks: columns, calendar, table, Gantt, form, and list. Within the app, you have folders and subfolders that provide an easy way to organize and oversee the work, creating an infinite structure within your boards. Data can be organized with filtering, sorting, and grouping and a new view can be created each time you open a new tab.
Best for: Task management
Pricing: Infinity's rate for plans starts at $9.
5. MeisterTask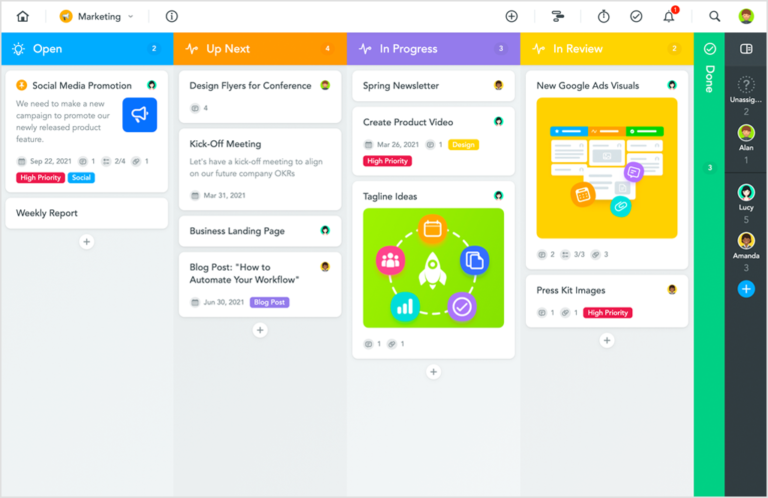 Overview
MeisterTask is a team collaboration and project management tool with intuitive options that easily enable the tracking of tasks from start to finish.
Key Features
MeisterTask is designed to help teams track the progress of their tasks and stay on top of their projects in a digital environment. It has dashboards, which provides a full view in a glance of upcoming tasks, notifications, current projects, and more. It has a customizable interface that allows you to organize your workflow in the best way visually and navigate through tasks, always staying on top of everything. Tasks can be assigned, and all files and information can be kept inside the tool, with options for discussion. You also get your Agenda board where you can pin and manage tasks from any project, creating your mix of things to do with quick access. It has a Timeline feature that helps with a viewing of deadlines and automation options for repeating steps in a task, as well as templates for tasks you've done before.
Best for: Team Collaboration, Project Management
Pricing: MeisterTask is free in its basic version and has three more paid options for upgrades, starting at $9.99 per month.
6. nTask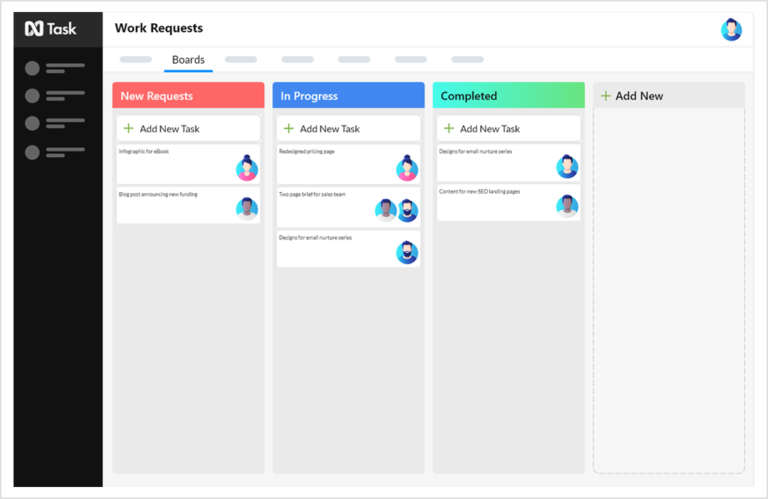 Overview
nTask is a project management software that helps teams collaborate, analyze and manage their day-to-day work.
Key Features
With nTask, teams can easily streamline task planning and execution, projects tracking, and task dependencies, as well as manage your project deliverables. The app allows you to manage your work in Kanban Boards and set Milestones in project planning, to keep the team's focus in one spot. There are features like status assignment, pre-built board templates, and task assignment, helping teams meet the deadlines more quickly. You can also view projects in List, Grid, and Calendar view. The app allows for attachments in tasks and leaving comments in each one.
Best for: Task management and workflow overview
Pricing: nTask has a free option with limited storage and starts at $3 for its paid plans.
7. monday.com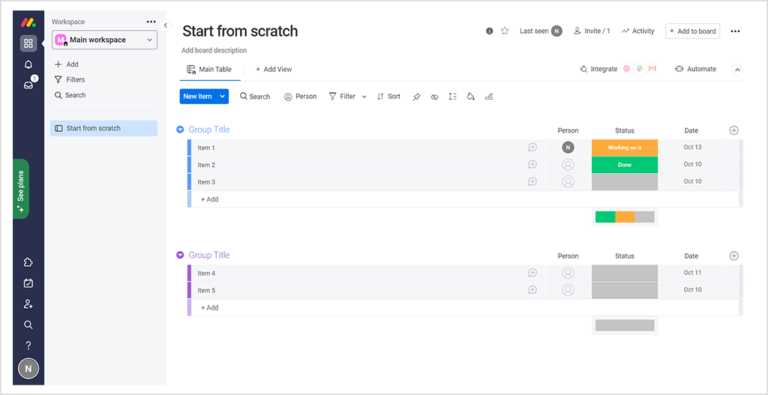 Overview
Monday.com is a platform for task management and collaboration of teams in workspaces.
Key Features
Мonday.com allows for a quick overview and management of the status of ongoing tasks and following up with team members. Using drag-and-drop technology, the tool is easy to use and provides complete visibility and relevance in day-to-day work. You can choose between over 200 templates and customize them for your workflows, as well as create groups, that are a color-coded section on your board that contains your tasks. A group can be a week, a month, a specific step of a project, or whatever you want. Tasks are organized in boards, which are shareable with internal and external team members.
Best for: Team collaboration, work tracking, and project management
Pricing: It is free for up to two people and starts at $10 per user per month for paid plans.
8. Microsoft OneNote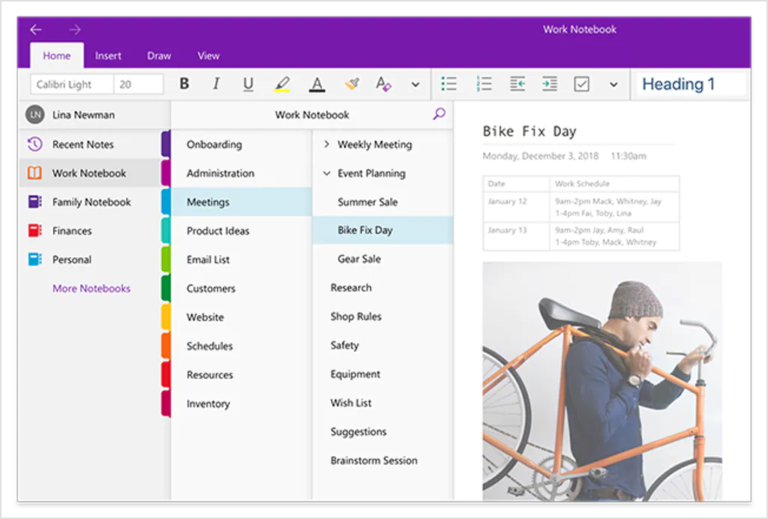 Overview
Microsoft OneNote is a planning tool that lets you take notes and sync them across your devices.
Key features
OneNote lets you take notes, write memos, and basically create a digital notebook and sketchbook – because you can write, type, and draw your ideas. You can also search and clip from the web, as well as collaborate with people. OneNote lets you sync notes across devices, and access them from everywhere, as well as search effortlessly to find the needed content. Users can also scan docs and business cards. To-do lists and follow-up items can be marked and labeled, organized in sections, and used for work or personal needs. The app offers sticky notes for quick memos, rich notepads with many options, and real-time collaboration to sync with people fast.
Best for: Notes taking and collaboration.
Pricing: There is a free Basic option plus Premium and Business options ($7.99 and $14.99 per user per month).
9. AirTable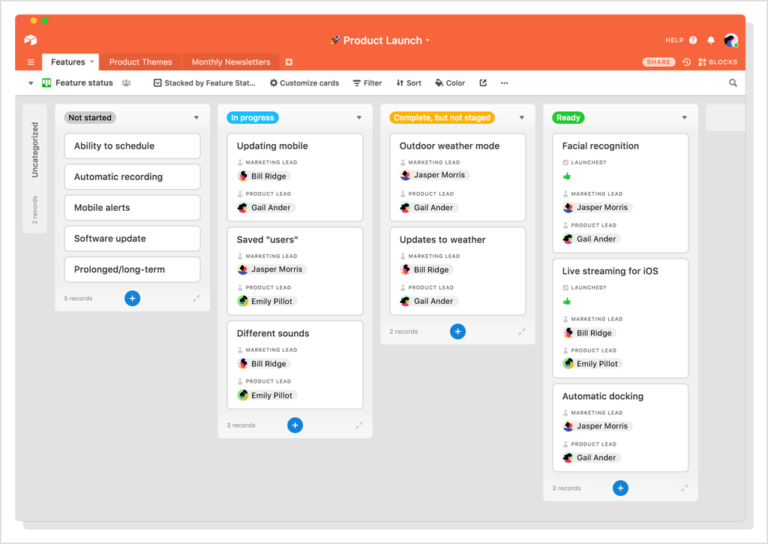 Overview
Airtable is an online platform for creating cloud collaboration for teams and helping with project and task tracking.
Key Features
Airtable is a solution that brings together all relevant information a project manager might need, organizes it, and keeps everyone up to date. It allows for different views, like Kanban and Gallery, where you can follow campaigns and projects, see their status, launch date and owner. The user interface allows users to create a database in minutes, to then store and organize any kind of information they need inside it. Since we are talking about relational database, you can always see the relationship between the data you are storing – and then use that to answer questions you might have. Among the basic components of Airtable are Fields, Records, Tables, Bases, Views, Directories and owners. You can import content to Airtable from other apps, including Asana and Trello.
Best for: Project Organization and Tracking
Pricing: Starts with a free option, with three upgrades (Plus, Pro and Enterprise) starting at $10 per user monthly.
10. Coda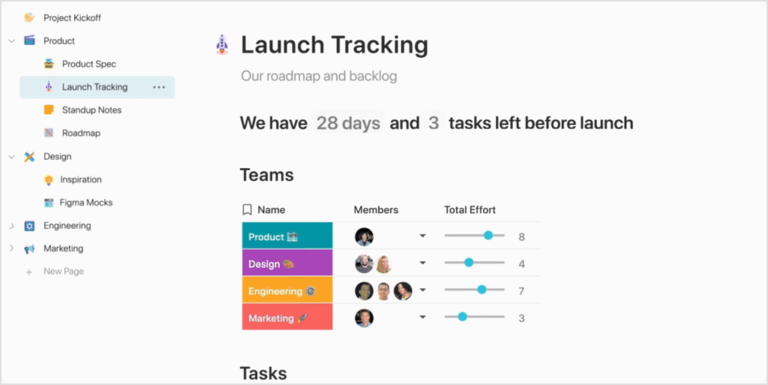 Overview
Coda is a cloud-based document editor that blends spreadsheets, presentations, documents, and database functions.
Key Features
Coda is an app that serves as a canvas for collaboration, tasks, doc sharing, presentations and project management. Called an "all-in-one doc", Coda brings all data and content for different teams in one platform. It can be built with "blocks" and templates, letting teams add ideas and assign tasks. Coda comes packed with integrations like Slack, Jira, Gmail, letting teams sync their databases and stay on top of everything current. It offers different preferred views for users. Coda offers easy access to project briefs, tracking tasks, vote on ideas (from team members) or following a roadmap to check the progress of anything.
Best for: Notes taking, tasks tracking, and collaboration
Pricing: There are three versions of Coda and two of them are free – for Viewers and Editors, with one paid for Doc Makers.
11. ClickUp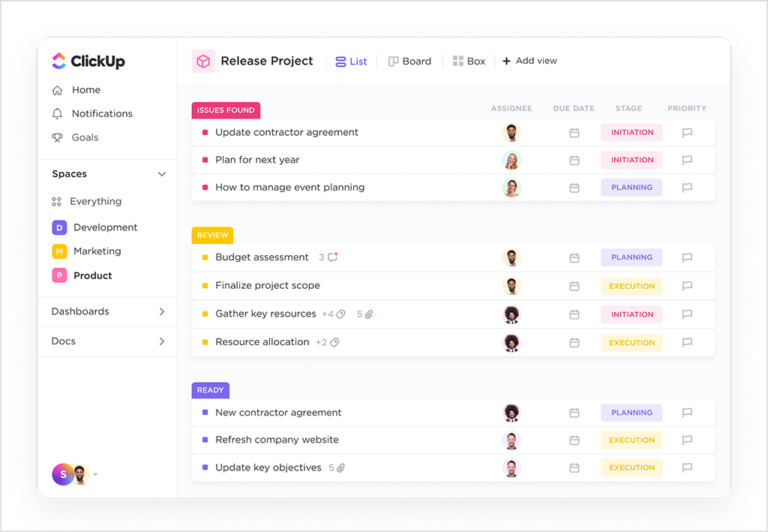 Overview
ClickUp is a task management tool that organizes teams and departments into Spaces, helps them group and manage their projects with a clear overview of the day-to-day work.
Key Features
ClickUp offers teams the option to customize their task management by separating the team's work into different types of categorizations. The Spaces feature provide different business departments with independent space for their work. Projects and initiatives can be grouped into Folders and tasks. Further organize into Lists, providing a clear hierarchy. Another interesting feature is the ability to customize the task management with task automation, assigning Sprint Points, and adding Custom Fields data. Tasks can be broken down into subtasks and you can use ClickUpin 15 different views, as well as use over 1000 integrations of other tools.
Best for: Task management, project management, and overview.
Pricing: ClickUp is free for up to 100 MB of storage and stands at $5 per user per month for unlimited features and space.
Don't forget to check out оur advice on how to pick the best chat app for your team.